I've always loved Oslo. How can you not, with its romantic setting right on Oslofjord, its sweet people, and its fascinating seafaring history? Now, however, it's developing an overlay of chic, an urban buzz that's exciting to see. It's not quite at major metropolis status yet (it is, after all, just over half a million people), but the moderni- ty that's set in is gratifying for an Oslophile. It's always been pleasant. Now it's hip and pleasant. What could be better?
When you arrive at the airport, the best option for getting into the city is Flytorget. This high-speed train gets you to the central railway station in half the time and is much cheaper than a cab, which can push $100. Flytor- get trains are comfy, fast, run all the time, and whisk you into the city seamlessly. Take a taxi to your hotel from the Central Station (Oslo S) if you want, but let Flytorget get you into town.
With Oslo's great public transport (metro, trams, and buses), it's a breeze to get around, even though most of it is very walkable. Definitely invest in an Oslo Pass, which provides free entrance to most museums and unlimit- ed rides on public transport. Best of all: you don't have to deal with buying transport tickets, just hop on, since you're covered by your pass. You can even download the pass onto your phone before you leave, and you'll prob- ably end up saving money, depending on how many museums you visit. Even if you don't, the convenience alone is worth the price.
I start my stay at the Saga Hotel. I love this place, with its coolly contemporary design, all black and gray with shelves full of books, candles, and sculptures in the lounge, a fab restaurant downstairs, and rooms with an earth-toned, minimalist look. The staff is super-helpful and indulgent. It's in a quiet residential neighborhood that seems almost suburban, so I'm surprised to see that it's less than a ten-minute walk to the heart of the city—the best of both worlds. It's a new breed of Oslo hotel, something that pretty much didn't exist ten or 15 years ago when I last visited, and a welcome change to this city that's becoming ever more cosmopolitan. I mean, there's an espresso machine in the lobby for guests to help themselves. Need I say more?
One of my favorite things about the Saga is that it's a short walk to one of my favorite spots in Oslo (hell, one of my favorite spots in the world): Vigeland Sculpture Park, the world's largest sculpture park done by a sin- gle sculptor. Set within Frogner Park, with several areas holding over 200 sculptures, it's a testament to Gustav Vigeland's artistry and overwhelming humanity. I discover a new favorite every time: a man holding a child high above his head, a woman with her hair flying wildly behind her as she admires her baby; two joyously dancing figures. A huge obelisk teems with of people crawling over each other—a nightmarish end of the world or a comforting message of all-embracing love? You decide. Beyond the obelisk, two nude women stand placidly in an embrace. A woman, back to back with her lover, looks heavenward in ecstasy. An aged couple hugs serenely. This really is one of the most magical places on earth, and I emerge, thrilled and moved and somehow feeling like I'm not quite part of the real world any more.
Back to reality, I head out on a tour of this charming city with my wonderful guide, Stian Hansen Rivero, through the elegant palace gardens (Slottsparken), where winding paths snake among 200- year-old trees and the Queen's Garden bursts with flowers. The palace itself, built in the 1850s, sits atop a hillside overlooking the city, with the statue of Karl Johan, the king who had the palace constructed, looking down over the street that bears his name. Once called "the shortest boulevard in the world," it's expanded considerably since then.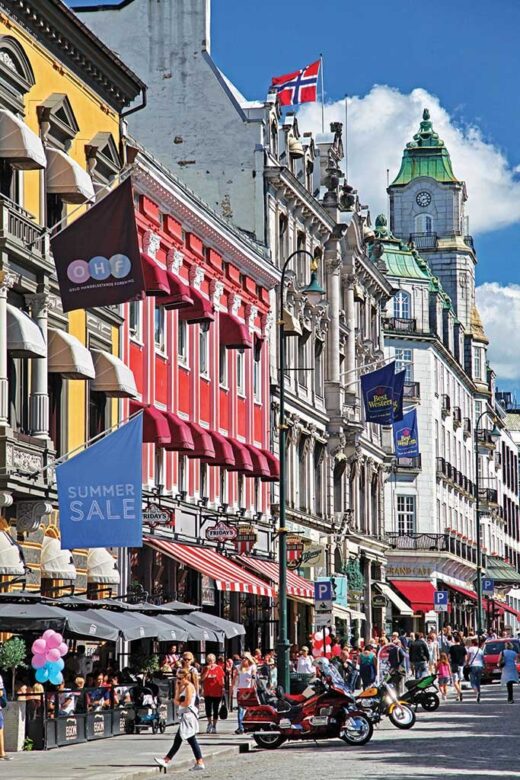 Down a flight of steps, we walk down Karl Johan Gate, which holds mainly touristic kinds of places, but the street itself is gorgeous with its late 18th century architecture and trees lining the promenade. We stop in the Grand Hotel, filled with majestic style and the spot where winners of the Nobel Peace Prize are housed (while most of the Nobel Prizes are given in Stockholm, the Peace Prize is given here). If you're looking for a traditional-style grand hotel with spacious, classically-designed rooms in a refined setting, this is the place for you. While the Grand Café is pretty fab (it was Ibsen's steady hangout), I also love its modern restaurant, Palmen, where tables sit atop zig-zaggy green and gray carpets and the menu is contemporary Norwegian. Another splendid choice nearby is the Continental Hotel, which some people I know prefer, with its large, airy rooms (many with Oslofjord views), legendary café, and works by Edvard Munch in the lobby bar. Even if you don't stay here, you must visit Theatercaféen, a true throwback to an era of bohemian glamour, with its arched ceilings, teardrop sconces and chandeliers, and portraits on the walls. The windows look onto two streets for prime people watch- ing, and I can picture Ibsen's contemporaries perched in the window with coffee, getting a look at the theatergoers.
We walk over to the Dom, or cathedral, where in summer the back courtyard is filled with crafts, bands, and people enjoying a drink or meal outdoors. We stop in sweet little Café Bacchus, in the shadow of the Dom, with a homey atmosphere of wainscoted wood walls, mirrors, a wrought- iron spiral staircase to the balcony. You can have a light meal from spinach soup to burgers with Jarlsberg and bacon, or just sip your coffee or beer (there's a huge selection) in this laid-back and welcoming café.
A short walk away, we briefly explore the Grönland area of the city, on the "wrong side" of the river Akerselva and formerly a workers' area now inhabited by a diverse group of immigrants. Here, you'll find restaurants with names like Ali Baba, Turkish Grill, and Casablanca. Kebabs and pizza seem to be a popular combination. There's an interesting vibe here, feeling almost more like Berlin than Oslo, in the wide variety of people and the combination of old and new architecture, with faceless brick buildings sit- ting next to elaborately-adorned nineteenth-century facades. Popular Olympen restaurant is one of the throwbacks to the area's previous incarnation, a workers' pub well worth a visit for its homey atmosphere and traditional cookery.
We stroll back past the Dom to the massive City Hall. In back of City Hall, the Oslo harbor unfolds, and I really get a sense of the waterfront locale of the city, located right on the Oslofjord (not really a fjord in the classic sense of deeply rutted mountains plunging down to the water, but an inlet of the sea). Boats head for the museums on the Bygdøy Peninsula, fjord tours of the city, and trips out to the many islands. The 700-year-old fortress perches on a hill, seemingly in another world, but actually about a three-minute walk. It's the best place to really get a sense of the many aspects of Oslo and appreciate the variety of pleasures this unpretentious little big city has to offer.
I take the tram back to the Saga. I know I should walk, but I'm jetlagged and exhausted from walking, and it's a quick ride to my stop on Briskebyveien. Here, steps from the tram, I discover Mocca, one of my favorite coffeehouses in town. It's a tiny place, abuzz with families, singles, and couples jammed into the little tables. I get a double espresso, take a seat in the window, and look out over the street, a playground, and distant church spires. Suddenly, the world gets better, my feet stop hurting, and I could last all night. Sometimes it doesn't take much.