Join us as we hike the Nakasendo Way from Kyoto to Tokyo through some of Japan's most beautiful (and wettest) countryside.
I'm walking along the Nakasendo Way somewhere between Hosokute and Sekigahara, Japan…in the rain. The slow, persistent drizzle has pruned my hands as I futilely clutch my five-dollar umbrella that I've dragged 6,800 miles from New York City. I was told that rain apparel would be necessary and I half-listened, making sure that my jacket and hiking shoes were waterproof, but forgoing what I now realize is another essential piece of gear—a sturdy umbrella.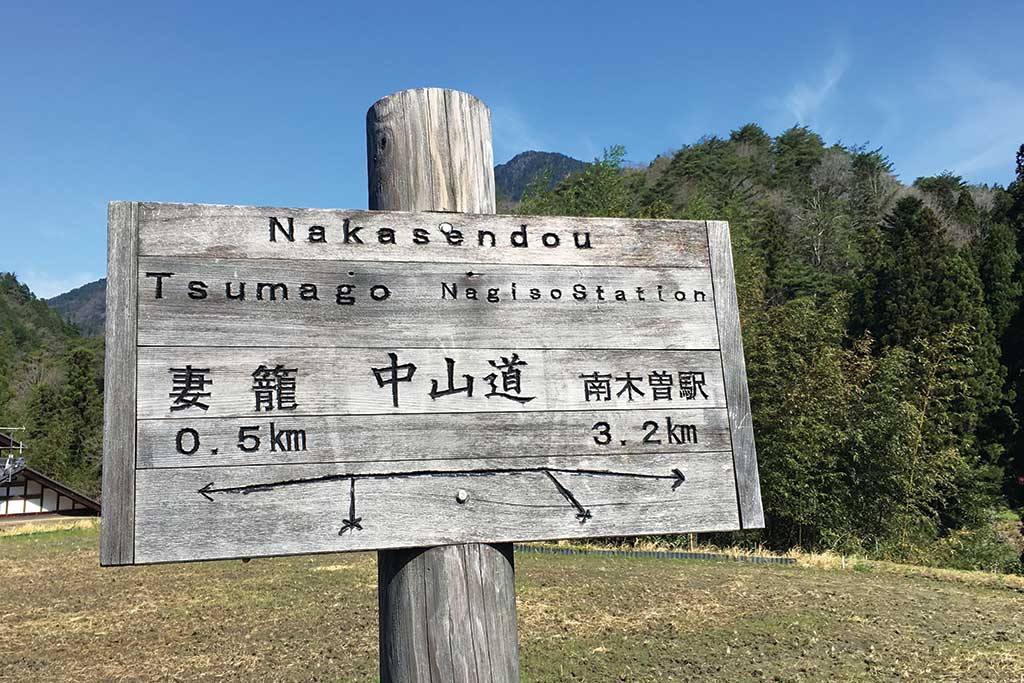 So I simply get wet. I've given up on the idea that a local taxi will whisk our small band of travelers to the warm comfort of the next ryokan. The traditional Japanese inns that have served as our accommodations along this ancient trade route that dates back to the seventh century. There are blossoming cherry trees, rice paddy fields, and rolling grey clouds for as far as the eye can see, but not a ryokan in sight. I venture on, one muddy step at a time. My mind asks, "What the hell am I doing here?" And then it answers: "You're here because there is a world beyond your own. Get out of your comfort zone."
THE ROAD THROUGH THE MOUNTAINS
Celebrating 25 years of off-the-beaten-path itineraries throughout the country's most picturesque landscapes, Walk Japan (www.walkjapan.com) has pioneered an exciting range of immersive experiences available for adventure-seeking tourists from all around the world. From guided tours along the coastal Izu Geo Trail to Ise Shrine and Shikoku temple pilgrimages, more than a dozen specialized excursions offer something for everyone, from the occasional walker to the experienced hiker (I'm the former). While I give myself credit for navigating New York City's concrete jungle on a daily basis, I have a quick learning curve when it comes to the 80-mile walk that lies ahead.
Translated as "the road through the mountains," the Nakasendo Way stretches from Kyoto to Tokyo (nearly 300 miles, which our group supplements with occasional train connections) and was a vital trade route during Japan's Edo Period (1603-1867). There were 69 stations along the route, in addition to Kyoto and Edo (modern-day Tokyo), each offering lodging and supplies.
Our first night in Kyoto, where the group gathered for dinner before exploring the Gion district and catching a glimpse of one of the few remaining geishas, seems like a distant memory. We trudge on, and the formalities under Mother Nature's rainy shroud seem to melt away. The cast of characters includes Chris and Sue, a fun couple from Australia celebrating her 50th birthday; Leonie and Leonie (yes, they share the same name), good friends also from Australia; Rey, a Walk Japan regular now on his fourth trip; Kris, a German by way of London; and Nick, our fearless guide who leads the way. Nick, half-Caucasian and half-Japanese, is a charmer and has put the group at ease with his long-winded and colorful historical tales that often begin with "What happened was…"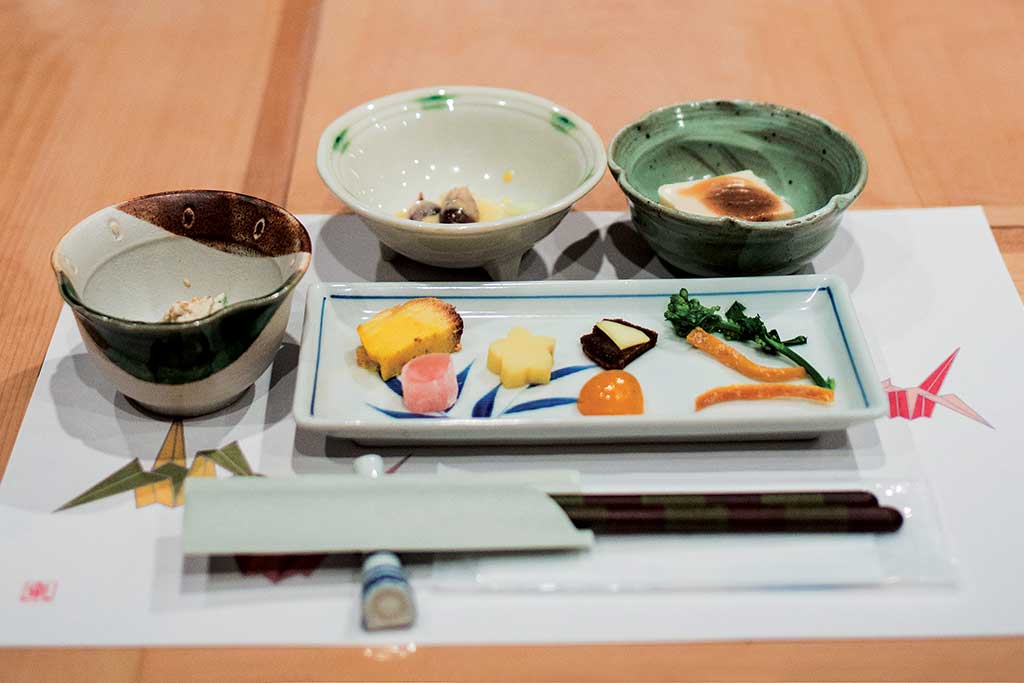 Earlier in the day, Nick recounted the epic battle at Sekigahara, where 200,000 warriors clashed and the Tokugawa shogunate emerged victorious, marking the beginning of the Edo Period. After a few minutes, my mind starts to wander from 17th-century battlegrounds to those of today. I've had a pit in my stomach for months, wondering if our current political juggernaut will climax like the fall of Rome or similar battles in Waterloo and Gettysburg. We've never been short on global crises, and I decide to eat my daily allotment of trail mix and jerky to sooth my jangled nerves.
YOU MAKE THE BED YOU LIE IN
Ask anyone who knows me, and they'll tell you that I like the finer things in life. I once shared a hotel room with a friend who wanted to forego turndown service. I think I breathed fire. Traveling along the Nakasendo Way, however, offers a different kind of luxury, one that's steeped in centuries-old tradition and culture. Daiymo (lords of the shogun) were housed in honjin (the most elaborate accommodations with private gardens and servant quarters). Waki-honjin were similar but for lower ranking officials, while other inns sat directly on the route itself and offered more modest lodging.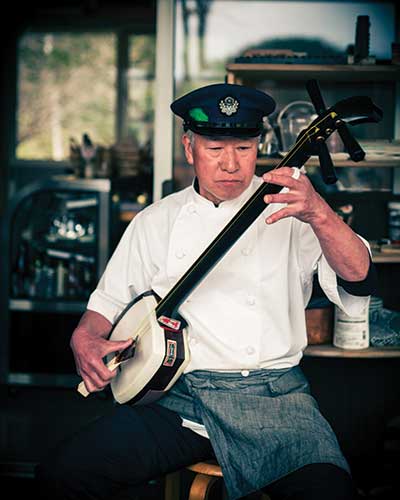 The majority of our nights are spent in ryokans that range from simple to luxurious, but what they have in common are the welcoming innkeepers that graciously open their doors after our day's walk. Walk Japan transports luggage between post towns, but we've been carrying daypacks weighted with water bottles, sunscreen, those aforementioned umbrellas, and plenty of unusual candies and snacks picked up along the way. Nick has briefed us on the customs of staying in such an inn, which includes a lot more than hanging a 'Do Not Disturb' sign on your door, which is impossible anyway, since the rooms are merely separated by shoji (sliding door frames encased in rice paper).
Upon entering the building, we've been instructed to remove our shoes in the entryway and put on house slippers. There's usually tea involved and perhaps a sweet cake. Nick assigns our rooms (and bathing order, which I'll get to momentarily) that are more like cubicles, covered in tatami (reed mats), with a low wooden table and additional tea service.
There's not a Temper-Pedic mattress in sight, or any mattress for that matter. Instead, a simple futon and quilt are provided, along with a single rice husk-filled pillow. At some inns, we're asked to make our own beds, at which time Nick offers a thorough lesson by unpacking the room's oshiire (a closet that holds the various futons and blankets). My attention wanders, once again, as I daydream about what the innkeeper will prepare for dinner, and by the time I get around to making my own bed, I haphazardly stack the futons and blankets and wake up the next morning with the adage, "less is more," ringing in my ears.
DOUBLE-DIPPING ALLOWED
There's always been one non-negotiable in my travels: a beautiful bathroom. I revel in heated floors, plush towels, soaking tubs, and rain showers. My medicine cabinet at home overflows with soaps, lotions, and shampoos purloined from some of the world's best purveyors. And then I'm asked to share a bathtub with a bunch of strangers.
Onsen baths can be outfitted within the inn itself, a hot spring adjacent to the inn, or a community bathing facility. I experience all of the above and quickly become accustomed to the rituals. Once again, Nick is at the ready to walk us through the protocol, which involves a vigorous soapy wash and rinse before dipping into the therapeutic waters. At some inns, we share the onsen in a timetable format, each allotted ten to 15 minutes (fortunately, I'm traveling solo, but if I were with a partner or friend, we'd be double dipping). At other inns, the onsen is more like a public spa, with shared washing stations and larger baths. Rules to bathe by: Never dip your washcloth in the bathwater, but do cover your privates when entering and leaving the bath. Don't splash around, you're not in a swimming pool. In public baths, be sure to wipe off excess water off before entering the locker room. It's a lot to keep track of, but I've got nowhere to hide a cheat sheet.
It takes me a couple of days to get into the rhythm of the onsen bathing ritual, but once I get my groove, my inhibitions melt away. The gurgling, therapeutic spring waters of the communal onsens are the most appealing. I don't need to share stagnant bath water with strangers again anytime soon. I've also become a fan of the yukata, the post-bath attire worn at dinner. Made from crisp cotton or linen, our motley group cleans up well after the day's walk as we settle in for the evening meal in our fresh robes.
A FEAST FOR THE SENSES
One of the great joys of traveling the Nakasendo Way, and in particular, staying at the beautiful inns vetted by Walk Japan, is the bounty of local dishes that appear each evening. Our first meal on the trail at the Masuya Inn in Sekigahara reveals a donabe hot pot, a clay vessel with simmering broth in which we cook vegetables and thinly sliced pork. An accompanying miso paste provides that elusive umami bomb of flavor for an unforgettable dinner.
Each subsequent meal delivers a feast for the senses, with an array of local dishes presented on hand-painted ceramics. The green tea (along with sake, plum wine, and Japanese whiskey) flows as we calorie-pile for the next day's walk. Most lunches are on the road with quick bites picked up from local markets. At one point, I mistake a cuttlefish patty for a croissant, but by the time we stop for lunch deep in the woods, my hope for a French pastry has long faded. I have better luck at our stop between Ena and Shinchaya, when Nick takes the group to his favorite eel restaurant, specializing in the barbecued delicacy sourced from the Aichi prefecture in Japan's south-central region.
By day eight we've eaten our way through dozens of dishes, but the spread at Yamaka-no-yu in Kaida Plateau is not to be outdone. Tofu and mugwort, crickets with shiso leaf, and pickled matsutake mushroom soup adorn the table, along with sizzling Shinshu wagyu beef, served on a magnolia leaf with white miso. My adventurous palate falls short the following night at Tsuruya Inn when horse tartare is served. And although I sample the fugu (Japanese blowfish), which can kill you with poisonous tetrodotoxin if prepared incorrectly, the risk factor doesn't live up to the bland, chewy texture, or the panicked feeling that my throat is constricting to the point of death.
WALK, TALK, LOOK, & LISTEN
Over the course of our ten-day journey, the country roads give way to castles, forests of towering cedar and swaying bamboo, distant vistas, and precarious footbridges. It seems like every hour the landscape shifts into something entirely new. Cultural findings pop up as well, such as the Hiroshige Print Museum, dedicated to the famous artist who depicted the Nakasendo Way's 69 stations in vivid detail. As we near the final days, Mount Ontake, Japan's second-highest volcano, becomes visible in the distance. Its snowcapped peaks are a favorite among skiers, but I'm happy to view it from afar.
The view changes as much within my mind's eye. There's plenty of time to ponder life when walking up to 15 miles a day. I think about my age and that there's no turning back the clock. I think about how society taught me that I was "less than" because I was gay. I think about not knowing how to throw a ball or pitch a tent or catch a fish, but how I was really good at running because I was always being chased. And then I think about how, over time, running away has transformed into walking towards my truth. My travel companions each have their similar stories, which we share in dribs and drabs along the cobbled road. Marriage. Illness. Work. Love. Celebration. Death. It's a life cycle that has seen thousands of moons among the Shinto shrines and Buddhist temples that we pass along the way. I occasionally lose my footing. We all do. Such is the journey on the Nakasendo Way.
---
Walk Japan tours book early so plan in advance. Although there is a 25 percent non-refundable deposit, all tours are guaranteed once booked, irrespective of group size, so you may find yourself with a private guide! www.walkjapan.com