Discover why both Las Vegas' LGBT community and travelers are heading Downtown where a whole section of a city teems with a buzzy new energy.
It's Friday night and Las Vegas is buzzing, but not from the sounds of slot machines or the spinning of roulette wheels. It's a different kind of buzz that fills the Arts District. A man stands at a microphone with the light of a neon sign serving as his spotlight. Passersby walk through the Arts District, taking in the various vendors' stalls. A boy picks up a vegan chocolate bar, and the man, like a Greek stentor, shares his spoken-word poetry. A woman browses local artwork and, as she moves on down the street, she proclaims loudly, "I'll have to pick that painting up later."
Nearby, a group of gay boys files out of a local bar holding inventive sugary cocktails that each deserve a PANTONE color. The poet continues to speak, creating a vibrant urgency, and people dance through the stalls to the beat of his trochees. The neon lights of Las Vegas' Arts District are nearly drowned out by the illuminated vendors who have completely transformed the outdoor 18-block district into a creative amusement park of art and local culture.
The rumba of salsa music has old and young locals twirling under the disco-ball twilight. Clouds of smoke from the freshly deep-fried zeppole waft across the dance floor and mix with spray-paint fumes puffing like a chimney from a young boy creating a mural. He's plastering the wood wall with dragons, wizards, castles, and all his middle school fantasies. A hula-hooper leads an exercise class as crowds gather round holding bags of recently purchased handicrafts. "Do you feel free?" the instructor shouts to the dozens of men, women and children hoola-hooping along. "Yes!" the crowd shouts back in a united voice that doesn't match their wild gyrations. There is a new type of freedom in this city that visitors will discover in the sprawling creativity of revitalized downtown Las Vegas.
The sun has just barely risen over this Nevada desert city on Thursday morning, as I walk through the ghost town-like Fremont East. The only remnants of last-night's indulgence are empty beer bongs and Styrofoam® food containers. And the still lit-up signs and the barrel-vault canopy over my four-block walk make me feel like the only person awake.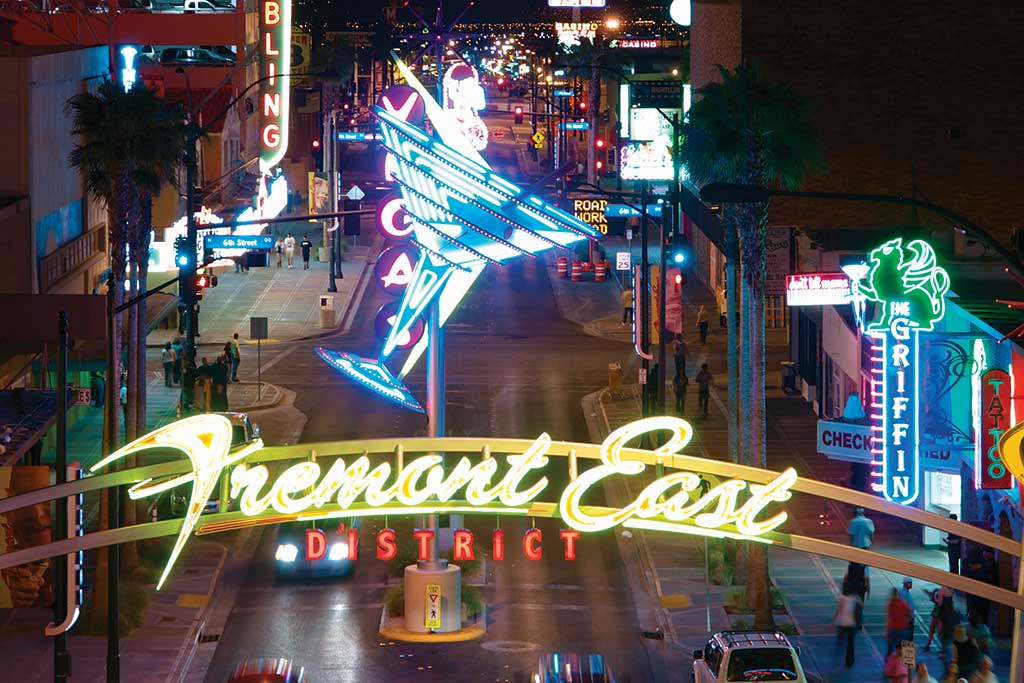 I am here to meet tour guide and LGBTQ tourism diva Babs Daitch and tour guide and retired culture and arts city strategist Richard Hooker who have joined forces to create Las Vegas Pop Culture Tours. Sitting at the Downtown Grand Babs, in her black cowboy hat and dice earrings, stands up, putting her coffee down, to give me a hug. "I wanted to get blood Marys, but Richard thought you wouldn't be up for it," she laughs. I chuckle back, and I suddenly forget my early-morning fatigue.
Babs, a 13-year resident of Vegas who moved from San Francisco, begins to describe to me the changes that have occurred downtown over a cup of coffee. "While living in my mid-century city neighborhood two miles from the Strip, and two miles from Las Vegas Boulevard and Fremont Street, I quickly became electrified with so many possibilities to explore historical images, arts, culture, and discover lesser-known neighborhoods and tree-lined streets with older, single family homes. All of this area is walkable, and it continues to be revitalized, spruced-up and improved," she says.
But it hasn't been an overnight transition. Much credit is due to key players like the Downtown Project, Zappos (whose headquarters is located here), and pioneering entrepreneurs who have all attracted diverse clientele to the area. "I am inspired by the entrepreneurial vibe," Babs adds.
"I would say the biggest thing is that Downtown has been reclaimed as the heart of Las Vegas. In recent years, there has been a paradigm shift in how both locals and visitors see and experience downtown; it is now hip and cool and prosperous," Richard says. Pausing to take a gulp out of his freshly made latte he adds: "More importantly, DTLV has become more than four blocks; it's now a cluster of neighborhoods that have created a true urban core."
A rejuvenated area can only exist, though, with the help of full-time residence and an upswing in real estate value. Richard and Babs introduce me to Wes David, an LGBTQ community real estate broker who shares some insight into the changing demographics of Downtown. "From a real estate perspective, Downtown has seen many reinventions. It continues to evolve with new housing and developments. There are several new and 'newer' high-rises that cater to a more diverse population," he tells me as I look up at some of the sky-high luxury condos. "The Huntridge area (named after the Huntridge Theatre) is a hot area for anyone wanting mid-century modern housing and is adjacent to the Downtown area. As this has taken hold  of the area has become a desirable place to live," he adds.
His point is echoed by Mya Reyes, President of the Las Vegas Gay Visitors Bureau and also the producer of Evolve Vegas, an international gay New Year's Eve celebration that brings more than 1,000 guests. "Gays have always moved downtown and have been a part of the area's gentrification for more than 30 years. Many LGBTQ Las Vegans have purchased historic downtown properties and restored them into beautiful homes." And as gays eat up real estate downtown, companies have also contributed to the area. Tony Hsieh's decision to move Zappos headquarters to the old city hall really was the catalyst. Many gay and gay-friendly people and companies now look to join him and his employees making Downtown Las Vegas a real downtown again.
Babs and Richard take me to another major development, The Gay & Lesbian Community Center of Southern Nevada where the Center's director, Michael Dimengo, greets us. He quickly offers us a vegan pastry and coffee from the award-winning café in the sun-drenched entrance. All sorts of people (including local tourists) are enjoying the freshly baked goods. The Center's building, which they acquired in 2006, has created an epicenter for the community. He explains to us, with a childlike exuberance, about all the programs that are offered to Las Vegas' residents. "The center moving downtown was a game-changer. In the past, most of the LGBTQ activities were in the Paradise area with some at Commercial Center and on Charleston," Wes explains. "In the 1980s everything gay was in the area commonly and somewhat derisively labeled the Fruit Loop; Nothing was really 'Downtown,'" he adds. "When the center moved it helped establish a destination that was in the center of the city. It has been a tremendous success. I think it helped the LGBTQ community to realize that we are Las Vegas too, not just one neighborhood or collection of bars."
The center plays a key role for residents, and has brought the LGBTQ Las Vegans together in a more positive way. "I found the LGBT community to be really fragmented, after moving to Vegas from my beloved LGBTQ city, San Francisco. For me Vegas appeared 10 years behind the times and very transient; you had to prove yourself before various folks put out the welcome mat. It was so hard for me to make connections with lesbians, but much easier with gay men," Babs recalls while walking through a library and computer room. "The center was the foundation and the place to feel part of the community if you wanted to participate. As the center grew so did the community's bonding. I also believe all the equality issues and gay marriage efforts helped unite the community as most joined their respective alliances in unity and the center was base camp for the struggle."
Nevada, which legalized gay and lesbian marriage in 2014, has seen a boost in its already thriving wedding industry. Home to the quickie wedding, Richard and Babs take me to Downtown's Viva Las Vegas Wedding Chapel. With the classic illuminated sign with Rocky Horror lips advertising a "Rocky Horror Wedding," LV Wedding Connection owner Joni Moss meets us outside. Her larger-than-life personality is also almost as big as her purse, which houses a bottle of champagne and plastic flutes. We toast to the Vegas sun (mind you it's only 10 a.m.), and she shows us some of her most extreme wedding arrangements. Helicopters, celebrities, and, of course, Elvis, to name a few of the requests she deals with on a daily basis.
Downtown's quickie wedding chapels are also embracing gay and lesbian weddings, as Viva Las Vegas Wedding Chapel proclaimed that they've been offering ceremonies to gay couples since as early as 1999. When the law finally passed, they quickly flashed a rainbow from the billboard with the message: "Walk-in specials—it's legal!"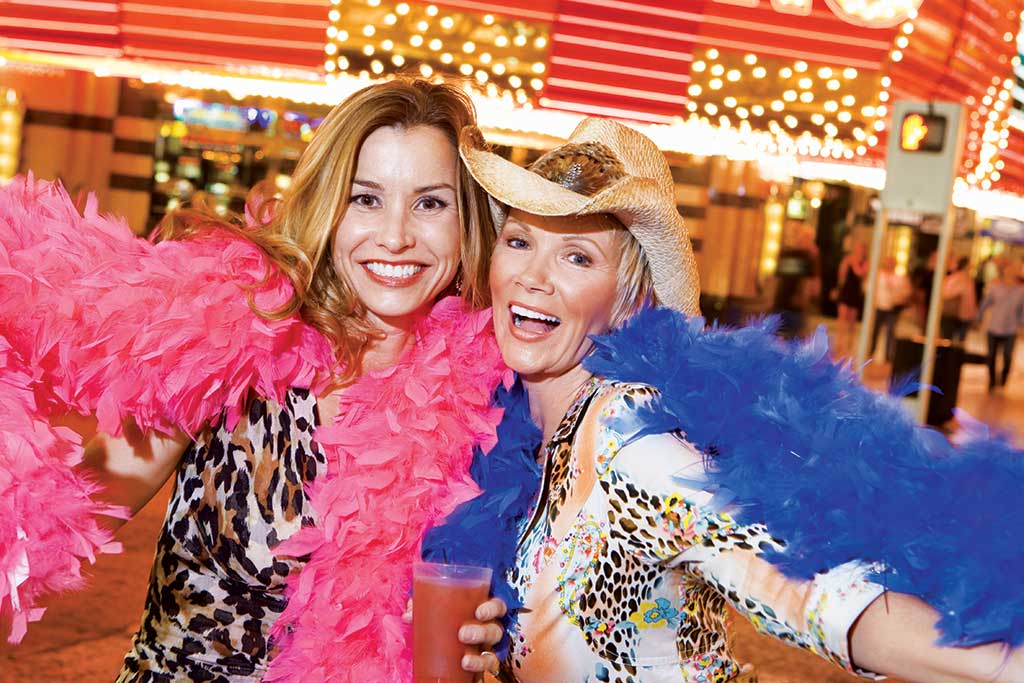 While some use the word gentrification as a negative, many in the downtown area of Las Vegas agree that the gentrified and renewed heart of downtown is welcomed. The city of Las Vegas too is betting on downtown. Not only is it now the home of the $146 million 3-year-old city hall, it's also home to Vegas' largest performing arts center, The Smith Center. Reminiscent of the architecture of art deco Vegas of yesteryear and drawing inspiration from the Nebraska State Capitol, David M. Schwarz has designed an iconic building in the heart of downtown. Completed in 2012, the performing arts center has the 2,050-seat Reynolds Hall along with three other venues. Here, Vegas residents are finally able to enjoy performances outside casinos, while reveling in their own resident companies: the Las Vegas Philharmonic and Nevada Ballet Theatre.