The otherworldly scene at First Fridays, which brings 20,000-plus people to downtown's 18b Arts District, is one of the must-do events in the city. With galleries, stores, bars and restaurants throughout the 18 blocks, you'll love the entrepreneurial endeavor and drive from locals whose unique stores and creative gusto is palpable. After watching men and women working on one of the many public arts projects outside, I visit The Arts Factory where everyone is eagerly setting up for the weekend's events. The mini-mall-like venue leases space to local artists, and a beehive of creative types buzz around and gladly talk to you about their work or curated show. From students' works to bondage-themed pieces, each room is a surprisingly refreshing gallery. We chat up one artist working on a massive mural who describes how The Arts Factory encouraged him to get off the streets and pursue a career in art.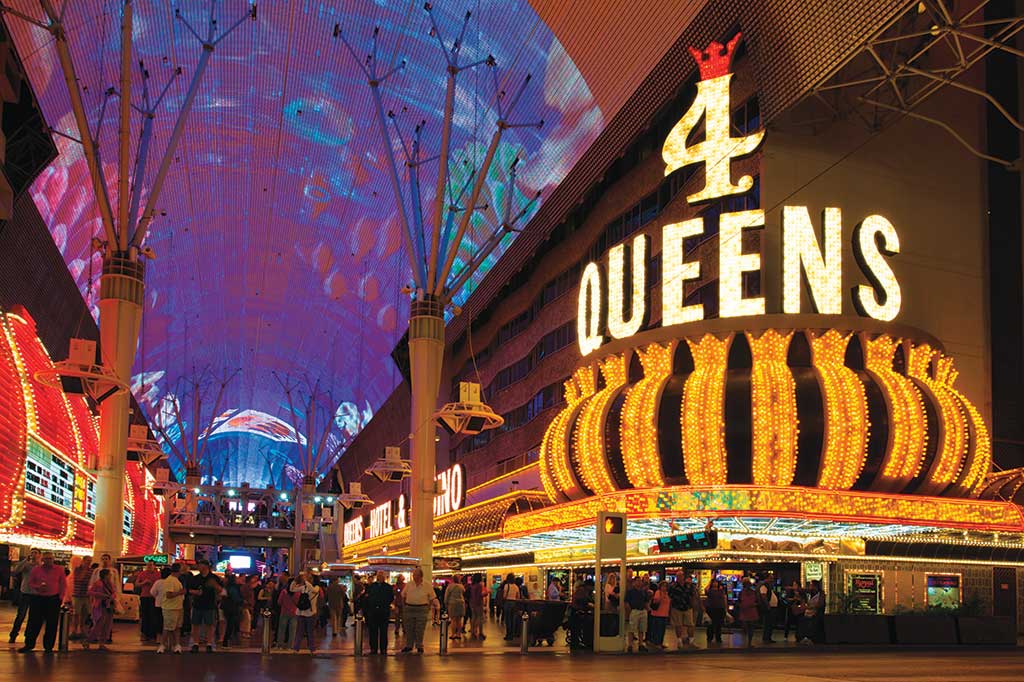 Outside, I meet with my friend Michael Stanton a local artist who grew up in Vegas. "Downtown's transformation has been really welcomed by locals," he tells me. "It's nice to have a center of everyday activity that doesn't revolve around the Strip," he adds. Explaining that a large percentage of locals work in a hotel or along the tourist-heavy area, and the last place anyone wants to go to after work is where they work. In mid-sentence, he lifts up his hand to wave to an employee at The Artform Salon. "That's gay too," he tells me. The welcoming springtime sun lends itself to a perfect day to also visit Antique Alley, a collection of more than 20 independent antique and vintage stores in the Arts District.
At night, Downtown transforms into a Disneyland-like festival of lights, but a sea of revelry replaces Mickies and Minnies. A quick walk through the Fremont Street Experience to witness the spectacle is de riguer, but head east, where the crowd thins.
Ultra-trendy Carson Kitchen has a line out the door. It's the in-the-now restaurant in Downtown thanks to its proprietor's, Kerry Simon, world-renowned reputation. Its rooftop seating area is perfect for a large group to share some of chef Matt Andrews' cooking. My group devours the bacon jam with baked brie that, when smothered on a toasted baguette, will have you rethinking everything you've ever known about everyone's favorite breakfast food. The massive jalapeno poppers see the party snack elevated, with fresh cream cheese and a crispy-fried skin. And the seared scallops are like butter.
Already feeling like a kid from my time at Insert Coins, we head to another adult playground and a massive bar called Gold Spike. Housed in the former Gold Spike Hotel, known for its cheap room rates and not-so-classy clientele, the property was redeveloped under the guise of Tony Hsieh's Downtown Project. We head to the massive backyard where we get in on a game of corn hole, play hopscotch while trying not to spill our beers, and listen to music while playing with giant building blocks.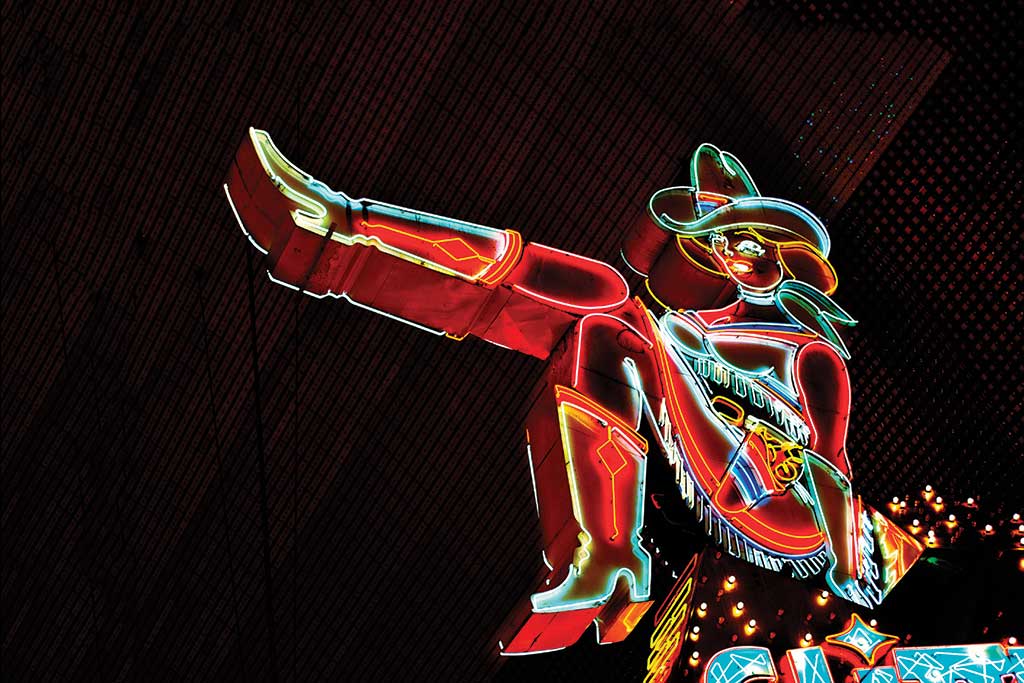 My bar crawl ends with one last cocktail (OK, two more) at Downtown Cocktail Room, where the manager, Kevin, gladly walks us through its extensive cocktail menu and describes how each bartender competes to get new and innovative concoctions on the menu. Each drink has a different level next to it (from one through five) to let customers know how complex the cocktail is. My friends and I feel right at home listening to the DJ and savoring Kevin's drinks.
In the morning, we head for Container Park, a beautiful outdoor mall with 35 small businesses housed in 250-square-foot repurposed shipping containers and modular metal cubes. At the center is a massive tree-house playground and a stage for performances. This is yet again a creation of the Downtown Project.
On my last day in Las Vegas, I decide to take a helicopter tour to the Grand Canyon. As we soar home, the muffled vibrations of the chopper put me at ease. We come off a desert plain, and the sprawling Vegas metro area comes into focus. After a few minutes of frantic picture taking, I see the Las Vegas Strip. As we turn to fly past all the iconic properties, in the foreground I see Downtown Vegas. Dwarfed by the flagrancy of the major hotels, I can't help but stare down at this small chunk of Las Vegas. I think of all the people I met down there, all of their creativity brewing like a chefs pot getting ready to boil over into more parts of Vegas. I think of their pride in their community and their determination to show that Las Vegas isn't somewhere where people's dreams are lost at a slot machine, but where people can come to express themselves, be who they want to be, and, above all, be free.