"Is that you, my prince? You have been a long time coming," I quote Charles Perrault who wrote Sleeping Beauty in the halls of Le Château d'Ussé.
It's the late afternoon, and my partner Jason and I are running in circles in the tower of Le Château d'Ussé. We're desperately trying to see it all before our tour bus pulls away without us. Golden French light flashes through the slit embrasures making it feel like we're inside a slide projector. Each window reveals glimpses of the Loire River Valley. Out one, we see still-blossoming fields of lavender blanket the ground and the wind blows the purple flora as if it's the fur of an animal. I shout Jason's name as he disappears around a corner. Another window frames a lazy creek alongside French manicured gardens. Twisting and turning, I see Jason's hand glide against the cool white bricks. Out another, a man is carrying a barrel of wine while his Briard companion follows him into the wine caves. At the end of the corridor, I find Jason leaning against a heavy wooden door.
Pushing him aside, I peer through the glass windows crisscrossed with wrought iron. Inside is a recreation of the famous Sleeping Beauty. Laying in a white dress on a four-post bed, Aurora sleeps under the witch's spell. Green disco lights fill the room adding a bizarrely creepy effect. Like looking through sunglasses at the sun, the small window behind refracts a blinding light on the window. Looking over her, the prince moves in for that kiss to end the curse.
"Is that you, my prince? You have been a long time coming," I quote Charles Perrault who wrote Sleeping Beauty in the halls of Le Château d'Ussé, and I land a kiss on Jason as we peer once again out at the gigantic fairy tale view. We both mutually agree that if we were in need of an injection of inspiration, the Loire Valley topography would do the trick; no wonder so many elites built homes here. We contemplate our dreams and wishes in Sleeping Beauty's castle, which includes a French château of our own and look forward to spending the rest of our anniversary on CroisiEurope's Loire Princess (www.croisieurope.com).
Just then, we hear a familiar cry from below…my mom and aunt decided they too would like to join our romantic cruise. "JOEY, JASON!" It's a voice that only an Italian mother could project to the top of a castle tower. "The bus is about to leave."
Running away from the sky and back to the group, we hop aboard our bus and continue a journey that takes us from châteaus and palaces to hidden ancient port cities that could only be found in the shadow of Sleeping Beauty's castle.
It's a quick train ride from Paris to Nantes (though train departure times are sporadic from Charles de Gualle, so be sure to plan ahead), and our boat, the brand-new Loire Princess, awaits along the river in the center of the city. My mom, aunt, and Jason have already been here a day, and when I find them, weary with jet lag, they are waiting for me with a decidedly French picnic. We set up near the river with wine, cheese, bread, and jambon de Bayonne.
I turn around rapidly when I hear an elephant trumpet. "That's the Grand Éléphant of the Les Machines de l'île parades," my aunt says so matter-of-factly you would think the three of them have lived in Nantes for years. This 40-foot-high mechanical elephant seats 50 passengers and is part of an entire plaza of creations by François Delarozière and Pierre Orefice that embrace the city's industrial past mixed with Steam Punk and Leonardo Da Vinici. Of course, souvenirs, photos, and a ride on the Burton-esque carousel were in order. In my brief time in Nantes, I discover hundreds of incredible things that we just don't have time to see, so I would recommend arriving a couple of days early to explore this youthful and vibrant city.
Now, we head to our digs for the next four days, the 295-footlong river ship, The Loire Princess. It's the first and only overnight cruise ship to take to the Loire. The water is so shallow here (with also unpredictable tidal changes) that this innovative boat only drafts 31.5 inches. It also utilizes two paddle wheels that are awesomely visible from the inside.
As a result of the ship's relatively small size (at capacity it fits just 96 guests), the interior design plays a huge part in guests' experiences. We loved the refinement and simplicity the designers took when creating the indoor spaces. Utilizing famous designers like Tom Dixon Lighting (which gives off a soothing ambiance throughout the floors) and comfy seating areas by Missoni furniture, its small size also means less frills. There is only one dining area and bar area and no gym or spa like other riverboats. Additionally, the massive flat top-deck is grossly underutilized. Carpeted in Astro-Turf, it's just dotted with plastic chairs and tables, which seem to be used more for the crew's smoke breaks than by most of the guests.
Jason and I appreciate the relatively large size of the well laid-out cabin. Whites and a splash of red let us truly enjoy the star of the room, the huge doors that lead out to a balcony. Though they can also be a curse if the boat docks on your side. Since boats of this nature haven't ever come down the Loire or docked in these towns, you become quite the spectacle for locals. So make sure you're fully clothed when arriving at port, or you'll definitely give the locals a show.
The lovely, young international staff takes pride in their work and also makes sure that guests are completely taken care of while on board. Our first night gives us a glimpse of the culinary excellence available. My mom, aunt, Jason, and I run down early and snatch a perfect corner table (choose your dining companions and table wisely as you won't be able to change for the remainder of the voyage). For English speakers, though, our ship only has eight (including us), so we make up just two adjacent tables. Each meal is three courses, though some are served buffet-style, including breakfast. Our first meal is fresh salmon tartar with a spring vegetable salad, followed by duck and potatoes gratin, and an oh-so-French flan.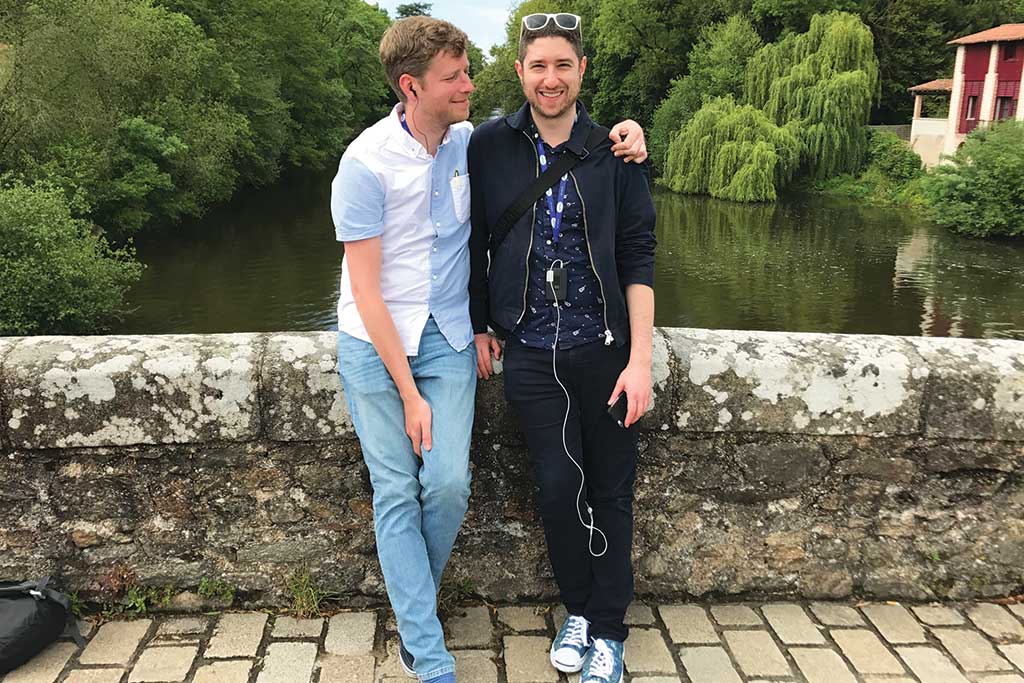 Our night on the ship ends with sundowners on the roof. The mucholder fellow cruise guests seem to avoid the outdoors completely, which allows us to have unobstructed views of Nantes' beautiful cityscape while appreciating the springtime sunset colors over the centuries-old buildings. The breeze is quite chilly, so we head back down to the bar area, where guests are quietly munching on snacks and listening to the Eastern European keyboard player. We take this as a sign to get some much-needed shut-eye and prepare for the morning.
I open the blackout curtain, and a crowd of curious onlookers waves from the stone dock. It's a shame that we didn't even notice that the boat had departed. An announcement let's us know that we are in the ancient city of Ancenis (once an important city in Brittany). Our destination today isn't this gorgeous medieval town, but to explore what the region is most famous for…wine!
News of the French elections has our boat in a fervor as we make our way to a massive bus that seems out of place on the cobblestone, minuscule Middle Ages streets that nary an old lady with a shopping cart could fit through, but alas, we make it out of the town and are introduced to our guide. We learn quickly, through our oh-so-fashionable tour-group headsets, that our guide favors the French-speaking guests (this is a French-owned cruise company). He waxes poetic in French about the views, France, and history (we think), and switches to English in which he surmises his past 20-minute speech into a string of English sentences.
We're not thrilled with the pace of our guide or the wait to hear the translation, which prompts my mom, Annadora, to take matters into her own hands. A librarian armed with mountains of travel books and anecdotes from famous pieces of literature, she gives the English group their own tour of the surroundings. By the end of the trip our guide adjusted his style to try to accommodate all of us, but it was still difficult for him to speak both English and French throughout an entire day, who could blame him?
Inside the walls of Château de la Cassemichère (www.chateaucassemichere.fr), we get our first taste of Loire Valley wine. This 17th-century castle has been producing vins, in the same family, for centuries. The 100-plus acres of vineyards and an additional woodland surround the white of the Tuffeau stone of the château, and it's just so picture-perfect. Thankfully, today we meet the owners who lead our group through the intricately built cellars, replete with original woodcarvings and some of the vineyards most prized bottles. The father and son share that they love having weddings and events here (including same-sex weddings). Of course, your guests will appreciate the freshness of the wines.
If you were to visit one town in the Loire Valley, I'd vote Clisson. This straight-from Disney city is dominated by the mammoth 13th-centry Château de Clisson. Nonsensical curved paths reveal 14th-century churches, wooden houses that survived fires and floods, and tiny nooks with cafés that ooze la belle vie. We cross a Gothic bridge without even believing it could ever still be used, until a car beeps its horn and speeds through the gawking crowd whose eyes are affixed on aqueducts that once carried water to this village. Below a river rambles as just-born chicks wade in the waters. There are flowers bursting from every stone crack in the walls, bringing such life and beauty to the old buildings it's as if the whole town were alive.