We gathered around the table beside a fireplace in a little stone house in the mountains, and carafes of house wine began to flow. Our guide ordered food, swapping melodious syllables of Swiss Italian with our host. We knew we were in store for a great lunch. As it turned out, it was far more: an unforgettable meal, in a storybook setting, that would leave us travelers swooning. But in the Maggia Valley, it was just another afternoon breaking bread among friends.
Such is Switzerland, a place so scenic and gracious that people seem wholly selfcontent simply enjoying life's essence. They seem naturally disinclined to overanalyze or ask futile existential questions. What a waste of time that would be, when one could instead enjoy great food or drink or vistas so marvelous they'd make the von Trapp family jealous.
I was at last visiting southern Switzerland, exploring the town of Ascona (www.ascona.ch), population 5,500. It's a compact municipality perched on the northern edge of Lago Maggiore (also called Lago Verbano), the second-largest of the Italian Lakes. If it weren't for Swiss flags, it'd be easy to mistake this region for Italy, in part because Italian is the sole official language of the Canton of Ticino, the state that encompasses Ascona.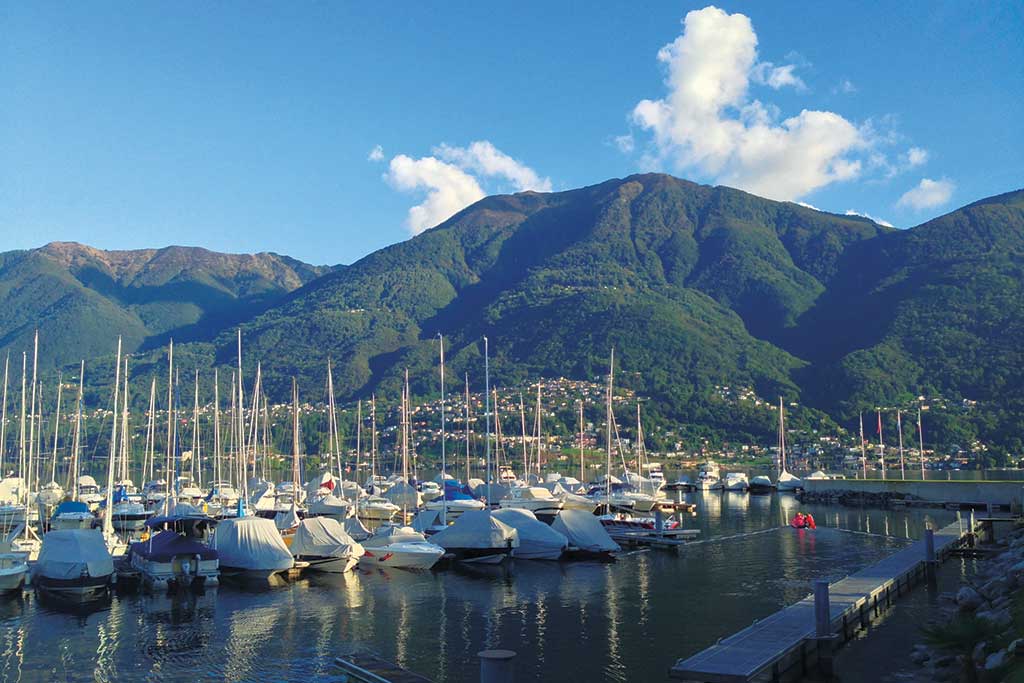 The Italian lakes area has always beckoned, and not just because George Clooney famously loves it and makes his dreamy home on Lago di Como. Really, to me this corner of the world just seemed to possess the magic combination of majesty and mystique.
"Ascona has always been a very strange place," says Claudio Caser, head concierge at the Giardino Ascona (Via del Segnale 10, Tel: 41-91-785-8888. www.giardino-ascona.ch), one of the town's three luxury hotels. "It's always attracted a certain kind of people— dancers, artists, writers. It has this particular romantic atmosphere."
Caser is somewhat of a local legend, as well as a past president of Les Clefs D'or, the "Golden Keys" international concierge association. He's worked at the Giardino Ascona since it opened in 1986, when he was a hospitality newcomer in his early 20s, just settling down with his boyfriend. Since those days, Caser has evolved with the town and is now a true expert on the region, seeming to know virtually everyone and everything about it. He even tweets from the handle "@AsconaConcierge."
From his outpost at the hotel, Caser welcomes a revolving door of returning guests who adore both him and the property, and new guests like me quickly follow suit. It helps that that the Giardino feels somewhat like a palatial villa, with indoor and outdoor swimming pools, grounds to stroll, twin fountains, inviting lounge areas, spa, and a huge courtyard with snow-capped hills in the distance.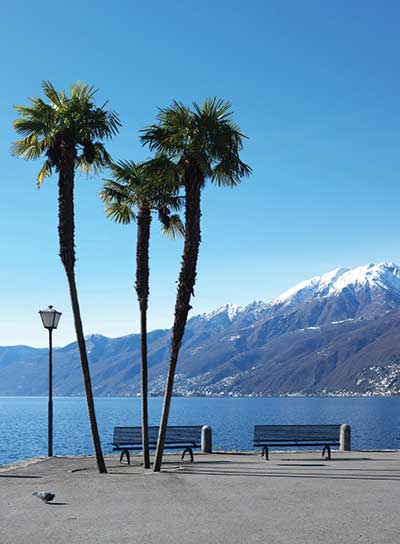 Inside, modern art and sleek interior design let off a chic vibe. I loved having a private balcony, as most rooms do, where I could breathe in the mountain air. Though it seemed strange at first, I got used to the big soaking tub in the main room rather than in the bathroom. It felt so opulent, bathing in their fragrant natural salts and gazing at the lush view beyond the window.
The Giardino is home to two rather amazing restaurants where I was lucky to dine. Aphrodite, with its Mediterranean influences and delicate seafood dishes; and Ecco, the only restaurant in Ticino with two Michelin stars. Ecco's menu reads simply with descriptions like "brook trout, radish, oyster emulsion," but the diverse, natural flavors used in delicious combinations defy explanation. The food was perfectly paired with locally made wine; most especially the vintages from Ticino's Agriloro Winery (Tel: 41-091-640-5455. www.agriloro.ch). From the gastronomy alone, I felt myself falling in love with the Asconan way of life.
And a very pleasant good morning to you, Miss Kelsy," said Caser for my first morning's wake-up call.
He was leading me and a small group of hotel guests for little walkabout, despite some drizzle. With effervescent optimism he told us: "When it rains, just open your heart and feel the sunshine."
We strolled past the marina and the Golf Club Patriziale Ascona (Via Lido 81, Tel: 4191-785-1177. www.golfascona.ch), opened in 1928; and past the beachside nightclub Lido di Ascona (Via Lido 82, Tel: 41-78-9218185. www.lidoascona.com). Through a residential neighborhood, we finally emerged on the Piazza Giuseppe Motta, on Ascona's waterfront. Today, it's a pedestrian promenade, but years ago it was called the "Elbow Mile," since drivers would cruise back and forth, their arms hanging outside the car.
The piazza hugs the shoreline, where ferries dock to transport people between other towns on Lago Maggiore, and paddleboats and other watercraft are rented. While there are benches and shady trees along the lake, there are also hotels and restaurants lining the piazza, like the historic Hotel Schiff-Battello (Piazza Giuseppe Motta 21, Tel: 41-91-7912533. www.hotel-schiff-ascona.ch). Big alfresco dining areas like Al Gabbiano Trattoria (Piazza Giuseppe Motta 47, Tel: 41-91791-8110. www.ristorantealgabbiano.ch) beckon tourists like us to stop and people watch over cappuccino.