Some Vancouver locals are born there and many come from around the world, but they all have a story about what makes Vancouver the right place for them to be. We invited Vancouverites from the LGBTQ2+ community to see what it is about the city that makes them feel like they belong. Meet Angus and Daichan:
YouTube: https://youtu.be/es7eSO5Vw1M
Angus and Daichan are celebrating their 30th anniversary this year – that's 30 years of date nights, which has given them impeccable insight into what's both delicious and has a great atmosphere. Here are their favorite places for fine and semi-casual dining in Vancouver:
Eat: Halibut Fish & Chips. The Halibut is always really fresh, delicious and melts in your mouth. Pair it with a rich bowl of seafood chowder, and it's like a day at the beach.
Drink: Pitchers of Watermelon Mimosas are a perfect match for the Halibut; especially over a long, leisurely brunch.
Insider Tip: If you feel it's just too nice out to sit inside, you can always grab a table on their patio that overlooks palm trees with ocean views, or pick up your fish & chips to go at their kitchen-side service window on Denman Street, for a picnic on the gorgeous beach, just steps away.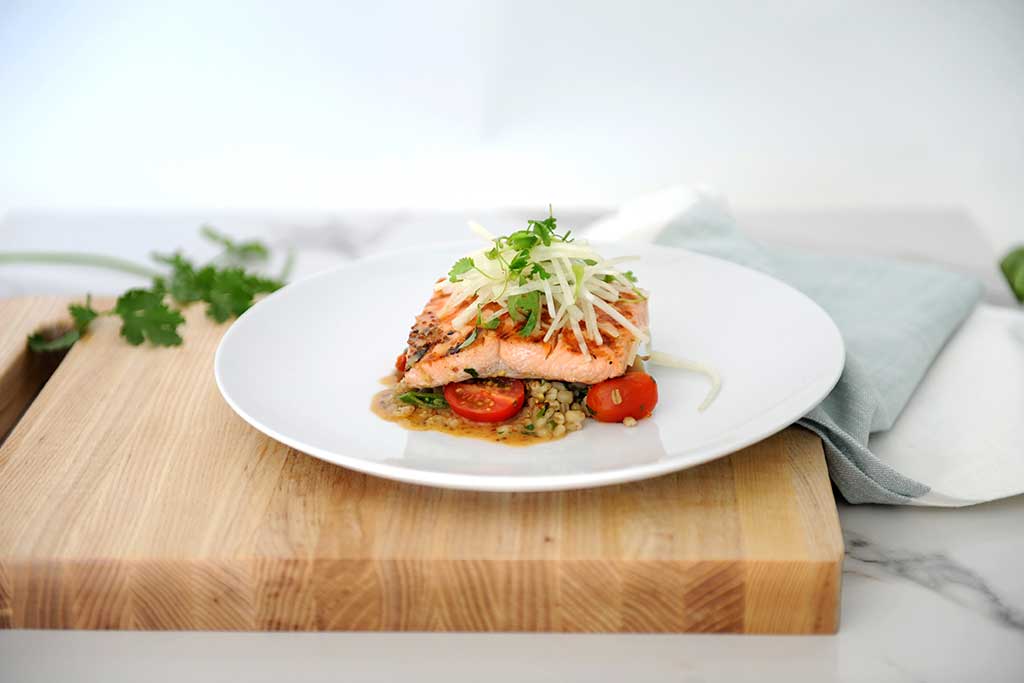 Eat: One of our faves is the Soy-Dijon Salmon. Anti-biotic free, Lois Lake Steelhead are raised in an ocean-friendly environment within British Columbia's stunning mountains. Shitake mushrooms, soy butter sauce, cilantro, and a touch of Dijon, add to the west coast deliciousness.
Drink: Bellinis. There's nothing quite as refreshing as an ice-cold, colourful Bellini, served up in a smart martini glass, beachside, on a hot summer day.
Insider Tip: This hotspot is located right on the beach at English Bay. Ask for a window side seat, or a table on the patio, where you can enjoy excellent people watching, or catch incredible sunsets before heading up the hill a few blocks to the nightclubs and bars in Davie Village.
Eat: Smoky bacon and aged White Cheddar Omelette! This mouth-watering boost of flavour, protein and carbs, is all you need to get going for a day of urban explorations.
Drink: Signature Ceasars. This savoury, spicy tomato-based drink is great for taking the edge off after sampling the surrounding nightlife the night before!
Insider Tip: If you luck out on arrival, or can wait it out with a cocktail at the bar, the two yellow banquette tables in the front window of Moxie's are right on Davie Street, with eye level views of passersby in the heart of Davie Village. Great vantage spot, located street level at the Sandman Suites Hotel.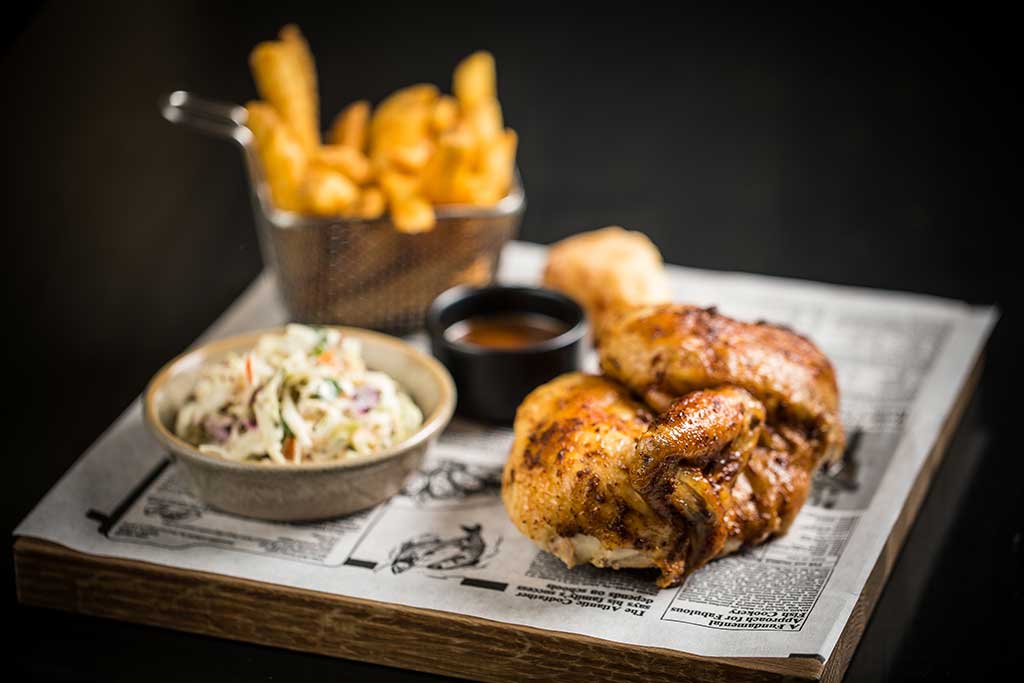 H2 Rotisserie & Bar at the Westin Bayshore Hotel
Eat: Maple Hill Farms House Rotisserie Chicken. Free range, anti-biotic free, and hormone free, you can enjoy this specialty in house, your room, or packed in one of their special Picnic takeout baskets.
Drink: Gin in the Garden; ampersand gin, rose syrup, bitters, lime juice and club soda are stirred together to make this refreshing libation.
Insider Tip: The hotel's GM told us the name refers to a onetime special guest of the hotel. Although he never actually said his name, we surmised it must be the late Howard Hughes (H2), the reclusive billionaire, whom legend has it rented the top four floors of the Westin Bayshore for six months, back in the 1970's. In 2017, their special monthly Long Table Dinners are also becoming legendary.
Eat: Sai Woo Chop Suey. Egg noodles, pistachios, confit garlic, and a dash of Woo sauce enhance this dish as a centre piece to surround with other east-meets-west delights.
Drink: Sai Woo Sour – Bombay Sapphire East, Bénédictine, ginger syrup, lemon juice, and egg white are shaken for this tart creation.
Insider Tip: The original Sai Woo opened as a chop suey house back in 1925, and has maintained some of its history in the raw brick and high ceiling décor to this day. Experience a taste of historic Chinatown by heading down the staircase to the right of the main entrance of this stylish heritage building, to the secret underground parlour, known as Woo Bar.
Eat: Their award-winning seafood chowder. Chef Whittaker specializes in farm-to-table, sustainable food specialties, and connects directly with local fisherman and farmers. This rich creation has been a two-time gold medal winner at the Ocean Wise Chowder Chowdown competition.
Drink: In keeping with the food menu concept, Forage also goes local with their seasonal wine selections, often with limited run vintages. Highly recommend a talk with the well-informed bar personnel, to see about the latest offerings on their list and where they're from.
Insider Tip: For a bit of a Canadiana experience, we sometimes arrive a little before our reservation time, and grab an aperitif next door at Timber bar, where the staff sport plaid shirts, and the occasional beaver is on display.