Hop a flight and get a taste of authentic Midwestern hospitality; you'll quickly understand why Milwaukee truly is a "great place on a great lake."
I grew up in the Bay View neighborhood on the southside of Milwaukee in the 80s and remember frequently taking the #15 bus north and under the iconic Hoan Bridge to shop at the Shops at Grand Avenue (275 W. Wisconsin Ave. Tel: 414-224-0655. www.grandavenueshops.com), see a play at the Milwaukee Repertory Theatre (108 E. Wells St. Tel: 414-224-1761. www.milwaukeerep.com), or hit old East Side coffee shops like Rochambo Tea & Coffee House (1317 E. Brady St. Tel: 414-291-0095. www.rochambo.com), Fuel Café (818 E. Center St. Tel: 414-347-3835. www.fuelcafe.com), or Comet Café (1947 N. Farwell Ave. Tel: 414-2737677. www.thecometcafe.com). The Milwaukee I grew up in was a bit of an 80's version of Happy Days with Laverne and Shirley bustling in the breweries off in the distance. The 30th most populous city in America, with a population of a little over 600,000 people is known as "A Great Place on a Great Lake" and the "City of Festivals." I grew up sailing on old wooden schooners on Lake Michigan, dancing to local bands at Summerfest (the World's Largest Music Festival) on the Henry Maier Festival Park (639 E. Summerfest Pl. Tel: 414-273-2680. www.milwaukeeworldfestival.com), and taking art and performance classes at a variety of local nationally recognized theaters and arts institutions. As an adult, looking at Milwaukee through a business lens I was struck by much the city has grown over the years. In addition to the kitsch, nostalgia, and charm Milwaukee has truly grown into an effervescent city perfect for meetings, conferences, and special events at an incomparable price point.
Situated just above Chicago and along the Southeastern shore of Lake Michigan, Milwaukee rose out of the gathering of several Native American tribes scattered throughout Eastern Wisconsin. The city's name is thought to come from the Potawatomi Tribe, who called the land "Mahn-ah-wauk," or as Alice Cooper proclaimed in Wayne's World: "Actually, it's pronounced 'mill-e-wah-que' which is Algonquin for 'the good land.'" Additional native tribes in the area included Ojibwe, Menominee, Chippewa, Fox, Sauk, Mascouten, and Winnebago (HoChunk). There's still a strong Native influence and strong representation throughout the area, visible in art and culture in cultural destinations like The Milwaukee Art Museum (700 N. Art Museum Dr. Tel: 414-2243200. www.mam.org), at Henry Maier Festival Park during the popular Indian Summer Festival (10809 W. Lincoln Ave. Tel: 414-604-1000. www.indiansummer.org), frequent (and popular) Pow-wows, at nearby effigy mounds, sacred parks, and at popular gaming destinations like Potawatomi Hotel & Casino (1721 W. Canal St. Tel: 800-729-7244 www.paysbig.com).
The French started arriving in the area around 1674, trading furs with the local tribes. In the beginning of the 1840s, a wave of German immigrants came to Milwaukee, quickly becoming the majority and referring to the city as the "German Athens." By 1856 there were over two dozen breweries in the city, including Best Brewing, built by German immigrant Phillip Best, the Miller Brewing Company, and the Joseph Schlitz Brewing Company (known as "the beer that made Milwaukee famous"). Milwaukee continued to grow in the late 1800s because of wheat, the steel and iron industries, meat-packing, tanning, flour milling, and brewing (all of which continued well into the 19th century). Prohibition and the Great Depression hit the city hard and stunted the growth of a formerly rapidly and emerging Midwestern metropolis. Milwaukee, and many relatively similar locations faced some difficult times during much of the 20th century, but things have changed significantly over the last decade.
New commercial and developmental projects continue to increase and change the skyline. The graceful post-modern Quadracci Pavilion, designed and completed by Santiago Calatrava as an extension of the Milwaukee Art Museum, signified a clear turning point for the city. The Museum opened first as a gallery in 1888, but has since grown to include the War Memorial Center, the Kahler Building, and the latest Quadracci Pavilion. The collection includes over 30,000 works of art, including one of the largest collection of works by Wisconsin-native Georgia O'Keeffe as well as impressive works by Pablo Picasso, Edgar Degas, Mark Rothko, Claude Monet, and Andy Warhol. The art museum's expansion was quickly followed by a number of impressive renovations and new projects including the recently opened Northwestern Mutual's (833 E. Michigan St. Tel: 414-431-9688. www.northwesternmutual.com) $450 million 32-story glass-and-steel tower and the upcoming $524 million Milwaukee Bucks' arena (projected to open in 2018). Since 2005, in fact, over $3.6 billion in private and public projects have been created in addition to another $3.6 billion currently under construction. Over the past decade, Milwaukee has boosted their residential population by over 27% and increased their economic hub to over 83,000 workers located in the Downtown area alone. There are seven Fortune 500 companies in Brew City: Manpowergroup, Kohl's, WEC Energy Group, Harley-Davidson, Rockwell Automation, Fiserv, and Northwestern Mutual.
Looking for the right spot for to hold a conference? Look no further than the enormous convention campus in Downtown Milwaukee that includes the Wisconsin Center (400 W. Wisconsin Ave. Tel: 414908-6000. www.wisonsincenter.org), the Miller High Life Theatre (500 W. Kilbourn Ave. Tel: 414-908-6001. www.millerhighlifetheatre.com), and the UW-Milwaukee Panther Arena (400 W. Kilbourn Ave. Tel: 414908-6000. www.uwmilwaukeepantherarena.com). The Wisconsin Center itself is an epic meeting space featuring 188,695 square feet of continuous space including the 37,506-square-foot Grand ballroom with a capacity for 4,440 and an additional 39,640 square feet of meeting space that can break out into up to 28 separate meeting or breakout rooms, gorgeous public art, and high-tech equipment and technology capabilities. This venue, paired with the Milwaukee High Life Theatre, which can accommodate up to 4,086 individuals, and the UW-Milwaukee Panther Arena holds another 12,700, making it an enticing contender for any large-scale conference. Since 2004, VISIT Milwaukee, Visit Pittsburgh, and Travel Portland have worked together to form the Three City Collective, offering both financial incentives and the seamless efficiency of three teams working to save event planners time and cash.
Milwaukee is a standout in this trio for it's overall value and ability to offer big-city entertainment at small-town prices. In addition to the dynamite Milwaukee Art Museum, the city has a surprising arts scene. I grew up marveling at the first rate acting company at the Milwaukee Repertory Theatre, known as one of the top regional theatres in the country for over 60 years. Spread out over a large mainstage, a smaller black box and the fun Stackner Cabaret there's always something happening at the Rep. The Marcus Center for Performing Arts (929 N. Water St. Tel: 414-2737121. www.marcusarts.org) is the go to for touring Broadway shows and other special events and notable smaller theatres: Milwaukee Chamber Theatre (158 N. Broadway. Tel: 414-276-8842. www.milwaukeechambertheatre.org), Next Act Theatre (255 S. Water St. Tel: 414-278-0765. www.nextact.org), and Renaissance Theaterworks (158 N. Broadway. Tel: 414-291-7800. www.r-t-w.com) always have their finger on the cultural pulse.
Interested in more local culture? With Milwaukee Ballet (504 W . National Ave. Tel: 414-643-7677. www.milwaukeeballet.org), the Milwaukee Symphony Orchestra (1101 N. Market St. Tel: 414-291-7605. www.mso.org), The Florentine Opera Company (930 E. Burleigh St. Tel: 414-291-5700. www.florentineopera.org), and The Skylight Music Theatre (158 N. Broadway. Tel: 414-291-7800. www.skylightmusictheatre.org) at the Broadway Theatre Center, you could catch a powerful performance any night of the week.
In town during the fall? You might be able to attend the popular Milwaukee Film Festival (2230 N. Farwell Ave. Tel: 414-276-5140. www.mkefilm.org) that brings over 30,000 cinephiles to The Oriental (2230 N. Farwell Ave. Tel: 414-276-5140. www.landmarktheatres.com) — a swank 1920's movie palace decorated head to toe in East Indian artwork and décor that includes three ornate chandeliers, an enormous Buddha, porcelain lions, hand-drawn murals, and elephants galore! Milwaukee Film, the organization behind the festival, is going to officially take over and begin operating The Oriental year-round on July 1, 2018.
In addition to the overall intrigue of an unexpected arts scene, the sheer economics and accessibility of a broad array of hotel options is enticing when considering the city for meetings or conferences. Hyatt Regency (333 W. Kilbourn Ave. Tel: 414-276-1234. www.milwaukee.regency.hyatt.com), conveniently adjacent to the Wisconsin Center, is a no-brainer if you bank on heading back to the room for some work or a little R&R between breakout sessions. Their 481 contemporary rooms with sweeping downtown views of the Milwaukee River make it a quick and easy choice if you want to be close to where all the action is. For the ultimate in luxury and a step back into the decadent Gilded Age, The Pfister Hotel (424 E. Wisconsin Ave. Tel: 414273-8222. www.thepfisterhotel.com) provides 307 guest rooms chock-full of class, sass, and plenty of elegance. Built in 1893, the Pfister is certainly a sophisticated option, offering lavish accommodations with remarkable views and the highest standard of service.
Just a bit more west, the funky and popular The Iron Horse Hotel (500 W. Florida St. Tel: 414-374-4766. www.theironhorsehotel.com) would certainly win any sort of "cool hotel award" the city might give out. Transformed from a 100-year-old mattress warehouse, the property features 100 oversized loft-style guest rooms featuring old-wooden posts, intriguing original architectural details, exposed brick walls, and huge windows. Any night of the week, you'll find an impressive crowd sipping cocktails and mingling at The Yard, one of the best places to not only see and be seen in Brew City, and but also a good location to score brownie points with business partners by holding corporate meetings or after-business cocktails.
Nearby, the Potawatomi Hotel and Casino (1721 W. Canal St., Tel: 414-847-7400. www.pcysbig.com) offers 381 sophisticated, yet comfortable, rooms slightly off the beaten path from the hustle and bustle of Downtown Milwaukee. The Casino offers all of Lady Luck's gaming favorites and Fire Pit's Side Bar offers an expansive list of shows every night of the week. Last spring, Potawatomi announced their intention to expand the property to include a second tower and add an additional 119 rooms and suites, a spa, and additional meeting spaces.
Brewhouse Inn and Suites (1215 N. 10th St. Tel: 414-810-3350. www.brewhousesuites.com) is located in the middle of the former Pabst Brewing complex and is a great choice for beer lovers, history buffs, and the corporate traveler. The 90-room all-suite hotel boasts the original massive copper kettles and a beautiful stained glass portrait of King Gambrinus, Patron Saint of Brewing (of course). Be sure to swing by the current Pabst Milwaukee Brewery (901 Juneau Ave. Tel: 414-630-1609. www.pabstmkebrewery.com) that is situated in the former First German Methodist Church. Go a little out of the box and opt for one of the original recipes from the vault of Pabst recipes.
A trip to Brew City isn't complete without a proper Brewery tour. The beer history tour at Best Place at the Historic Pabst Brewery (901 Juneau Ave. Tel: 414-630-1609. www.pabstmkebrewery.com) starts off with a beer sampling and history lesson: get your hipster on with a cold pint of Pabst Blue Ribbon (or a Sprecher root beer) in Blue Ribbon Hall before checking out the office of Captain Pabst, the 1880 corporate headquarters, the old infirmary, and a Prohibition-era speakeasy. For the ultimate boozy Laverne and Shirley experience, hit the Lakefront Brewery (1872 N. Commerce St. Tel: 414-372-8800. www.lakefrontbrewery.com) tour where you enjoy four plus beers in a souvenir pint glass while wandering around and interacting with the progressive and popular brew house and getting into the kinetics behind brewing and a fun peek at the old bottling machine. If "Miller Time" strikes your fancy The Miller Visitor Center (4251 W. State St. Tel: 414-931-BEER. www.millercoors.com/breweries) offers an indoor/outdoor guided walking tour of the historic Miller Valley where you can check out the packaging center, shipping and distribution warehouse, brewhouse, and historic caves.
After a brewery tour, keep the fun going at any one of Milwaukee's gay bars or nightclubs. This is It (418 E. Wells St. Tel: 414-278-9192. www.thisisitbar.com), affectionately called "TITS" by locals is an old-school gay bar where everyone is welcome. Located comfortably downtown and near the lake, TITS is the perfect place to pre-game and meet some new friends. RuPaul's Drag Race–contestant and now All-Stars Trixie Mattel got her start at Hamburger Mary's (730-734 S. 5th St. Tel: 414-488-2555. www.hambrugermarys.com), where you can catch outstanding drag revue performances on Friday or Saturday night (and a sassy Drag Brunch every Sunday). D.I.X. (739 S. 1st St. Tel: 414-231-9085) in the Historic Third Ward is a fun corner bar offering a dance floor that gets crowded on the weekends.
Leather queens flock to show off their muscles, scruff, and gear at Harbor Room (117 E. Greenfield Ave. Tel: 414-672-7988). If folklore and ghosts pique your interest, check into the Victorian-style Shakers (422 S. 2nd St. Tel: 414-272-4222. www.shakercigarbar.com) infamously called "Milwaukee's Haunted Bar" where Al Capone once ran a storied Speakeasy and an upstairs brothel. Sip on absinthe and classic Prohibition-era cocktails while spooking about. Take an actual ghost tour so you can explore the basement and former brothel—that chill up your spine might just be one of Capone's victims. At the end of the night, it's all about getting to the dance floor and turning it out at LaCage (801 S. 2nd St. Tel: 414-383-8330. www.lacagemke.com), Milwaukee's oldest gay dance club (also the largest in Wisconsin). Open seven nights a week, nightly parties feature dancers, giveaways, beer busts, and drag performances upstairs in their colorful Montague Lounge.
Hungry for a quick bite or a lavish dinner? There are over 200 restaurants in the downtown area alone, many with private dining rooms for small or large business events. Mader's Restaurant (1041 N. Old World 3rd St. Tel: 414-271-3377. www.madersrestaurant.com), has been serving classic and upscale German dishes since 1902. The cat's out of the bag about how great their Rheinischer Sauerbraten, Wiener Schnitzel, and Pork Shank is: pictures of celebrity guests like Tony Curtis, Cary Grant, and even Liberace line the walls between dining rooms. Make a reservation for their Sunday Viennese Brunch, considered one of the most popular brunches in town since 1977.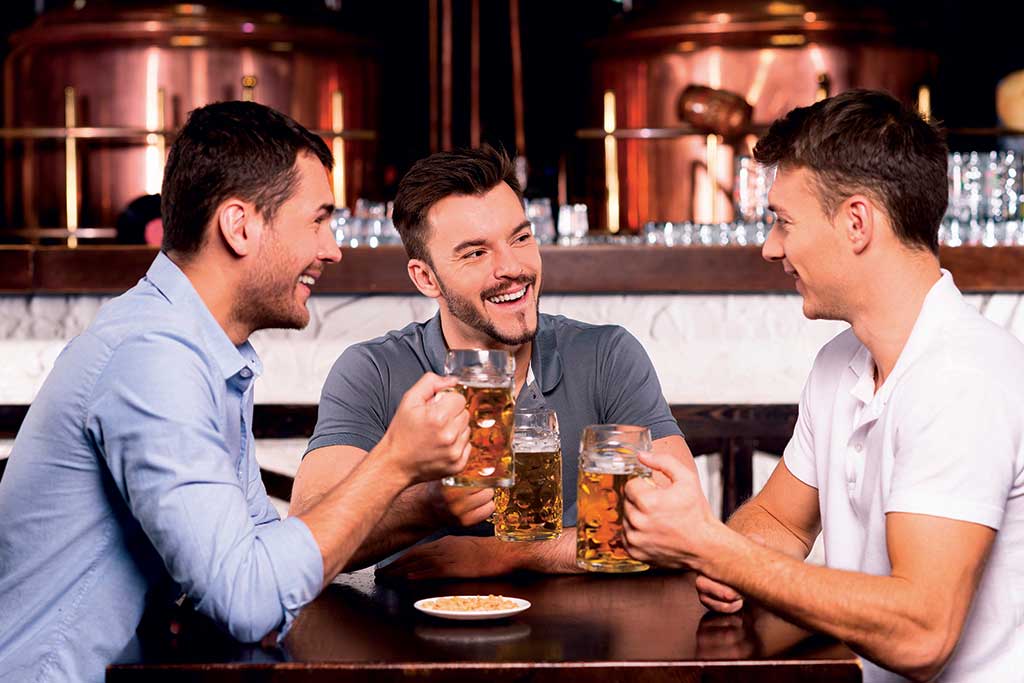 Nearby, chef Justin Aprahamian runs a tight kitchen offering seasonal dishes inspired by Milwaukee's local markets at the ever-popular Sanford Restaurant (1547 N. Jackson St. Tel: 414276-9608. www.sanfordrestaurant.com), housed in a former grocery store, the D'Amato family ran it for over 80 years. Diners can opt for the daily (and seasonal) menu, Four-Course Exploration Menu featuring a variety of geographical destinations, cultures, and traditions like the "Taste of Portugal" or the seven- course tailored "Surprise Tasting Menu" for the adventurous diner. If Ernest Hemingway were in town, Bodegón at Hotel Madrid (600 S. 6th St. Tel: 414-488-9146. www.hotelmadridmke.com) would definitely be his spot. Located in the Walker's Point neighborhood, this newish fine dining hotspot offers dishes like suckling pig, veal chops, and dry-aged steaks, as well as craft beers and prestigious cocktails inspired by the Bates Cocktail Index from 1934.
Executive Chef Adam Siegel at Bartolotta's Lake Park Bistro (3133 E. Newberry Blvd. Tel: 414-492-6300. www.bartolottas.com) won a James Beard Award in 2008 for best chef. The restaurant, located in a East Side historic pavilion, offers classic French cuisine, an impressive wine list, and views of the lake. Bay View's Odd Duck (2352 S. Kinnickinnic Ave. Tel: 414-763-5881. www.oddduckrestaurant.com) is a crowded small-plates restaurant with Prohibition-era cocktails, comfort options like herb spätzle, hearty charcuterie platters, and lobster corn fritters. Engine Company 3 (217 W . National Ave. Tel: 414-226-5695. www.enginecompany3.com) and La Merenda (125 E. National Ave. Tel: 414-389-0125. www.lamerenda125.com) both offer fresh, sustainable dishes inspired by the family farm way of life. If you're looking for a great latenight dining (and people-watching spot), Black Sheep (216 S. 2nd St. Tel: 414-223-0903. www.blacksheepmke.com) offers casual yet inventive bites led by chef Adam Pawlak. Their pancake-battered cheese curds and fried Brussels sprouts and cauliflower, for instance, are the perfect snack after a night out on the town.
There's no shortage of unique and impressionable places to check out, hold a meeting, or stage a special event in Milwaukee. A trip to Lake Park, designed by Frederick Law Olmsted who also designed New York City's Central Park, will reveal the stunning North Point Lighthouse (2650 N. Wahl Ave. Tel: 414332-6754. www.northpointlighthouse.org). Situated on a high bluff and originally erected on November 2, 1855, the lighthouse remained operational until 1994. For a unique event, The Harley-Davidson Museum (400 W . Canal St. Tel: 877-436-8738. www.harley-davidson.com/museum) may be just the ticket. With 11 indoor space options as well as a variety of outdoor spots, the Museum can accommodate over a thousand guests on their sprawling riverfront campus. Their All-Day Meeting Package includes all-day use of the space, complimentary museum tickets, breakfast or afternoon snacks, an onsite event coordinator, and more. The Harley-Davidson Museum itself is a total walk on the wild side, featuring an unrivaled collection of over 450 motorcycles and memorabilia and a stunning 20-acre park. Fair warning: you may leave with leather, a Harley-Davidson motorcycle, or on the back of a new friend's bike.
Milwaukee Public Museum (800 W. Wells St. Tel: 414-278-2728. www.mpm.edu) is located right in the heart of downtown and offers event space for groups of ten to 3,500 in their 80,000-square-feet building and amid over 4 million specimens of natural history and permanent crowd-pleasing exhibits like the 33 recreated homes and shops in their European Village and the newly renovated Streets of Old Milwaukee, which includes models, life-sized shops, and houses inspired by late 19th- and early 20th-century Milwaukee. Meanwhile, Potawatomi Bingo & Casino can host group sizes from ten to 3,000 in over 60,000 square feet of meeting space spread out between their Woodland Dreams Ballroom, Event Space, and Hotel meeting rooms.
Regardless of whether you're stopping in Milwaukee for a quick meeting, a week-long conference, or strategizing on a longer project, the city has plenty of resources to assist you during your stay. Check out www.visitmilwaukee.org/meetings for assistance on pre-promoting Milwaukee to business partners and/or conference attendees. Hop a flight and get a taste of authentic Midwestern hospitality; you'll quickly understand why Milwaukee truly is a "great place on a great lake."