In case you haven't noticed, Las Vegas has turned itself into a must-visit dining destination, attracting some of the world's greatest chefs who are opening up spectacular new restaurants each year to the delight of the 40 million annual travelers to this desert oasis. From Gordon Ramsay, Hubert Keller, and Bobby Flay, to Wolfgang Puck and Giada De Laurentiss the choices are endless. Here are some of my top choices for discerning gourmands headed to Las Vegas. Bon appétit!
Della's Kitchen
Delano Las Vegas
Delano Las Vegas combines the style, service, and allure of the original Delano South Beach with the energy and buzz of the Las Vegas Strip. Della's Kitchen is designed to be a "historic farmhouse meets urban kitchen," and does so by blending dessert tones and industrial materials. Serving seasonal comfort dishes made with regionally and locally sourced ingredients, with local produce coming from Della's private greenhouse, guests here enjoy a range of breakfast options from the simple local honey and lemon yogurt to elegant plates such as the Blue Crab Benedict with artisan Brie, spinach, roasted tomato, and Mornay sauce. Lunch options include five signature paninis ranging from Gruyère cheese and mushrooms to ham and brie with onion marmalade, sandwiches, burgers, and entrees featuring grass-fed beef and hormone-free chicken. The Steak Frites plate, a dish with petit grass-fed beef filet covered with roasted marrow butter is a delicious exotic option. To indulge even more, you can never go wrong with a well made mac & cheese, and Della's take features elbow pasta smothered in cream sauce topped with brioche bread crumbs and then is toasted in the oven. 3940 Las Vegas Blvd. S. Tel: 702-632-9444. www.delanolasvegas.com
Yusho
Monte Carlo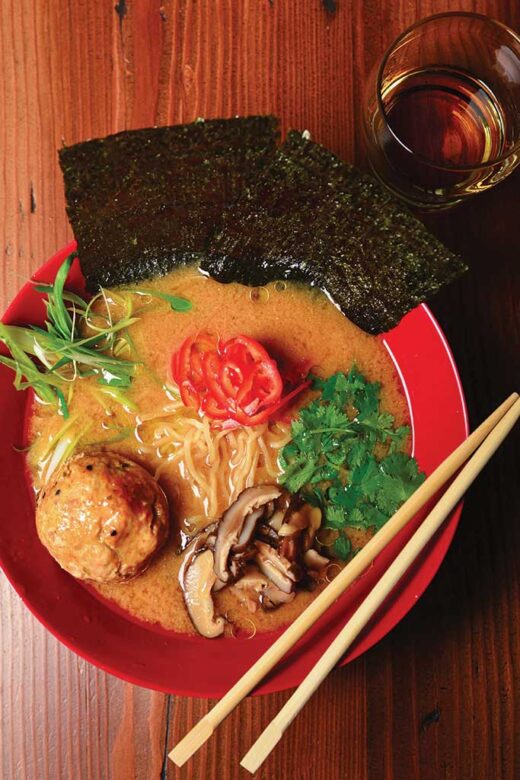 Named 2014's "Best New Strip Restaurant" by Las Vegas Weekly, Yusho features flavorful Japanese style dishes and tapas inspired by simple street food. The open space creates a casual and comfortable dining experience with the use of natural woods mixed with ibrick walls and the happy tones of teal, chartreuse, and orange. Guests are able to sit in a bar area in the front, the main dining area looking out to The Strip, or an outdoor patio. A simple menu offers a range for various tastes. Grilled plates include an aged New York Strip Steak that's wrapped with nori (Japanese seaweed), and a Hamachi Kama, which is the collar of the yellowtail fish, that is covered with Thai peanut sauce. For something crunchier, there's a twice-fried chicken served with Kanzuri (a sweet, seaweed-like chili paste), and fried pork, chicken, or salmon skin that are served like chips. The steam buns are a popular choice, served with either crispy cod, pork shoulder, a charred eggplant, or a fried oyster. Also popular are the noodle selections. The tasty Rooster Ball Ramen consists of chicken broth and dumplings, roasted garlic, and pickled fennel. For dessert, go for the rosemary-sugar coated tofu doughnuts that are topped with a purple sweet potato sauce and hazelnuts. 3770 Las Vegas Blvd. S. Tel: 702-730-6700. www.montecarlo.com
Bin 702
Container Park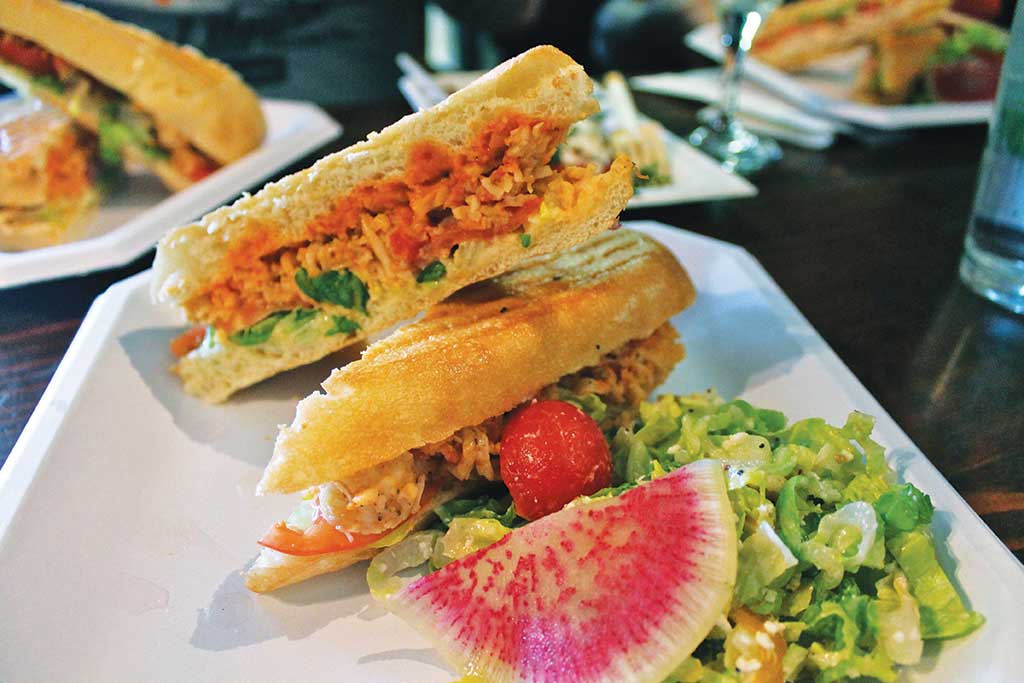 Take a break from The Strip and head to flourishing Downtown Las Vegas for a wonderful food and shopping experience at the Container Park. This outdoor complex is entirely made up of repurposed shipping containers stacked one on top of another for three level of boutiques, dining and drinking options, galleries, and an interactive kids playground. Various events and entertainment options such as late night beer feasts and summer evening live music and movie showings will keep you coming back again and again. Container Park was created to recreate how people see the downtown neighborhood, and connect people back to it. Among the 14 food and drink options is Bin 702, which takes up two shipping containers and creates a cozy and rustic setting using vintage photos, wooden fixtures, leather walled seating with bar stools, and tables. Providing a comprehensive selection of wines on tap, they serve a nice selection of artisanal cheese and meat plates, salads, and paninis. The dressings and aiolis used are made on-site from scratch. Great for a quick bite or low key evening meal. One of my favorite dishes is the chilled, hand-mixed lobster salad sandwich with the homemade sriracha aioli. 707 Fremont St. Tel: 702-637-4244. www.downtowncontainerpark.com
Andrea's
Encore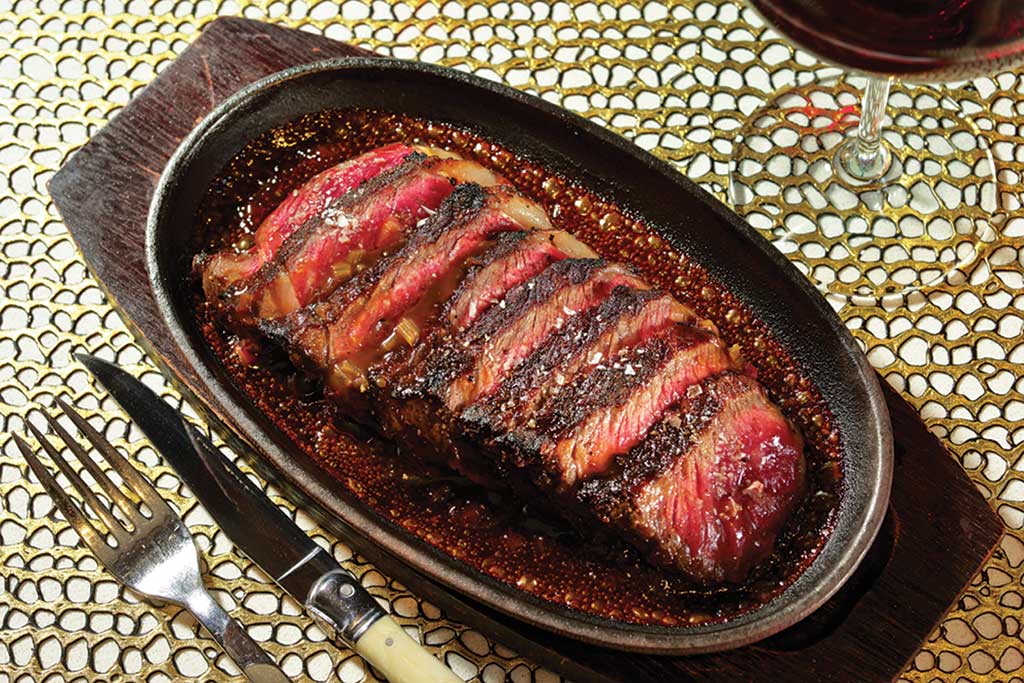 Nightlife and dining come together beautifully in the seductive atmosphere of Andrea's, where modern Asian cuisine and signature cocktails are the perfect combination. Named after the wife of casino tycoon Steve Wynn, as you step into the modern, airy restaurant with cream and gold décor, the first thing you notice are Andrea's big, fierce eyes watching over everything from an LED screen behind the bar. Guests can sit at the bar, in the main dining with long velvet sofas and chairs under champagne tinted Venetian glass teardrops. For more intimate seating, against the walls are private booths set behind shimmering metal beads. The large menu features a selection of shareable dishes such as dim sum pot stickers, shishito peppers (mild East Asian peppers), and Wagyu Beef Sliders that melt in your mouth. There's also a few Wagyu dishes offered where the meat comes from either Australia or Japan. Try it seared with garlic oil and prepared with kizami wasabi, ginger, negi, and calamansi soy, or Japanese style with ponzu, ginger, and green onion. A selection of sushi rolls and sashimi is also available, as well as other seafood dishes like the Five Spice Garlic Lobster Tempura and Steamed Sea Bass. You might be wondering where the nightlife part comes in. Well, there are windows that open up to the neighboring Surrender Nightclub, and the sounds of the night are curated by DJ Steve Angello. 3131 Las Vegas Blvd S. 702-770-3463. www.wynnlasvegas.com
Rose. Rabbit. Lie. 
Cosmopolitan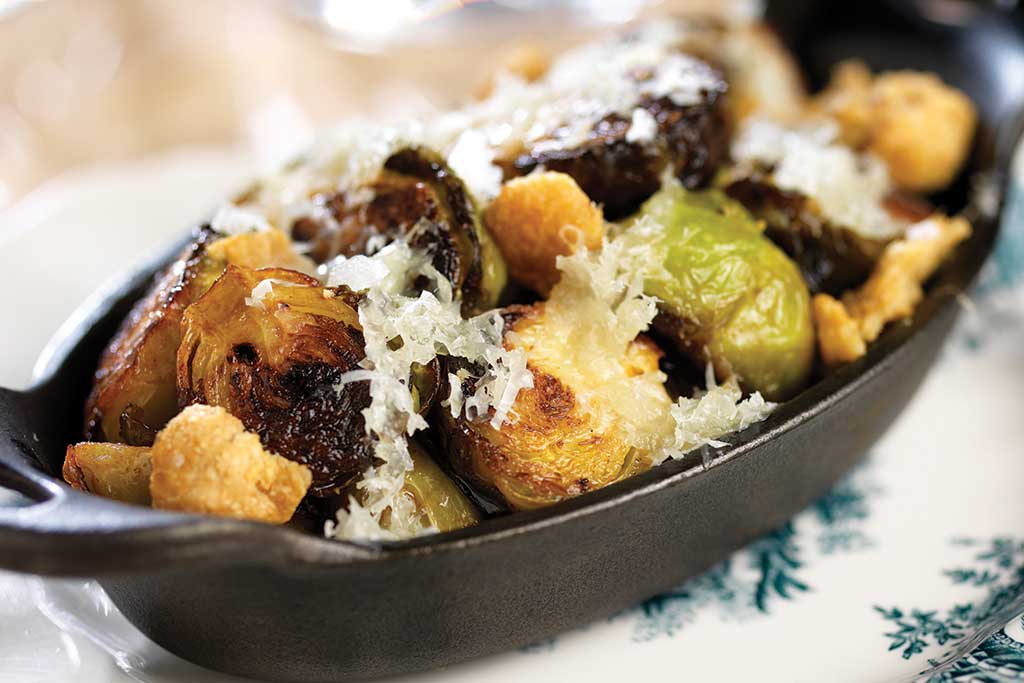 Like walking into the world of Alice in Wonderland if it was a massive speakeasy, Rose. Rabbit. Lie. on the second floor of The Cosmopolitan is an experience that takes the dining and nightlife concept to another level. The labyrinth of a venue is filled with mystique, especially as you enter and find yourself in an octagon shaped room of door options. Billed as a "modern supper club", Rose. Rabbit. Lie. is home to several different areas ranging from a classic study lounge for intimate drinking to a large, modern dining room to a theater room that doubles as a nightclub. Throughout the venue, live entertainment takes place and is continuously changing. Expect to see a jazz band, a blues singer, tap dancers, contortionists, crazy jugglers, and gravity defying break-dancers. In the lounge and dining room, as well as in a smaller dining room and bar, enjoy a menu of sharable plates that are modern interpretations of classic dishes. You'll find delicious and crispy Oysters Rockefeller covered with house cured bacon, spinach, and chartreuse, Caviar Tacos made of Hackleback caviar and hamachi on a mini Yukon potato shell, and a tender and juicy Short Rib Stroganoff with Penne herb pasta and roasted maitake mushrooms. There's also a popular plate of roasted brussel sprouts covered with smoked paprika, grated Manchego cheese, and crispy chicken skin. If you're looking to splurge and indulge, there's a whole roasted Giant Alaskan Red King Crab that's stuffed with lobster. Even after visiting Rose. Rabbit. Lie. two or three times, guests will find that no night is ever the same. 3708 Las Vegas Blvd. S. Tel: 877-667-0585. www.roserabbitlie.com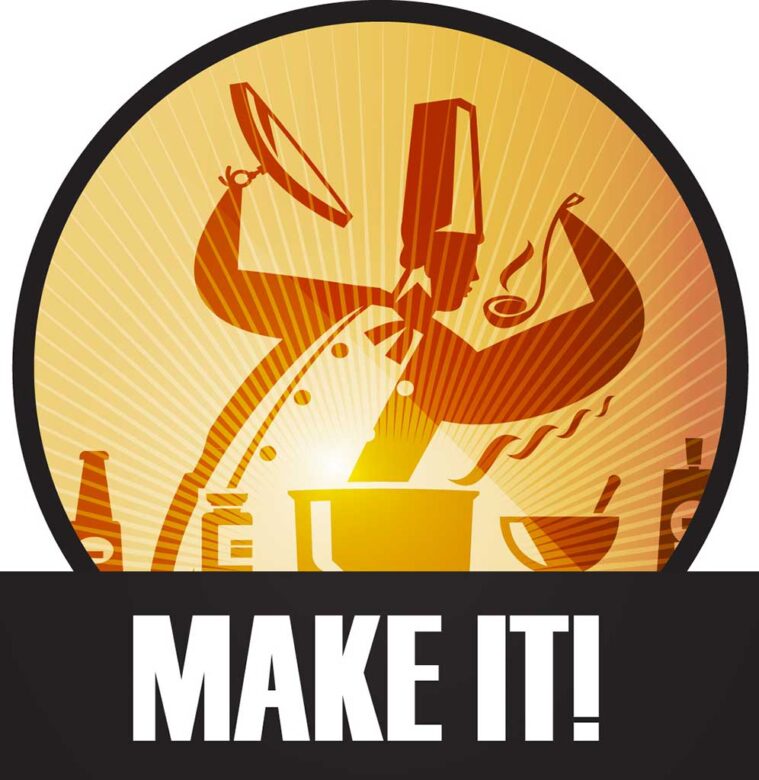 Try These Restaurants' Recipes at home. Click here.