As we waved, laughed, and flirted with one another, I couldn't help but think that this was what the spirit of Pride was all about—a happy coming together of people in celebration of love, tolerance, and respect.
Over the years, I have had a relationship with Madrid that is not dissimilar to the simmering disconnect that one can often feel after a memorable one-night stand. While the attraction to the city has always been immediate, the intimacy brief but intense, and the desire for closer fellowship almost palpable, there has always been something elusive about each encounter that left me void of a true connection. To be fair, this has, in large part, been due to the brief stints of time I had previously spent in the Spanish capital and the associated relentlessness of my schedule on those earlier visits. All of which, perhaps best explains the change in perspective I experienced when I embarked headlong into the uninterrupted wonder, decadence, and diverting non-stop party atmosphere of Madrid Pride this past summer.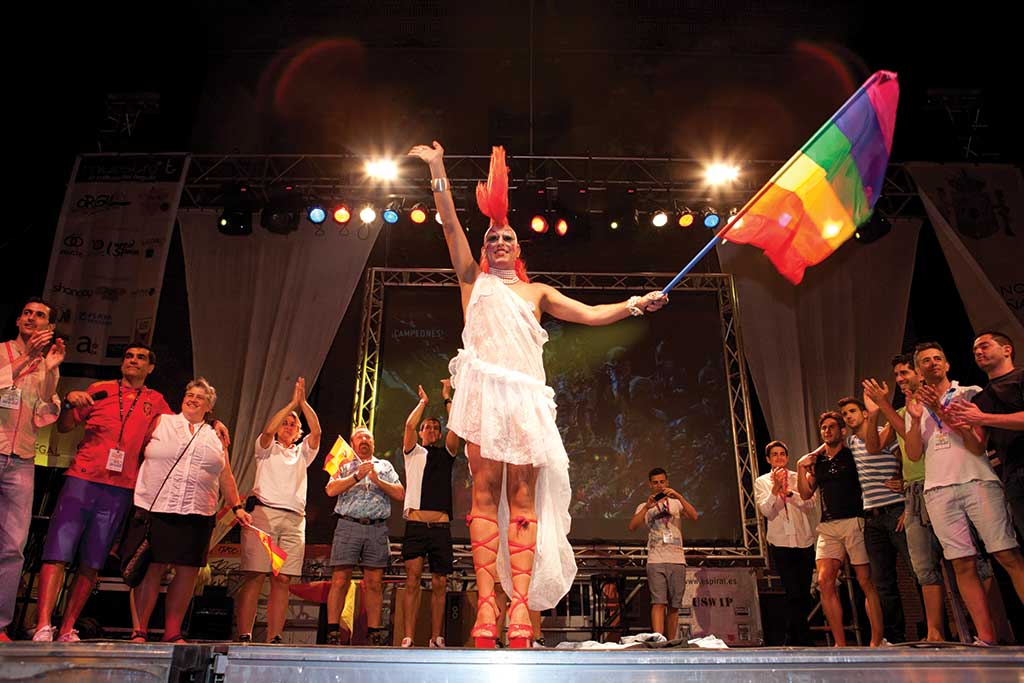 Rather than flitting in for a day or two of Pride activities, I arrived in time to plant myself in the city for not merely the full spectrum of festivities associated with Madrid Orgullo (as Pride is called in Spanish) but with quite a bit more to boot. My oh my, what a difference a minor alteration in scheduling can make.
For the first time, I was afforded a chance to get up close and personal with Madrid, to get lost in conversation about everything from culture to local politics with the city's strapping denizens, to explore the food and culture of one of Europe's most thriving capital cities, and, perhaps most notably, to spend the small hours wandering winding streets and making new friends in the city's colorful alcoves alighted as they are with lively cafés and raging nightclubs.
As Madrid will play host to World Pride 2017 from June 23-July 2 this year, allow my experience to serve as a prelude of sorts not only to the raucous excitement of Pride week itself, but also to the quieter charms of Madrid, of which there are so very many.
PRELUDE
My recent journey down the rabbit hole of Madrid Pride began with check-in at the Hotel H10 Villa de la Reina located directly on Gran Via, the bustling, active thoroughfare that winds through a large swath of the city. Centrally located, filled with shops, restaurants, rooftop bars, and everything any soul could possibly require during a stay in Madrid, this location offers the added benefit of proximity to Chueca, the gay heartbeat of Madrid and home to a great many of the events considered to be the highlights of the annual Pride calendar.
With over two million people flocking to Madrid Pride in a normal year, the value of such proximity cannot be too highly prized. As Pride week rolls on and the revelries grow more plentiful, sidewalks and alleys in the gayborhood begin to swell with crowds, as entertainment of all stripes takes center stage in the middle of every plaza in the area, and loyal partygoers attempt pilgrimages to each. Bottlenecks become substantial. Movement becomes glacial, and getting in and out of the most happening hotspots requires navigational skills on the order of Magellan. Ergo, word to the wise, having a home base right in the thick of things is an asset to be treasured by those fortunate enough to secure said accommodations in advance.
Once settled, a little nourishment is always in order. One of the great assets associated with arriving on the early side of the Pride celebrations is that it provides an opportunity to sync up and get acquainted with the city before the great hordes descend upon it. In Madrid, that translates into, among other things, time to explore the culinary side of the city, which has grown from strength to strength over the last couple of decades.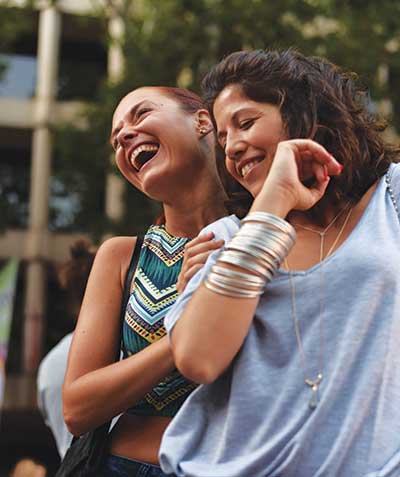 Case in point: restaurants like Yakitoro by award-winning celebrity Chef Alberto Chicote. In this out-of-the-way Michelin-starred gem, East meets West as Spanish recipes collide with Japanese cooking techniques to create heady, charcoal-scented creations that turn tradition on its head, while simultaneously exalting it. Envision imaginative skewers of grilled lamb with tzatziki sauce, anchovy tempura and Murciana sweet peppers, and fresh shiitake mushrooms with smoked Bonito shavings and garlic sauce. These and other tapas-style offerings are served by an efficient army of appropriately flight-suit-clad waiters trained to escort patrons to and from the many destinations the Yakitoro menu dares to explore. A sleek, modern masterpiece both in terms of décor and menu, Yakitoro is a testament to the rapidly diversifying foodie scene in Madrid.
The cultural side of the city serves another added benefit of a prePride arrival in Madrid. Let not the art of the party preclude one from being a party to art, I always say. Hence, taking my own advice to heart, my exploration of Madrid's cultural side began with a visit to the Matadero Contemporary Art Center, formerly a slaughterhouse that has been transformed into a rambling, riverfront assemblage of buildings designated to the multi-disciplinary pursuit of artistic expression ranging from performing arts, cinema, and music, to design, architecture, and urban planning. On any given day, a range of events take place within this expansive creative space, making it a gift that just keeps on giving.
Speaking of gifts, as fate would have it, this innovative outpost will also welcome the WorldPride 2017 Opening Ceremony as well as WorldPride Park, so a little pre-game familiarity, so to speak, would most certainly not go amiss as prior knowledge will both prepare and enlighten.
Elsewhere, two other museums are absolute musts on any visit to Madrid. The first is the Prado Museum, wherein is impressively housed the world's most famous collection of Spanish art including works by Francisco de Goya, Diego Velázquez, and El Greco as well as works by Titian, Peter Paul Rubens, and Hieronymus Bosch.
Artwork aside, the museum is itself a wonder to behold. Designed in 1785 and opened to the public in 1819, the Prado is an awe-inspiring architectural gem in its own right.
imilarly, the Thyssen-Bornemisza Museum located just across the street from the Prado, though newer, is a more intimate home to some 1,000 European works of art dating from the 13th century to the close of the 20th century. It is also the frequent host of more avant-garde exhibits as well. So, if you're in the hood, it's definitely worth a visit.
Finally, to certify your cultural bonafides while in Madrid, should that be on your agenda, do stop by the nearby Reina Sofia Museum not only for a look at its significant collection of contemporary art, but also to make a complete turn around the triumvirate of museums ranked as the most important in Madrid. As they're all located in such close quarters, there's really no excuse not to. Just think of it as the calm before the storm.
NOW ONTO THE PARTIES!
Madrid Pride traditionally kicks off with an opening or inaugural celebration that is part LGBTIQ community activist rally, part high camp comedy show, part talent show/concert, and 100% good fun. More relaxed than a dance party, and more purposeful than a networking gathering, this event is special in the sense that it offers that 'let the games begin' moment that bespeaks the beginning of one of the greatest annual parties to be found in Europe. Excitement is high, the mood is jovial, and all in attendance begin forming the nod and wink relationships that may well develop into the real bonds of friendship (or more) by week's end.
From the WorldPride 2017 kick-off celebration, expect more of the same on a grander scale as the world adds its voice to those of the locals, and Madrid shows its colors for the entire planet to see within the environs of a sprawling new WorldPride Park. And because 2017 marks the 40th anniversary of the first LGBTIQ pride parades in Spain, anticipate an added burst of brilliant splendor at this year's festivities.
Post the official launch, an outbreak of rollicking good times seemingly takes hold of the city. As Pride patrons fan out to attend open-air concerts on various performing stages, parties at clubs, as well as various artistic and cultural events hosted across the city in honor of Pride, pursuit of an actual destination generally takes a backseat to following the path the journey lays out.
That is to say, at Madrid Pride, the right destination is in some cases where you end up rather than where you plan to be. Rigidity is not the order of the day throughout much of the week, for just as much as you may plan to go to this club or that party, circumstances may dictate otherwise. A spontaneous party may erupt in one of the plazas en route to your destination, an attractive and lively group of revelers at a local bar may inspire a detour, a group of street musicians might catch your attention, or you may simply be overcome by the desire to grab a few bottles of your favorite spirits and camp out under the stars in the middle of a square and watch the intriguing parade of pretty merrymakers stroll by. The whole city is so alive with parties, particularly in and around Chueca, that the celebrations spills out into every corner and one can't help but to find the mood infectious. It's all a bit like surfing in the sense that to achieve maximum enjoyment, it is more fruitful to ride the wave than it is to attempt to deny its power.