In 2017, our planet took significant hits, including more extreme hurricanes, floods, landslides, and earthquakes, but equally devastating was the White House publicly and fully withdrawing support for the environment. Jarring citizens of the world, the Trump administration stepped down from the Paris Climate Agreement, which focuses on tackling climate issues to protect our planet, and the United States government drastically cut or eliminated funding and contributions to various environmental groups like United Nations' Green Climate Fund and the Global Climate Change Initiative.
Naturally, the majority of Americans were in disbelief following these announcements in May 2017, but it wasn't completely shocking for Les McCabe, Board of Directors, and Bill Bridge, chief operating officer of Global Green USA (www.globalgreen.org).
"We knew a Trump administration would not be environmentally friendly based on the positions stated throughout the campaign," recalls Bill. "While we didn't know how bad it would be at the time (pulling out of the Paris Climate Accord, anti-environment appointments to the EPA and the Department of Interior, support for the continuation of the Dakota Pipeline), we reacted first like everyone else, with shock, fear, and concern. However, the next day in the office we told our staff 'OK, you have one day to feel bad, angry, and upset. But on the second day, we are going to look at this as an opportunity to galvanize support and to forge ahead with even more resolve.'"
Their optimistic attitude is a reflection of their vision for the human race, which, if you know Les and Bill, is no surprise. The couple has been longtime advocates for our planet's well-being (even before the Trump Administration became the earth's biggest enemy), having fought for a greener planet for decades.
Their commitment to protecting our planet eventually lead them to Global Green, a US affiliate of Green Cross International. Created in 1993 by former Soviet President Mikhail Gorbachev and Diane Meyer-Simon, a philanthropist and political activist, Green Cross International fosters a global value shift toward a sustainable future. Originally launched to focus on environmental security issues, the organization evolved to encompass the larger environmental movement including (but not limited to) climate change, green urbanism, and sustainable energy.
Now, as Global Green principals, Bill and Les are dedicated to helping people and the planet through catalytic projects, transformative policy, education, and research in environmental issues. Champions of forward-thinking environmental practices, they make serious and passionate strides for more significant global impact to protect our planet for future generations.
Not only do they work together, they happen to be engaged, representing a unique kind of gay power couple for the green movement.
"It was Bill's deep baritone voice, blue eyes, and playful sense of humor," recalls Les on their initial attraction a decade ago when he was then president and CEO of Semester at Sea, an international travel education program. For him, meeting Bill was a serendipitous moment, considering the slim odds of two likeminded gay men in the field with intense similarities and backgrounds at the time.
"It was not rare [for gay men] to meet someone in the travel/education industry," says Les, "but more so, it seems, in the environmental arena where professionals' identification as gay or straight doesn't come up as much as a topic of conversation or otherwise."
Now, Les and Bill help shape the future of Global Green and our planet, overseeing major greening incentives and providing the best possible actions and activism on sensitive global issues. It's a bigger task considering they have to make up for what the Trump Administration neglects. "We will always fight for our children and future generations against those who disregard our responsibility to protect our planet," says Les.
One of the most well known, environmentally focused organizations, Global Green's signature programs include greening affordable housing, schools, neighborhoods, and entire cities, as well as rebuilding communities impacted by major climate change events like Hurricane Katrina in New Orleans and Sandy in New York. The wonderful contributions Global Green has made to our planet are enormous.
The organization also has a strong history of partnerships with celebrities (like Brad Pitt post-Katrina); large-scale events (like promoting the formerly unknown Prius to the public eye at the Oscars); and international projects (like the "food waste" program launched with Walmart Foundation).
"It would be hard to pinpoint one thing that would be considered the biggest accomplishment for Global Green," says Bill, "but on a general level, we have generated substantial public awareness of major environmental concerns."
Last year, Global Green help create over 3,000 units of affordable and sustainable housing through its Green Urbanism Project, as well as conducting 29 sustainable neighborhood assessments in towns and cities across the country.
Projects can also be super fun. As part of its outreach to educate and inspire within communities throughout the USA, Global Green transformed a grungy alley in LA (Azusa Street in Little Tokyo) from a pathway of cars and garbage bins to a street fair and unique, vibrant public place. "The pop-up transformed the alleyway into a beautiful community event," says Les.
Like any business, a major challenge is having considerable, lasting impact on people. It's one thing to spread awareness and encourage action (from the likes of Al Gore to even Earth Day), but for people to truly take responsibility is a whole other ballgame. Les and Bill encourage individuals to make small changes, like recycling, limiting energy and water consumption, and equally important, educating children to be environmentally conscious.
Also, when it comes to charities, people should consider non-profits, which need more support than ever before, especially with the current political situation where there are significant reductions in funding for such programs.
Ultimately, we're all in this together, and we must work together to protect our planet. "We strongly believe that environmental problems cannot be solved by non-profits like Global Green and governments alone," says Les. "It's also important to work with the business community (including the travel industry) to help research, fund, and develop ways in which we can combat climate change and general environmental degradation. For years, the environmental community saw the business community as the problem. From our perspective, the reverse should be true. We need to see the business community as the solution."
Among an impressive list of partnerships, Global Green has become more heavily involved in travel. They just partnered with international education program Peace Boat (www.peaceboat.org) and an international travel education organization Friendship Force (www.thefriendshipforce.org), which was started by former President Jimmy Carter, to create Global Green Journeys (www.globalgreen.org/globalgreen-journeys) that will provide an opportunity for eco-conscious travelers to participate in an eco-travel program. "Beyond climate change and the impact on cities, coastal communities, beaches, and other spots where we love to vacation," says, Les, "pollution and the impact [of travel] on the ecosystem is also a major issue, as travelers should be aware of."
Les and Bill have been fortunate to rally for the environment in beautiful places across the globe, including South Africa, Vietnam, and Cuba, though they still make time for personal getaways to many gay hot spots, including Provincetown, one of the their favorite destinations. "We have good friends who have a place on the east side near Angel Foods, right on the water," Les says. "It's hard to think of a more welcoming environment where everyone gets along and enjoys each other."
The couple also travels to Palm Springs almost every month. "Palm Springs is our "get out of LA" escape," says Bill. "We tend to be regulars at Warm Sands, and we almost always start the night off at Quadz to take in the music videos at 8 P .M. Even though we have seen most of them a dozen times (as has everyone else, including the friendly bartenders who can recite most of the lines), we never get tired of the upbeat energy and friendly people."
They also love Berlin. "We love the 'old school' feel to the gay neighborhoods, restaurants, and bars in the Schoneberg area," says Les. "Our go-to place to stay is a small boutique hotel called The ArtHotel Connection. It's a charming, older inn with great staff and a wonderful breakfast each day, plus an exceptional location for walking and public transportation. It's in the middle of Schoneberg, making it accessible to all the great gay and gay-friendly restaurants and bars."
For a traveling couple who are also ambassadors for the environment, choosing the right hotel is part of the game. "These days many hotels are "environmentally friendly," some certainly more than others, but we don't stay exclusively at hotels like the 1Hotel in NYC (the gold standard for environmentally-friendly hotels), simply because there are not enough hotels at that end of the environmental spectrum in the places we travel to," says Les. "However, at any hotel, whether it be a small boutique hotel or a major chain like Marriott, we are always on the lookout for their environmental practices with respect to their rooms and facilities including products and packaging, the option of not washing towels and sheets daily, and [the use of] recycling containers.
Throughout our stays in a wide variety of hotels throughout the world, whenever we notice environmentally unfriendly practices (excessive packaging, use of plastic, etc.) we always make a point to politely bring it to the attention of staff and suggest alternatives. Most of the time people seem receptive, particularly when they realize there are opportunities to make changes that, over time, save money while protecting the environment."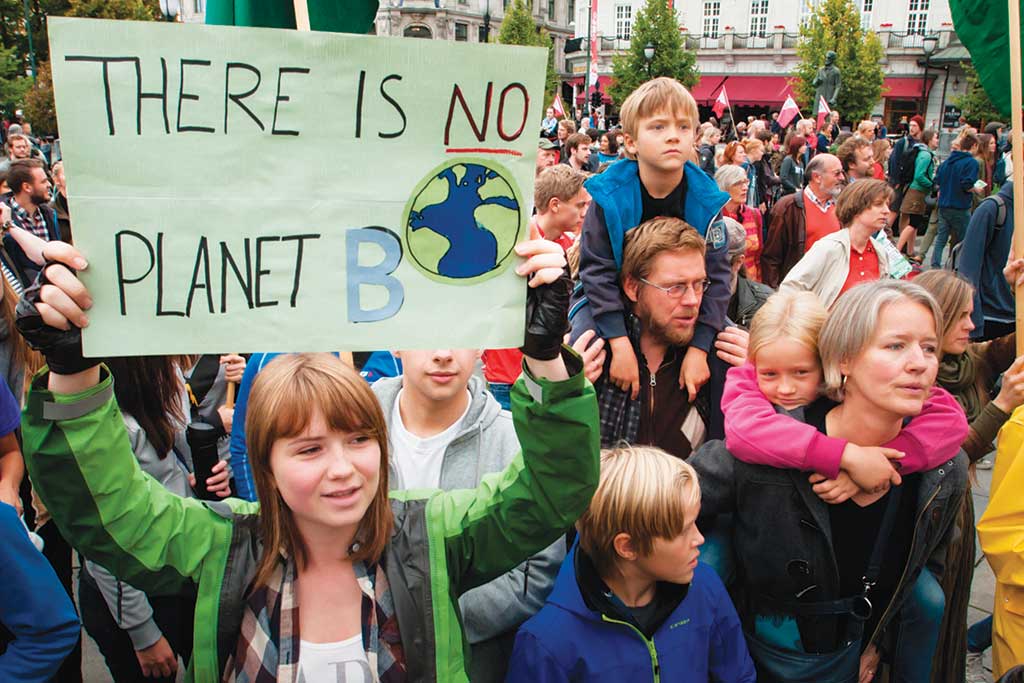 Bill believes environmentally-friendly travel in general is definitely the direction we're headed. More guests want to know that the transportation they use, the hotels they stay in, and the excursions they go on are either eliminating, or substantially mitigating, harsh impacts on the environment. "Many establishments now recognize that discerning guests care not only about the health of the planet, but their own health and well-being as well, and they are making substantive changes to rooms, materials use, products provided, food served, and more."
As enthusiastic travelers who support the gay travel scene and environmental issues, Les and Bill are gay role models taking sustainability, preservation, and eco-responsibility to the next level—and they think LGBT travelers in general may be well ahead of the curve as well.
"Historically, LGTBQ individuals have had to be very conscious of the world around them as they have navigated through the trials and tribulations of societal responses to their sexual identity," says Les. "At the risk of sounding stereotypic, one can imagine the LGBTQ individuals have, out of necessity, always had to be more aware of their surroundings and how they are perceived, who they interact with, and how they travel or adjust accordingly— so one could surmise that they perhaps would have a greater sensitivity to their physical surrounds (including the environment) as well.
While I don't think there have been any specific studies or measures of environmental consciousness among individuals who identify as gay versus straight, it would be an interesting study in the future."