I love a good coffeehouse. This statement won't come as a surprise to those who know me. For those who have read my stories in Passport and wondered "where does he get the energy to visit all those places?", now you know the answer. For me, a coffeehouse is more than just a place to quickly caffeinate. It's a bit of culture, a gathering spot, a way to while away the hours in the company of those who also appreciate the sacred java. Sometimes you want coffee and a quick bite rather than a full or formal meal, or just a place to kill an unexpected hour of free time. That's why the coffeehouse is there.
While it might seem more of a European institution, I'm going to focus on places closer to home. I could spend several columns, after all, detailing the fabulous coffeehouses of Vienna, or traveling to such Italian coffee meccas as Rome, Naples, Trieste, or Turin, but now I'd like to show you some of the great spots we have right here and tell you why I think they're great.
It's not just a matter of having good coffee, though that's obviously a requirement. A great coffeehouse needs more: a comfortable ambience and a friendly, welcoming air, a feeling that you're invited to stay a while, whether alone or with friends. That's an important aspect of coffeehouse culture. I'll never forget checking out a new spot in New York with my Austrian friend Gabrielle. We walked in the door, and her first comment was, "But where are the coatracks?" I was startled until I realized that coatracks = hang up your coat = stay a while. I also remember going to another place I'd heard about, I forget in what city, and as I pulled up to the strip mall I saw a sign saying "Coffeehouse parking only. Limit 15 minutes." That is a place that didn't get it right. Here are some places that do get it right:
ROASTERS
FORESTVILLE, CALIFORNIA
In Forestville, a tiny town along Northern Califirnia's Russian River, is this sweet little spot, with some of the best coffee you've ever tasted and the nicest staff in the history of coffeehouse staffs. It's so quintessentially Northern California, I smile every time I enter. The list of drinks (from espresso and their "world famous cold brew" to fancier concoctions) is penned on a surfboard that hangs above the service bar. Signs offer a 50-cent discount if you bike there or bring your own cup. Two indoor tables are supplemented by more outdoors. You're likely to find more locals than visitors, though the latter are certainly welcome. Join in the conversation with the drinkers or staff or just plunk yourself at an alfresco table for a while. Take home a bag of their organic coffee (my faves: Italiano and Mexicano). The small-batch roasting makes a great brew even if you're not in the charming café. When your friends say, "where did you get this fabulous coffee?" you can either point them to the website or convince them to visit. I'd opt for the latter. (6656 Front St., Forestville CA. Tel: 707-887-2323. www.sunshinecoffeeroasters.com
GOTHAM COFFEE ROASTERS
NEW YORK, NEW YORK
About as big as a postage stamp, it's a prototypical New York spot, almost hidden among the other storefronts on 19th Street in New York's Flatiron District, but a delight once you finally find it. Coffee from their own roastery in Brooklyn is rich and smooth, available in such drinks as a Snakebite (espresso over dark chocolate) or Undertow (espresso over cold milk) or, of course, a just-as-satisfying cup of Brooklyn Blend or Red Hook Espresso. A scattering of tables allows you to look out at the street action or gaze back into the clean-lined little salon. Marble-topped tables and wood floors give an old-fashioned hint to what's otherwise a thoroughly hip and modern place. These are people who know their stuff, coffee-wise, as is evidenced by the courses they offer in "coffee cupping" and barista training. If you'd rather just be a patron, though, that works too. With its convenient location at the crossroads of east and west sides, it's a haven of friendliness and amazingly good coffee, and I guarantee you'll find plenty of occasions to revisit. (23 W. 19th St., New York, NY . Tel: 212-2552972. www.gothamcoffeeroasters.com)
BLUEPRINT COFFEE
ST. LOUIS, MISSOURI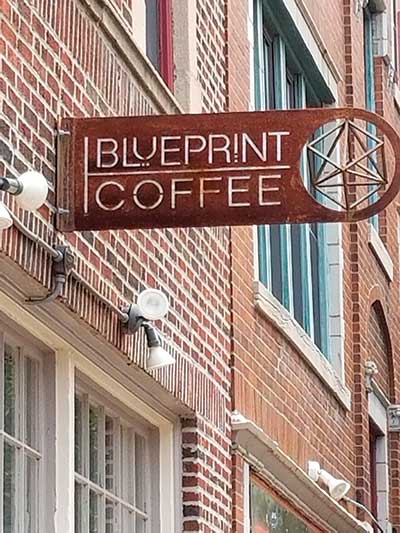 With their coffee carried in establishments from D.C. to Denver, this St. Louis–based company gets it right. Stop in their flagship store in the heart of the Delmar Loop, a favorite destination among St. Louisans, for a bite or a stroll. The feeling here is friendly, and those lucky enough to already be regulars can't wait to share the place with newcomers. Take a seat at one of the long tables as cool jazz plays. Enjoy a wide variety of edibles, from eggs Florentine or kale/chickpea salad to baked goods. Most importantly, though, taste what's in your cup: the Blueprint folks care about their coffee, from the relationships they establish with growers to the roasting, and the dedication pays off. With most of it single-estate, you can choose your own favorite (mine is Las Moritas from a Guatemalan farm, and it's full of dense, rich, almost fruity flavor). Whichever you select, the coffee is as full of character as the young man sitting next to you at the table. (6225 Delmar Blvd., St. Louis, MO. Tel: 314-2666808. www.blueprintcoffee.com)
CARTEL COFFEE LAB
TEMPE, ARIZONA
In this lively university town near Phoenix, Cartel is the go-to place. While they've opened several branches in the area, I like this flagship location the best for its alwayshopping atmosphere. Walk through the long room past a "wall" of hanging bicycle tires to the bar, where you get drinks ranging from creations like the Excelente (espresso and iced horchata) to cold brew, chai tea, and the deeply satisfying "daily drip." As I take a seat, every table around me has it least one laptop on it, and I soon realize, first to my horror, and then to my great pleasure, that I'm the only one over 40 in the joint. There are posters for alternative events on the wall, and even the restroom is a work of art. Okay, I don't usually recommend restrooms, but the variety of stickers, from "Protect our Environment," "Honor Native Treaty Rights" and "Practice Random Acts of Kindness" to "Do Small Things With Great Love," makes me realize how true they are to their slogan: "Coffee is our craft. People are our passion." (225 W. University Dr., Tempe, AZ. Tel: 480-6216381. www.cartelcoffeelab.com)
QUANTUM COFFEE AND DINEEN COFFEE CO.
TORONTO, ONTARIO
Okay, I couldn't make up my mind between these two great Toronto locations, so I'm giving you both options. At Quantum Coffee, a hip coffeehouse on King Street that opened at the end of 2015, the best part of the show is the "Poursteady," a drip coffee machine invented by a New York–based team. You can get a fabulous espresso drink, but why not get the pourover and experience this wacky contraption: cups are on the bottom level, filter baskets of coffee in the middle. Spigots on the top rotate like crazed robot arms to deliver hot water slowly across all the coffee in the filter. It's not just a performance, the results are an incredibly full-bodied cup of coffee (there are usually four options, including one decaffeinated, for the pour-over). While they have a few baked goods, the emphasis here is on coffee, estate-grown and substantial, and the friendly service is that of people who know they're on to a good thing. (460 King St. W., Toronto, ON. Tel: 647-4944429. www.quantumcoffee.io)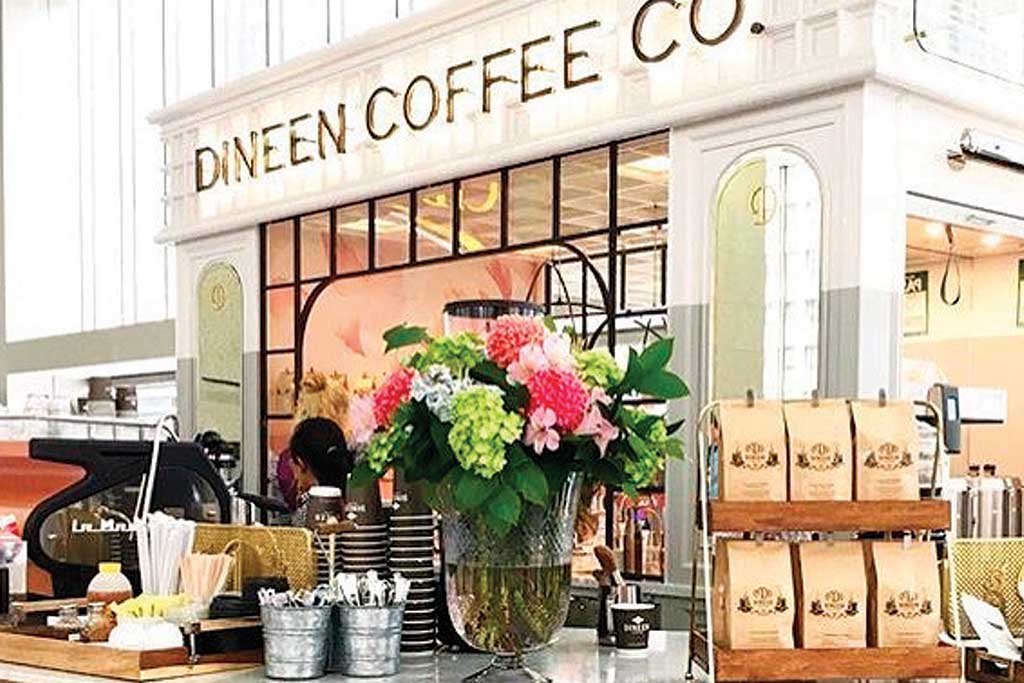 Dineen Coffee Co., meanwhile, has more of a traditional feel, with its u-shaped center counter, windows wrapping around two streets in Viennese coffeehouse style, and huge modern chandelier. Cases hold temptations from chocolate chip/sea salt cookies and frangipane tarts to gluten-free brownies and orange/chocolate scones. They serve a few sandwiches and a handful of salads, but the main reason you're here is the same reason the young crowd fills the place with a hip and buzzy vibe: to sit with friends and enjoy the action. It's exciting, friendly, and fun. P .S. their espresso is my favorite in town. (Dineen Coffee Co., 140 Yonge St., Toronto, ON. Tel: 416-900-0949. www.dineencoffee.com)
JAVA LOVE COFFEE ROASTING COMPANY
WHITE LAKE, NEW YORK
While I think of a coffeehouse as an urban institution, here's one in the beautiful Catskills countryside. I still remember walking in to the scent of freshly roasted beans and signs on the wall proclaiming "Love is all you need" and "Spread love, one cup at a time," leaving no doubt about the warm welcome you'll receive at this spot that's high on a hill above White Lake. About half of the interior is taken up by the roasting operation, the rest by the café. They might be roasting coffee while you're there, but even if they aren't, the aroma permeates the air as you get your drink and perhaps a wrap or a "monut" (a kind of cross between a muffin and a donut). Sit at one of the tables in the rustic, comfy interior, or on the porch with its perfect lake view. You'll find a mix of locals and tourists, drawn to the great coffee, beautiful location, and, most of all, the warm, all-welcoming feeling. They don't put "love" in their name for nothing. (1577 NY State Route 17B, White Lake, NY . Tel: 845-583-4082. www.javaloveroasters.com)
So from one end of the continent to the other, what unites all these places? Some are big, some are small, some are microscopic. Their atmospheres are radically different. However, two things remain the same: they serve wonderful coffee, and they have an air of "come stay a while." They're not the kind of places that would kick you out for daring to pull out a book, even if their supply of tables is limited. So do pay them a visit, whether for a quick reboost or a more lingering experience. Just do me one favor as you explore these worlds of caffeine-induced pleasure: order a double espresso (or a large cold brew) in my honor. Trust me, even if I'm nowhere nearby, I'll feel the rush.