NYAH (Not Your Average Hotel) (420 Margaret St. Tel: 844-399-6924. www.nyahotels.com), just a few blocks from bustling Duval Street, but with enough distance for rest and relaxation between revelry, has been making waves since its 2014 opening for its flexible room model and welcoming staff.
Assistant Innkeeper Serena Fackos was drawn to NYAH for its affordable and convenient concept. With 17 years of experience in the hospitality industry and 12 years in the hotel industry (preceded by a bachelor's degree in sports/entertainment/event management from Johnson & Wales University), she spent eight years with Foxwoods Resort andnya Casino, the largest casino in the country, where she focused on providing high-end guests with an exceptional experience through her positions as a VIP Representative, Casino Host and Player Development Coordinator.
Key West had been a favorite vacation destination for Fackos for almost 20 years, which made the move from being a Key West tourist to a local an easy one that she feels now helps her guests. As Assistant Innkeeper, Serena works to provide unique experiences, both at the hotel as well as throughout the destination. Each day she makes personal recommendations on what activities, restaurants, and locations should put on her guests' to-do lists.
Having frequently traveled herself, Fackos loves the modern, convenient, and affordable concept of NYAH, which is what initially drew her to the property. Along with its adult-only policy (18+) it was something she had never seen before and a unique concept.
"To be truly different these days is hard, though I honestly feel that NYAH accomplishes this with its 'build your own room' concept, community-style breakfast, and daily happy hour," Serena states. "NYAH embraces the Key West moto of 'One Human Family' as it fosters a sense of acceptance and community among all orientations and backgrounds from across the globe.
Where are Key West's coolest places to go for cocktails?
There certainly isn't a shortage of cocktail options in Key West. If you are a spirit aficionado looking to enhance your knowledge, or just searching for a great drink made with flair, look no further than Caroline's Other Side (429 Caroline St. Tel: 305-517-6358. www.carolinescafe.com/other-side). Across the hall awaits a craft-beer lover's dream at The Porch (www.theporchkw.com). Their beer selection is second to none with over 75 on tap, and can and bottle options to choose from—no wonder it's a staff favorite!
What are the best restaurants for a romantic dinner?
If a boat ride to a private island where you dine with your toes in the sand as you watch the sunset from one of Key West's most coveted views sounds romantic to you, then look no further than Latitudes (245 Front St. Tel: 855-995-9799. www.sunsetkeycottages.com/latitudes-restaurant). Nine One Five (915 Duval St. Tel: 305-296-0669. www.915duval.com) features a large selection of sharable plates like grilled octopus and chipotle-pork tacos and an extensive international wine list, a true culinary experience to share with your loved one. For a sexy experience where dessert is the main course, Better Than Sex (926 Simonton St. Tel: 305-296-8102. www.betterthansexkeywest.com) brings romance to another level as you indulge in decedent desserts and tantalizing cocktails while arousing all your senses.
Who serves the greatest weekend brunch and what's the "must-eat" menu item?
The iconic Blue Heaven (729 Thomas St. Tel: 305-296-8666. www.blueheavenkw.com) always makes the list with both our guests and staff. The Lobster Blue Heaven Benedict is a personal favorite and many say they have the best key-lime pie on the island. At Bistro 245 (245 Front St. Tel: 305-292-4320), your glass is never empty with its bottomless mimosas, and your plate's never empty at this buffet-style brunch. The Breakfast Scrambler at the Southernmost Beach Café (1405 Duval St. Tel: 305-295-6550. www.southernmostbeachcafe.com) is our Innkeeper's favorite for a simple brunch option where it's all about the view.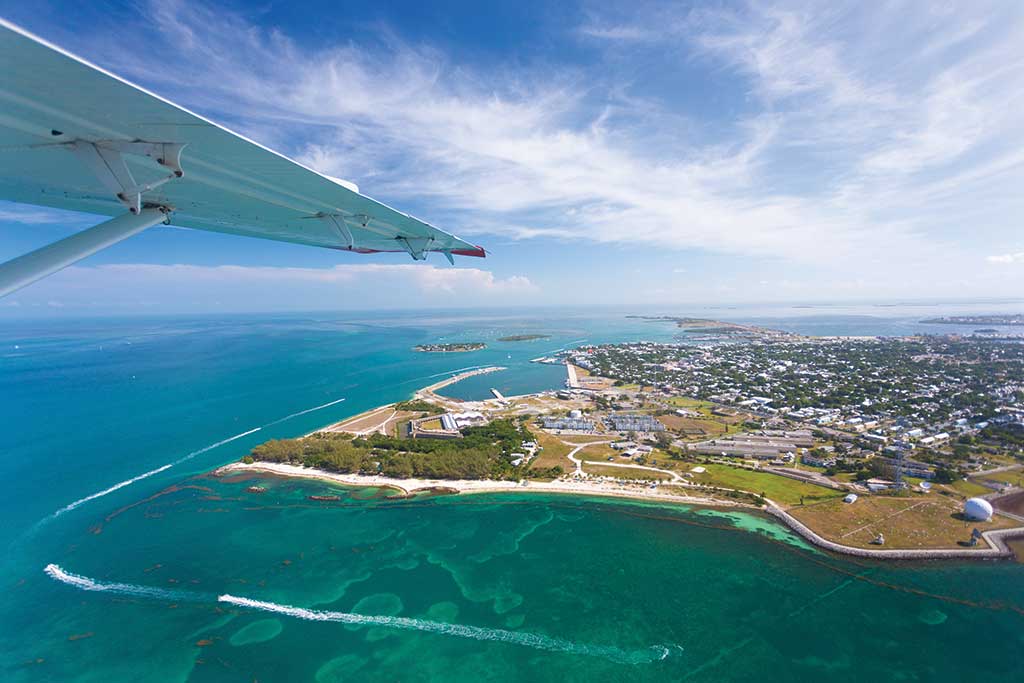 What are the best venues for live entertainment, and how do I get tickets?
The Cabaret at LaTeDa (1125 Duval St. 305-296-6706. www.lateda.com/cabaret) is home to some of the best drag entertainment on the island. (Keep an eye out for the legendary Randy Roberts or Christopher Peterson.) Tickets are $26 and reserved by contacting the box office. A Key West institution, Green Parrot Bar (601 Whitehead St. Tel: 305-294-6133. www.greenparrot.com) hosts some of the island's best live music and the best part is, you don't need a ticket. In its 78th season, the Waterfront Playhouse (407 Wall St. Tel: 305-294-3015. www.waterfrontplayhouse.org) continues to entertain with professionally produced productions. This season includes Hand to God, Avenue Q, and The Legend of Georgia McBride.
What are your museum recommendations?
The Tennessee Williams Key West Exhibit (513 Truman Ave. Tel: 305-842-1666. www.twkw.org) is free and packed with memorabilia about one of the 20th centuries' greatest authors and gay icons. He lived in Key West for 34 years, and it's rumored that he wrote the final draft of A Streetcar Named Desire while staying at the La Concha Hotel. There's much more to discover among the archives, including the mystery behind his death. Learn about a Key West legend at the Ernest Hemingway Home & Museum (907 Whitehead St. Tel: 305-294-1136. www.hemingwayhome.com), but be sure to bring $14 cash for the guided tour, as they don't accept credit cards. The Mel Fisher Heritage Maritime Museum (200 Greene St. Tel: 305-294-2633. www.melfisher.org) shares the fascinating story of the legendary treasure hunter and displays some of his recovered treasures.
Which guided tours do you recommend most often to your guests?
Sloan's Ghost Hunt by Haunted Key West Tours (301 Whitehead St. Tel: 305-395-1435. www.hauntedkeywest.com) is a favorite of mine. Participants hunt alongside real paranormal investigators for some of our city's most active spirits. Old Town Trolley Tours (1 Whitehead St, Tel: 855-623-8289. www.trolleytours.com/key-west) are a great way to buzz around the island while learning about our rich history along the way. Our guests also love exploring the backcountry by paddleboard or kayak with Lazy Dog (5114 Overseas Hwy. Tel: 305-295-9898. www.lazydog.com); they'll even pick you up.
Where are Key West's best views?
I'd have to say that we offer the best in bird's-eye views right here at NYAH (420 Margaret St. Tel: 844-399-6924. www.nyahotels.com) where our sky deck offers 360-degree view from the heart of old town. The Observation Tower at the Key West Shipwreck Museum (1 Whitehead St. Tel: 305-292-8990. www.keywestshipwreck.com) is also a coveted spot with ocean views as far as the eye can see. If you want to see it all from a unique vantage point, the peaceful silence of parasailing (www.nyahotels.com/things-to-do/) lets you appreciate all of Key West's beauty and the kaleidoscope of colors that forms our marine ecosystem.
What are your recommendations for water activities?
You have not experienced Key West until you have done so from our beautiful waters. Key West's longest running gay charter Blu Q (201 William St. 305-923-7245. www.bluqkeywest.com) offers a variety of options from an all-male sail on a catamaran to sunset sails and other island adventures. Fury Water Adventures (241 Front St. Tel: 394-294-8899. www.furycat.com) is our go to for water excursions like snorkeling and jet skiing. Whether you're new to diving or an experienced pro, the team at Finz Dive Center (5130 Overseas Hwy. Tel: 305-395-0880. www.finzdivecenter.com) always provides a personal and customizable experience that range from diving and spear fishing to a day trip to Dry Tortugas National Park.
What's your recommendation for a full service spa?
Towering above Duval Street, head to Top Spa at La Concha (430 Duval St. Tel: 305-296-2991. www.laconchakeywest.com/spa). Here, you get to relax, rejuvenate, and renew while surrounded by stunning panoramic views of the island from its highest point. Signature treatments include an 80-minute herbal detox and combination "Island Journey" packages.
Which local retailers do you recommend for the smart shopper?
A favorite of locals and visitors alike, Kino Sandals (107 Fitzpatrick St. Tel: 305-294-5044. www.kinosandals.com) sells locally made, natural leather sandals. Travelers should also check out Seven Artists and Friends (213 Simonton St. Tel: 305-294-8444. www.7artistskw.com), a gallery that has a little bit of everything and features the works of seven local artists.
What are the best LGBT bars?
Bobby's Monkey Bar (900 Simonton St. Tel: 305-294-2655) is a local favorite for good drinks, good times, and surprisingly good karaoke. If the island heat is getting to you, the clothing-optional Garden of Eden (224 Duval St. Tel: 305-296-4565. www.bullkeywest.org) or Island House (1129 Fleming St. Tel: 800-890-6284 www.islandhousekeywest.com) may be just the place you're looking for. Another great option is 801 Bourbon Bar (801 Duval St. Tel: 305-294-4737. www.801bourbon.com) with weekly bingo, drag shows, karaoke, and music, you're sure to stumble upon a good time!
What are the most popular gay dance clubs?
Bourbon Street Pub (724 Duval St. Tel: 305-294-9354. www.bourbonstpub.com) is the go-to for the hottest gay dance/club scene. The pub features daily drink specials, nightly appearances from the Men of Bourbon, VJs/DJs providing your favorite tunes, and a clothing-optional pool. Located in the center of Duval Street, Aqua Key West (711 Duval St. Tel: 305-294-0555. www.aquakeywest.com) is another hotspot to catch a show then dance the night away.
What is the iconic tourist souvenir, and where will we find it?
The most iconic tourist souvenir is none other than a photo at our Key West landmark, the Southernmost Point Buoy (Whitehead St & South St.). Travelers from all over the world take their picture here. A lime-scented Keys Salt Scrub (www.thekeyssaltscrub.com) is another unique souvenir that will leave you with softer hands and an aromatic reminder of your time on our tropical little island.
Don't leave Key West without…
Experiencing our Sunset Celebration at Mallory Square (400 Wall St. Tel: 305-809-3700. www.sunsetcelebration.org). Local musicians, street performers, artists, and vendors showcase their talents as we celebrate another day and watch as the sun melts into the horizon.