(Photos courtesy of Adam Rippon)
At 1 A.M. on January 7, 2018, Adam Rippon became the first openly gay athlete to qualify for the Winter Olympics. News has also been buzzing about his outspoken refusal to meet Mike Pence in Pyeongchang, and his "100% real butt," but we think that the best way to get to really know a person is through their travels—and Adam has traveled a lot. First winning the World Junior Championships in 2008, Adam has been representing the United States in international figure-skating competitions for over ten years. "I very, very rarely travel for pleasure. It's always to go and work at a rink and teach for a bit, performing in a show, or going for a competition." You don't get to become an Olympian by laying out by the pool all day, though every once in a while, we do get a lucky glimpse of Adam lounging shirtless by the beach (Instagram: @adaripp).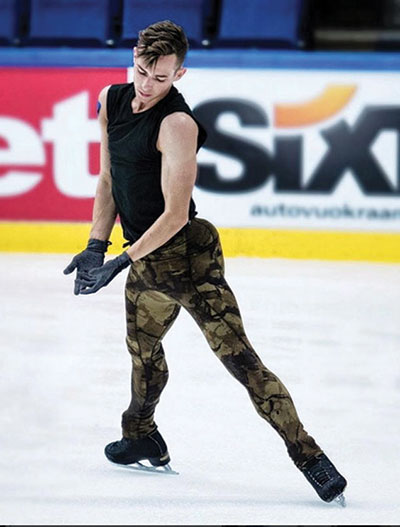 Adam went to grade school in the Scranton, Pennsylvania area, but since the age 15 he's been living away from home while training. At 15, he moved to Philadelphia to live full-time with his coach, and then he moved to Detroit, Toronto, and Milan. He now calls South Bay, LA home and tells us that all these moves were "100% coach-and-training decisions."
Clearly, Adam is dedicated to his skating, and he makes all the right commitments to succeed, but in a sport that is judged subjectively, it is still rare, brave, and risky for male figure skaters to come out. In 2015 when Adam opened up publicly, he was one of the first national-level competitors to do so. (Johnny Weir did not publicly come out until after his last Olympic performance.)
Passport correspondent Allister Chang had an exclusive opportunity to speak with Adam about his travels. Here are the excerpts and highlights of that conversation.
What is your favorite travel destination?
Nagoya, Japan. It's a great place to skate, and the OCD in me is so satisfied by the organization and cleanliness there. Everyone has special little bags for keys or three pencils. Nagoya is really beautiful. It's a lot smaller than Tokyo and not at all the same experience. In Nagoya, I popped into some random dance class. I couldn't read the schedule, and they didn't speak English, but I just started dancing and loved it. The street dance culture in Japan is amazing. At night, all these dancers come and bring their own boom boxes and just dance. When you're a foreigner, they're always really friendly.
Where else have you traveled?
Classy answer? Maui. I loved Maui. Trashy answer? Last year I visited a cousin who lives in Siesta Keys in Florida. The sand was like baby powder and the ocean was like bathwater.
How do you choose where you travel for fun?
My favorite places are where my favorite people are. I've grown to love the St. Paul/Minneapolis area. I've got a bunch of gay friends there. Apparently, it's got one of the highest densities of gays in the country. It's always about the people for me.
Tell us about one of your favorite nights out during an international competition.
Last November for a Grand Prix event in Paris, I finished my skate, and with a bunch of friends went out to dinner, went to the Eiffel Tower, walked down Le Champs-Élysées, stopped at a random bar, had a glass of wine, then took a 5 A.M. shuttle to get back to airport. Of all the places I regularly go, I'm always so excited to go to Paris. When there are events there, there are also obviously French skaters, many of whom I'm competing against. One of them is always willing to play tour guide!
How do you stay so fit when you travel?
Meal prep. I try to cook rice, chicken, fish, and vegetables for the week, so that later in the week when your motivation dips, you have fewer temptations. I'm not a chef, I'm not Rachel Ray. I keep it really simple.
Where do you work out in LA?
Right now, I'm a member of Equinox, but I actually enjoy working out at LA Fitness a little more because nobody cares if I look like trash or feel like trash. You just get your work done!
What's your travel modus operandi?
Those who know me know that I'm a beautiful disaster. I always get lost. I never know where I'm going. I never go to the same place twice, not because I don't want to, but I get lost trying to get somewhere I had been to before.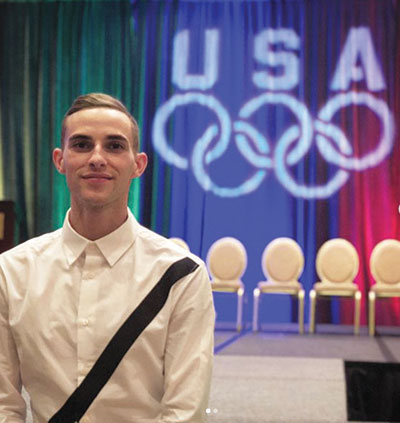 Do you ever feel concerned traveling as a gay man?
The sad reality is that as a gay man, sometimes you kind of need to straighten up and not be your true authentic self. You see these horrible things happen just because someone doesn't like that you're gay. I hope I'm part of one of the last generations who ever feels that way, that need to neutralize yourself.
What's your number one travel tip?
To be open-minded and to be kind, and just go with the flow. Something even better may happen, or at least you'll get a funny story.
Where might your fans find you in real life?
My favorite restaurant in LA is this place called Fusion Sushi. I could live there. Everybody knows me! California has some of the best sushi in the US because we're right on the water and we could catch it ourselves if we wanted to. If I have friends visiting me in LA and I want to give them the glitz and glam, I always take them to Pump in West Hollywood for dinner. Urth Café is also great, oh and La Vecchia Cucina in Santa Monica!
Are you ready for the Olympics?
It's obviously been a dream of mine since I've started skating. I think I'll be prepared for whatever that competition may bring!
---
Adam will be competing at the Winter Olympics in South Korea on February 16th and 17th. You can tune in on NBC or NBCsports.com to watch. In advance, you can watch his perfect short program at the 2017 US National Championships on Ice Network to get a glimpse of how Adam can dance the crowd to a standing ovation. Johnny Weir, our other favorite gay Olympian, will be providing expert (and sassy) commentary on NBC. Also keep an eye out for Tim LeDuc, the out gay American pairs skater, who placed 4th at the 2017 US National Championships with his partner Ashley Cain. Tim and Ashley have been nominated as Olympic alternates for the Pyeongchang.