Where else can you see a Broadway show in the world's greatest city, drive a few hours to ski the greatest vertical drop in the Northeast, and stop along the way to experience a world class spa, award-winning winery, or historic site or art museum? That's winter in New York State, where the cool temperatures only heat up the fun.
New York's Peaks of Perfection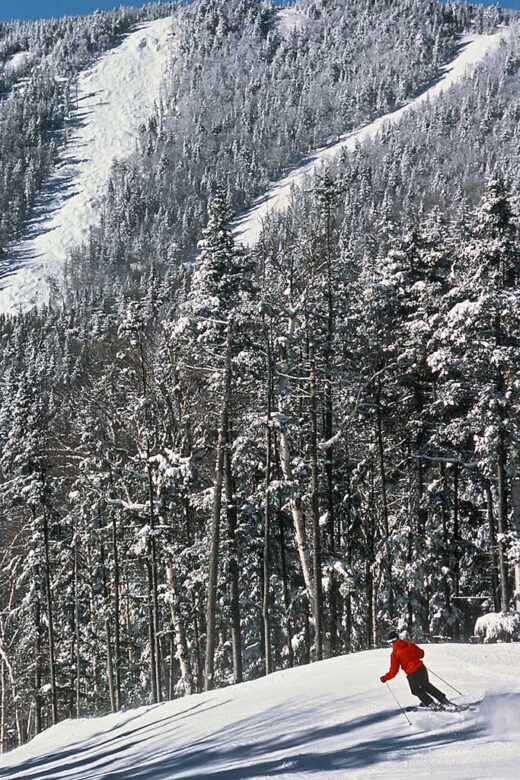 With over 50 downhill ski areas, more than any other state, there's great skiing within an hour of every major city. Higher than any ski mountain in the east, Whiteface is in the Adirondacks town of Lake Placid, which twice hosted the Winter Olympics. You can even bobsled nearby! Hunter Mountain in the Catskills is the "Snowmaking Capital of the World," giving it epic conditions anytime. Holiday Valley in Chautauqua-Allegheny was rated 5th best resort in the eastern US and Canada by SKI Magazine. Some New York mountains even have special LGBT ski weekends, like Bristol Mountain in the charming Finger Lakes town of Canandaigua.
Scenic cross-country skiing is available at ski resorts, state parks, preserves and former railroad beds. Many such areas also feature snowshoeing, a fantastic way to enjoy the great outdoors and burn 600 calories an hour!
The I Love New York Bus, operated by Hampton Jitney, provides convenient day- and overnight-trips from New York City to skiing and other winter adventures across the state.
One of a Kind Stays
Of course, you don't only have to be outside to enjoy New York in the winter. Some of the best hotels in New York City are often available at lower rates. Swanky spa resorts like Mirbeau Inn & Spa in the Finger Lakes and Mirror Lake Inn in the Adirondacks provide warm romantic getaways.   Fairytales come true at accommodations like Oheka Castle overlooking Long Island Sound, and the Royal Suite at Singer Castle in the Thousand Islands. The fun and funky Roxbury Motel is a boutique resort in the Catskills with themed rooms, from the Wizard of Oz to I Dream of Jeanie.
Make a Toast!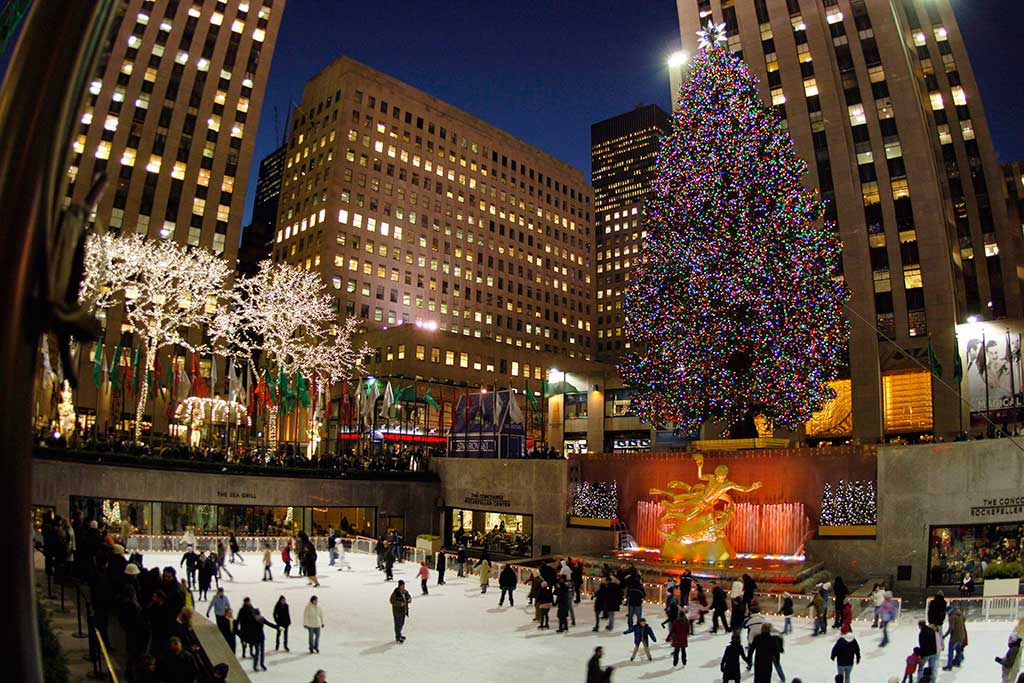 When it comes to food and drink, New York City is home to world-famous chefs, and places like Chelsea Market and the Eataly Italian marketplace have multiple boutique eateries all under one roof. Dine in the Hudson Valley at one of the four on-campus restaurants of the Culinary Institute of America. Winter's prime season to taste world renowned ice wines along the Niagara Wine Trail, rated New York's most cutting-edge wine region by the New York Times.
Hot Acts Warm the Winter
Winter is a great time to score tickets to some of the Big Apple's most in-demand shows. Upstate, historic venues — like Capital-Saratoga's Palace and Proctor Theaters — and cutting edge art centers light up winter nights with theater, music, dance and comedy.
Shopping Is Always In Season

Along with happy memories, there's plenty more to bring back from a New York getaway. New York City is famous for its forward fashions and flagship stores. Destiny USA in Syracuse is the hot new megacenter that combines luxury retailers and outlets with diverse restaurants and unique entertainment including the world's largest indoor ropes course. Swanky outlet centers include Woodbury Common in the Hudson Valley with one of the world's largest collections of designer stores, from Armani to Zegna. The town of Hudson boasts some of the world's best antiquing. The Central New York town of Sharon Springs hosts the Beekman 1802 Mercantile, the flagship store of the Fabulous Beekman Boys of reality TV fame, as well as fine dining and lodging at the American Hotel.
For winter fun, New York has so much to see, so much to do, and so much for the LGBT community to call our own. You'll love it because there's so much more to love. Plan your New York State getaway at iloveny.com/lgbt.