Like much of Vegas today, the city's dining scene is one haute draw. The culinary elevation began in 1992, when Wolfgang Puck rolled the dice and opened an outpost of his L.A. flagship Spago in the Forum Shops at Caesars Palace. His foresight would prove magnetic, spurring a celebrity chef invasion that even seduced the world's most Michelin-starred chef, Joël Robuchon, out of retirement.
Other Michelin French masters answered the call: Guy Savoy, Alain Ducasse, Pierre Gagnaire and Daniel Boulud. With other luminaries including Jean-Georges Vongerichten, Michael Mina and Julian Serrano, the most Master Sommeliers of any U.S. city, and expert mixologists galore, the winning bet in today's transformed, uplifted Vegas is at the table and across the bar.
Bazaar Meat by José Andrés, SAHARA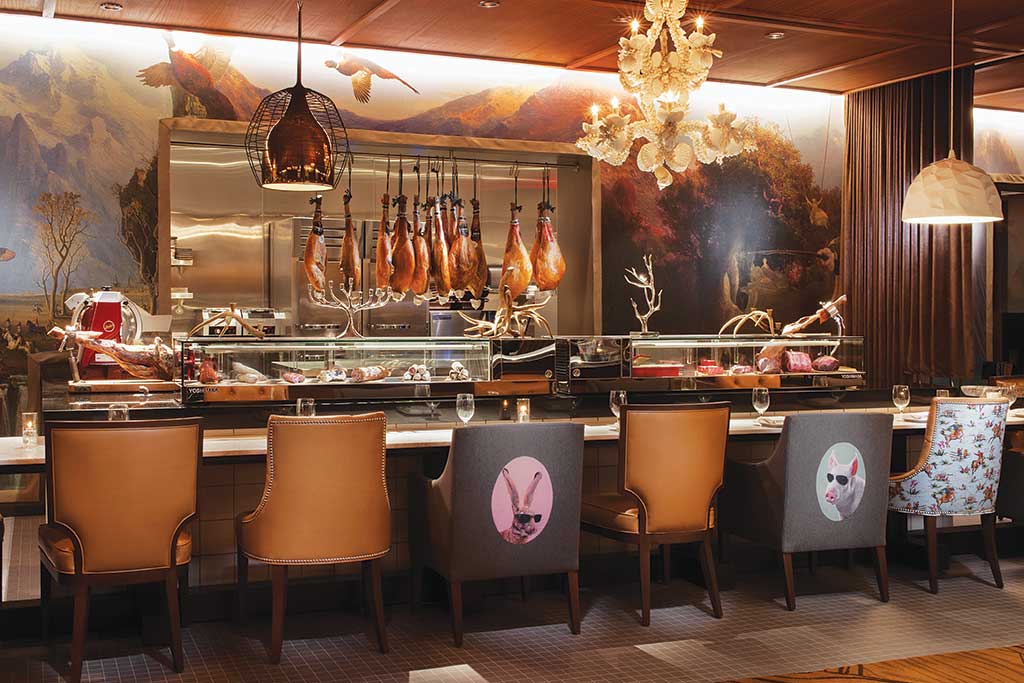 Having pushed the limits of gastronomy in training with fellow countryman Ferran Adrià at Spain's singular El Bulli, Spanish-born, D.C.-based José Andrés has since blazed his own pioneering trail across North America. At Bazaar Meat, Andrés puts a wild new mane on the Vegas steakhouse experience, and it's a roar from start to finish. Housed in the new SLS Las Vegas, formerly the legendary Sahara, his lair incorporates a mini-casino, sleek Bar Centro, open kitchen, Meat Bar, expansive main room and two private dining areas.
"Bazaar" doubly describes Andrés' carnivore emporium and the gleeful abandon of Philippe Starck's décor. Somewhere between a hunting lodge and a circus, the follies include steel alligator heads strung with Mardi Gras beads, mismatched chairs emblazoned with sun-glassed animal faces, and the Cow Carpet, featuring meat cuts.
Andrés also runs wild on the plate. My "Little Starters" were epic, including cotton candy foie gras, chicken fritters served in a shoe, bagel and lox mini cones, and my favorite, his and Adrià's signature spherified, liquefied olives. Tantalizing, too, was José's Asian Taco, Iberian ham on sheets of toasted nori seaweed topped with flying fish roe.
After watching the chefs in action in Andres' mad meat laboratory, next were two tartares, the classic steak version prepared tableside, and for vegetarians, his delicious meatless "beefsteak" tomato preparation. The parade continued with wild boar sausage, Galician grilled octopus, and grilled baby corn dressed with mayonnaise, chile piquin and popcorn powder.
Following this amazing dining experience, you will never look a straight steakhouse in the eye again. SLS Las Vegas Hotel & Casino. 2535 Las Vegas Blvd. South. Tel: 702-761-7610. www.saharalasvegas.com/restaurants-bars/bazaar-meat-by-jose-andres
GIADA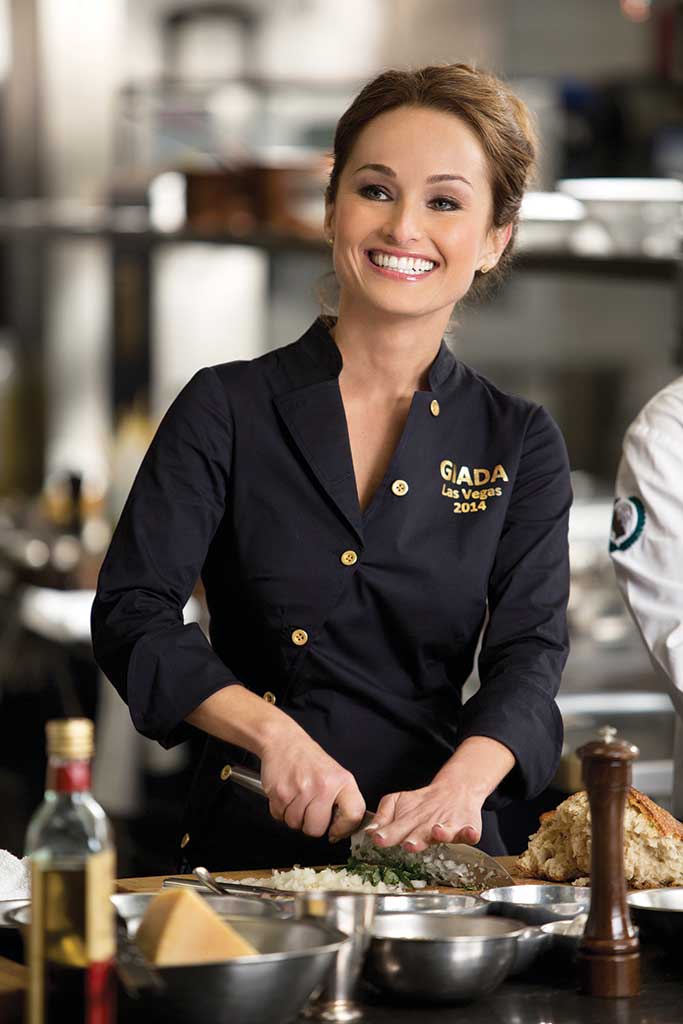 The famed "Four Corners" formed by Las Vegas Boulevard and Flamingo Road is the Strip's premier spot. Opened last May, The Cromwell became the latest property to land the northeast corner. Filling the footprint with youthful energy, this swank boutique entices partiers to Drai's, its rooftop day club and nightclub 11 stories above the Strip. The other star attraction is Giada, the first-ever restaurant from L.A. celebrity chef Giada De Laurentiis. The Emmy-winning TV personality and New York Times best-selling author has charmed many fans, adding to the hot interest in her inviting perch on The Cromwell's second floor. Was her siren call justified? Almost.
Her feminine touches throughout, De Laurentiis succeeded in her goal of making guests feel "at home." Spacious, sexy and sophisticated, the sunken dining room is part of the hot ticket appeal, with windows that retract to provide stellar views of the Bellagio fountains and Caesars Palace and the ultimate in alfresco dining. Some fixes, however, were wanting. The staff, while eager, must find the expert choreography that is de rigeur in Michelin, Forbes Five Star Vegas today. Uneven, too, was some of the California-influenced Italian menu. De Laurentiis loves citrus, which sang in her signature lemon spaghetti with shrimp ($34), but was a shrill note on my lukewarm 28-ounce bone-in Tuscan rib-eye, a disappointment at $74.
Saviors, meanwhile, included the bacon-wrapped dates, robust wine list, and zesty lemon ricotta cookies. Plus, cocktails named for films produced by her grandfather Dino Laurentiis, including the Barbarella and Blue Velvet. GIADA aims to please, and does, a tweak or two shy of the mark.The Cromwell. 3595 Las Vegas Blvd. South. Tel.: 702-777-3777. www.thecromwell.com/giada
Carson Kitchen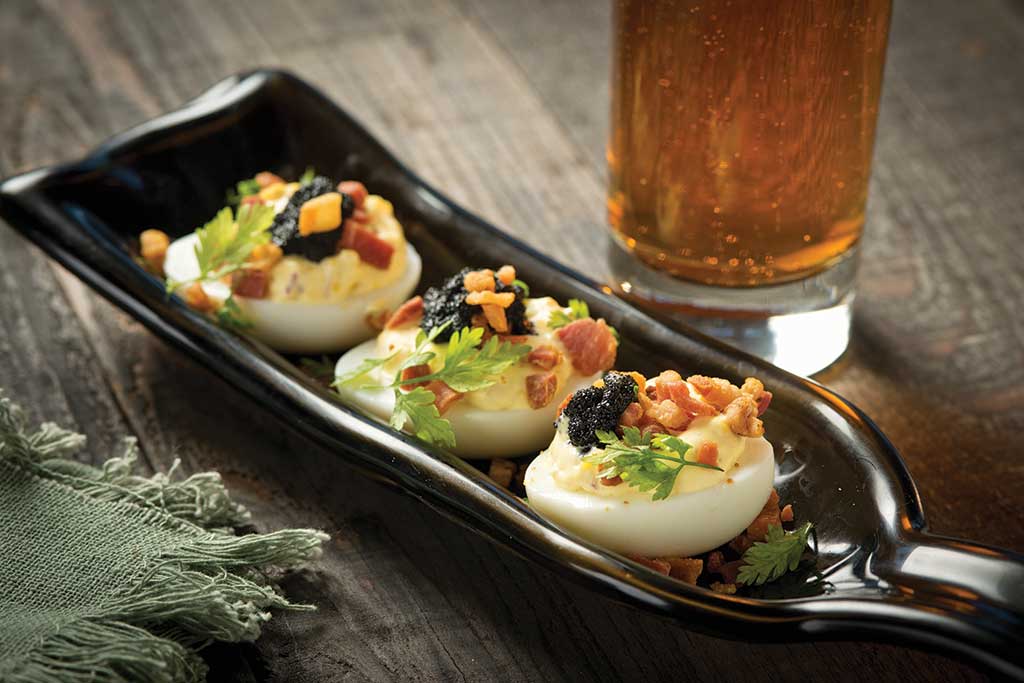 Long before Rolling Stone crowned him the "Rock n' Roll Chef," Kerry Simon was a celebrity draw—he and a young Bill Murray slung pies together at an Illinois Little Caesars Pizza joint. From there it was all high notes. Tapped by Ivana Trump at just 34 to helm The Plaza Hotel's Edwardian Room, he became the darling of David Bowie, Debbie Harry, and other celebs.
In the mid-90's, Simon partnered with Jean-Georges Vongerichten to produce New York's acclaimed Vong and Mercer Kitchen restaurants. Next up was Las Vegas, where in 1998 the pair created Prime Steakhouse at the Bellagio.
Other early concepts included Simon Kitchen & Bar at the Hard Rock and the provocative CatHouse at Luxor. Today, Simon, who won Iron Chef America in 2005, has five Vegas restaurants including Simon Mansion and Supper Club at the Palms and his latest venture, Carson Kitchen.
Opened last June, this lively gastro-lounge anchors the reborn John E. Carson Hotel, a 1955 motel-turned-flophouse now transformed into a small business hub as part of the $350 million revitalization of Downtown Las Vegas.
The street-level dining room feels like one big open kitchen as diners rub elbows at communal butcher-block tables over gourmet comfort food including bacon jam, veal meatballs in sherry foie gras cream, and "devil's" eggs with crispy pancetta and caviar. The wide-ranging menu also features a "Farm & Garden" section, entrees such as the cocoa-espresso New York strip, and decadent desserts such as "Not Your Father's" Twinkies, while the social atmosphere continues on the rooftop patio, and in the common interior courtyard.
The somber chord here is that an incurable neurodegenerative condition now keeps Simon from the kitchen. With much love and support from the Vegas community, his spirit rocks on.124 South Sixth Street. Tel.: 702-473-9523. carsonkitchen.com
La Comida

For those in the know, the name Morton's means the upscale steakhouse chain co-founded by Playboy Club executive Artie Morton in Chicago in 1978. Surprisingly perhaps, it's also a growing brand in Vegas.
Established in 2010 by Artie's son Michael (a Vegas nightlife impresario since 1995) and his wife Jenna, the Morton Group comprises La Cave Wine and Food Hideaway inside Wynn Las Vegas, CRUSH eat, drink, love at MGM Grand, and Mexican eatery La Comida, an anchor of reborn Downtown since May 2013.
As small businesses, cafes and other restaurants continue to open around it (Carson Kitchen is around the corner), La Comida epitomizes Downtown's laid-back dining scene, and is ideal for leisurely dining and drinking.
The long-tailed pink neon monkey clinging to the façade signals playful times ahead, a message reinforced inside by signage celebrating the joys of tequila, of which there are some 100 varieties on the menu. I went with the prickly pear margarita while sampling highly satisfying Mexican fare including elotes asados (Mexican street corn, queso fresco and chile lime butter), queso fundido (Oaxaca melted cheese, chorizo, and roasted poblano peppers) and tempura-battered sea bass frito a la Baja.
The seating mix include sidewalk tables, an invitingly long bar, booths, and communal benches, with planked wooden floors, ceramic tiles, iron gating, church pews and stained glass creating an atmospheric ambiance.100 Sixth Street. Tel.: 702-463-9900. lacomidalv.com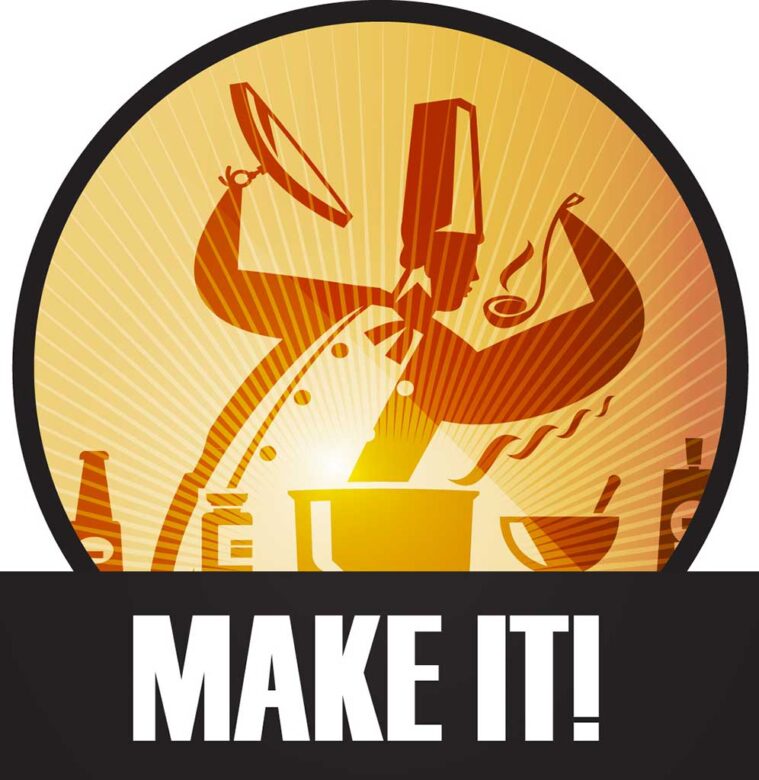 Try These Restaurants' Recipes at home. Click here.