When it comes to hospitality, an important thing for hotels and other businesses to remember is that one size does not fit all.
While tobacco consumption was significantly glamorized more than 50 years ago (42 percent of the population smoked in 1965), smokers have now become a minority in America due to health concerns and the lack of acceptance by a majority of people. According to the Centers for Disease Control and Prevention, an estimated 40 million Americans (nearly 17 of every 100 adults, 18 years and older) identified as smokers in 2014, a decrease from 21 of every 100 adults in 2005.
But not everyone is kicking the habit. In a 2015 story reported by CNN, a strong combination of psychological and biological factors keep people smoking. Also, there are scientifically proven benefits that may justify smoking for many people. Studies have reported that cigarettes can lower the risk of Parkinson's Disease and obesity, and, short-term speaking, it encourages leisurely interactions and helps reduce stress. Like drinking, smoking can be a social tool, especially for the younger generations when traveling abroad. While smoking has been unanimously banned in many public places, and the majority of US states have issued a statewide smoking ban in public restaurants and bars, many hotels have the privilege of dictating smoking rules on their properties, with non-smoking policies currently being the dominant trend.
Thanks to the Internet and social media, you can log onto a hotel's website to find its policies, fees, rules, and regulations, live chat with staff, and even receive a customer-service response from a Tweet in a matter of minutes. Properties across the globe are even going the extra mile by highlighting amenities you typically wouldn't find in a brochure, like rooms with windows that open, vegan menus, and an email address for management.
In a time when hotel competition is fierce (with a surge of new hotels and resorts opening worldwide and more than a dozen new hotel and resort chains debuting in the past five years), guests are able to make an informed decision when booking their rooms. This also applies to smoking policies. More hotels are actively making a point to let potential guests know that they are non-smoking. Some hotel chains now reference their non-smoking policies, but many still do not list this information on their websites as the smoking policy can often be dictated by the actual property. If their policy is not listed, smokers should assume these hotels are non-smoking. To be sure if the hotel you want to book is either smoker-friendly or smoke-free, it's always best to call the hotel directly.
Many hotels that do not allow smoking inside their guest rooms or public areas, may provide a smoking area outside the hotel's physical building or in a courtyard or garden. This, however, is not considered an option for most leisure and business travelers who smoke.
Perhaps the biggest indication smoking allowed at hotels is on the decline is the rising non-smoking trend in Las Vegas, a city that was virtually and notoriously smoker-friendly a decade ago. The Nevada Clean Indoor Air Act prohibits smoking in most public places, including resort lobbies, restaurants, and entertainment venues, limiting the places smokers can light up. Smoking is still permitted on the casino floor in all resorts, though in ever-shrinking, dedicated spaces.
While most Vegas resorts have implemented various non-smoking rules, MGM Grand Hotels & Resorts banned smoking from the majority of their properties last year, which is roughly half the major resorts in Las Vegas.
"Our guest room inventory reflects the preference of our customers," says Mary Hynes, director of corporate communications for MGM Resorts. "Consumer demand for non-smoking rooms has increased dramatically in recent years as the popularity of smoking has decreased, so much so that some of our resorts no longer offer a smoking room option. Look beyond Las Vegas, and you will find that other resorts and hotels are experiencing similar trends."
MGM is just one of many Vegas resorts that are becoming more smoke-free, and it's only to adapt to a growing trend of non-smokers visiting Vegas. "We have seen a considerable drop in the popularity of smoking among our guests, even on the casino floor," she says. "We've made accommodations to make both smokers and non-smokers more comfortable, not the least of which are the modern ventilation systems we install in our resorts."
Many states have also banned smoking in public buildings and areas, like California adhering to The California Indoor Clean Air Act, which declares tobacco smoke as a health hazard. Smokers will find it harder to find places where they can smoke in states that have smoking bans, especially at hotels. Pacific Group Hospitality, a California-based boutique hotel chain, prohibits smoking at all their properties following the California State Law's non-smoking policy. The rules change a bit per hotel (for instance, due to the nature of guests visiting Palm Springs, many boutique hotels allow smoking on private room patios and by pools).
While hotels don't want to discriminate against or devalue their guests who like to smoke, many companies make it crystal clear that they are anti-smoking across their entire portfolio. These brands include Wyndham, Comfort Inn, Comfort Suites, Hyatt Place, Hyatt Summerfield Suites, Walt Disney Resorts, Sheraton, Four Points, Westin, and Marriott, the latter of which felt so strongly against smokers that they issued a press release on its property-wide smoking ban in 2006 (2,300 properties at the time). These anti-smoking policies mean smokers cannot smoke anywhere inside their hotels, and they prohibit smoking both inside and outside at many hotels and resorts.
It's common for many hotels to have a strict, non-smoking policy based on state smoking laws and regulations, though there is no federal law that forces hotels to ban smoking. It's mostly up to the state.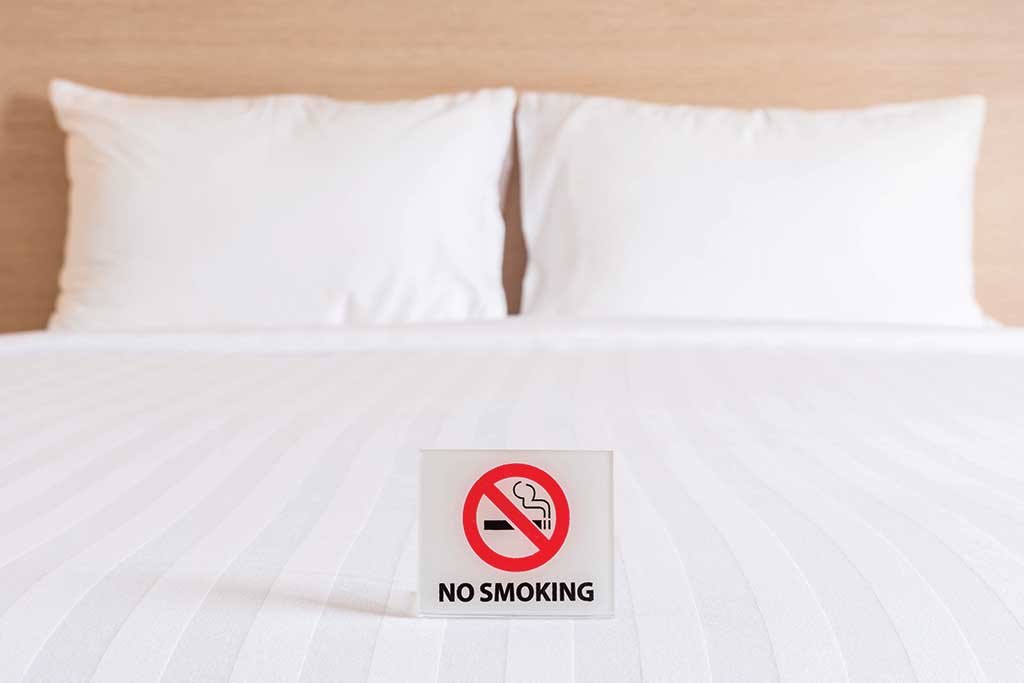 For this reason, there are thousands of hotels that still allow smoking on designated floors or private balconies. While they are very seldom publicized, a handful of resources make them available, including Smokers United (www.smokers-united.com), which provides an updated list of hotels where smoking is still allowed. The relatively new website Smoketels  also offers a list of hotels by city with smoking floors, and you can book rooms directly on both websites.
If you browse the hotels that offer smoking floors and balconies, you may or may not be surprised at how many luxury hotels provide their guests with smoking accommodations. This includes The Pierre in New York City (www.tajhotels.com), a gay-friendly, five-star hotel that offers two smoking floors. The hotel puts special machines in the room to fully remove any smell of smoke, which allows non-smokers to also book the same rooms.
The best way to book a smoker-friendly hotel is by visiting Smokers United or Smoketels. If the hotel smoking policy is still blurry, call the hotel for the proper rules. Some hotels are very serious about being smoke-free, like Surf & Sand Resort in Laguna Beach California (www.surfandsandresort.com), which enforces a strict non-smoking policy, even on their room's outdoor balconies. Outdoor cameras have views of all balcony rooms to ensure the hotel remains smoke-free.
If you're still not sure, check some online forums. Many websites, like TripAdvisor and FlyerTalk, have generated forums on whether it's OK to smoke in hotels in various cities, and you can read through or join in the conversation.
For people traveling outside of the United States, smoking laws are less strict in hotels, as the smoking culture is more prevalent in places like Europe, Mexico, the Middle East, South America and Asia. Not only do many hotels provide smoking floors, smoking is accepted in various public places like lobbies and restaurants with reserved sections. It's easier to smoke in rooms at resorts (as opposed to hotels), where most properties provide outdoor patios, and international hotel brands like Melia, Barcelo, and Oberoi will generally allow smoking in rooms.
Plenty of smokers in the USA and in other countries around the world have voiced concern about the fairness of not being able to book a room at many hotels. If you are one of them, let the hotel know how you feel.
If you're a non-smoker who insists on a smoke-free environment when you travel, you are now in the majority and can breathe easier.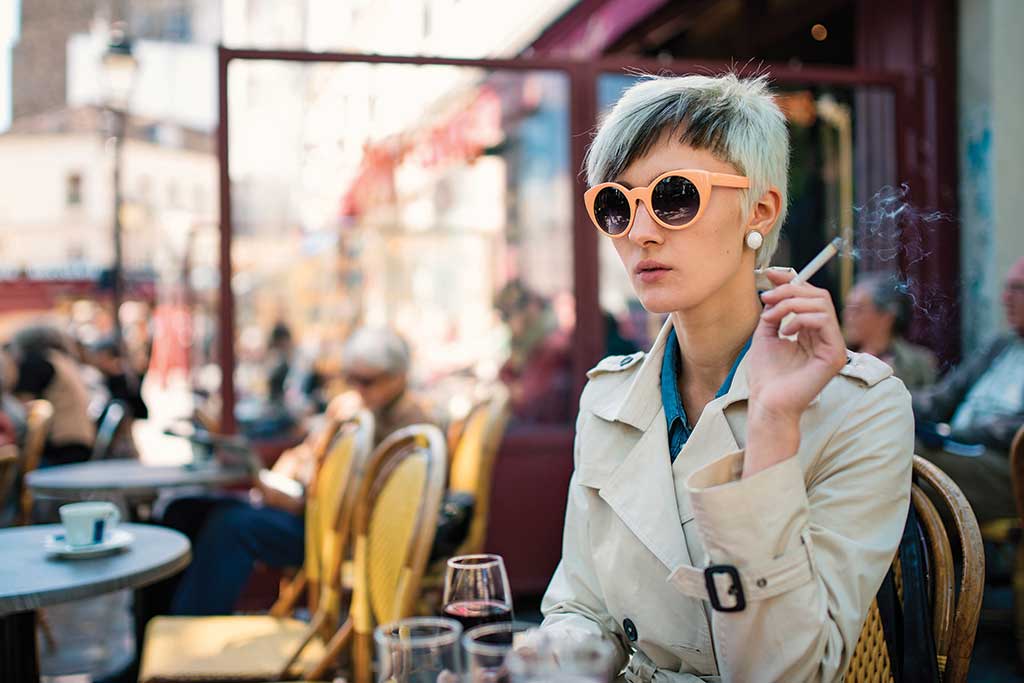 When it comes to hospitality, an important thing for hotels and other businesses to remember is that one size does not fit all. There are many non-smokers who have friends and family members who are smokers. These people often like to travel together, and where they choose to stay will depend on where they feel welcome, and if they have the option to smoke or not to smoke.