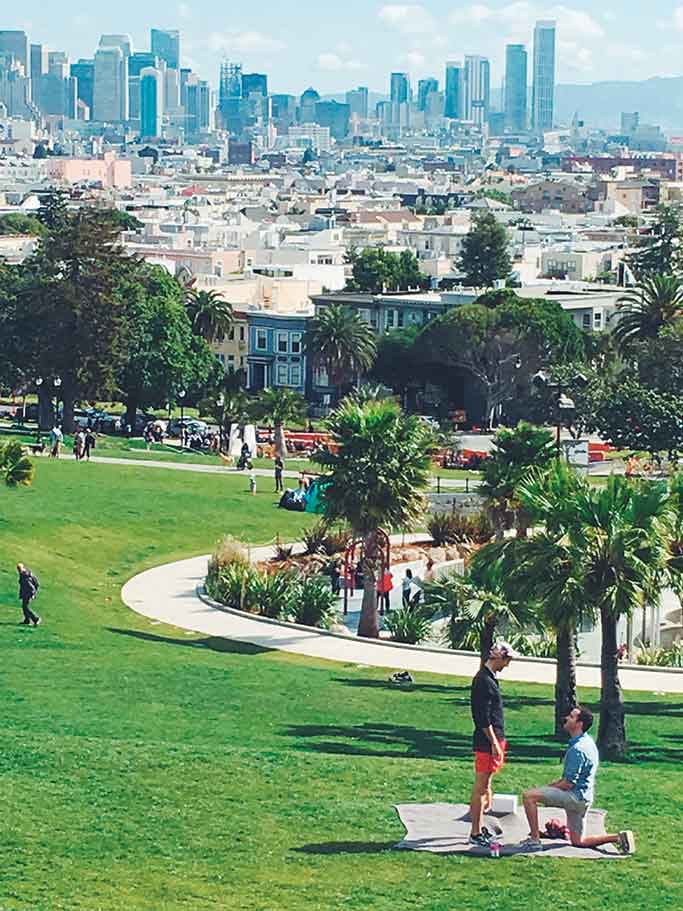 Patrick and Joseph became engaged on April 30, 2016 and were married on May 28, 2017 at Bloomfield Farms (@bloomfieldevents) in Petaluma, California.
"We met on Tinder in June of 2014!" says Patrick. "Joe was living and teaching in San Jose and I was living and working at a non-profit in San Francisco. Joe was on a soccer team in San Francisco and would travel up to the city on weekends for games, which is how we came into each other's Tinder orbit." On their second date, they had breakfast in Patrick's neighborhood. "We got pastries and chocolate milk and had a picnic in Dolores Park and hung out there for hours," says Joe. "This date sealed the deal! We knew after that date that we were going to get married."
Two years later, Patrick proposed by recreating that second date. Patrick's friends bought the same chocolate milk and pastries, set up a blanket and picnic in Dolores Park, and Patrick "surprised" Joe by bringing him there on a Saturday morning. Turned out to not be much of a surprise. Patrick accidentally dropped clues for weeks!
"We got married over a long weekend and had all of our friends and family come out to California for the wedding. We pretty much had a week of activities, everything from Escape Rooms, to karaoke in SF's Chinatown, picnics in SF, stand-up paddle boarding in Sausalito, and wine tasting in Sonoma. It was a complete blast. "says Patrick.
Right after the wedding, they left their jobs to backpack around Asia for 6 weeks. Its was an incredible adventure, from hiking and camping on the great wall of China to visiting Pulau Tiga, the location of season 1 of the show Survivor (Patrick is a HUGE fan). We made our way through China, Vietnam, Cambodia, Malaysia, Indonesia, and the Philippines and then moved straight to Guadalajara, Mexico to teach," says Patrick. Joe's teaching 4th grade and Patrick's teaching 7th grade.