We all know that Washington, DC is a city of monumental history, beautiful boulevards and world-class museums like the Smithsonian National Air and Space Museum and jewels of contemporary art like the Hirshhorn Museum and Sculpture Garden among a score of others. But, there is another side to this cosmopolitan city. DC is also a thriving, diverse city of people: artists and entrepreneurs; doctors and teachers; in other words a community. This summer, why not experience the other side of the District, the contemporary cool DC and the people who live there?
Here are just a few of our suggestions. You can find more here: washington.org/lgbtq
"Truth be told, you cannot throw a stone without hitting something that is undeniably gay in this city"
The LGBTQ Scene: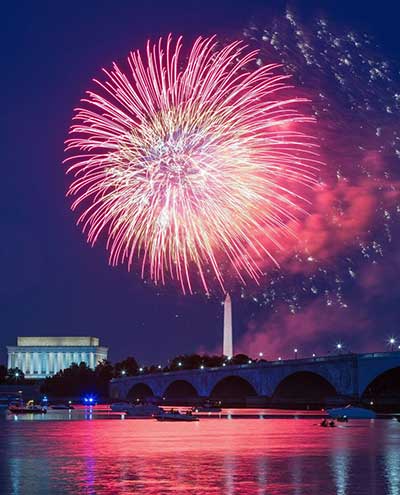 Truth be told, you cannot throw a stone without hitting something that is undeniably gay in this city. One neighborhood to check out while in the area is 14th Street NW, an exciting and bustling LGBTQ neighborhood with fun bars and restaurants. Here, you can find Number 9, a chic bi-level gay bar where you can put on your dancing shoes and get down. Or you can head over to the Town Danceboutique, the largest gay dance club in Washington, DC that's a combination of a cabaret performance space, a plush lounge, and a high-energy dance party. After raging all night, round up all of your party buddies and have a drag brunch at Nellie's Sports Bar where you can grub down on some wings, watch some sports, and enjoy a marvelous drag show. If you just want to relax and have some food to cure that headache, the gay-owned Duplex Diner in Adams Morgan is your place for a great breakfast in a fun and colorful atmosphere.
The Food Scene:
"Voted 'Restaurant City of the Year' by Bon Appétit and 'Hottest Food City in 2016' by Zagat."
DC is home to dozens of celebrity chefs like José Andrés, Mike Isabella and Marjorie Meek-Bradley, and superstar bartender Derek Brown. The Sax Lounge is an absolute must for any visitor in the DC area. While feeling like you're in an opulent royal palace, you can dine on contemporary French-American cuisine and enjoy choreographed dance sets and aerialists in this stunning restaurant and lounge. It gets even better though… Sax late night transforms with live DJs, VIP bottle service and sophisticated live entertainment that keeps the party going all night long!
Shaw, an up and coming small neighborhood in the northwest quadrant, is a perfect place to have a Sunday stroll and grab a cute lunch. Pick up pastries from Buttercream Bakeshop or go across the street to Top Chef Marjorie Meek-Bradley's Smoked & Stacked; check out Blagden Alley for amazing meals at The Dabney or craft cocktails at Columbia Room. CityCenterDC, near downtown, is an inviting public space with has high-end retail shops which populate the development, along with "see and be seen" restaurants such as DBGB Kitchen & Bar and Momofuku, or locallygrown markets and startups. Centrolina, for example, has picnic-ready eats from the market and Fruitive has delicious and healthy cold-pressed juices.
The Summer Scene: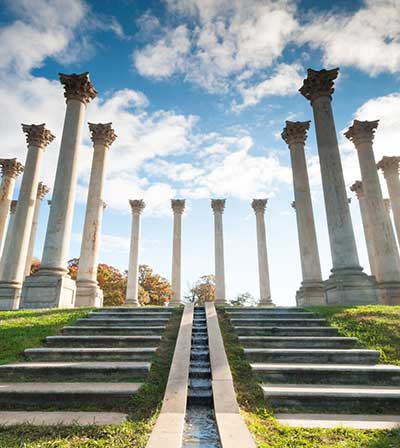 Now that summer is in full swing, DC has a multitude of events that will make your summer holiday so much cooler! When the weather is nice, make sure to take a run on the National Mall for amazing views of the U.S. Capitol, Washington Monument, and Lincoln Memorial. Or go paddleboarding on the Potomac River at Georgetown's Key Bridge Boathouse with someone you love. If you love nature, you must experience the U.S. National Arboretum with 446-acres of flora, including bonsai trees and a conifer collection. The historic National Capitol Columns also make for a great photo-op. For the 4th of July you must swing by the annual Independence Day Parade on Constitution Avenue.
Book your stay now while it's hot to stay cool! Find more information here at: washington.org/lgbtq