The wealth of queer art and culture on show in Britain throughout 2017 is in stark contrast to the harsh reality that many LGBT people still face in the wider world.
On July 27, 1967, after a heated late-night debate in London's House of Commons, a piece of legislation called The Sexual Offences Act received royal assent. This symbolic action occurs whenever a bill is passed by Britain's Parliament. Before a bill becomes an Act of Parliament, the Queen's royal nod of approval is required, it then officially comes into force as British law.
The passing of the Sexual Offences Act of 1967 was a significant moment for gay men in Britain, because it decriminalized homosexual acts between two men in private. Up until then, gay men had lived on the margins of British society, fearing prosecution and imprisonment for the simple act of intimacy with someone of the same sex.
Many gay rights activists point out that the Sexual Offences Act was merely a first step on the long road toward the equality that Britain's LGBT community enjoys today.
The act only applied to men aged 21 or above (equal age of consent wasn't granted until 2003). It applied only to England and Wales (homosexual acts were decriminalized in Scotland in 1980 and in Northern Ireland in 1982). And the 'two men in private' condition of the act was strictly interpreted by the courts, meaning that it remained illegal for two men to have sex in a hotel room, or in a private house if more than two people were at home (even if a third person was in another room).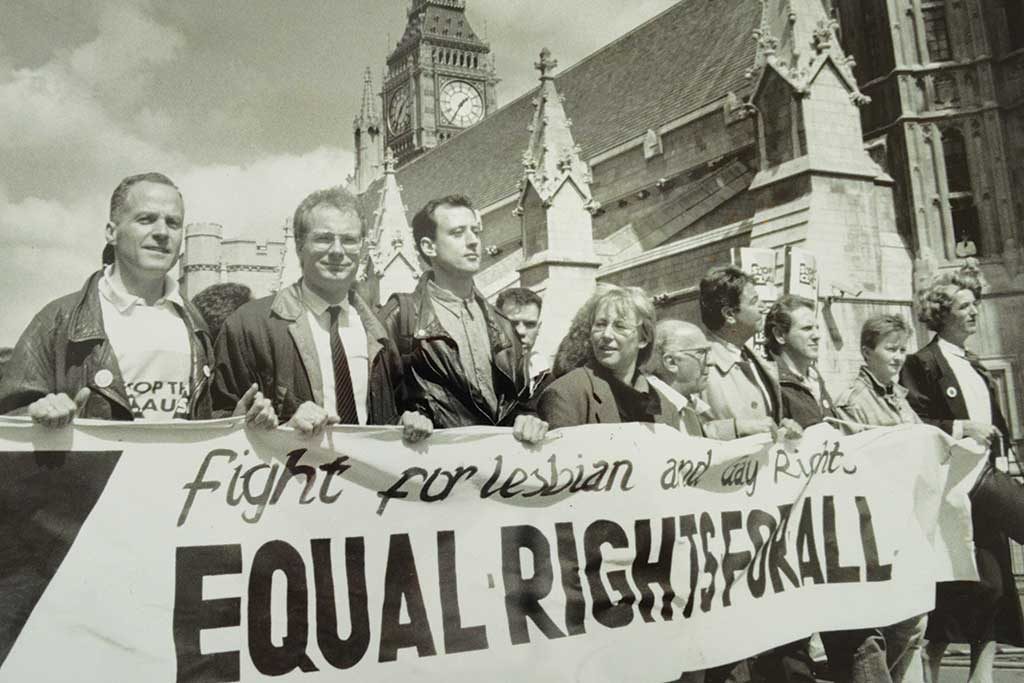 "The 1967 reforms were only a partial, limited decriminalization," explains Peter Tatchell, a campaigner on LGBTI and other human rights issues in the UK and worldwide. "Most aspects of gay male life remained criminalized. Arrests and convictions rocketed after 1967, as state repression intensified. The anti-gay laws were only repealed in England and Wales in 2003. We won these changes only after decades of LGBTI protest that shamed and embarrassed the government, police, and judiciary. We also lobbied politicians, journalists, and religious leaders. Many of us were arrested."
It's nevertheless considered a pivotal moment for gay rights in Britain: the 1967 reforms are a ripple that swelled into a tide of change in Britain as well as internationally.
"Decriminalization was a huge milestone for equality in Britain, but also marked the beginning of many more milestones to come for LGBT people. We truly stand on the shoulders of giants," says Ruth Hunt, CEO of Stonewall. "In the last 25 years alone, we have seen the age of consent equalized, the ban on openly gay people serving in the military lifted, and the introduction of civil partnerships and equal marriage."
Which is why the 50th anniversary of the act is seen as a cause for celebration across Britain in 2017.
The 50th anniversary of the partial decriminalization of homosexuality in England and Wales is being celebrated in many different ways.
Some of Britain's biggest gay pride events, including Pride In London and Birmingham Pride, are using this 50th anniversary as their theme for 2017.
The BBC is broadcasting a season of "Queer Britannia" programs, including a slew of documentaries, plus two major new dramas: Against the Law, the powerful true story of a journalist found guilty of homosexual offences in the 1950s, and Man in the Orange Shirt, the first screen drama from bestselling British novelist Patrick Gale, telling two gay love stories that occur 60 years apart, with a cast including Oscar-winningactress Vanessa Redgrave.
Major film festivals such as London's East End Film Festival and Sheffield Doc/Fest have plans for special LGBT film events. Doc/Fest for example opens with the World Premiere of Daisy Asquith's Queerama, a fascinating film created using rare historical footage from the British Film Institute's National Archive to document gay life in Britain since the end of the First World War.
Some of the most significant events are taking place at worldrenowned museums in London and beyond.
Running until October 1, 2017, "Queer British Art 1861 – 1967" at Tate Britain in London is the first ever exhibition dedicated to queer British art. With a mix of works by major artists and personal ephemera including letters and photographs, it illustrates how artists challenged the established views of sexuality and gender identity in Britain between two legal landmarks: from the abolition of the death penalty for sodomy in 1861, up until the passing of the Sexual Offences Act in 1967. Featuring works by artists including David Hockney, Francis Bacon, Cecil Beaton, Keith Vaughan, Evelyn De Morgan, Gluck, Glyn Philpot, and Claude Cahun, the exhibition beautifully captures the ins and outs of Britain's queer artistic community.
"'Queer British Art, 1861-1967' tells the story of an extraordinary range of different sexualities and gender identities through diverse objects," exhibition curator Clare Barlow tells me. "There's stunning paintings and sculpture, surprising historical objects, including the door of Oscar Wilde's prison cell, and some amazing private material such as photograph albums, magazines, and letters. The exhibition looks at the hundred years prior to the partial decriminalization of homosexuality—a crucial period. It moves from a time in which there were very few words for different sexualities and gender identities to the point at which our community was starting to find its unique voice. There's some tragic stories but also some moments of humor, triumph, and liberation. Throughout, we've been careful to present the lives of the different artists and sitters in all their rich complexity. It's been a privilege to explore their experiences and perspectives, and I hope it will make for a varied, beautiful, and intriguing show."
I asked Clare to name some of her favorite works. One of the pieces she identified was a vibrant pink wig. "One of the most surprising stories for me was the huge number of glamorous female impersonation acts on the stage from the 1900s to the 1950s. This wig from the 1920s belonged to Jimmy Slater and is a rare survivor from this period."
There's also artwork by internationally famous gay and lesbian artists. "David Hockney is one of the giants of queer art and he began exploring gay culture as a student at the Royal College of Art," Clare says. "He told how he had to make a life-painting as part of his degree submission, but instead of the usual female model he painted a body-builder from an American 'beefcake' magazine."
Some of the works are a reminder of the risks that came with being gay. "Simeon Solomon was a well-established artist who exhibited at the Royal Academy," Claire explains, "but his reputation was destroyed when he was caught having sex with a man in a public toilet. He explored samesex desire in many of his paintings."
This is just one of several specially curated exhibitions celebrating LGBT diversity in Britain this year. Running until October 15, 2017, "Desire, Love, Identity: Exploring LGBTQ Histories" draws on material from the extensive collection of the British Museum in London. Some of these fascinating fragments of gay history are taken from the museum's permanent collection, others are being displayed especially for this exhibition. Supported by sponsor Stephen and Julie Fitzgerald, objects range from ancient artifacts such as the Warren Cup, a solid silver Roman drinking cup from 10 C.E. which depicts two pairs of male lovers enjoying anal sex, to more everyday items including a selection of LGBT campaign badges from the 1970s and 1980s.
Britain's National Trustis celebrating the LGBT heritage of many of its properties. Its Prejudice and Pride program of events shines a spotlight on over 25 National Trust properties whose history has been shaped by the sexuality of their inhabitants, workers, owners, and guests.
These include Monk's House in Sussex, south east England, the former home of renowned writer and essayist Virginia Woolf, which this summer will host a series of readings of love letters between Virginia and her lover Vita Sackville-West. Also part of the National Trust is Knole House in Kent, the place where Vita was born and raised, and nearby Sissinghurst, which is famous for the spectacular gardens that she created; both properties will host special LGBT events during 2017.
Hanbury Hall in Worcestershire is meanwhile set to host an immersive screening of the 1992 film adaptation of Virginia Woolf's 1928 novel Orlando. Further National Trust properties will celebrate their association with other well-known LGBT figures, such as the playwright Oscar Wilde and his lover Lord Alfred Douglas, and British artists including Simeon Solomon and Evelyn De Morgan.
The Red House in the seaside town of Aldeburgh in Suffolk was the home of celebrated British composer Benjamin Britten and his partner Peter Pears. Now home to the Britten-Pears Foundation, the Red House is hosting an array of special events throughout 2017, including the exhibition "Queer Talk: Homosexuality in Britten's Britain."
The People's History Museum in Manchester marks the anniversary with the exhibition "Never Going Underground: The Fight For LGBT+ Rights." On display until September 2017, the exhibits are arranged as a timeline to enable visitors to reflect on how long and slow the progress towards equality has been in Britain. Comprising unique artifacts from numerous personal collections, the exhibition was opened by Sir Ian McKellen.
Liverpool's Walker Art Gallery brings together a diverse range of artists whose work explores sexuality and gender for the exhibition "Coming Out: Sexuality, Gender and Identity." The exhibition includes work by artists including David Hockney, Steve McQueen, LINDER, James Richards and Sarah Lucas.