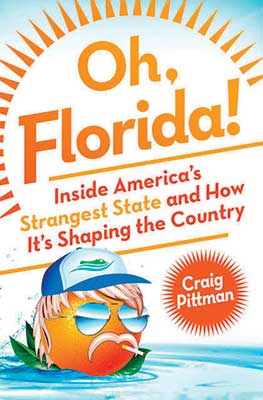 Journalist Craig Pittman turns "the Sunshine State into the Punch Line State" in the trivia-rich pages of Oh, Florida!: How America's Weirdest State Influences the Rest of the Country (Picador. $17. www.craigpittman.com), a sometimes startling, always amusing hybrid of a Carl Hiaasen novel and a volume of Ripley's Believe It Or Not! Mining history and headlines for the shiniest nuggets of nuttiness he can find, Pittman discovers an anecdotal motherlode that stretches from the Keys to the Panhandle. The LGBT community is abundantly represented in tales of Anita Bryant's orange juice-fueled campaign against homosexuality, the drag balls of Pensacola, and the debut of Gay Days at Disney World. Readers will meet corrupt cops, wicked politicians, NASCAR fanatics, and rambunctious retirees. Its debatable whether many of the stories and characters that Pittman presents are in any way really representative of Florida, but who'd want to miss out on the likes of Buffalo Snot Lady: after being pinned to the ground by a fallen tree in Paynes Preserve Prairie State Park, where a herd of curious, snuffling bison then spent hours "painting her with mucus" she reports thinking only "I am going to die today, but this is awesome."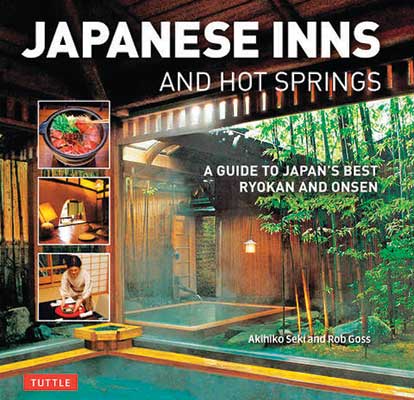 A night at a ryokan offers travelers the rare chance to fully immerse themselves in Japanese traditions, from elaborate multi-course meals to restorative bathing in serene setting. Japanese Inns and Hot Springs by Akihiko Seki and Rob Goss (Tuttle. $16.95. www.tuttlepublishing.com) is a lusciously photo-illustrated tour of 40 choice properties. While ryokan throughout the country are represented, over half of the selections here are within a short distance of Tokyo or Kyoto, making it easy to combine an inn-stay with a city-centered vacation: every room at Shuhoukaku Kogetsu, 62 miles from Tokyo, has stunning views of Mount Fuji across the waters of Lake Kawaguchi; Hoshinoya Kyoto invites guests to bid a speedy sayonara to city crowds as they board a small boat for a ten minute ride up the Katsuura River to the inn, a rare ryokan with Western-style beds for those uncomfortable on futons and tatami mats. Peruse the images in this book to compare communal and private bath offerings along with subtle variations in traditional décor. At most ryokan, dining is in the traditional kaiseki style, with eight to a dozen small seasonal dishes served in prescribed order, progressing from sashimi through cooked items, elegantly presented over two or more blissful hours. Given the length and largely fixed menu of the evening meal, travelers generally spend just a single night at any particular ryokan—it's the dinner of a lifetime, garnished with accommodations and a soak.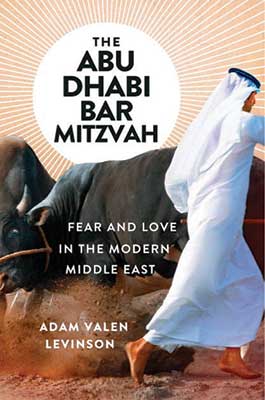 Adam Valen Levinson makes a wise and witty travel writing debut in The Abu Dhabi Bar Mitzvah: Fear and Love in The Middle East (W.W. Norton, $25.95. www.adamvalenlevenson.com). An eighth grader at the time of the World Trade Tower attacks, Levenson brings a unique generational perspective to his travels through countries including Kuwait, Oman, Syria, Afghanistan, Iraq, and Sudan; as he grew into adulthood, these parts of the world were widely portrayed in American media as not just exotic, but evil. A sensitive skeptic and secular Jew, Levinson studied the Middle East and learned Arabic as an undergrad at Columbia. After graduating, he jumped at the chance to take an ill-defined liaison job at Columbia's newly founded Abu Dhabi campus. The amorphous gig served as a launchpad for a series of seat-of-the-pants adventures during which he observes that "When I made landfall in a new place (its name familiar from wartime datelines), the pictures in my head matched both fully and not at all. Simple truths came wrapped in complexities I didn't understand, and every time I thought I had learned something solid, it went soft in my sweaty palms. Impressions and new truths jabbled at each other like skittish kids on a playground and tumbled out as jokey stories in hotel bars." While full of good humor, Levenson's book is, in the end, not jokey at all. It's serious, sensitive, and compassionate.
A "Save The Whales" benefit hosted by Robert DeNiro, Joe Pesci and popular Playboy centerfold model Cathy St. George. A back room bisexual three-way with Blue Lagoon boy-toy Christopher Atkins. The unlikely confluence of Donald Trump, Jeremy Irons, and Billy Idol. These are among the icky-glitzy celebrity scenarios recalled by Mark Fleischman in his rambling reminiscences of life Inside Studio 54 (Rare Bird. $26. www.rarebirdbooks.com). Fleischman, who acquired the club from original owners Ian Shrager and Steve Rubell in 1980 (They were sent to prison for tax evasion after just two years running the Manhattan bacchanal) at once gilds the lily and digs up the weeds of the legendary drug and disco hotbed, mixing gossip and bragadoccio in equal measures.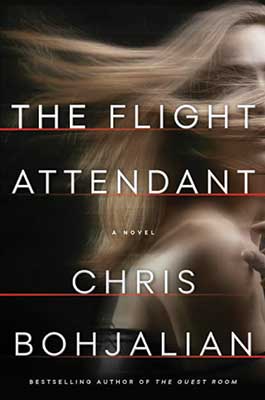 AIRPLANE READ OF THE MONTH
Oh boy, does Cassie Bowden have baggage to check. The titular character of The Flight Attendant by Chris Bohjalian (Doubleday. $25. www.chrisbohjalian.com), ushers readers into a turbulent behind-the-scenes look at the lives of cabin crew members and a pitiless profile of a woman destined for a psychological crash landing. After a drunken blackout during a layover in Dubai, Bowden wakes up naked in a hotel bed next to the throat-slashed corpse of a passenger from her last flight. Now a suspect in the murder of a potential Russian agent, she spins herself into a web of intrigue across three continents, still finding time to hook up with more handsome strangers, steal souvenirs from hotel rooms, and impulsively lie to her friends, family, and lawyer. While structured as a thriller, the novel is strongest as a character study" Cassie is a hot, frighteningly believable mess, as endangered by alcoholism as by espionage. Bohjalian nails the floating loneliness that can affect flight crew members, and all business road warriors, amidst their untethered schedules; mixed with a splash of self-loathing it can lead to a life on the rocks.