Richard Wolak, an openly gay Vancouver-based food writer and podcaster, whose influential VancouverFoodster.com celebrated its thirteenth anniversary this year, certainly had opinions and dish to share during our dinners together.
It's been three years since my previous visit in August 2019 during Vancouver Pride (vancouverpride.ca), so there's even more to catch up on, including the highly anticipated, conversation-stirring (and polarizing in some circles) inaugural Michelin Guide's Vancouver edition, in which just eight venues earned one star. Shocking given how amazing the foodie scene is (honestly, almost any stranger off the street can rattle off opinions about where to eat), but that's a big ol' literal and figurative mouthful we'll get to later.
As with many cities globally, some things have radically changed here since the pandemic, both good and not-so-good, with openings, closings, and shake-ups. Most dramatically, Vancouver's Chinatown suffers from the same urban decay as, say, San Francisco's Tenderloin district, yet many passionate, philanthropic locals and entrepreneurs are actively trying to revitalize the neighborhood and find solutions for less fortunate dwellers.
One is Carol Lee, a third generation Chinese-Canadian restaurateur who serves as chair of the Chinatown Storytelling Centre (168 East Pender St. Tel: 604-225-0055. chinatownstorytellingcentre.org). Canada's first permanent exhibition dedicated to Chinese immigrants, it opened in late 2021 and boasts artifacts, multimedia, interactive displays (be sure to use its e-photo booth), and a superb gift shop.
Another queer must for new and returning visitors is Forbidden Vancouver Walking Tours' "Really Gay History Tour."
---
Openly gay celebrity pastry chef Andrew Han (instagram.com/chefandrewhan) opened a permanent brick and mortar home for his former pop up Kouign Café (18 East Pender St. Tel: 604-633-8333. thekouign.com) pronounced queen cafe!, where Asian ingredients and European pastries fuse into unique sweet and savory, texture-rich original creations like the Lunch Box, a spicy peanut butter cookie fashioned with pork floss, nori, and Chinese sausage, and his signature White Rabbit cookie, studded with chocolate and milky white rabbit candy.
A world class cocktail and speakeasy scene is filling up some Chinatown storefronts, albeit discreetly in the case of Laowai (251 E. Georgia St. laowai.ca), tucked behind a freezer door in takeaway dumpling shop BLDN TGER (their tasty dough-wrapped mouthfuls can be ordered within Laowai, too). Opened in 2021, this 1930s Shanghai-inspired, cinematic, long and narrow space won the #4 spot on Canada's 50 Best Bars 2022.
No secret password is required a block away at three-year-old The Chickadee Room (182 Keefer St. Tel: 604-729-7274. thechickadeeroom. com), a 1980s-inspired space where the all-female (and largely queer) bartenders serve up tasty, original libations and spirits, plus fare from next door's chicken joint Juke, including signature gluten-free fried chicken, nuggets, sandwiches, pork ribs (flavors change monthly), chicken and waffles, and a salad or two.
While not much has changed in the LGBTQ nightlife scene over the past five years or so, these mixed cocktail spots and a trend of wine bars have become the go-to for evening social time, including Bar Susu (209 E. 6th St. Tel: 604-874-4687. thisisbarsusu.com), which specializes in natural vinos and delivers a divinely inspired yet unfussy culinary experience in the very queer, indie-minded Mt. Pleasant neighborhood.
One big addition to the city's calendar for LGBTQs over the past few years is Winter Pride Festival (vancouverpride.ca/winterpride), which takes place in February. Presumably, a third edition will be announced for 2024.
Another queer must for new and returning visitors is Forbidden Vancouver Walking Tours' Really Gay History Tour (forbiddenvancouver.ca/really-gay-history-tour). Launched in 2018, it continues to provide a solid two hours-plus of fascinating dives into the city's LGBTQ+ milestones and landmarks, including Davie Street and Western Canada's first queer bookstore, Little Sisters (1238 Davie St. Tel: 604-669-1753. littlesisters.ca), which has endured despite terrorist bombings and a changing of hands in 2016.
An easy stroll from Davie Village, the extremely LGBTQ+ friendly 96-room boutique property, Opus Hotel (322 Davie St. Tel: 866-642-6787. opushotel.com), celebrated its 20th anniversary in 2022 and landed a spot on Michelin Guide's recommended hotels list. Perks include free 3-hour use of bicycles and e-bikes (be sure to reserve one in advance), and the lobby restaurant and adjacent bar, Capo and The Spritz, the former specializing in sourdough pizzas and Italian fare.
Another Michelin hotel pick, downtown's ultra sleek, high rising 119-room Shangri-La Vancouver (1128 W. Georgia St. Tel: 604-689-1120. shangri-la.com) has seen a few incredible, high profile, and even edgy inhouse restaurants come and go, but its late 2021 arrival Carlino (1115 Alberni St. Tel: 604-695-1115. carlinorestaurant.com), is a certifiable gem worthy of Michelin star status (for now it will have to do with the guide's praise like "verdant sanctuary…celebrating seasonal produce from local farms"). The family-style tasting menu ($67 per person) is a bargain, and insanely toothsome house made pastas superb and surprising (e.g. spaetzle with lamb friulano, sour cream, and pickles).
Prefer Venetian cuisine? Another top notch, extremely queer-friendly property (and Pride sponsor), the Fairmont Pacific Rim (1038 Canada Pl. Tel: 604-695-5300. fairmont.com), opened its tasty, casual ground level Bacaro (1029 W Cordova St. Tel: 604-687-9887. bacarovancouver.com) restaurant and bar in 2021. It's also worth noting that long-running mezzanine level Pacific Northwest locavore-centric bar and restaurant Botanist (Tel: 604-695-5500. botanistrestaurant.com) won Michelin's Exceptional Cocktail Award and the #2 spot on Canada's 50 Best Bars 2022 for concoctions like the earthy Council of Trees, with blended scotch, fino sherry, cedar, oak moss, birch sap, alder and cherrywood smoked tea.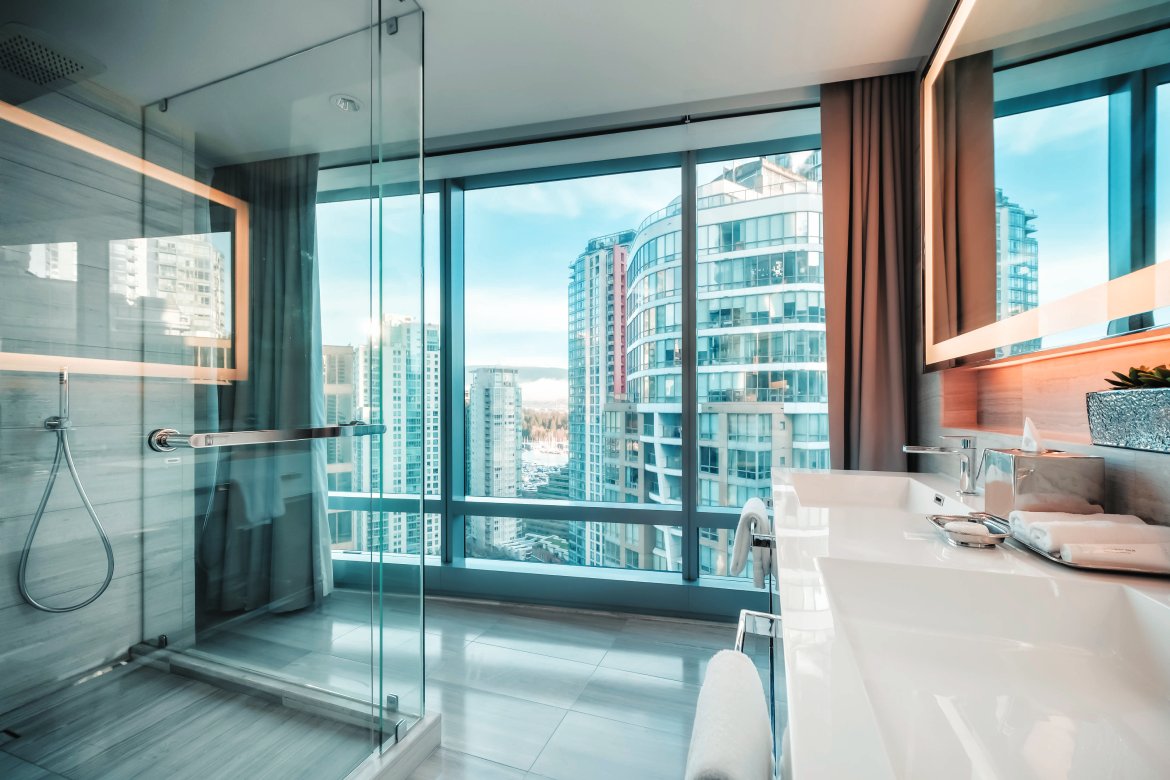 Mid-2022 saw the grand opening of Paradox Hotel (1161 W. Georgia St. Tel: 236-900-6001. paradoxhotels.com), located just across the street from Shangri-La. The swanky yet youthful 147-room Paradox is outfitted with super nice beds, modern tech, and cool ocean, wood, steel and cream tones. Highlights here include the fantastic 3,000 square foot Xylia Natural Spa (xyliaspa.ca); 9,000 square foot Mansion nightclub (open only Fri/Sat nights); and Mott 32 (mott32.com), sister to one of Hong Kong's most incredible upscale-contemporary Chinese restaurants, with specialties including authentic oven-crisped Peking Duck (order it in advance), dim sum, and yellow mountain honey BBQ Iberico Pork.
One thing I love most about Vancouver's restaurant scene is its casual nature. There's no suit and tie required at even the most formal, vaunted venue, and "business casual" can be translated as "wear a decent shirt and clean shorts, OK?"
While I was there, I was lucky to secure a seat at Mt. Pleasant's Published on Main (3593 Main St. Tel: 604-423-4840. publishedonmain.com), one of the hardest reservations to snag thanks to its Michelin star and #1 placement on San Pellegrino's Canada's 100 Best Restaurants 2022 list.
Chef Gus Stieffenhofer-Brandson's artful yet playful cuisine, especially the photogenic amuse bouche "snacks," is complemented by original cocktails, painstakingly curated "low intervention" wines, and attentive, good humored service. Winnipeg-born Stieffenhofer-Brandson seems to have the magic touch: he's also behind Bar Susu and Novella (2650 Main St. Tel: 604-428-6711. novellacoffeebar.com), the latter featuring incredibly curated coffee, tea, breakfast/brunch items, and wine/cocktails from 7 A.M. – 3 P.M. daily.
Speaking of coffee, the strikingly designed Nemesis Coffee (555 Great Northern Way. nemesis.coffee) flagship, opened in 2019 and resembling the top of a pomegranate, is not only one of Vancouver's best spots for craft java (they roast and sell their own beans), but also inventive pastries like the Cruffin, a croissant-muffin hybrid with lip-smacking fillings like apricot white chocolate.
Other noteworthy spots to eat/drink include Yaletown's wood-fire steakhouse Elisa (1109 Hamilton St. Tel: 604-362-5443. elisasteak.com) is where you're likely to spot visiting celebrities. Longtime Fairmont Pacific Rim sushi maestro Taka Omi opened Sashimiya (1348 Hornby St. Tel: 604-689-0088. sashimiya.ca) in late 2020, a takeaway Japanese grocery/sushi spot where you can pick from impeccably sourced, sustainable catches, which are custom sliced and prepared into melt-in-the-mouth sashimi and/or rolls.
I also adored Gastown's Monarca (181 Carrall St. Tel: 604-569-2258. monarcavancouver.ca), for its legit and soulful contemporary Mexican cuisine (amazing, thick horchata). Over in scrappy brewery and distillery-filled East Vancouver, chef Justin Lee pushes creativity with fermented and less-familiar ingredients into five courses of palate-stirring magic at his intimate, 2-year-old 18-seat restaurant and wine bar Elephant (1879 Powell St. Tel: 604-895-4233. elephantinvancouver.com). A succulent, addictive house-made pasta with ragu that incorporates tingling Sichuan pepper haunts me in the best way, while a burger that chef Lee serves only after 10 P.M. has local in-the-know foodies and fellow professional kitchen dwellers drawn in like flies nightly.
In contrast to Chinatown, North Vancouver (technically it's a separate city across the harbor from downtown) has evolved into one of the most happening, buzziest districts thanks to a flurry of revitalization via the Shipyards (theshipyardsdistrict.ca). New attractions, breweries, and developments include the Lonsdale Quay Market (123 Carrie Cates Court. Tel: 604-985-6261. lonsdalequay.com); and the 71-room Seaside (125 Victory Ship Way. Tel: 604- 973-1473. seasidehotelvancouver.com).
North Vancouver is easily accessible via Translink's SeaBus ferry from downtown/Gastown, which links to several SkyTrain lines, or via an exhilarating 45-60 minute bike path weaving from downtown through and above verdant Stanley Park. An e-bike rental from LGBTQ+ friendly bicycle rental and tour company Cycle City Vancouver (648 Hornby St. Tel: 604-618-8626. cyclevancouver.com) makes getting around the city a breeze.
Opened in 2017, The Polygon Gallery (101 Carrie Cates Ct. Tel: -604-986-1351. thepolygon.ca) is an angular architectural delight with 23,000 square feet of exhibition space dedicated to photography and multimedia work, with the region's best photography and small press-driven bookstore on its second level. On the ground level is a Nemesis Coffee).
December 2021 saw the opening of Museum of North Vancouver, aka MONOVA (115 West Esplenade. Tel: 604-990-3700. monova.ca), with a family-friendly artifact and multimedia-filled exhibition, including sobering tales of First Nations residents who survived the infamous, abusive church-run Residential Schools.
Also technically located outside of Vancouver, but easily accessed by public transport or taxi, is Richmond. Here you'll find the Vancouver International Airport (Tel: 604-207-7077. yvr.ca) and the 100-room Versante Hotel (8499 Bridgeport Rd., Richmond. Tel: 604-242-7777. versantehotel.com). Versante's rooms are colorfully upbeat, with floor-to-ceiling windows, heated bathroom floors, and Red Flower aromatherapy amenities. The property is also home to several restaurants, including Bruno and the superb, downright cinematic modern Izakaya Cask, which boasts a Whiskey Vault dining room, tasting menu, and extensive selection of international whiskies, bourbons, and cocktails that incorporate them.
Adjacent to the hotel is the Richmond Night Market (richmondnightmarket.com), which runs from Spring through Fall and offers tons of authentic Asian street food, flea market-style stalls, and all-ages entertainment. Thanks to its majority Asian population, over 54% composed of first and second generation Chinese Canadians, and a bounty of Pacific Northwest produce, this is where you'll find some of the West Coast's highest quality Chinese and Asian food, from hawker to high-end.
For a bites-filled overview, Vancouver Foodie Tours (Tel: 604-295-8844. foodietours.ca) offers a three-hour walking and chomping "Authentic Asian Eats Tour" of restaurants, indoor hawker stalls, food courts, and bakeries, encompassing a mix of Cantonese dim sum, fresh from the oven Hong Kong "Wife Cakes," Taiwanese dumplings, and more. Founder Michelle Ng and her guides are happy to part with additional recommendations and tips!
Afterwards, be sure to nose around the endless array of Asian-centric strip malls and supermarkets for under the radar finds like hip, intimate coffee bar Faebrew (4328 No. 3 Rd. Unit 140. Tel: 778-895-5486. faebrew.com), where barista-owner-musician Vincent Wong crafts bespoke cups of high end java in a variety of methods including pour over and siphon, based on your preferences. If retail therapy beckons, the McArthurGlen Designer Outlet Vancouver Airport (1000-7899 Templeton Station Rd. mcarthurglen.com), decked out in pride colors, is worth a twirl, while the 386-room Fairmont Vancouver Airport (3111 Grant McConachie Way. Tel: 604-207-5200. www.fairmont.com/vancouver-airport-richmond), located in the terminal adjacent to international check-in counters, is ideal for early morning departures or late night arrivals, with soundproof windows overlooking the tarmac and cool "Fit on the Fly" wellness suites featuring an in-room Peloton bike, lululemon yoga mat, FITBENCH ONE, Nordic hydrotherapy tub, and house-made power bar and fresh fruit.
---
You may also enjoy