There is a billboard on a nondescript stretch of freeway just south of George Bush International Airport in Houston that reads, "Wherever you go, God listens." This must be true because during my weekend stay in America's fourth largest city I am wanting for great food, interesting cultural attractions and a superabundance of hot and friendly Texan men and, wouldn't you know it, I receive all three in spades.
Houston is a curious place. The largest city in the United States without any formal zoning regulations has the disorienting effect of giving visitors the impression of a mini skyline in any direction their eyes might wander, outward from which spread a jumble of strip malls, clogged freeways, leafy green spaces, bland high rises, gated communities, cramped McMansions, and neighborhoods without central cores. Its urban plan is a tangled mess you want to straighten out like that of a child with a mop of unmanageable hair.
But the city is not without its charms. The chaos of Houston has the unintended effect of making every discovery—be it a culinary crown jewel, a funky boutique or a hipster hangout—a hard fought cause for celebration. This racially diverse city is mad for the arts, flush with expansive parks, and perpetually soaked in Bayou heat, the kind that makes summers unbearable but is perfect the rest of the year.
Although its airport is missing a sign that reads, "Welcome to Houston, our lesbian mayor welcomes you," its highest-ranking official is out and proud Annise Parker.
The undisputed gay epicenter of the city is Montrose, arguably the area with the coolest people, food ,and nightlife for miles. Its gayness has had a radiating effect in the rest of the city. Turn on your Grindr or Scruff anywhere around town and you'll come up with a cutie within 250 feet.
I check in at the Hotel Derek (2525 West Loop South Freeway. Tel: 713-961-3000. www.hotelderek.com) a real looker and a beacon of rest and relaxation surrounded by the ugly freeways, shopping plazas, and mid-rises that populate the city's Uptown District, aka the Galleria. This affordable and casual chic property would be perfect were it a stone's throw closer to Houston's actual downtown, but it nevertheless wins points in several places including its friendly staff (Texas charm goes a long way when you're a weary traveler), legitimately good food at Revolve Kitchen + Bar, and little touches like blackout curtains, king-sized platform beds, and generous banquette seating—perfect for spreading out your luggage and gear.
With the Hotel Derek as base camp, there is much to explore. The first stop of the evening is The Pastry War (310 Main St. Tel: 713-226-7770. www.thepastrywar.com) a bar in downtown Houston named after an 1838 conflict between Mexico and France that started after a French pastry cook living in Mexico City made the claim to the French government that his shop had been looted my Mexican officers. The only conflict that persists at this lively cantina today is whether to order a modern or classic cocktail. I avoid the decision altogether and instead go for a habenero serrano margarita de la casa with chile pequin salt. Yum.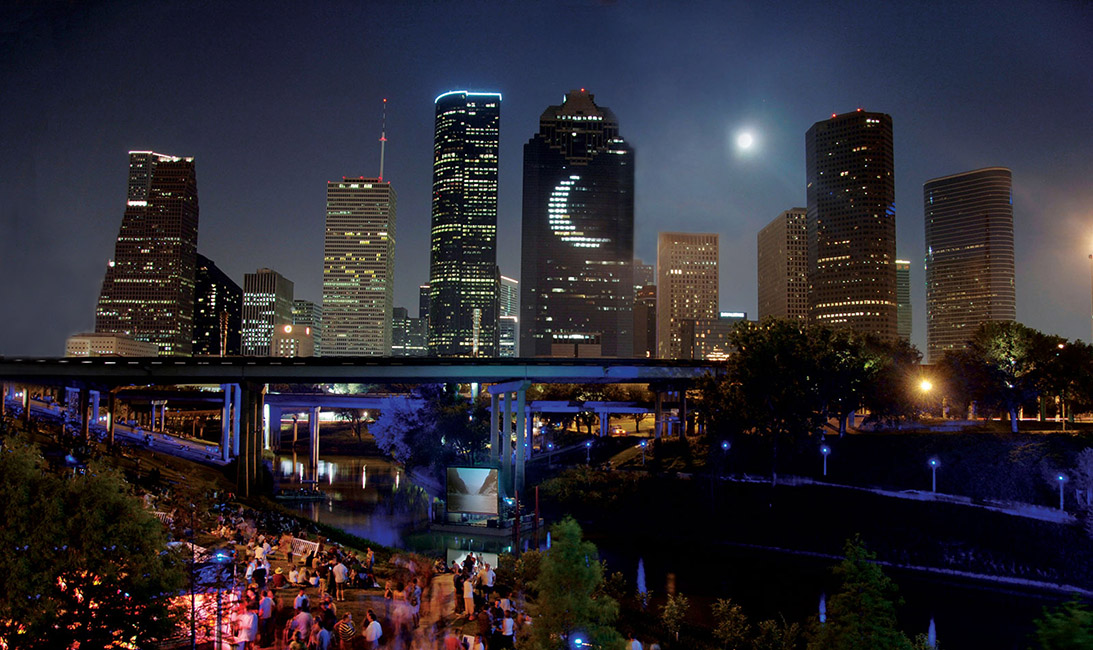 More importantly, the addition of Pastry War points to a slow, but needed revitalization of downtown, and this strip of bars and restaurants on Main Street appear to be leading the charge. Our culinary destination this evening is north of downtown in a part of the city strewn with old warehouses and where the sight of downtown skyscrapers loom large. It's the kind of neighborhood that traditionally scares off suburbanites but spells adventure to urban dwellers who are willing to risk a possible smashed window if it means being first to discover the next big thing. This is where the restaurant Oxheart lives.
Oxheart (1302 Nance St,. Tel: 832-830-8592. www.oxhearthouston.com) opened in 2013 and quickly emerged as the frontrunner in the race to redefine the city's dining scene. It attracted a review from the New York Times and is a lovely, unfussy place with a come-as-you-are attitude, which means neither my friends, looking handsome and dapper in their crispy sport coats, nor I, dressed in t-shirt and jeans look out of place. Oxheart is an eatery where servers treat guests like family. Ours drew up a list of local foodie destinations and throughout our meal kept returning to it to scribble more additions. Dinner, meanwhile, consists of a six-course, $74 tasting menu. All items are locally sourced and lovingly presented. The Texas sweet onions warmed in milk and butter with oregano and breadcrumbs are a highlight as is the smoked heritage pork warmed in fat, with porc thailande, kohlrabi, and fermented mustards.
It would seem a fool's errand to try and shoehorn a nightcap into our bloated gullets but that is exactly what we do at an old junk store in Montrose that's been transformed into an expansive, labyrinthine in- and outdoor lounge now called Boheme Cafe & Wine Bar (307 Fairview St. Tel: 713-529-1099. www.barboheme.com). This is a place where Houston's photogenic come to rub elbows in an atmosphere of exposed brick, reclaimed wood, stained glass Tiffany lamps and bruised and beaten leather sofas. The joint exudes a funky, Austin aura and not only is our mixologist queer, but the gender-bend classic "Some Like it Hot" is playing on every screen.
Elsewhere on our itinerary is Neon Boots (11410 Hempstead Rd. Tel: 713-677-0828. www.neonbootsclub.com). It's in a distant part of town I'm surprised to learn is still within city limits and also offers a break from the streak of trendy places we have frequented thus far. An old honky tonk formerly called the Esquire Room that once hosted the likes of Patsy Cline, Loretta Lynn, and Willie Nelson, Neon Boots is now an out and proud country western bar where the ladies and fellas line dance and do the two step in same-sex couplings amidst a sprawling setting of pure kitsch that includes leather sofas in the shape of cowboy boots and signage that reads: "save a horse, ride a cowboy!" It's not for everyone, but kind of awesome.
The entire city is wet the next morning and the puddles of rain make portions of the street look like they have oil slicks, an apt metaphor given we are in the energy capital of the world. (Trust me when I promise you that many of the men and women you will meet in this town work in the industry.)
America may run on Dunkin' as the company's slogan goes, but Houston runs on Shipley Do-Nuts (2538 S Voss Rd, 713-435-0085; shipleydonuts.ws), a local chain where I begin my morning with one perfect chocolate iced nut cake donut topped with perfectly crunch chopped walnuts and a hot cup of coffee.
When in Houston, do as the Romans do and Houstonians and head for the Galleria (5058 Westheimer Rd. Tel: 713-966-3500. www.simon.com/mall/the-galleria), a massive retail complex that is strict in its architectonic grid layout but also light-filled thanks to a pretty, curved atrium ceiling. It reeks of the familiar mall smells like that of an Auntie Anne's pretzel drenched in liquid cheese or a greasy slice from Sbarro's, but this is an upscale shopping mall for sure and the Galleria's big designer names include Fendi, John Varvatos, Louis Vuitton, Prada, Versace and others. There is also an indoor ice skating rink.
If there is one Houston neighborhood where I leave my heart, it is the Heights, an eclectic area northwest of downtown whose business hub has a legitimate Main Street feel and is brimming with funky boutiques and cozy java houses. My fellow visiting amigos and I wile the afternoon away ducking in and out of shops. For example, there is queer-owned Coda (355 W 19th St. Tel: 713-864-4411; www.codaintheheights.com), a lovely and tasteful home furnishings shop. There is also Manready Mercantile (321 W 19th St. Tel: 800-554-9352. www.manready.com), Houston's coolest retail experience and one that, at least during our visit, included a popup barber shop on the ground floor. Upstairs is a men's paradise full of treasures like locally made jerky, small-batch shaving creams, handmade garments, vintage treasures, and a DIY cocktail bar so that customers can imbibe while they shop (but don't forget to leave a little in the tip jar).