The Austrian singing sensation Conchita Wurst has taken the world by storm since her victorious win at the Eurovision Song Contest in 2014. Wurst, whom is portrayed by Thomas Neuwirth, released her eponymous debut album this spring and the album went platinum in less then two weeks. It also became a Top 10 in twelve countries right away. Featuring a musical range from ballads to dance music, the album has her Eurovision winning hit "Rise Like a Phoenix," and newer singles like "Heroes" and "You Are Unstoppable."
Traveling all over the world this year from Madrid Pride and London Pride last summer to the Australian Logie television awards this past spring, Wurst was recently in Tel Aviv during its 17th annual Pride Festival.
"I love to travel, I love to meet new people, I love to get inspired… I'm a very nosey person," Wurst shared during a press dinner at Bindella Osteria & Bar the night before the Pride Parade -which attracted over 140,000 participants.
Headlining the pride festival this year, Wurst told us that she decided fto participate this year in support of the theme and focus of the Pride events: Tel Aviv Loves All Genders.
"I think it's a very important topic and it's great that we can raise awareness of this topic. I think of one specific person today and it's Caitlyn Jenner. She made, for me, an overwhelmingly brave move to put her private life on the surface," Wurst, whom as Neuwirth identities as a gay man who loves to wear women's clothing added that people in the public eye have the opportunity and privilege to reach others. "Through one interview, one microphone, one camera…hopefully we get heard by people who have more influence than we have in society."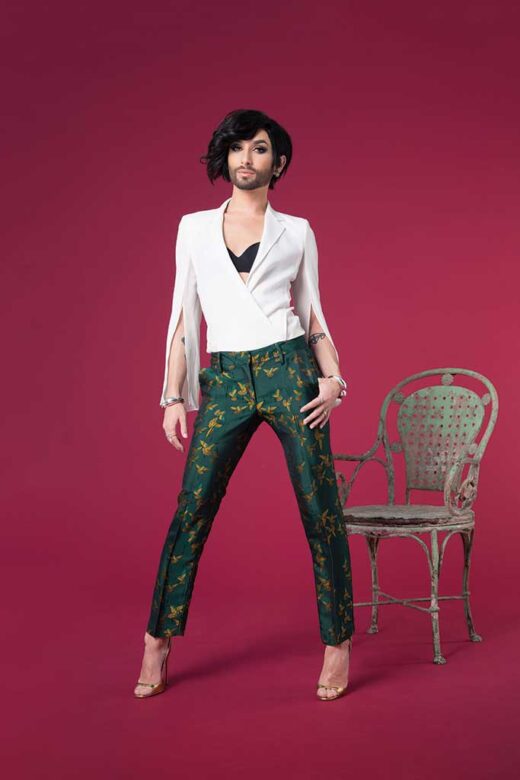 At this year's Pride celebration in Tel Aviv, where you performed, they promoted equal rights to members of the transgender community. What did this mean to you?
It's so important to raise awareness about this topic. I think respect is linked to knowledge, the more people learn about it the more they will understand."
Your debut album, Conchita, recently went Platinum. How did the success of it make you feel?
Like a dream! I am so so happy. A HUGE thank you to my unstoppable all around the world."
Will you be touring the world anytime soon?
We are thinking about it, but we haven't set any dates yet."
What's been the most rewarding part of not only being an LGBTI icon, but a cultural icon as well?
Well thank you for saying so but I'm not an Icon. I'm just who I am. But I'm a happy child of the LGBTI community and very proud and thankful about the things iIam allowed to experience."
You preformed with Dana International this year's Eurovision contest and celebrations. Who else would you like to have a duet with some day?
I would love to sing "This Is My Life" with Dame Shirley Bassey one day. 
Romantically, what do you appreciate most in a man? Some people say a sense of humor is most important.
Well yes, a sense of humor is indeed very important, but knowing who you are and what you want in life is very attractive as well.
What place in the world is on the top of your list to visit, and what do you want to do while you're there?
That's hard because I just love to travel. I get inspired by every country I visit. But to name one …Paris. I love Paris! The people, the food, the architecture, and all my beautiful memories I have.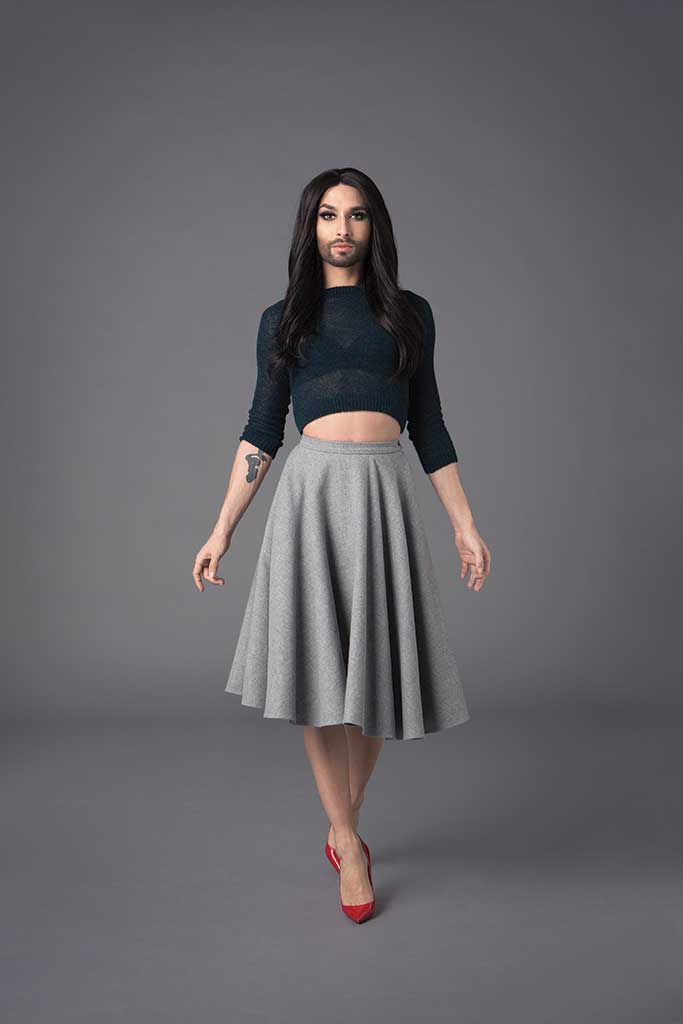 What's your favorite and most memorable spot in Paris?
It would be the Crazy Horse because of my one week show i was allowed to give there.
What is the most unusual thing you have ever eaten during your travels?
I'm afraid there is nothing really unusual. Every time I visit a country I really try to get the whole experience: sightseeing, having a traditional meal, learn a few words in their language.
What are the most essential items in your suitcase?
"Cozy garments. Wigs and make up are also key otherwise there would be no Conchita sitting in a TV studio." [Laughingly smiling]
What is the best souvenir you ever brought home, and where is it right now?
I love silverware and everything made out of silver, so it would be a gift that I got in Milan, a silver vase. It's in my kitchen right now.
If you could meet with anyone from the past, who would it be, where would you meet, and why?
Yma Sumac, cause her voice was just unbelievable!
What is your number one travel tip?
Anywhere you go, try to get a feeling for the place! And take swimwear with you… always!"