Tom wears a necktie, Mickey wears a bowtie. That's how to tell NYC gay power couple Tom Postilio & Mickey Conlon (www.tomandmickey.com) apart upon first meeting, unless you already know them from the HGTV reality series Selling New York, of course. Top brokers at Douglas Elliman Real Estate, the two are partners in both life and work (the back of their joint business card sleeve, a compact black envelope resembling a hotel keycard holder, is emblazoned with a bowtie and necktie illustration), and their on-the-record client roster includes, Joan Collins, Michael Feinstein, Barry Manilow, Liza Minnelli, and David Sanborn. In fact, they were married in Feinstein's Upper East Side home in Spring 2016 during an intimate ceremony officiated by Tony-winning actress/singer, Christine Ebersole.
The couple's combined sales top $2 billion, to which you can add an additional $15.2 million for the March 2018 sale of Feinstein's townhouse, and they've done deals in Miami, Palm Beach, Malibu, LA, and The Hamptons. Oh, and this detail is ultrasuper important: they always go by "Tom & Mickey." In that order. This was stated, for the whole world to see, in an entertaining April 2016 New York Times wedding section profile by Melena Ryzik, titled, "Off Broadway, Showmen Seal Their Biggest Deal."
"Someone said, 'you're the only two brokers we can refer to by first names and everybody knows who you are,'" Conlon notes, "I don't think anyone knows our last names." Tom adds, "I have way too many vowels in my last name."
Isit down with the amicable couple in a conference room at Douglas Elliman's Madison Avenue office. Today, Conlon's bowtie is decorated with a cocktail glass graphic, and Postilio's necktie is decked out in purple. Within a few minutes of conversation, they strike me as charming, personable, effervescent, and utterly complementary of one another. "Dapper, handsome, with the crisp manners and suave wit of MGM-era heroes," said the New York Times." I'd have to agree.
"I would love a haunted property," Conlon muses when I ask whether they've ever handled a haunted house sale. "That question does come up a lot, if something 'happened' in a place," Postilio notes. Their recent sales included a two-bedroom twobathroom Greenwich Village Mercer Street corner unit for $2.12 million, and a threebedroom, 3.5-bath West 58th Street art deco abode with Central Park views at $4.25 million.
There's much humor and showbiz flair to both Tom and Mickey, sometimes they adopt other people's intonation when reenacting an exchange or anecdote, and it's no surprise that they're Broadway babies with a shared love of retro song and stage. Both had showbiz careers before segueing over to real estate, and according to their bio, they first met under a theater marquee in 2008.
A mutual friend, theatrical attorney Mark Sendroff, had invited them to attend the Nightlife Awards at NYC's The Town Hall. A Tony Awards equivalent for the cabaret community, "instead of giving speeches the winners perform," Conlon says, "so it's more entertaining than a typical awards show." It was a snowy day, and Conlon almost bailed, but his friend called and convinced him to stick to the plan since, after all, 80-year-old Marilyn Maye was going to perform (a love for Maye is another T&M common bond).
The two may well have crossed paths years earlier, in the literal sense, perhaps even as children. Postilio was raised in Ozone Park, Queens and Conlon about a dozen miles away in Long Island (he's purged the accent). As an adolescent, Postilio was obsessed with crooners like Frank Sinatra and started singing in that style. At 20, he landed a professional gig with the Glenn Miller Orchestra and began a vocalist career that included an OffBroadway run in the Our Sinatra revue, and two albums.
Conlon, meanwhile, was stuck on "Singin' in the Rain" and Al Jolson (fun fact: the couple considers "Me and my Shadow" a signature duet, and Henry Mancini's "Two for the Road," taken from the 1967 Audrey Hepburn film of the same name, was their official wedding song). He studied political science at Duke, but shifted gears to theater producing, working on musicals including Xanadu and Tony-nominee Jane Eyre.
The 2008 recession hit both of their creative professions hard, leaving the pair in search of new options. Conlon, who in fact earned a real estate license at 18, decided to re-enter the field.
Asked if they still dabble in showbiz on the side, they offer an emphatic no, stressing that real estate is an all-consuming occupation. "The last thing [I did] was Michael Feinstein's Broadway show with Dame Edna," Conlon says. "We both learned that keeping a toe in our past lives somehow took away from us being exceptional in the real estate space. When we put on the blinders, our business expanded exponentially. It was palpable. There are people who get into real estate and don't want to feel they failed at their previous careers. A lot of young brokers come to us for advice, and we tell them, 'you can't do this part time.' We still will sing together at a party, but never for critics or money."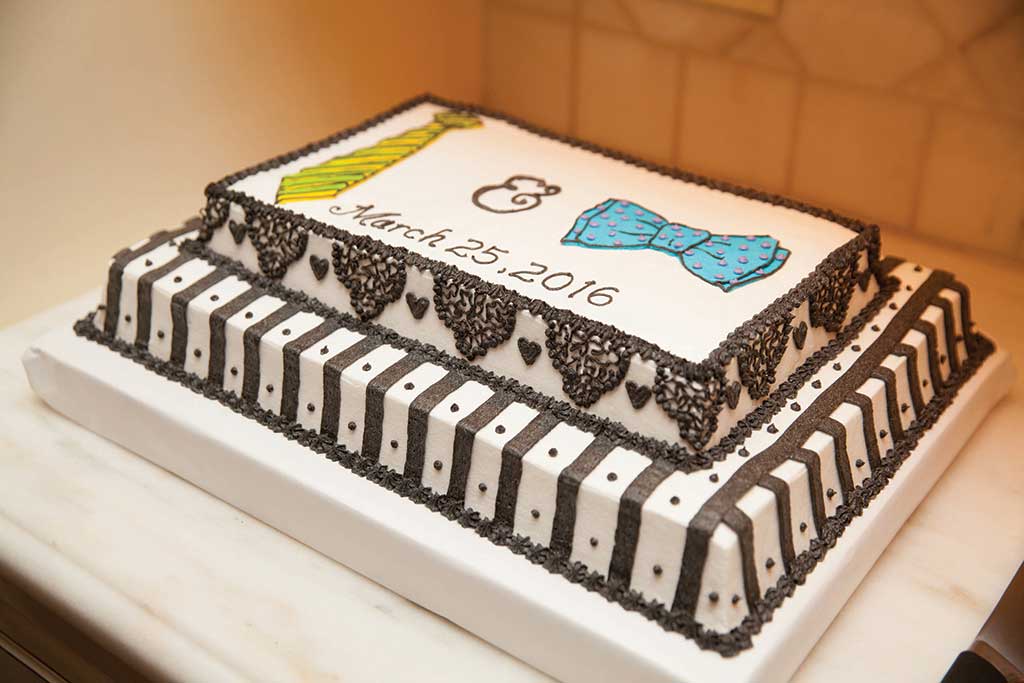 Initially, the pair worked separately, and would swap notes at the end of the day about their respective deals and clients. By 2011, Conlon joined Postilio at the boutique agency he founded, CORE, and in 2015 they moved to Elliman. On the topic of when they decided to join forces professionally, Conlon admits that "we tiptoed around it for a while, and spoke to colleagues who juggled business and personal relationships. There were a lot of long dinners and sage advice and some told us we could do it."
"The rule is that the relationship comes first," he continues, "and if it began to deteriorate, we would go back to doing real estate separately. But when we combined our powers, we found that one-plus-one equaled seven. Instead of taxing our relationship, it made it stronger. We don't have nine-to-five jobs, it's 24/7. We have to cancel personal plans a lot, because things pop up. We've had listing pitches in recording studios at midnight. Imagine if we weren't doing this together!"
From 2010 to 2014, their wheelings and dealings got the reality TV treatment on eight seasons of HGTV's Selling New York, the first NYC-set real estate reality show, and the pair learned interesting lessons about the genre's reality. "We would sometimes say a great line spontaneously and a fire truck would go by, and they would tell us to hold on and say it again," Conlon recalls. "I wouldn't remember what I said! So you had to reinvent it." Although they've been offered other shows since, "we've turned them down because we don't want to be on TV for the sake of being on TV," says Conlon.
One of the most time-consuming real estate transactions for the pair has been their own. While they occupy a residence on 56th street in Manhattan, Conlon and Postilio have been building, from scratch, a 10,000-square-foot, six-bedroom eightbath white-stucco and claytile roof dream home situated on the Long Island Sound (with a private beach!). It represents a fiveyear ordeal that will finally be completed this year. "If we can give advice to anybody," Conlon proffers, with not-quitemock exhaustion, "Don't ever build a house. Tyne Daly asked how it was going and said, 'it'll ruin your marriage.' I said it'll be ok, and she replied, 'ask Danny DeVito!' and walked away. What does that mean?"
"It's been an epic journey," Postilio admits. "We now understand the process of building real estate. It's one thing to stage and sell an existing property, but to actually build is a whole other thing. It's almost done! They say we won't remember all the nonsense we went through when it's done."
When asked how married (and unmarried) LGBT couples should approach buying real estate, and choosing agents, the two have plenty of advice. "People will ask how this co-op feels about gay couples, and the textbook answer is that it's irrelevant because those are protected classes, but nobody wants to live in a hostile environment either," Conlon says. "So that's a major concern. They should ask. The other thing that comes up is the structure of the purchase. Being married does come with benefits for buying or disposing of properties, and we've seen situations where couples break up and one is left holding the bag for all the real estate or sometimes the opposite, and they split something 50-50, and one person put down the larger down payment or mortgage or maintenance over the years. Its all sunshine and lollipops when couples are in love and want to make a nest together, but sometimes the nest is spikey."
"Make sure all the I's are dotted and Ts are crossed," Postilio adds. "Make sure you have a good real estate attorney, or work with Tom and Mickey. You'll be fine!"
Alternately, for aspiring gay realtors (single, couples, and otherwise) who are considering a career change as they once did, Postilio and Conlon also have plenty of advice, starting with, "don't believe what you see on reality TV," Conlon volunteers. "The commissions are not as large as they are purported. We have teams and assistants we take care of, including the IRS. When the commission came up on the screen [when the show ran], we got calls from all over the place: 'do you have room on the team?' Then we show them what the real percentage is! We don't sell a home and take the year off. We also have people inquire about doing it parttime. You won't make any real gains—you need to give yourself to it fully. It's hard to make a case you're giving the best service if not fully."
Postilio adds, "in the first year you're in the business you don't really make much money, so you need to plan accordingly. You're learning, and you really have to do it for about a year to understand the language and talk the talk and walk the walk. We had a young intern a few years ago who seemed to have all the tools to do well, but she got frustrated in a short time and left NYC."
Joining a team, they emphasize, is also key, since it provides an opportunity to "learn from osmosis" and be exposed to more knowledge of different neighborhoods and price points.
And their secrets to working together as a couple? "No one can be the boss," says Conlon. "Equal partnership, one for all and one for all," Postilio enthuses with a smile.