"All my jokes are Indianapolis. All my attitudes are Indianapolis. My adenoids are Indianapolis. If I ever severed myself from Indianapolis, I would be out of business. What people like about me is Indianapolis." – Kurt Vonnegut
It's one of those hot Midwestern summer days where the sun seems impossibly high in the sky and Indianapolis, with its limited warm days/weeks/months, is alive. The population of nearly two million is buzzing around like a just-kicked hive. Families line Downtown Indianapolis with children making a run for the Soldiers and Sailors Monument while parents look on while enjoying drinks and food at surrounding alfresco bistros. It's a scene that seems more in tune with life in a wealthy suburb than in a major metropolis.
The Saturday afternoon heat is no joke, but that doesn't stop the city from debunking its Naptown nickname. Young men and women fill the bars and restaurants with freshmen zeal (the city's median age is one of the youngest in the country), and local Indy microbreweries (there are over a dozen, www.visitindy.com/indianapoliswhats-on-tap-indy-breweries) keep the masses hydrated. For now, I bypass the on-street action and walk with my friend Casey, who recently moved from New York to nearby Muncie, Indiana, to pick up a bike at Indy Bike Hub (222 E. Market St. www.indybikehub.com).
Meeting us at the shop is Ryu, a handsome and witty local who is eager to show us his city. "Nearly eight miles of trails called the Cultural Trails traverse the city and countless other greenways are accessible," he tells us as we effortlessly careen through easy-to-use paths. The infrastructure for the bike paths is more comparable to Amsterdam than those in other cities. "The trails have linked neighborhoods that could have easily taken over an hour to get to in Indy traffic," he tells us.
Ring, ring. My friend Casey sounds and whistles as we approach one of Indiana's most notorious landmarks: "Ann Dancing." She's better known as the dancing lady or hooker (depending on the person you ask). This always-swaying piece of LED art was placed on Mass Ave. in 2007 by artist Julian Opie, and soon won the hearts of locals for its quirkiness (this Halloween, a girl dressed up like Ann, and the two danced side by side in a viral video).
Also, don't miss the nearby Kurt Vonnegut Mural (345 Massachusetts Ave.). No matter where the famous author ended up in life, he always came back to Indianapolis. The Kurt Vonnegut Memorial Library (340 N. Senate Ave., Tel: 317-6521954. www.vonnegutlibrary.org) is dedicated to preserving his works and legacy as the city's most famous son. There is also a larger-than-life portrait of local African American poet Mari Evans. The Indiana Arts Commission is responsible for working to build Indianapolis up as a cultural epicenter, and as we glide through public art installations, we can easily see they've been busy.
Soon the path becomes quieter as we roll out of Downtown heading north on the Monan Trail. Crossing creeks and marshes, the trails are almost worryingly quiet since the city is a mere few blocks behind us. "Take me down, those country roads," Casey sings as we easily bike along the mostly flat trail admiring old barns, cute houses, small parks, and fairgrounds. Expert bikers zoom past us, but that's fine. This is the Midwest, there's no rush. After eight miles, we arrive at Public Greens (900 E. 64th St. Tel: 317-965-0865. www.publicgreensurbankitchen.com). This picturesque dining spot right on the bike path perfectly represents the zeitgeist of Indiana's dining scene. Huge portions filled with meat and corn is a stereotype that locals embrace, but the actual dining experienced here in modern Indianapolis is refined with nods to the state's corn-fed reputation.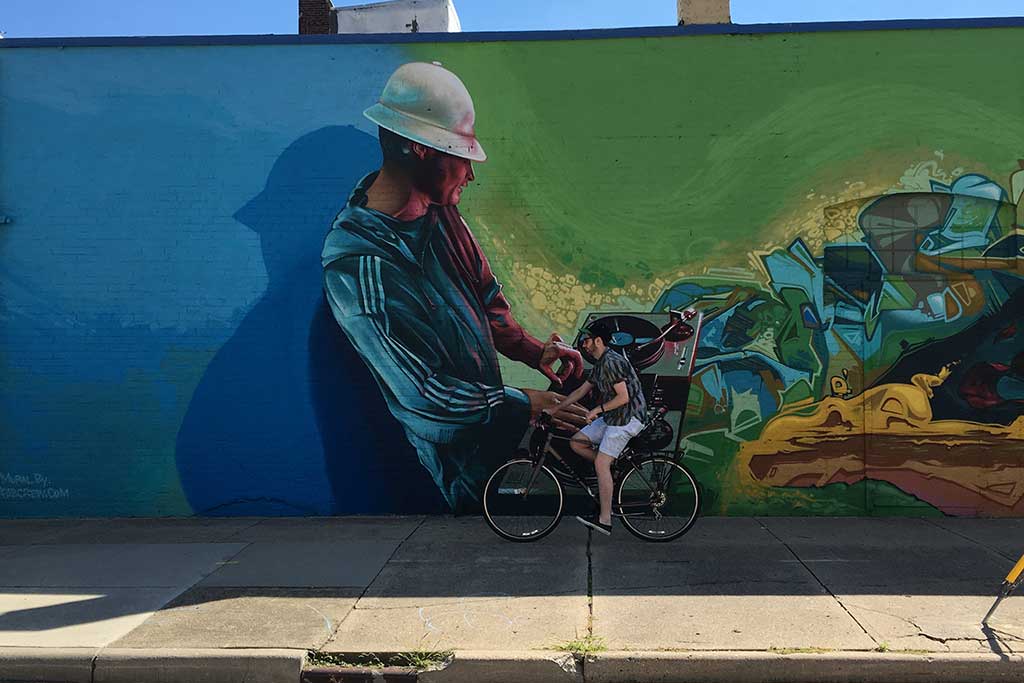 Frustrated with not being able to find a healthy meal for her children 26 years ago, Martha Hoover opened up her own restaurant. Locals dug the homegrown cuisine, and she now has several restaurants under her belt. Her newest, Public Greens, goes beyond simple local food. It's her first nonprofit restaurant that helps feed over 450 youths a week. Pulling up on our bikes, Ryu points out the lush gardens. "The food we'll eat today comes from right here." Inside you create a combo plate from a blackboard list of just-on-the-day foods. Outside, we cool off with an ice-cold Taxman beer and fresh greens.
Decidedly tired, we Lyft to the Indianapolis Museum of Art (4000 Michigan Rd. Tel: 317-923-1331. www.imamueseum.org). I'm lucky enough to be taken around the museum by Charles L. Venerable, PhD, the director and CEO of the museum. It's with great excitement that he talks about his role here, as well as why he and his husband moved to Indianapolis.
The museum, which was founded before the turn of the century, is one of the largest art museums in the country and is often overlooked because of its proximity to neighboring cities like Detroit and Chicago. With 54,000 works of art in its permanent collection that range from African to American contemporary, it's a thrill to dart through the galleries (even though we could spend days) with this inthe-know person. Venerable is most excited about taking us outdoors. We walk through manicured gardens, wave at horticultural van tours as they pass by, and sniff orchids that are cared for like newborns. "I really wanted to make sure that the public knew that we have this fantastic piece of property here for everyone to enjoy," he tells us.
After we're done exploring an on-site historical mansion, we walk through nature trails. He introduces us to just a portion of the 100 Acres: The Virginia B. Fairbanks Art and Nature Park. I am surprised by the solitude here. Shocked by the almost surreal juxtaposition between art and nature. A tree hangs with swings attached like a Huck Finn contraption, and a child sways with her mother who is reading a Bronte sister novel.
A map of the park will help you pinpoint the artists whose works are on display. "Where is your favorite spot or piece of work?" we ask Venerable.
He leads us into the "Park of the Laments," a square within a square. First you enter a path built with two rock walls (they are called Gabion baskets, wire mesh filled with rocks that make up individual 'bricks'), then you walk through an underground tunnel, and light slowly pierces through the exit. As you climb up the stairs, you feel almost completely isolated in the beautiful, yet unsettling grounds. "You're supposed to feel a bit unsettled," he tells us after we reveal our mixed emotions. Chilean Artist Alfredo Jaar created the piece as a lamentation to modern-day atrocities. Despite the walls, the solitude, and the unease, it's beautiful and solitary. A place to think and feel completely connected, yet completely disconnected.
Before we leave, Casey insists we see the park's most famous piece: "Funky Bones." Or as most members of the public or tweens would know it as the skeleton stones from The Fault in Our Stars. This sculpture, which is only visible from the sky, is the only area that has a crowd. Writer John Green must have had this balmy August day in mind when he wrote the world-wide best-selling book: "It was kind of a beautiful day, finally real summer in Indianapolis, warm and humid, the kind of weather that reminds you after a long winter that while the world wasn't built for humans, we were built for the world."
We leave the delightful Venerable who is busy with the museums goings on (there is currently a film screening and a ridiculously popular minigolf art installation), and we head to the Conrad Indianapolis (50 W. Washington St. Tel: 317-713-5000. www.conradhotels.com) for a bit of pampering. We score one of the hotel's brand-new Art Experience suites with The Collection. Each one is dedicated to an art genre. Walking in, we see René Magritte's The Son of Man's hat, with a book of the Belgian's greatest work, and we know we're in for the surrealist experience. The room is huge, and fantastically (and whimsically) decorated. The bedroom has light cloudy sky touches that immediately put me at ease, and even a signed piece of work by Dalí. Before dinner, we head upstairs and take a dip in the pool, and I get their signature facial with a lovely esthetician who clears my skin while telling me some fun stories of the super-wealthy visitors who stay at the Conrad during the Indy 500.
Afterward, we join Chris Morehead, former president of Indy Pride and current director for the 2017 InterPride Conference and regional director for InterPride. Over dinner at Tinker Street Restaurant & Wine Bar (402 E. 16th St. Tel: 317-9255000. www.tinkerstreetindy.com) he tells us: "When The Religious Freedom Act was signed into law, the LGBT community in Indianapolis was in shock." Morehead is referring to a piece of legislation that was signed into law, by our now Vice President Mike Pence that legally allowed businesses to discriminate against gay people.
"We knew that it was a possibility, but never thought that we would see the day that something this divisive would be signed into law." But there was and is definitely a silver lining to Pence's bigotry. "What we could not have even seen coming was the amount of public and corporate support that immediately came to rally alongside of us. The allies that stepped out in support of our community were countless…and loud. We owe a huge debt of gratitude to Visit Indy for being there from moment one, because they would not stand for something so outrageous," he says.
Indeed, Visit Indy was quick to follow-up when asked about the law. Visit Indy spokesperson Chris Gahl said: "Indy's longstanding human rights ordinance, including protections based on sexual orientation and gender identity, ensures 'Indy Welcomes All' isn't just a catch phrase, it's part of our city's DNA. We witnessed this come alive in the spring of 2015, with our community rallying behind the capital city's ethos."
Our conversation turns to more lighthearted fodder as we lick a bowl of corn ice-cream, and Morehead and his partner give us an impromptu tour of the surrounding neighborhood that has seen rapid, middle-income growth, the proof of which is in the houses that line these numbered streets. Modernist, and yet an homage to Indiana's farm homes with big porches and wood finishings.
Soon, we find ourselves in the gay district along Mass Ave. where rainbow flags wave from many storefronts. We start at Forty Five Degrees (765 Massachusetts Ave. Tel: 317-634-4545), which is actually a sushi restaurant, but has after-hours DJs and a sassy waitstaff.
We walk to Tini (717 Mass. Ave. Tel: 317384-1414. www.tiniontheave.com) for drinks in the sidewalk seating area, then we pop into the Metro, probably the most famous of the lot, with its two floors and backyard (we admittedly come back on Sunday afternoon for some comfort food and drinks at their summer barbecue).
The small LGBT community here is close knit, but it seemed a little too easy for us in finding people to talk to. The locals are eager to show us what else Indianapolis has to offer. Soon, we're ushered to Fountain Square (which was revitalized for the Super Bowl), where we're greeted by the majestic Fountain Square Theatre (1111 Prospect St., Tel: 317686-6010. www.fountainsquareindy.com), but soon forced to wait in a massive line to enter a place called White Rabbit Cabaret and pay a cover. We enter the hot garage-like Saturday-night party, have our drink, and cheers to finding the most popular and crowded joint in Indy (though the space holds really interesting and queer-friendly creative shows during the week), and we escape for a another nightcap at the Thirsty Scholar where we sit comfortably under the midnight Midwest sky and toast to Hossier hospitality.
You probably won't make it far in Indianapolis without hearing about Milktooth (534 Virginia Ave. Tel: 317-986-5131. www.milktoothindy.com). The "best restaurant" accolades darling that's helmed by Chef and Owner Jonathan Brooks and his wife Ashley. Only open for breakfast and lunch, the converted-garage is an open, knickknack-filled, 1950's hipster joint where "modifications politely declined" is boldly listed on the menu and any references to Brooklyn will irk the local-and-artisanal ingredient-slinging chef into a tizzy. The Dutchboy apple pancakes and the lavender scone alone are reasons enough to visit.
We're soon joined by Chris Schneider, the vice president of membership for Circle City Indy Pride. He's eager to share details about putting on Indy Pride and an upcoming InterPride AGM and World Conference that will take place in October 2017, bringing with it hundreds of Pride organizers from around the globe.
The "Indy Welcomes All" motto is reflected by the annual Pride celebration. "Mayor Ballard served as the Grand Marshall of our parade in 2015 shortly after RFRA was signed, while current Mayor Hogsett proudly carries an Indy Pride membership card. Visit Indy, has also worked with Indy Pride to help bring the 2017 InterPride AGM and World Conference to Indianapolis this October," he tells me.
"With an estimated attendance of around 100,000 expected at this year's Pride, it takes a village to produce the festival," he laughs.
As we walk out of Milktooth, our newfound friends say hi and bye to over a dozen different people. "See you on our run," one says. "Not if I see you at the bar first," another laughs back, scooping a pear-butter pie in his mouth. It's kind of old-school America, a Rockwellian slice of modern-day living, taking place in a reclaimed garage with books about pickling and antelope busts. If this is what living, eating, and playing in Naptown is like, count me in.