People are starting to take notice of Madrid's hotel scene as it becomes more integral to the city's allure as a modern center of European cool. Up until a few years ago, the city's accommodations consisted of "top hotels" for nearly a century or, in one case, around 400 years. "For years Madrid has been a sought-after destination for LGBT people given the city's openness, art scene, and vibrant nightlife," says Auston Matta, an American ex-pat living in Madrid and cofounder of the LGBT-centric blog TwoBadTourists. "But at the same time, Spanish culture is big on tradition and no city represents classical Spain like Madrid, especially as the seat of the Spanish Royals… Perhaps it's this survival tradition that has kept Madrid's hotel scene from progressing and not keeping up with the travel trends of LGBT and design-conscious people." And while old-world gems still have their place among Madrid's lodging crown, a new crop of boutique-chic spots are popping up around the city. Here are some of our favorite accommodations in Spain's capital that are attracting savvy, style-conscious travelers, particularly from the gay and lesbian travel market.
ONLY YOU HOTEL & LOUNGE MADRID
The Only YOU Hotel & Lounge Madrid, a member of Preferred Pride, offers guests a personal experience making them feel like they truly matter. From uniquely styled rooms and a super-trendy social scene in the lobby and adjoining bar to customized advice from the 24-hour concierge, the brand, from Palladium Hotel Group, brings much-needed comfort, intimacy, and warmth—all wrapped together in a stylish hotel to the heart of the gay neighborhood, Chueca. Thanks to the building's storied history, no two of the 70 rooms are the same.
"Each of them has certain details that give them a unique personality," says Julio Portillo, the assistant manager of Only YOU Hotel & Lounge Madrid. Some of the junior suites have gambrel roofs and sweeping views, "…a fairy-tale setting for your stay."
While the building is from the 19th century (you'll love the unassuming and classic architecture of the building from the outside), inside is thoroughly modern with nods to the 1800s. With interiors by a renowned Spanish designer, Lázaro Rosa-Violán, the colorful and fanciful decorations never overwhelm. You'll notice his playful designs in the lobby with the gorgeous Delft tile work by the check-in desk and at the YOUnique Restaurant with high ceilings and potted trees that create the feeling of being in a small patio. Deliciously cheerful mirrored cupboards with eye-popping blue plates make you feel like you're peering down Alice in Wonderdland's rabbit hole. The wonderful color scheme extends through the guestrooms as dark woods, whites, and solid blues easily bring on an inner calm. Of course, as the name suggests, it's all about you, Portillo hopes guests walk away with an experience unlike any other.
"Guests are at the center of the Only YOU experience. We wish to please the needs of every client, making customization one of our key points and allowing each guest to experience their stay in a unique, personal, and memorable way, building strong relationships, in the long run, and creating a true link of affection between the hotel and its visitors," he adds. www.onlyyouhotels.com
MELIÁ
Spanish-brand Meliá Hotels International recognizes the changing demographics and needs of travelers. So, they've recently revamped many of their iconic properties, and they have also introduced a whole new brand called INNSIDE. A member of IGLTA and TAG-approved, Melia's shining star in its Madrid portfolio is the ME Madrid Reina Victoria.
"It was once the go-to hotel for bull fighters who would go there to celebrate the winner when the hotel was called Hotel Reina Victoria," says Leondro Cruz, the director of leisure sales for Melia Hotels International. "[Now] the interior has been gutted to fit the contemporary lifestyle of our guests," he adds.
Younger travelers are booking the more economically sized rooms, but splurge-worthy luxury suites have travelers enjoying unforgettable views, endless space, stand-alone bars, and even an outdoor hot tub. The enviable suite's space, with the interiors designed by Keith Hobbs and his United Designers, is thoroughly in-the-now with an eccentric collection of modern art pieces along with ergonomic custom-made furnishings.
To appease on-demand consumers the hotel offers a "ME FOR YOU" button, where guests are encouraged to request anything from a warm bubble bath to a pizza. Madrid's posh locals flock to the rooftop bar where well-heeled guests sip Prosecco with Madrid's Santa Ana Square serving as a backdrop and the hotel's steeple, designed by mod- ernist architect Jesús Carrasco y Encina, towering above.
Melia has opened three of their INNSIDE brand of hotels in recent years: INNSIDE Madrid Suecia, INNSIDE Madrid Genova, and INNSIDE Madrid Luchana 22. What makes the brand unique is each hotel's individuality. Each is located in an historic building. Suecia is located in the former Sweden House and Lunchana is located in a former palace. While the exteriors hearken back to days of Madrid's royal past, the insides are stylishly modern with clean accents. At Suecia, a cocktail-bar vibe welcomes guests and a rooftop bar with a long pool and eye-popping views is a hotspot for the city's hip crowd. www.melia.com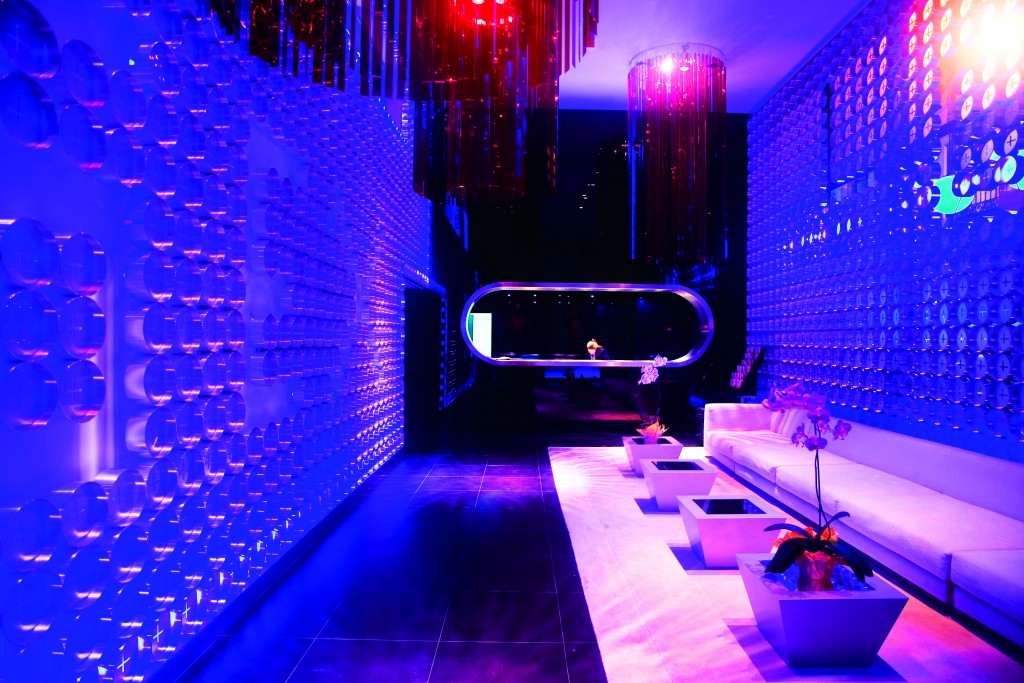 ROOM MATE HOTELS
Globetrotters should already be familiar with the Spain-based brand, Room Mate Hotels, with 20 (and counting) different locations throughout the US and Europe. With central offices in Madrid, you can expect their properties here to showoff the brand's young, colorful, and fun vibe they've become synonymous with. Located in Chueca, on the vibrant Plaza de Vázquez de Mella, the Room Mate Oscar is a see-and-be-seen 74-room property that boasts impeccable design elements by acclaimed Spanish Designer Tomás Alía. Each room, from the Stan- dard to the Suites, shows off a playful use of art, texture, and colors. Whether you're in a room with hand-painted black graffiti or one with glass or bright-fuchsia walls, Oscar wants you to have fun. The hotel also hopes to make guests feel like they're visiting a friend.
"Our travel concept is really different," Celia Diaz from Room Mate Hotels tells me. "For us, the best way to travel is visiting your friends so our hotels are homes that will make you feel like you're at home," she adds. The brand-wide concept of naming each property after a person's name also extends to their clever marketing. "Do you want to sleep with me?" a ban- ner reads on the hotel's exterior. Guests can also enjoy services like free Wi-FI, breakfast till noon, and an eighth-floor terrace lounge to complete the experience. And while you're sipping your cocktail by the terrace's pool, soaking in one of the few 360-degree views of the city, you may contem-plate kicking your roommate out so you can enjoy it all to yourself. Oscar's sister property, Roommate Laura, is another example of the brand's blend of urban-chic with its 37 brightly colored rooms that vary greatly. Attics, lofts, and duplexes are equipped with kitchens, ideal for millennials, fami- lies, or long-term guests. www.room-matehotels.com
HOTEL URBAN
A meeting place for jet-set culture-vultures, Hotel Urban artfully combines charm, modernity, and glamour while also housing a world-renowned art collection right in the heart of Madrid.
"Our hotel is visited by a wide range of clients, from families and young people to executives and business clients (including LGBT travelers)…however, they all seem to share an interest and a passion for art, culture, and design," says Helena Vinas from the Derby Hotel Collection. "The Urban is a paradigm of the boutique hotel concept, understood as a unique hotel that offers personalized and impeccable service and has its own, unmatchable personality, with avant-garde design," she adds.
And she's right. Art is present in every room and every corner of the Urban: from ceremonial sculptures brought from Papua New Guinea in the hotel's massive atrium to the exquisite in-hotel museum dedicated to Egyptian art where a figure of the god Osiris can be found.
The accommodations at Hotel Urban provide guests with comfort- ing design accents of tropical Wenge wood, green marble from Guatemala, Trent mosaics, and leather headboards, while technology like remote controlled lighting and dimmers, can put you in the right mood. In the morning, hop downstairs for breakfast and then relax by the wonderful outdoor swimming pool.
This five-star grand luxe hotel, which has 96 rooms, also attracts locals by the droves to eat at its restaurants (Europa Decó and El Cielo del Urban), and to drink at its cocktail lounges, (GlassBar and La Terraza del Urban). See you in Madrid! www.hotelurban.com