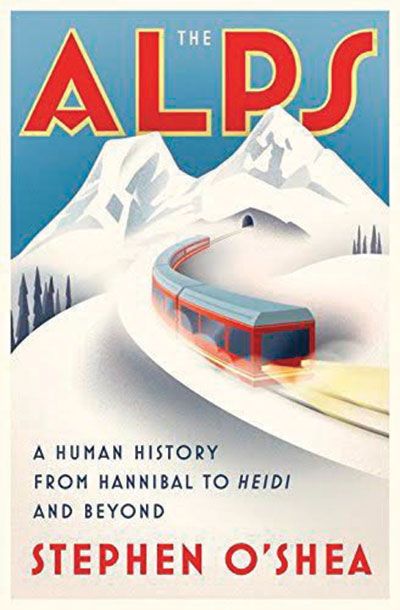 "There is a temptation," writes historian Stephen O'Shea in the introduction to his breezily readable new book, "to dismiss the Alps as simply a winter wonderland, a backdrop for skiers taking pictures of themselves with stuffed marmots." Needless to say, temptation is resisted as O'Shea takes readers along with him on a vertiginous trip from Geneva, Switzerland to Trieste, Italy in The Alps: A Human History from Hannibal to Heidi and Beyond (W.W. Norton, $26.95. www.stephenosheaonline.com). The combination of a contemporary first-person travelogue in which we motor along with O'Shea, traversing peaks and peeking into crevasses, and a time-tripping riffle through Alpine history's greatest hits proves an ideal mix. There's none of the torpor that comes with attempting comprehensiveness. From Carthaginian elephant brigades attacking the Roman Empire to Von Trapp family souvenir overkill in modern Salzburg, O'Shea writes of the epic and the puny with equal affection and curiousity; he is a note-taker, not a tome-maker, and we, his fellow travelers, are all the better for it.
Somehow, the first two volumes of Jennifer Ashley Tepper's The Untold Stories of Broadway flew under the radar of most theater afficionadoes outside of New York. Which means there's an army of stagedoor johnnies in for a triple treat with the publication of a thirentry in the series (Dress Circle Publishing, $20 each. www.jenniferashleytepper.com). Tepper, who now works as the director of programming at New York cabaret venue Feinstein's/54 Below and has spent most of the past two decades in theatrical production jobs, is pursuing a genuine labor of love with these whopping white-pages-sized volumes. Each is centered around eight of Broadway's 41 theaters and stitches together excerpts from Tepper's extensive interview sessions (She spoke with over 250 people for the new book, from actors, stagehands, and costumers to playwrights) and tidbits from her additional research on the history of the Great White Way. The result is like a collection of the "At this Theater" columns in a hundred-plus years of Playbill pumped on fabulous showbizzy steroids. So yes, each book features timelines of every show that's ever played at the theaters it covers, but that's just an appendix. For the bulk of each volume, Tepper squeezes gallons of juicy anecdotes from her colleagues in the business and a network of old-timers. In the Schoenfeld Theatre chapter of Volume 3, Raul Esparza, who starred in the 2003 flop Boy George musical. Taboo, shares tales of an over-the-top cast party hosted by Madonna, brutal cuts to make the show more family-friendly, and wandering into the alley when he was offstage to listen to Bernadette Peters singing as Gypsy's Mama Rose at the adjacent Shubert. Once you've dipped into these books, its hard to imagine catching a Broadway show without first referring to the chapter on the theater you're attending. It will make you feel like a participant in history, linking your night out to a richly storied past.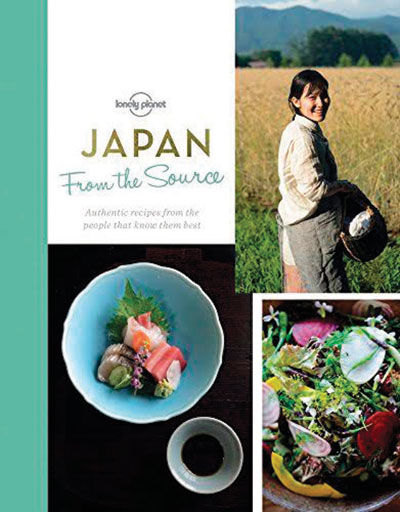 The travel experts at Lonely Planet recently took stock and decided that that their global network of writers was generating so much content on gastronomic traditions, dining, and cooking that a distinct new publishing line was in order. Lonely Planet Food is off to a delectable start with the inaugural pair of titles: Spain: From the Source by Sally Davies and photographer Margaret Stepien; and Japan: From the Source, ($24.99 each. www.lonelyplanet.com), by Tienlon Ho, Rebecca Milner, Ippo Nakahara, and photogra- pher Junichi Miyazaki. These handsome hardback hybrids combine the browsable allure of coffee table travel books with the utility and authenticity of expertly curated ethnic cookbooks. Each moves through its titular country region by region, building a culinary itinerary that provides rich context for each of its dozens of spotlighted recipes. In northeast Spain, we learn about traditional but unexpected pairings of meat and seafood from a neighborhood tavern chef, Jaume Jovells, who shares a recipe for sipia amb mandonguilles (squid with meatballs). In rural Busuitei, Japan, married innkeepers introduce us to hobamiso a beautiful presentation of uniquely seasoned ginger and onion cakes cooked on dry autumn leaves. Addresses and websites of the restaurants where the books' recipes originate— some high end, some hole-in-the-wall—are included in case you want to compare your home version with the original on a future vacation.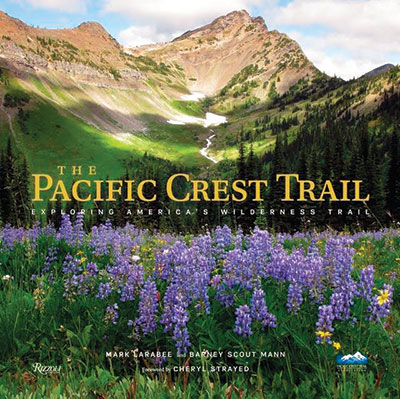 There's a map on page 10 of The Pacific Coast Trail: Exploring America's Wilderness Trail (Rizzoli, $65. www.pcta.org) that will give you goosebumps. It shows the astonishing 2,650 mile trail, stretching from the Mexican border just south of San Diego to the Canadian border in Washington state, a wiggling red line that throws down a gauntlet, daring you to walk, or just imagine walking, its length. Along the way, as authors Mark Larabee and Barney Scout Mann show through their prose, you discover a remarkable range of American landscapes (fields of wildflowers, glaciers, redwood forests, desert) as well as inspiring stories of the trail's cre- ation. For as difficult as hiking the trail might be, the exploration, conservation, and bureaucracy behind its establishment and ongo- ing existence represent even more difficult feats. At a time when the public is used to traversing glorious terrain that exists only on digital display screens, this book reminds us of nature's unfathomable scale and of our responsibility as its temporary guests.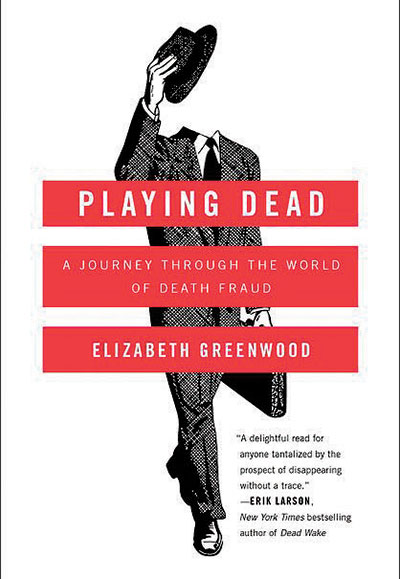 AIRPLANE READ OF THE MONTH
The ultimate getaway is complete disappearance. That's the trip taken by many of the subjects in Elizabeth Greenwood's creepy, funny, perversely provocative Playing Dead: A Journey Through the World of Death Fraud (Simon & Schuster, $26. www.elizabethgreenwood.squarespace.com). Whether to dodge debt, flee family (often a temptation around holiday time), or just erase one's identity and start life anew, Greenwood discovers that there have been plenty of folks who have attempted to commit "pseudocide," hoping to be declared dead and give rebirth to themselves—no Fundamental Christianity required. With the help of a hired "privacy consultant" who knows the ins-and-outs of public records and internet searchability, she provides outrageous tales and inside tips on a tricky, treacherous game.