Just say the words "the Danube" to people who've been there, and they'll sigh longingly, and probably start a word salad of superlatives. The romance and beauty of this fabled river, which flows from Germany all the way to the Black Sea evokes a kind of magic, and justifiably so.
And that alone – plus the fact that you can do this river on all-gay cruises (offered by companies like the award-winning Brand g Vacations) – should be enough to have you running to your laptop to book one.
But just in case, here are a few more good reasons: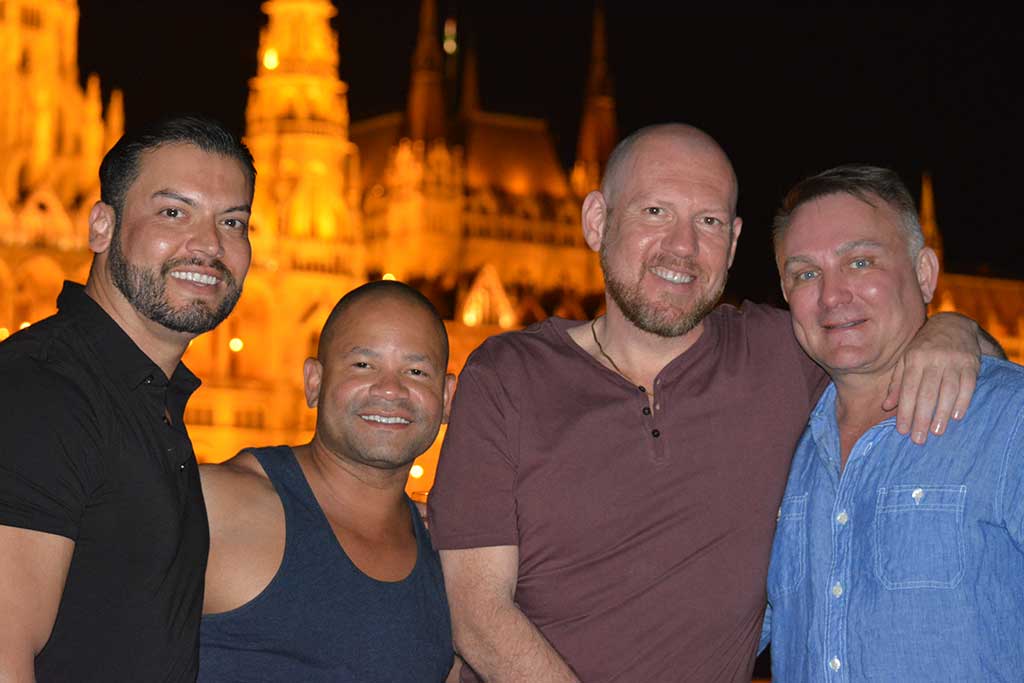 1 It has some of Europe's most exciting and memorable cities, like Prague, Vienna, Budapest and Bucharest. It's like a sightseeing superstore, except you don 't need your CostCo card. (Incidentally, Prague isn't actually on the river, but it's the starting point for most upper Danube cruises, so it's considered a Danube port.)
2 The river runs through so many countries, it has multiple itineraries available, like Prague to Budapest, known as the "Upper Danube", and Budapest to Bucharest, or the "Lower Danube".
Most people tend to start with the upper Danube, since they're generally more familiar with the cities that populate this itinerary – notably Prague, Vienna and Budapest. Then travelers graduate to the Lower Danube, with its more exotic eastern European destinations like Belgrade and Bucharest. And some just stay on the ship and do the whole thing as one 14-day Europe extravaganza, which results in an annoying number of Facebook posts, but some things can't be helped.
3 Because the river is so popular, many of the best and newest 4.5 and 5-star river cruise ships ply these waters. These are ships with contemporary décor and the kind of innovations that come with ships built within the last 3 or 4 years: walls of glass that slide open, good wifi, glassed-in showers, bathrooms with heated floors, TV's with actual cable channels (if you've ever been on an ocean cruise, you know of what I speak), etc.
4 River cruises – unlike ocean cruises – tend to be much more inclusive of costs, so you're not being nickel-and-dimed to death. Many gay Danube cruises, like those offered by Brand g, all truly all-inclusive, including shore excursions, airport transfers, and unlimited adult beverages. So, all you have to worry about is remembering to bring that flowered bathing cap for the Szechenyi Baths. (Hey, sparkle a little.)
5 The nighttime sail in Budapest is something you will never forget. Not every cruise that stops in Budapest does this, so be sure to check. (Brand g always does.) It's a post-dinner cruise down the Danube past the stunning – and brilliantly lit – waterfront buildings. It's so gorgeous and romantic, everyone just ends up getting in a big love pile.
6 Gay river cruises – like their ocean-going counterparts – bring on their own entertainers, since few gay folk are up for the typical offerings of the river cruise line. (Clogging, anyone?) And because Danube cruises are so popular, and so many top entertainers want to do one, the quality of entertainment on these cruises tends to be some of the best anywhere in the world.
7 Salzberg, Austria. It's the city where much of "The Sound of Music" was shot. And even if you're not a big fan (I hadn't seen the movie all the way through since I was wearing footie pajamas), you will love this tour, which is often an option on "Upper Danube" cruises. Salzberg is storybook beautiful, and the tour takes you to many of the film's shooting locations. Add the female delusionist Miss Conception to the party (if you're on a Brand g Danube cruise) and you have a day you will seriously never forget.
8 It makes a once-in-a-lifetime gift. Nothing says love like giving your partner/spouse/boyfriend-du-jour a Danube cruise. Personally, I'm not made of money, so when I gave my husband one for our anniversary, I informed him that this also covered Christmas and his birthday. I call it "gift amortization" (just not to his face). It still won me enough brownie points that he didn't yell at me for months.
Ready to experience the magic? Then start planning, because these cruises can book up a year or more in advance.
Eric Poole is Director of Marketing for Brand g Vacations, the leader in All-LGBT River Cruises and Land tours.