LONG A FAMILIAR FACE TO LGBT audiences thanks to memorable turns in 1999 cult lesbian comedy But I'm A Cheerleader, that same year's Oscar-nominated Girl, Interrupted, Lifetime's 2014 movie Lizzie Borden Took an Ax and 2015 follow-up series The Lizzie Borden Chronicles, and, in 2016, HBO's Veep (as the secret-service agent girlfriend of First Daughter Catherine), openly gay actress Clea DuVall has now stepped behind the camera as writer/director of Sundance crowd-pleaser The Intervention, a The Big Chill-inspired dramedy. In the film, DuVall and Cheerleader co-star Natasha Lyonne reunite as girlfriends who, along with a fellow group of paired-off friends, stage an intervention for a dysfunctional couple that goes deliciously awry.
The Los Angeles–based DuVall made her onscreen debut in 1996's Little Witches. She went on to appear in genre films like The Astronaut's Wife and Ghosts From Mars, intense dramas 21 Grams, Zodiac, The Laramie Project, and Argo, and TV series Heroes, American Horror Story: Asylum, and Better Call Saul. While DuVall has taken on many queer roles over her career, she only opened up about her own lesbian identity (and having a girlfriend) while doing press for The Intervention's release.
DuVall currently has a few onscreen and off-screen projects in the works, and has since directed the music video "Boyfriend" for Canadian electropop act (and lesbian twins) Tegan & Sara, whose Sara Quinn composed The Intervention's score.
Have you ever staged an intervention in real life?
I have, yes, and it was not successful. It was someone who had a substance-abuse problem, and they were just not ready, and we all didn't know what we were doing. We didn't have someone like a Candy Finnigan from A&E's Intervention show to help. We were all out of our league and it was a bust, but eventually it worked out for that person.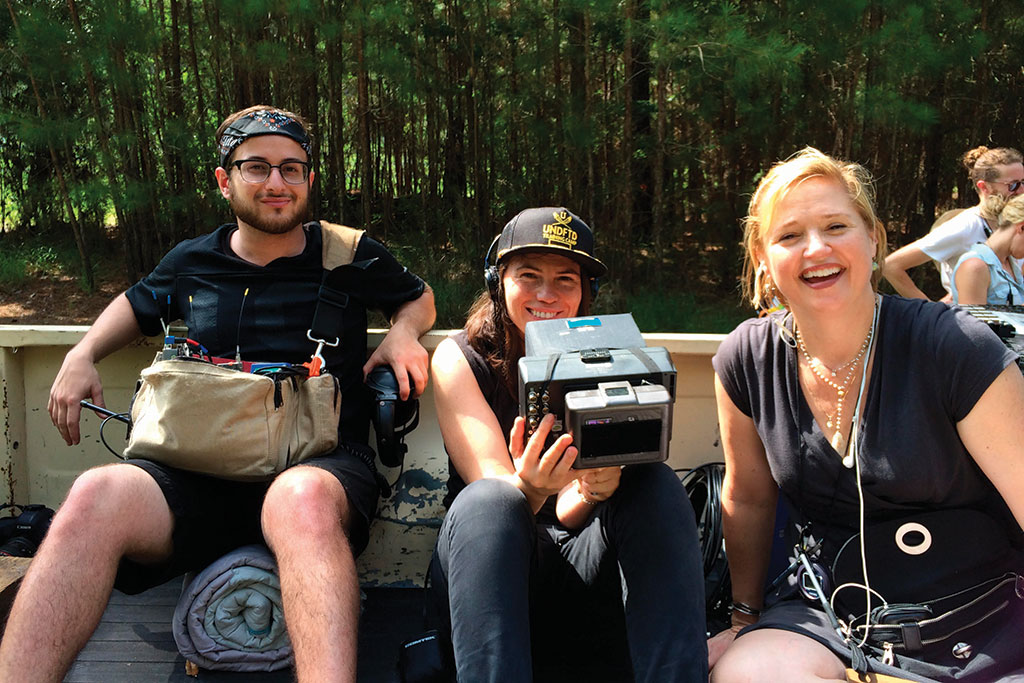 The film was shot in and outside Savannah, Georgia. Was it very much like Midnight In The Garden of Good and Evil? What did you think?
It's so haunting and strange and there is so much life to it, but also such a darkness underneath all the beauty, and I find it fascinating. Anywhere you put a camera in that city it's going to be beautiful.
Did you meet any eccentric local characters?
Yeah, we did. We went on this true-crime tour during our last weekend and the guide who took us was this super-fascinating Savannah native. I could have stayed on that tour and listened to him talk all night. Even though I wished it had been a ghost tour and not crime tour, since ghosts are more fun.
Relationships is a major theme in The Intervention. I understand that you have a girlfriend?
I have a fiancé, but I don't want to say her name. We've been together for almost four years, she's not a public person, and I want to respect her privacy.
Where will you two honeymoon?
We talk about that all the time. We just went to Paris, and I had never been there before. We stayed at this incredible hotel in Le Marais, Bourg Tibourg, and it was my favorite hotel other than the Chateau Marmont, which I think hands down is the best in the world. We talk about Japan, Italy. We'll figure it out.
What is the biggest life lesson about relationships that you have learned so far?
The person you're in the relationship with is the person you're always going to be in a relationship with. You can't will them to be anything other than who they are, and shouldn't. When you are trying to make someone into who you want them to be, it becomes painful for both people.
You're an LA native. What are a few favorite places in your neighborhood these days?
In Los Feliz I love a restaurant called Little Dom's. There's a bakery in Atwater called Proof. Everything there is amazing, and they have a very delicious ham and cheese croissant.
You played Emma Borden in the Lifetime network's Lizzie Borden movie and series. Which real life person would you most want to play after that?
I don't want to play a super-famous person, but I would like to direct a movie about a real person and watch an actor who's better than me do that.
What is the most amazing place you have traveled to while working on a film?
I went to the Karlovy Vary film festival in the Czech Republic. That was such a strange, beautiful place, and I want to go back because it feels like it was a dream being there. It's really beautiful, and I loved it. I felt the hotel I stayed in was like being in The Shining."
You can have a last meal at any restaurant in the world. Which would it be?
It would be Babbo in New York. I love the pasta.