Leon Avigad's business card bears three short words: "Bulldozer. Storyteller. Empresario." It's a fitting calling card for the Israeli hotel developer, whose wildly creative properties have launched an urban-chic renaissance among Tel Aviv's once staid lodging scene. Avigad, who founded the Leopard boutique hotel development firm in 2003 after two decades of managing other people's properties, doesn't like to play by the rules. Why carry a business card that lists just a name and title when he can do something a little bit radical? With his hotels, Avigad says, he bulldozes and storytells all day.
Avigad, along with his partner Nitzan Perry, is an unabashed Francophile with a similar passion for America. His career trajectory reads like a standard ladder-climbing story, until you toss out the details: born in Tel Aviv, he got his start as bellboy at Jerusalem's legendary King David, the five-star, British-Mandate-era monolith that has played host to kings, presidents, and no shortage of Israeli history. He then moved to concierge, shift leader and, after jumping ship to a competitor property, eventually became general manager.
Along the way, he met his partner Nitzan Perry, with whom he has a four-year-old daughter, and in the early 2000s the pair decided to move to Europe to sniff out the hotel scene abroad.
"I knew I was going to be a hotelier from day one," Avigad says. "Since the day I was born, I have collected brochures from hotels. But I always wanted the best of the best. The King David, the Ritz in London, the Peninsula Beverly Hills. I really was always aiming for the top of the top of the top."
At first, Avigad says, he was sure that he would fashion his own first hotel as a replica of those grand old properties. But when he and Perry returned to Israel after several years abroad and launched Leopard, they realized there was a gaping hole in the tourism industry in Israel. Despite the hundreds of small, design-conscious properties they had seen in New York and Europe, Tel Aviv didn't have a single real boutique hotel.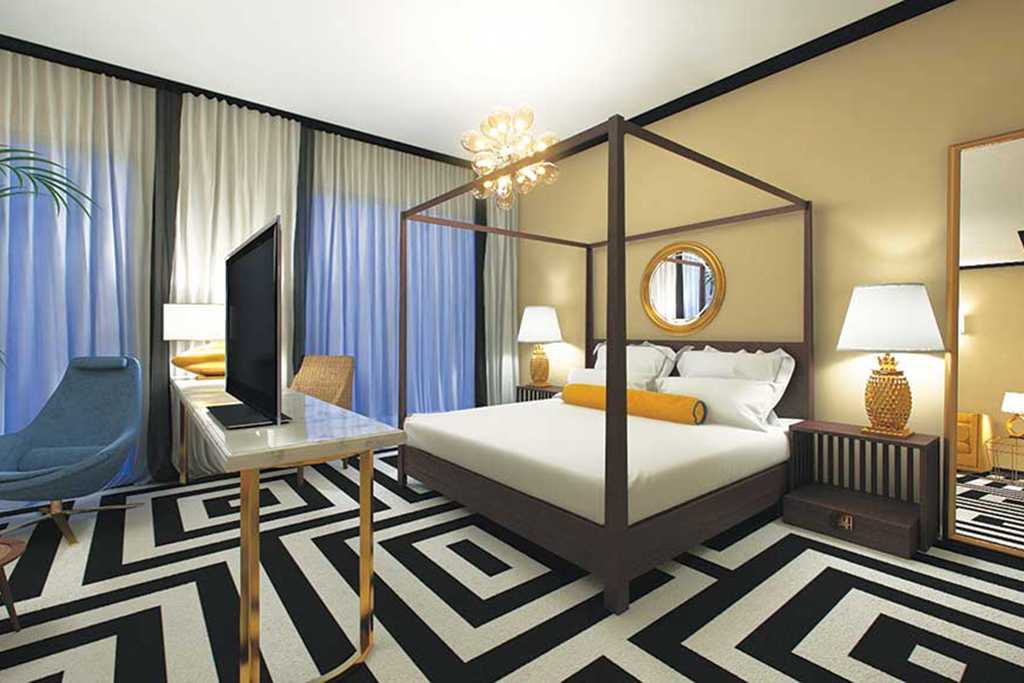 In the late '90s and early noughties, there was really only one word to describe the hotels of this sun-soaked Mediterranean city: cookie-cutter. Tourists, most of them older and traveling to Israel as religious pilgrims, would pass their time in Tel Aviv in one of the big-box chain hotels along the city's majestic beachfront, enjoying bland food, generic rooms, and comfortable, if unoriginal service. They would stop in the White City to sample the beach and fine weather, then continue on to the real destinations of their visit: Jerusalem, Safed, and the historical sites of Israel's Judean desert.
A few hundred meters away from the tourist trip, however, there was a pulsing urban jungle. A few blocks inland, where the soft peach sand gave way to gritty sidewalks, Tel Aviv was evolving into the fashion-worshipping, coffee-loving metropolis that it is today. This was a city of startup entrepreneurs and java-buzzed artists, and it was all but ignored by the foreigners spending nights in its beachfront towers.
Avigad envisioned a hotel in the heart of the real Tel Aviv, where locals would drink at the bar and the chatter on dozens of languages would fill the lobby. He and Perry began negotiations for a former bank building on one of the city's least attractive blocks, determined to flip it into a property so radical it would revitalize the entire neighborhood.
"There was nothing like boutiques [in Israel]," Avigad says of the time. "No one knew about them. It wasn't on anyone's radar…and we saw this building and we thought it was really ugly and the location was really bad. It wasn't by the beach. But then six months later they offered us a 25 percent discount and we said, well, it's still ugly, but maybe the location isn't so bad after all."
Avigad is frenetic when he speaks, the energy seeming to burn off around him like steam. He works 18-hour days, refuses coffee, and obsesses over tiny details. So by the time he and Perry signed on the building that would become the Brown TLV Urban Hotel, he had it all mapped out.
"We knew exactly what we wanted, how the uniforms would look, how the reservations department would answer the phone, how the breakfast would be served, how the cocktails would feel," he says. "We're into the analog way of doing things, into actually hosting our guests. We love technology, but still, what we're really about is the contact with the people who stay here."
"We always want to be one step ahead," Perry adds, "and with the Brown I think we were. We hit a chord of something that was missing. We're Tel Avivians and we love Tel Aviv—not just the tourist areas, but the whole city."
Five years after the Brown TLV opened, Tel Aviv is a gay mecca. Its culinary scene is exploding, and travel magazines the world over continue to place the city at the top of their must-see lists. Avigad says he won't take credit for the city's incredible coming-out story, but Perry will admit that they did play a role.
"It was a pioneer hotel," Perry says of the Brown TLV. "The success of this hotel in a way is one of the reasons why the trend of boutique hotels, and gay-friendly hotels, is so booming."
The Brown TLV was designed and launched as an homage to Avigad and Perry's own home, where brown leather sofas, curios from their international travels, and bookshelves packed with thousands of volumes fill the rooms.