Kevin Stea has worked as a dancer and choreographer with many iconic artists, including Michael Jackson, Rihanna, and Lady Gaga, and he released a dance album in 2012 under the moniker That Rogue Romeo.
He first gained attention back in 1990 as one of the dancers on Madonna's Blonde Ambition World Tour. With a documentary film crew recording backstage footage for the 1991 film Madonna: Truth Or Dare, and with Madonna using both tour and film to highlight issues including gay rights and freedom of expression, her close-knit troupe of predominantly gay dancers were (sometimes unwittingly) thrust into the spotlight due to the film's candid depiction of their sexuality and private lives.
Twenty-five years on, Kevin and co. have once again allowed documentary filmmakers into their lives. The result is Strike a Pose, reuniting six dancers (minus Gabriel Trupin, who we learn sadly died of AIDS in 1995) who share memories as well as confess their personal highs and lows from the past 25 years. Having screened at numerous international film festivals, this fascinating documentary is set for a January 2017 release. So what's it like to tour the world with a superstar? And when you're on the road with someone like Madonna, what on earth do you pack?
While working with Madonna on that massive global Blonde Ambition World Tour, did you pick up any tips on international travel?
Tips? Definitely! Thinner fabrics mean you can bring more options of clothes. Always get bags with wheels. Don't stay too long in your hotel room or you will never leave. Drink tons of water and pack snacks, so as you eat the snacks you have space for souvenirs! Be selfentertaining and ready to meditate to keep your stress down. Those are all pretty obvious. In hindsight, my tip to myself back on tour would have been to not go out till dawn so much, so I could actually see those wonderful cities in the daylight! It's hard to sleep after doing a two-hour non-stop adrenalinamped performance.
French Designer Jean Paul Gaultier designed the tour costumes, including Madonna's now-iconic conical bustier. Does that mean you always had fabulous things to wear on and off stage?
I always have fabulous things to wear, I make sure of it. I never care if I'm overdressed, but I hate to be underdressed. I'm a shopper, always have been. I trolled around vintage stores and ultra-high-fashion boutiques all the time. JPG didn't give us clothing to wear off stage, but he surely inspired me to try new fabrics and shapes. I always look for clothes that scare me 3040%, almost as a challenge to myself to make it work. I also feel that clothing is a reflection of the inner person, so by pushing my style choices I find it pushes me to challenge my notions of myself as well. Personal growth through fashion!
You've continued to work with other iconic artists including Michael Jackson, Rihanna, and Lady Gaga. Do you enjoy traveling as part of a big A-list entourage, or do you prefer to be a solo independent traveler?
Nothing beats traveling on someone else's dime where everything is taken care of! Traveling as an entertainer is more fun than traveling as a corporate employee, though. We are usually all great friends and enjoy working with each other and can even laugh about the crazy stressful situations we find ourselves in…more stories to tell! If we travel to a new city or country, I often ask to stay on a few days after a gig has ended (if it's not an ongoing touring gig), so I can experience the area by myself on my free time. Taking time to be touristy or relax in a new city after working is wonderful, and sometimes several of us will stay on and it becomes a dance family outing!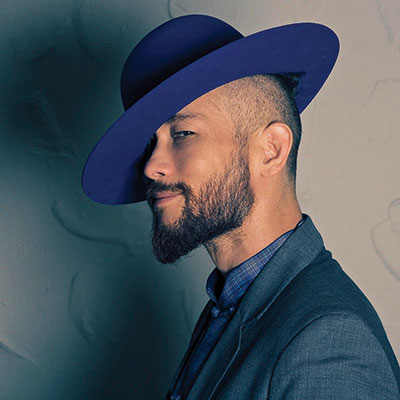 In the new documentary film Strike a Pose, you're reunited with fellow dancers from the Blonde Ambition World Tour. Was this the first time you'd all been together since the tour? And how was it to reconnect?
Yes, it was the first time we'd all been together since the premiere of Truth or Dare back in 1991. Ahead of the reunion I wasn't sure how we would get along. I knew how I felt, and how much I cared for all of them and how important they were to my life, but I wasn't sure if any of them felt the same way. Being around them all instantly transported me back to 1990, and I think we all felt 25 years younger that day, and 50 years wiser. We are so aware of our gratitude. For each other, for the filmmakers, for the fact that we've survived, and for the incredible outpouring of love and acknowledgement we've been receiving from all around the world at screenings of Strike a Pose. It was finding a loving and crazy family I thought was lost to me forever. An incredible gift.
Watching Strike a Pose is quite a trip itself! What can audiences expect when they see the film?
Expect to reminisce, laugh, cry, and be entertained and moved by the courage and honesty of the filmmaking and the conversations. It's a survival story behind a story you thought you already knew. It's one thing to watch Madonna's concert, it's another to hear what it's like to actually be in the show in our own words, and the challenges that come after the spotlight has been turned off.
You've been traveling a lot again this past year, promoting Strike a Pose at film festivals around the world. Do you have a particularly special memory?
The Toronto showing of the film at Hotdocs was extraordinarily emotional. The film ended and the entire audience stood up and turned right at Ester, Oliver, José and I (Director Ester Gould and fellow dancers Oliver Crumes and Jose Xtravaganza), and applauded for ages. The energy flowing at us was totally overwhelming and it was hard to stand up. We had just been choking on tears over Gabriel and it all happened so fast we were caught off guard and very vulnerable. In that moment of vulnerability we were showered with love…and somehow all that suffering and sadness transformed in an instant to pride and joy and peace with our own journeys and sorrows.
Work-related travel aside, where in the world is at the top of your list of places to visit, and what would you want to do while you're there?
I want to go to Machu Picchu before it closes to tourism. I'd like to visit Cuba before it has a Starbucks on every corner. I'm an island guy, so I really want to go to Fiji and Bora Bora. I try to scuba dive as much as possible when I'm away because it's astonishing how much has changed in the past two decades. There's nothing left of the oceans and reefs I used to visit. What people think are gorgeous reefs now are just pale skeletal remains compared to the reefs I saw as a teenager.
If you could have a vogue–off with anyone past or present, who would it be with, and who'd win?
I'd always lose! I'm not a battle trained voguer, so I'm not adept at offensive and defensive voguing. You have to sort of box your opponent in, or diss them by being ten times more fierce. I'm more of an exhibition voguer and just want everyone to enjoy the beauty of the dance, so my style isn't nearly as dynamic or active. I want to see Javier Ninja, though I would never battle him in a million years. He's just otherworldly and his timing and detail is extraordinary.