When considering Copenhagen's food scene, your gaze may be blinded by the 17 Michelin stars bestowed on 15 of the world's most notable restaurants that reside in Denmark's capital.
noma (Strandgade 93. Tel: +45-3296-3297. www.noma.dk), Chef Rene Redzepi's epic riff on Scandinavian cuisine as tasted through a palette of foraged and decomposing plates of this and that, will set you back nearly $500 per person (including wine pairings). For self-proclaimed foodies it's a once-in-a-lifetime experience, but for those who have set their vacation budget below stratospheric levels, you can still amply celebrate the ever-changing bounty of Nordic cuisine.
Recounting the Danish dining experience is challenging in that it is often based on locally sourced, seasonal ingredients. Items you'll find on midsummer menus (strawberries and asparagus) will vary greatly compared to what you might see in fall or winter (Danish cheeses, root vegetables). Don't worry, the innovation and transformation transcends the waning and waxing of the moon. Redzepi, along with other gastronomic leaders throughout Copenhagen, are an inspiration to a new generation of innovative chefs who are establishing their own bragging rights. There are also a number of can't-miss classics that will lure anyone with a palette for perfection.
Dating back to 1937, The Standard (Havnegade 44. Tel: +45-7214-8808. www.thestandardcph.dk) is a multiplex restaurant and performance venue that was originally a customs house designed by Danish architect and royal building inspector Kristoffer Nyrop Varming. Housed within the art deco building is Verandah (Indian), Studio (New Nordic), Jazzclub (live music and artisan cocktails), and Almanak. For a taste of noma lineage, consider dining at the latter, one of the latest ventures of restaurateur and noma co-founder Claus Meyer. Overlooking one of the canals at Nyhavn Harbor, the open dining space features neutral finishes in gray and white (designed by Meyers' wife Chritina Meyer Bengtsson and Ulrik Nordentoft), which provide a clean slate for a menu inspired by the changing seasons. A recent visit included mackerel with Danish peas, oyster mayonnaise, grilled cucumber and mussel jus; crispy quail with grilled Romaine and chive dust; and a final flourish of strawberry porridge, meringue and burnt white chocolate. A three-course menu is available for $60 as well as à la carte options that showcase a variety of Danish specialties, including free-range pork with fermented red currants, local cheeses with housemade rye bread, elderberry soup, and sea-buckthorn—a tart, golden fruit that grows near the sea and is known for its holistic healing properties and high levels of vitamin C. Be sure to stick around for a jam of the musical variety at the upstairs club, which features an array of international jazz artists.
No trip to Denmark is complete without feasting on smørrebrød, a traditional open-faced sandwich that dates back to the 19th century and is often stacked with a variety of toppings. One of the most historical places in Copenhagen to experience this delicacy is Lumskebugten (Esplanaden 21. Tel: +45-3315-6029. www.lumskebugten.dk). Nestled in a bay along Øresund, a strait that connects the Baltic Sea to the Atlantic Ocean, the restaurant's name loosely translates to "treacherous sand banks." An odd reference for a dining establishment, but accurate in that it refers to the treacherous shifting sands of the nearby water, where sailors might run the risk of running aground. Of course, they'd soon find themselves at the local tavern, which has been in operation since 1854. Herring is one of the house specialties and is served marinated or fried. Consider a "herring buffet" for $32 as a family-style starter. But smørrebrød is the name of the game at Lumskebugten and the kind waitstaff will walk you through the ranks, for there is a method to this madness. Rugbrød (rye bread) is the vehicle by which the various delicacies arrive, but for every Danish family there is likely a pecking order of how to eat smørrebrød. Typically, lighter toppings like smoked salmon or delicately poached shrimp, are consumed first, followed by heartier fare, which may include roast beef with remoulade or a crispy filet of chicken or fish. After your meal, enjoy a stroll and visit one of the country's most famous literary landmarks: The Little Mermaid. The bronze statue designed by sculptor Edvard Eriksen has survived several beheadings during its 100-year tenure on the shores of Copenhagen Harbor.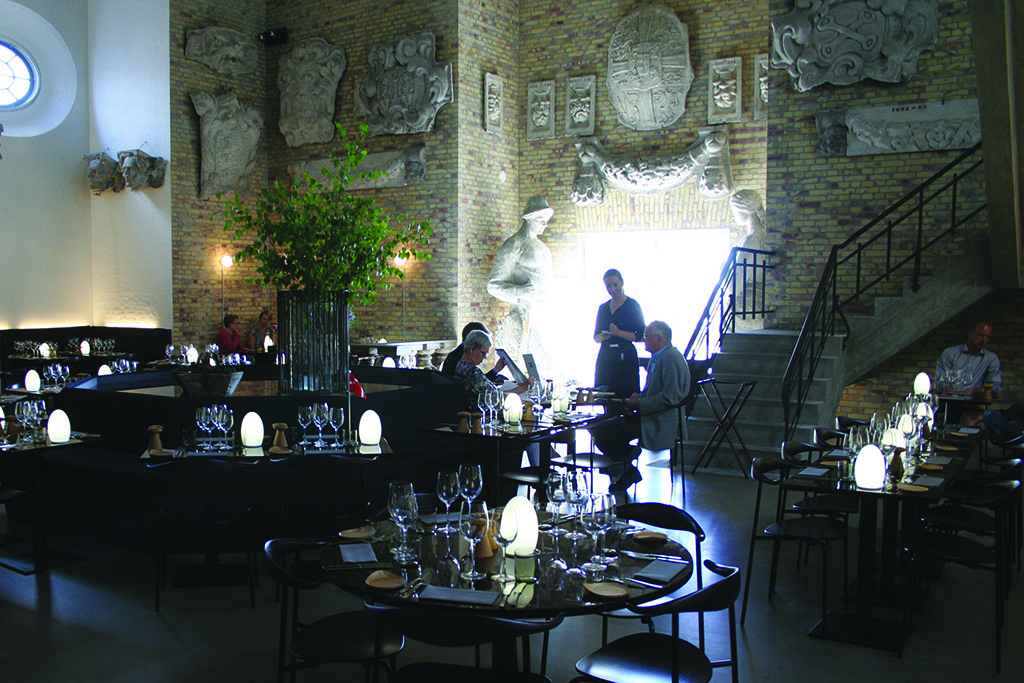 For a dining experience that capturesthe new generation of Danish chefs, consider Uformel (Studiestræde 69. Tel: +45-7099-9111. www.uformel.dk). Restaurateur/Chefs Rune Jochumsen and Kristian Møller opened Uformel with the idea that great Nordic cuisine could be available in every price range. The dark, moody space sets the tone for Chef Frederik Rudkjøbing's creations, that combine classic French technique, local ingredients, and a bit of the unexpected. A recent summer menu tasting included brill sashimi with pickled green strawberries and Monk's beard (a thistly shrub); beef tartare with dried fresh tomato; and Danish organic lamb with grilled lettuce. A four-course menu is available for $128, or enjoy a selection of smaller items ($17/each) and create your own personalized tasting. Be sure to check out the artist-commissioned bar with a spectacularly vibrant mural by a local graffiti artist, Andreas Deas.