While I love seeing new places and trying foods around the world, more than anything I love coming home to the most beautiful place on earth: Sonoma County, California. It's not just the gorgeous stretch of Pacific Coast, the redwoods, the mysterious and magical Russian River, or the awesome country landscapes. This beauty also includes the incredible bounty of the area, the abundance of fresh, amazing food. With the local produce so plentiful, how can people not craft brilliant edibles? When I travel, I always load up my suitcase with beautiful Sonoma County food to show my friends just how much wonderful stuff there is here. Do I need a wedding present for John and Farris? A hostess gift for Elizabeth? A little something for Lucy to convince her to pay another visit? Sonoma County has it. While wine is the expected gift, I like to be surprising (haven't you noticed?), so my gifts tend more toward the unusual and delicious.
I'm confident that the tastes of Sonoma County I bring them will do much to lure them here. These little culinary gifts are the best way to say to my friends, "you're welcome here, come take a taste for yourself." They're not hard to find: my favorite grocery store, Oliver's Market (several locations, www.oliversmarket.com) has labels identifying the locally produced goods, and I'm a well-known denizen of the farmers' markets. When you come out here, you'll discover for yourself these delectable mementos from the world's loveliest corner, Sonoma County, California.
CUPCAKES FROM MOUSTACHE BAKERY
My sweet-toothed friends love these delights from Healdsburg's Moustache (381 Healdsburg Ave., Healdsburg, CA. Tel: 707-395-4111. www.moustachebakedgoods.com), run by a young gay couple and producing some of the best desserts in creation. They're great about using local ingredients to enrich their products (there's even a map on the wall showing where the ingredients came from). Try The Pioneer Jane (strawberry/vanilla/rhubarb) or The Southern Miss (brown butter/peaches), both made with fruit from the nearby Dry Creek area. The Beekeeper combines local Meyer lemons with honey and lavender, while The Outlaw, made with chocolate, caramel, and sea salt, is so good it should be illegal! As you can see, these are no ordinary cupcakes, and the unique flavor combinations will have your taste buds reeling with pleasure. So, too, with their macarons, which come in such intriguing varieties as chile/mango, Thai tea, and raspberry/lime. Moustache has been such a success that its owners, Christian and Ozzy, have opened a nearby pie and ice cream place called Noble Folk (116 Matheson St., Healdsburg, CA. Tel: 707-395-4426. www.thenoblefolk.com), whose products are every bit as inventive and delicious. They're just a little harder to carry on a plane!
PASTA FROM BEET GENERATION FARM
Brilliantly named, lesbian-owned Beet Generation Farm (www.beetgenerationfarm.com) has devised a great use for its fresh produce: put it into pasta. Libby and Ali purée a variety of vegetables to make a range of pastas that are both colorful and deliciously fresh. My favorite is the hot chili, deep orange in color and super-spicy, but I also like the mellow-red beet, saucy tomato, brightgreen basil, and cool cucumber. While you can buy them pre-packaged (with names like "Mano y Mano Serrano Poblano" and "Too Sexy Tomato") at hip fooderies like Healdsburg's Shed or Santa Rosa's Pharmacy, I like to visit Libby at the Saturday Santa Rosa Original Certified Farmers Market (Luther Burbank Center for the Arts, 50 Mark West Springs Rd., Santa Rosa, CA. Tel: 707-522-8629. www.thesantarosafarmersmarket.com), where I put on a plastic glove and dig into the mix-and-match rainbow of vibrant pasta myself. Best of all: while it's dried, the high vegetable content means it takes only about five minutes to cook, so you don't have to wait long to brighten your plates and your taste buds.
BREADS FROM WILD FLOUR BREAD
There's no better gift than the wonderful breads and sweet rolls at Wild Flour Bread (140 Bohemian Highway, Freestone, CA. Tel: 707-874-2938. www.wildflourbread.com), a friendly little spot in tiny Freestone, where everything's organic and baking is done in a wood-fired oven. Their sticky buns (easily big enough for four) will send you straight to heaven with a sweet, yeasty, cinnamon-y rapture. Even better: the variation called an Egyptian, rich with pears, figs, and ginger. Scones come in a mind-boggling array of flavors from blueberry/Meyer lemon or fig/rosemary/goat cheese to apple/oat and pear/cardamom. Breads include some wonderful sourdoughs and seeded loaves, with unusual choices like Z-Bread, made with Meyer lemons and olives. They're open only Friday through Monday, and they're cash only, but I've seen them say to tourists caught with no cash on them, "here's an envelope with our address, just mail us a check when you get home." Aside from the fact that they make the best bread in the history of bread, isn't that the kind of place you'd want to patronize?
OLIVE OIL FROM EYRIE
I first discovered the wonderful olive oils of Eyrie Olive Oil (www.eyrieoliveoil.com) at the Santa Rosa Farmer's Market, and consider me addicted. Not everyone knows what a major crop olives are in California, but the state's olive oil industry has become hugely important. Eyrie has their own Sonoma County groves set 900 feet above the valley floor for prime sunshine, and their oil is cold-extracted at a mill in Sebastopol. The result is as fresh and flavorful as you'd expect a product to be that never travels more than a few miles from its place of origin (well, at least not till I bring it across the country). Their eight different varieties of Tuscan olives lend a heartiness to the oil, which remains unfiltered and unrefined for prime taste. While I buy it at the farmers' market, Lazzini's Market in Santa Rosa is another source. Suzanne and Lewis Jester just took over the groves in 2015, and they've already produced a Gold Medal winner from the California Olive Oil Council. As they like to say, it's like "California sunshine in a bottle"—and what could make a better gift for my poor East Coast–bound friends?
DRY JACK CHEESE FROM VELLA
Sonoma County produces so many amazing cheeses (Cowgirl Creamery, Petaluma Creamery, Spring Hill, Achadinha) that perhaps it's my fond memories and longterm love affair that makes me choose Dry Jack from Vella Cheese (315 Second St. E., Sonoma, CA. Tel: 707-938-4307. www.vellacheese.com). They've been around since 1931, so it's not surprising I first encountered their cheeses a couple of decades ago, when the irascible and characterful Ignazio ("Ig") Vella was still alive. Every time I buy this cheese, I remember our amazing conversations. Available in stores as well as at their own spot, the Dry Jack, an aged Monterey Jack, is great for transporting. Its hard texture (similar to Parmigiano) makes it durable and great for grating, with a nutty and full taste that puts many a younger cheese to shame. My favorite is the Special Select, firm and flavorful from being aged up to two years and unsurprisingly the recipient of medals from the California State Fair and American Cheese Society, among others.
HONEY FROM BEEKIND
Alluring Beekind (921 Gravenstein Highway S., Sebastopol, CA. Tel: 707-8242905. www.beekind.com) serves the Sebastopol area's needs for beekeeping as well as producing some luscious honey. My favorites are, of course, those made from local hives. The Redwood Forest Honeydew, which comes from the heart of the Russian River area, has an almost smoky, dark richness. It's full-bodied, dessert-y and a three-time Gold Medal winner at the Sonoma County Fair. The Sebastopol Blackberry is much lighter and fruitier, while Sonoma County Wildflower, made from the pollen of a variety of local flora, carries a many-layered aromatic quality. Another favorite is the local wildflower honey infused with Chai spices for a truly original taste. While I love their skincare products and beeswax candles, for my gifts to friends, I'm sticking with the raw, unfiltered, unadulterated goodness in a jar.
VERJUS FROM KOKOMO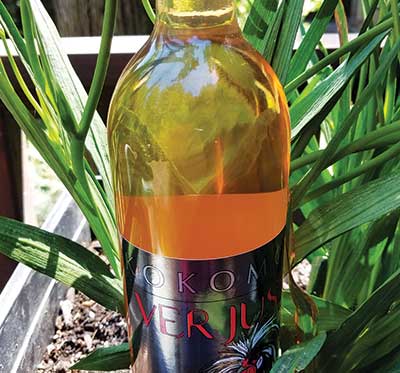 Kokomo Winery (4791 Dry Creek Rd., Healdsburg, CA. Tel: 707-433-0200. www.kokomowines.com) produces this startlingly good product called Verjus, that I first discovered in Oliver's Market. It's made from crushed, unripe wine grapes (basically, the throwaways from the winemaking process) and is acquiring a certain chic among culinary know-it-alls. It's like a less acidic, fruitier vinegar, or "not quite vinegar." Kokomo harvests its grapes for verjus in mid-summer to ensure maximum acidity and minimum sugar (this also thins the vines for the enhancement of the remaining wine grapes). It's a hard taste to describe, somehow both tart and slightly sweet all at once, but once you use it in salads, sauces, or even cocktails, you might never go back to vinegar or lemon juice again.
CHOCOLATE FROM FIREFLY
I found Firefly (www.fireflychocolate.com) at the Sebastopol Farmers Market (Sebastopol Plaza, Sebastopol, CA. Tel: 707-522-9305. www.sebastopolfarmmarket.com), and I'm always thrilled to run into it in Oliver's or other stores around the county, as this bean-to-bar chocolate is one of my favorite Sonoma County products. While obviously the cacao beans are not local, everything else about this handcrafted chocolate is, which is what "bean to bar" is all about. Whether it's chocolate bars (my usual gift) or his ceremonial drinking chocolate (rich with cacao butter so you need only add water), proprietor Jonas Ketterle takes the beans through all the steps (roasting, grinding, conching, and forming the finished product) in his Sonoma County studio. You can taste the difference by the love put into this organic dark chocolate, which is sweetened with coconut sugar and comes in such lively flavors as Wild Berry, Mighty Maca, and Coconut Cream. For friends who are chocolate purists like me, I buy the Pure Dark, that is a succulent semi-sweet wonder.