One of the questions people ask me all the time is: "How can I pack for style when I'm traveling?" Whether I go away for two nights or ten days, I always use just one carry-on suitcase. There really is no time to spare when travelling for business. I have to see hotel general managers, meet with political leaders, attend fundraising events, and be well-dressed for the social scene—even if it's just dinner and dancing. My clothes must be able to be contained in just one carry-on, and they must be able to perform double duties. I also take with me a smaller, personal bag to hold my toiletries, laptop, and other essentials. Here's how I pack ten days of fashionable clothes into just one carry-on bag.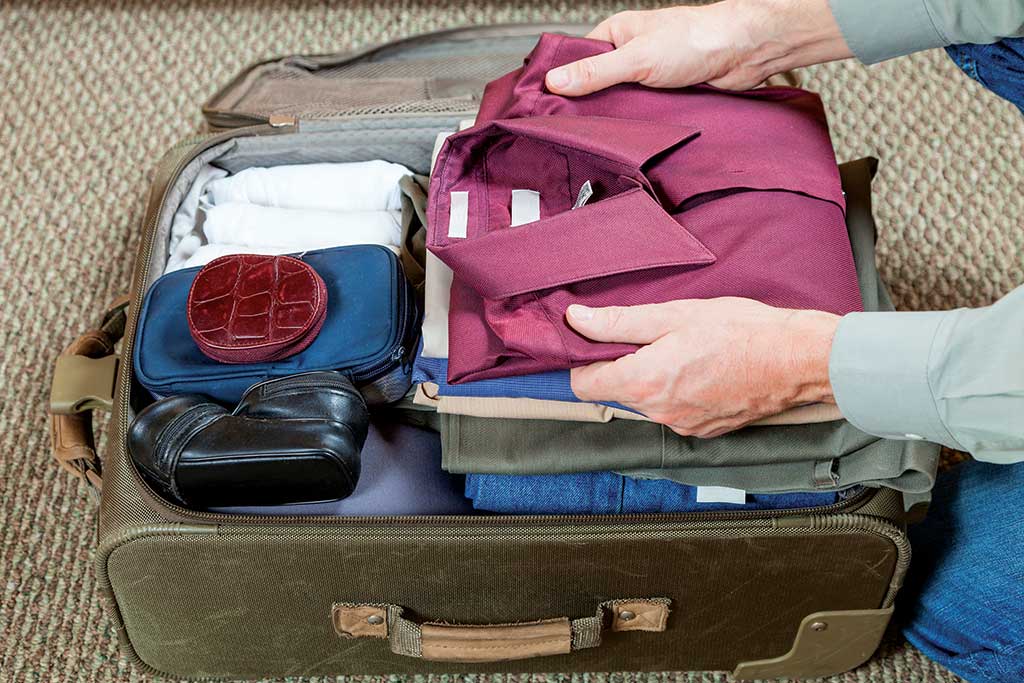 Using a three-color palette, I pack everything (jackets, dress shirts, slacks, and T-shirts) that may play double and even triple duty, allowing for many options. During the fall season, it's usually navy, white, and gray for me. Choose colors that work well for you, and that work well on their own or combined with each other. In this way, you can pack many "looks" in one carry-on bag. With my palette, I can match, combine, and/or contrast the colors for an array of outfits.
My gray slacks will look great with either my navy T-shirt and gray jacket or my crisp white dress shirt and navy jacket. And my navy slacks will also look pretty good paired with my white T-shirt and navy jacket or my navy dress shirt and gray jacket. Throw in a pair of khakis and eight different "looks" can be achieved out of two suits, two T-shirts, a couple of dress shirts, and a pair of neutral pants. Round out your looks with great pocket-squares, ties, bowties, and maybe some colorful socks. Well, maybe that's just my style, but accessorize the way you like.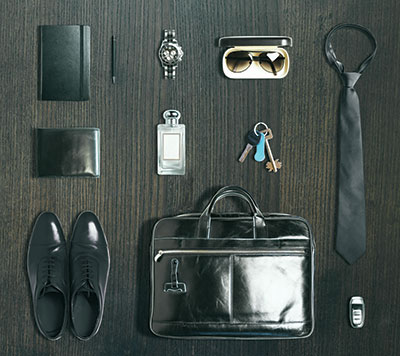 For ladies, I would recommend lightweight scarves, pretty tops, and great signature jewelry pieces. I always wear my shoes to the airport and put another pair in a different color at the bottom of my carry-on along with a pair of sandals, too.
Packing your clothes efficiently in a carry-on bag is really all about the military roll. The military roll is a space-saving packing technique that also prevents wrinkles from forming on your clothes. You can pack more clothes into your bag with this method. To start, place a pair of shoes and a pair of sandals either at the bottom of your carry-on or on one side of your carry-on case. Inside the shoes, place your belt, pocket squares, ties, and accessories. In the spaces around the footwear, place additional items such as your swimsuit, tank tops, and scarves. Fold your underwear in tight little bundles in place these in a single layer over your footwear and accessories. This will give you a relatively even surface to start placing your rolled clothes.
Place your rolled T-shirts in first. The military roll really is as simple as it sounds. Fold your T-shirts by rolling them up like a jellyroll, that's it. Place your rolled T-shirts on top of your footwear. The "roundness" of the roll will prevent wrinkles. I can place anywhere from eight to ten T-shirts in one single layer this way.
On the other side of your carry-on case (or atop of your single side carry-on) roll your jeans and slacks in a single layer. The military roll works the same with these items. Fold your slacks and jeans like you normally would and roll them. Do the same for shorts, skirts, and knit dresses. I can usually fit about six to eight pairs of pants, depending on rolled thickness, into a standard-size carry-on with the military roll technique.
Fold your dress shirts and blouses the regular way and place those on top, do not roll these. These lightweight garments pack better flat. Now for your blazers or suit jackets: invert them so that they fold "in" on the lining side. This way, the material just slides across the lining and when you unfold your jackets, they will be wrinkle-free. I usually wear one on the plane and pack two folded jackets on top of the dress shirts.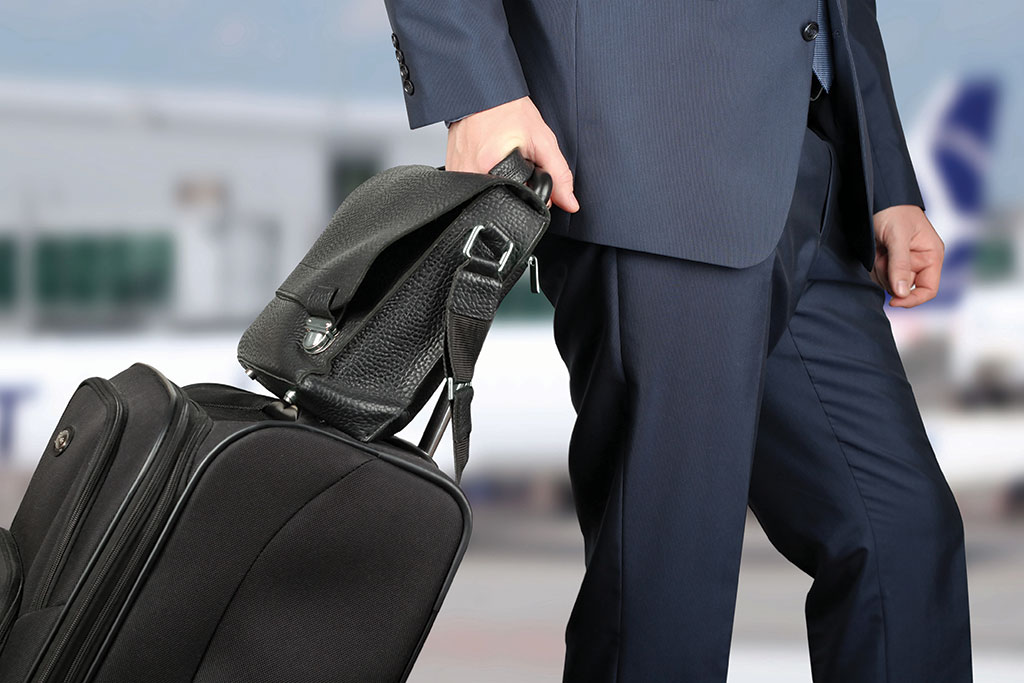 When planning your travel wardrobe, make sure to stick to the three-color palette. Here are my favorite color combinations: navy, gray, and white; chocolate brown, pink, and light green; black, white, and pale blue; deep purple, light gray, and black; and red, brown, and khaki. These colors look great together, and they work really well for men and women. For kids I like red, white, and blue, as well as green, yellow, and white. Dress it up, dress it down, and mix it up with complimentary accessories.
I'm pretty well known for my pocket squares, dress socks, bow-ties, lapel pins, and boutonnieres. My suits and blazers are really just playing background for my accessories (the true stars of my ensemble). Just be sure you're not wearing too many accessories, it can go "clown" really quickly if you're not careful. Other than that, anything goes with your color palette.
My colleagues and friends are always amazed at how much clothing I am able to pack for a ten-day stay. They don't realize it's just two suits, my khakis, a pair of dark denim jeans, shirts, underwear, and accessories. So mix, match, contrast, and complement your colors and get a lot of mileage out of your clothes with a little ingenuity and fashion sense.
---
Author's Note: All carry-ons are not created equal. Believe it or not, airlines change this size requirement often. What was "standard" last year may not be this year and/or the next year. Check your airline's website to ensure you have the right size carry-on bag. If not, you will spend valuable time checking your bag (and those lines can be brutal).