Through a dense haze my boat follows the sounds of Ivory gulls, rhythmically squawking in a language all their own. I'm nearly dangling off the rail of the MS Nordstjernen, trying to make sense of my new surroundings. The wind is so strong and the air so cold that my tears nearly solidify and glue my eye to my Nikon. My perma-smile attracts the attention of a group of older Germans who wave from the inside lounge and raise their piping-hot coffees in solidarity. Three gulls fly along the railing, and seemingly give me the side-eye as they barely make headway against the strong winds. They suspiciously inspect the goings-on aboard our ship, curious as to what kind of creature we are. I look curiously back and try my best to capture their Arctic distinctiveness, but with one click of my shutter they tilt their left wings down and, like superheroes, dart into the dark mist. I too, with my bright-red survival suit, camera, and parochial wonder set a course for the 80th parallel in Svalbard, Norway and enter off into the dark mist.
Traveling to the northernmost settlement in the world, with a population of around 2,400, is surprisingly simple. Thanks to it being administratively part of Norway, flights from Tromsø, Norway to the northernmost airport in the world with public flights, Svalbard Airport, is a short trip (around two hours), and its location is a cheap and quick bus ride into Longyearbyen. Although there are many chartered airlines that make the flight, Scandinavian Airlines and Norwegian Charter are the only companies to offer year-round flights.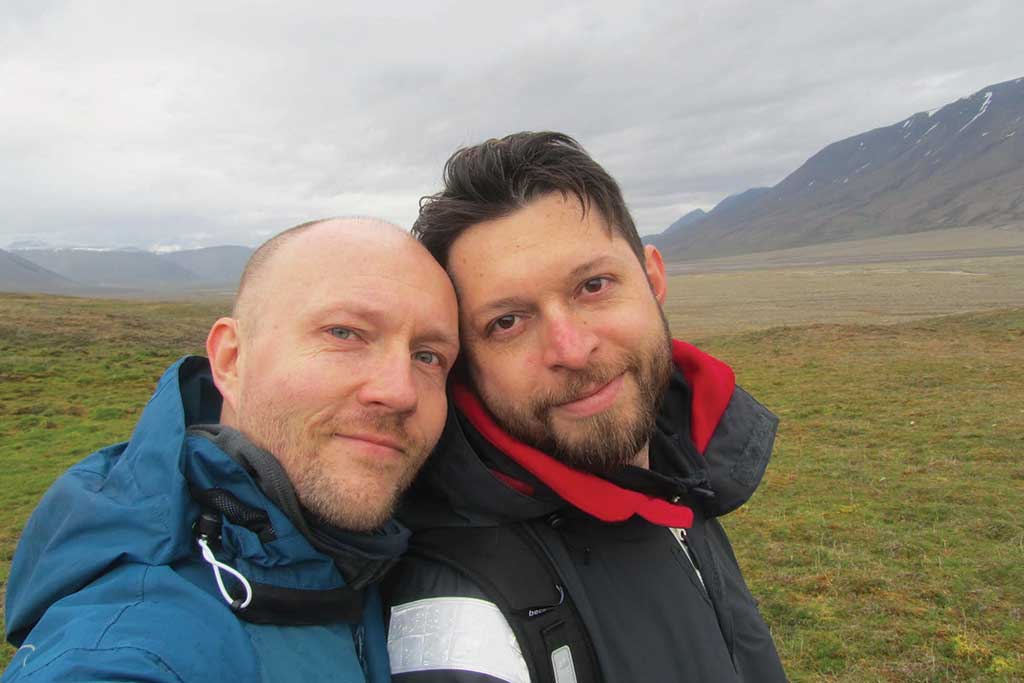 I land and find myself face to face with a polar bear, literally. A stuffed bear greets visitors as he stands guard over the baggage carousel. My sneakers are already slipping on the tile floor, and as I regain my footing I look up at the parka-wearing crowd who are pulling tons of outdoor equipment off the belt. A handsome man standing in the corner waves to me, and I instantly recognize him as one half of a blog duo based out of Longyearbyen, The Arctic Husbands (www.arctichusbands.com). The travel industry brought Stian Kristiansen to Longyearbyen, and he and his husband, Jorge Kristiansen, who is originally from Venezuela, took the (Arctic) plunge North and have been enjoying their adventures throughout Svalbard ever since.
After I check into the Spitsbergen Hotel (the official hotel for the cruise I will embark on in a few days), I meet the boys in the lobby. "It's one of the most happening places to be," Stian says with a dry wit that matches his glass of red wine. He gestures to the near-empty bar area, and I give a he's-got-to-be-kidding polite smile. His husband Jorge, laughs heroically at our impromptu three-way Internet date and recognizes that the celebrations over gay marriage during pride week back where I am from in New York would be a lot more exciting. I assure them that the first-ever Longyearbyen Pride will trump any celebration in the States.
Soon, though, we've taken over a whole room, as I share some American whiskey (that survived three flights), and I hear their fascinating story. "We basically were at a point where we wanted a change from city life to a more relaxed and stress-free place," Stian says reaching for another sip of his Maker's Mark.
"Longyearbyen offers many opportunities for people who love nature, hiking, skiing, wildlife (and cold temperatures), and it's easy to combine your daily job with outdoor activities without the stress of moving far away from home," Stian adds placing his hands on the dark-wood table. "Being that Longyearbyen is a small society maybe it does not have the job opportunities of the big city, but it has enough for people like us that like nature," Jorge gleefully says.
I am instantly fascinated with the couple, especially how Jorge, from Caracas, found the move to not just Norway but to Longyearbyen. "We liked the experience," he says of their first time visiting, "Then in 2014, Stian got a job offer, and we decided to move. Initially for me it also implied a change in my job, coming from a background in communications at a humanitarian international organization to a place where the opportunities in that area are very limited. It was a little bit scary, but exciting. So I got a job in a hotel for some months, and now I work at the University Center," he tells me.
"What about your family in Venezuela?" I ask. "They still haven't been to visit us up here. Basically they think something like we live in the North Pole where it is cold all the time and sunlight half of the year and dark the other half," he laughs.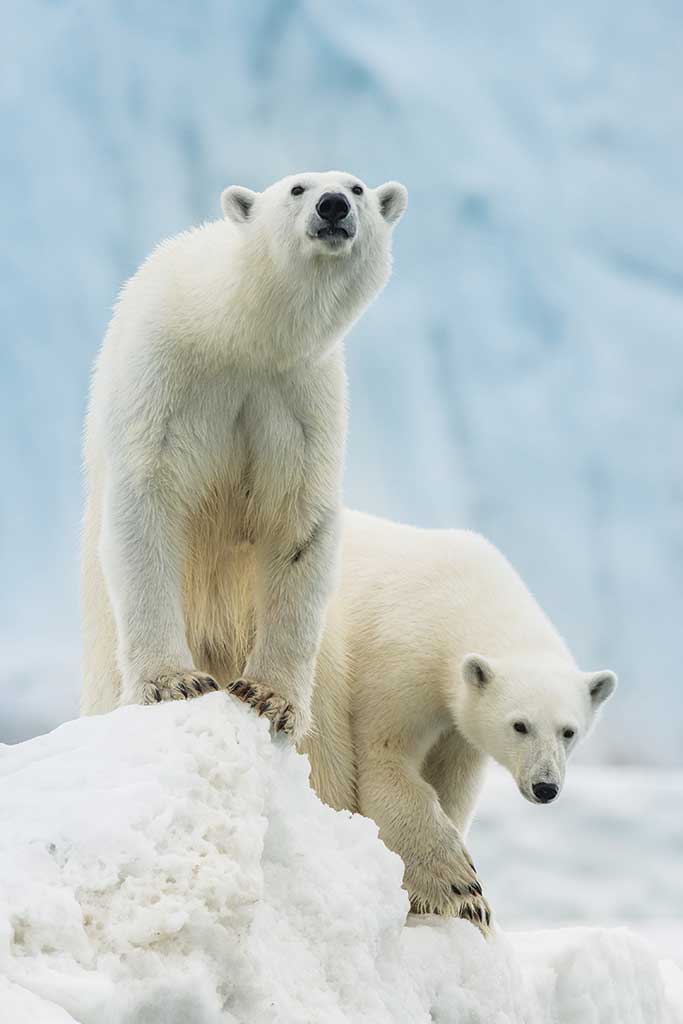 Longyearbyen (originally established by an American seeking its minerals) is still a mining town thanks to its extensive, though hard-to-reach, coal reserves that have inspired hundreds of expeditions across Svalbard. More than half the settlement lives alone, and, as miners, work for only a season or two (the average time a person stays in Longyearbyen is six years) while families stay on the mainland. So, my assumption is that the blue-collar heavy, mining town must not be the best place for gay people. "The community here is very open and our sexual orientation has never been an issue in our jobs or in the social life," they share. "For example, last Christmas we attended the respective Christmas parties from our companies as a couple and people were very welcoming." Afterward, we stampede through town, basking in the midnight sun, and celebrating our impromptu "pride."
A trip to the Svalbard demands planning. Visiting all the sites of the main settlement of Longyearbyen won't take too long, but excursions (both in winter and summer) outside of the settlement are a must. I start with a city bus tour, which is a good way to check out the must-visit spots, but it can easily be done on foot. I first notice the beautiful colors of the small houses and apartment complexes. Like in many Arctic settlements bright colors on buildings are used to simply cheer up the dark landscape. (Though, in parts of Greenland, they are color coordinated to determine what kind of building it is.) Nestled on large snow-capped mountains are wooden mine remnants wrapped like Christmas garland around the craggy surface. I am surprised by the abandonment of so many mining structures, but I am informed that the Svalbard Treaty (see sidebar) forbids the removal of anything built before it was signed in 1920, thus what we may see as decaying infrastructure or a pile of chain and wooden beams are actually historic landmarks. A main "thoroughfare" leads from my hotel atop a small mountain down to the shops that includes a massive grocery store that's filled with everything including electronic equipment (in case you forgot your charger like me).