The city is mad for fried chicken these days as evidenced by a trio of winners that have sprung up in the last 18 months. Leghorn (959 N Western Ave. Tel: 773-394-4444. www.leghornchicken.com) opened its doors in part as a direct response to chicken chain Chick fil-a. It serves up beautifully fried and crispy chicken sandwiches that are every bit as tasty as its anti-gay counterpart, but gives a portion of every single sale to pro-LGBT charities. Parson's Chicken and Fish (2952 W Armitage Ave. Tel: 773-384-3333. www.parsonschickenandfish.com) is attracting hipsters to its prime Logan Square location like zombies to human flesh, but we can't blame them for wanting to spend hours chilling in the sprawling outdoor patio with a Negroni slushy in hand and a pile of tasty fried bird on their plate. Finally, there is Honey Butter Fried Chicken (3361 N Elston Ave. Tel: 773-478-4000. www.honeybutter.com) in Avondale where the chicken is cooked to crispy perfection and served with a sweet honey butter designed for gratuitous slathering.
Chicagoans are crazy for New York these days (or perhaps it's vice versa). December 2013 saw the opening of the Chicago version of Mario Batali's Eataly (43 E Ohio St. Tel: 312-521-8700. www.eataly.com/eataly-chicago) and it's a multi-level knockout that takes up 63,000 square feet of prime Chicago real estate making it the largest Eataly in the United States. Chicagoans went so crazy for it in its opening weeks that on multiple occasions it ran out of food. There is also nearby Shake Shack (66 E Ohio St. Tel: 312-667-1701. www.shakeshack.com), the New York-based burger joint which has begun a rapid expansion into other cities and states including a Chicago version which opened its doors in November 2014.
Lastly, there is the newly opened Revival Social Club (1133 W Granville Ave. Tel: 773-293-6435. www.revivalsocialclub.com) which opened its doors near the Granville Red Line stop in Edgewater/Rogers Park, two LGBT-heavy neighborhoods that are without a lively queer scene. Gay-owned Revival aims to right that wrong with a casual eatery serving comfort food breakfast, lunch, and dinner seven days a week and open late every night.
BARS
The shiny, young, and pretty are over the moon for Progress Bar (3359 N Halsted St. Tel: 773-697-9268. www.progressbarchicago.com), an unremarkable but undeniably upbeat and hopping corner bar that replaced scene stalwart Cocktail in 2013. The bar is packed on weekend nights and the music can be good but be forewarned, the horny youngsters who come here are prone to sudden twerking without warning.
Men's Room (mensroomxxx.com), meanwhile, is the current party where guys defile one another in all the best ways possible. Its monthly residence was formerly at the upscale cocktail lounge Wang's (3317 N Broadway. Tel: 773-296-6800) which is still very much worth visiting, but the den of debauchery that is Men's Room now moves around and anyone interested should visit the website for current locations.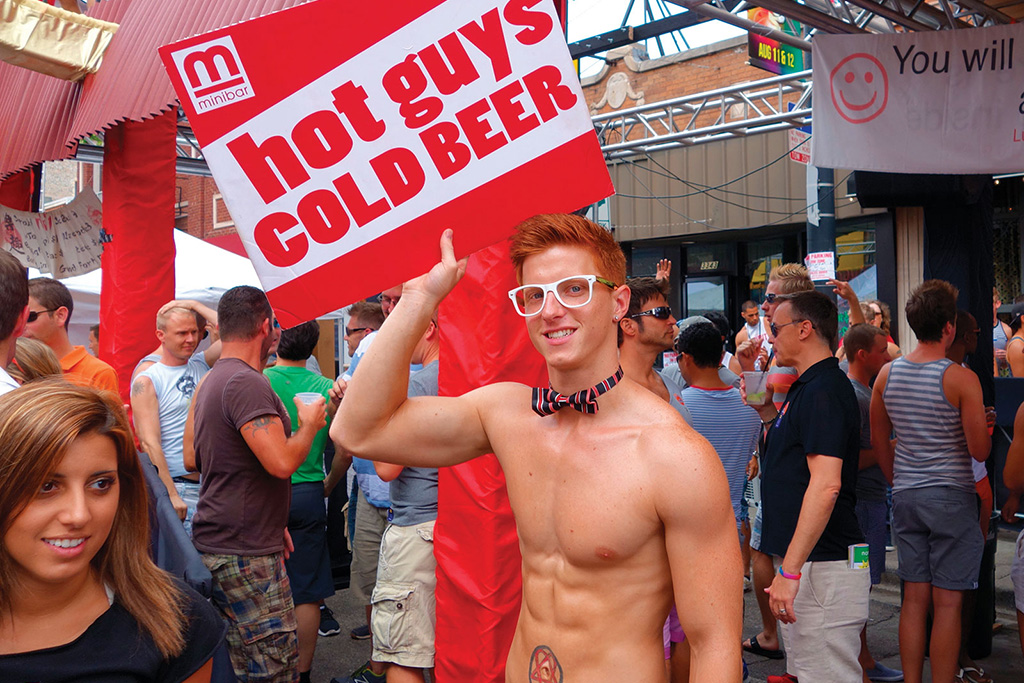 Arguably, half the patrons at queer arcade bar Replay (3439 N Halsted St. Tel: 773-975-9244; www.replaylakeview.com) are too young to remember Ms. Pac-Man and Donkey Kong the first time around, but this bourbon and beer bar with a killer outdoor patio has nevertheless established itself as a low-key place to meet some mates for a drink or just chill out (and the arcade games are all free!).
Burly is Chicago's resident home for bearded fellas. This party happens monthly at the Burlington (3425 W Fullerton Ave. Tel: 773-384-3243) in Logan Square (aka Logan's Queer) and is a huge draw for hipsters and nightlife junkies seeking a Boystown alternative. It happens the third Wednesday of every month and shows no signs of slowing soon. Another Logan Square fixture is Slo 'Mo, a night of slow jams for queers and allies. It has been around for awhile now but recently switched digs and now happens every third Thursday at Slippery Slope (2357 N Milwaukee Ave. Tel: 773-799-8504. www.slipperyslopechicago.com) and is a magnet for a diverse and welcoming crowd of queers, including many women of color.
SHOPS
There is no better celebrated local shopping institution in Chicago than Merz Apothecary, the Lincoln Square purveyor of personal care and beauty products which first opened its doors in 1875. In December of 2014 it opened the men-focused Q Brothers (4716 N Lincoln Ave. Tel: 773-989-0900. www.merzapothecary.com) in the space next door and with the motto "Keep it handsome." The brand new space is stocked head to toe in men's grooming products like Brooklyn-based beard balms, locally sourced mustache waxes, and other handcrafted small batch apothecary goods. It's stunning.
CRAM Fashion (3331 N Broadway. Tel: 773-477-1737. www.cramchicago.com) couldn't be more honest in its name in that this two-room Boystown storefront on leafy, idyllic Broadway is a place where every rack, shelf, and drawer is stocked with top-name brands like Penguin, Andrew Christian, Superdry, Diesel, Nasty Pig, Timoteo, Naked & Famous, and many others. Sufficed to say the clientele is mostly gay men and the complimentary bubbly is a nice touch.
Egoist (3526 N Halsted St. Tel: 773-281-5121. www.egoistunderwear.com) is where everyone flocks to in anticipation of a big, gay holiday weekend where a new swimsuit, tank top, or jock brief is a must. The store includes collections from aussieBum, ES, Addicted, Cellblock 13, N2N Bodywear, and others.
Uniqlo (www.uniqlo.com), the Japanese retailer whose affordable basics have been making New Yorkers swoon for almost a decade now, has finally begun its full assault on the U.S. market. A Chicago flagship is slated to open on Michigan Avenue (a.k.a. the Magnificent Mile) this fall in the space once occupied by Filene's Basement. The storefront is just steps away from H&M, Zara, Top Shop, and other trendy brands.
PARKS AND CULTURE
Chicago's answer to the High Line, the celebrated Manhattan park that occupies an unused elevated rail line, is slated to open this spring. The Bloomingdale Trail (www.the606.org), part of the larger 606 parks and trail network, is a nearly 3-mile, multi-use recreational trail and park along an elevated, abandoned rail line on the city near Northwest Side (including Bucktown, Humboldt Park and Logan Square). Features include an alternative transportation path for cyclists and pedestrians, works of art, and new green space. We couldn't be more excited for its spring debut.
Maggie Daley Park (www.maggiedaleyparkconstruction.org), meanwhile, is another thrilling prospect that is currently in its final stages of construction and slated for a spring 2015 arrival. The kid-friendly park is named for former Mayor Richard Daley's late wife Maggie and will take over 20 acres in the northeastern corner of Grant Park in downtown Chicago. The new green space will feature a flowing, grassy landscape of hills and valleys, play structures and climbing walls, and the much anticipated "ice skating ribbon," a manmade river that winds around a big section of the park.
The Annoyance Theater (851 W Belmont Ave. Tel: 773-697-9693. www.theannoyance.com), the renegade North Side institution that spawned local cult classics like Co-ed Prison Sluts (the longest running musical in Chicago history) and the Real Live Brady Bunch (starring a then unknown Jane Lynch) has returned to Lakeview with an exciting new space that includes two stages and additional classrooms for improv training. The theater is home to many queer works and its founder and artistic director is queer performer and provocateur Mick Napier.
The iO Theater (1501 N Kingsbury St. Tel: 312-929-2401. www.ioimprov.com/chicago), the celebrated home to the art of long form improv since 1981 and whose alumni include Amy Poehler, Stephen Colbert, Tina Fey, Mike Myers, Cecily Strong, and many others also ditched its old digs and has taken up residency in a stunning new warehouse in the Clybourn Corridor (across the street from Chicago's flagship Whole Foods). All four stages at iO are incredibly LGBT friendly and have hosted queer improv groups and numerous queer-themed works.
A construction site between McCormick Place and Soldier Field that sits on the city's storied museum campus (which currently includes the Adler Planetarium, the Museum of Natural History, and the sainted Shedd Aquarium) is slated to become the future home of the Lucas Museum of Narrative Art (www.lucasmuseum.org). Chicago beat out several other cities to become the host to this homage to narrative art and moving images, but the specific site still has legal hurdles to clear before construction begins. Whether it ultimately stays put or moves elsewhere within the city, may the force be with it.