LIFE ON BOARD
I love water and boats. Chalk it up to my seafaring ancestors or the magnetism of rolling waves, but for me, cruising equalsserenity. Thankfully I don't suffer from seasickness, and I actually enjoy the overpowering sensation of a ship's lists and heaves. For Denise, sea travel is more of a guessing game. So for this cruise, she came prepared with ginger chews, medication, and those chic little anti-motion-sickness bracelets.
Cut to our first night on board, the start of the longest spell of open waters as we crossed well over 200 miles to Kusadasi. I woke a few times to the loud swish of water across our room's porthole. I felt the ship's sway and imagined being an infant rocked to sleep. Soothing for me, not so much for Denise. By morning, the motion remained, but she was in a new headspace, slightly concerned by the level of intensity. She steadied herself, donned her wristbands, and prepared for a full day at sea like a true traveler eager to explore new places. Before long she'd adapted to the motion, and the vessel returned to smoother waters that, thankfully, remained for the trip's duration.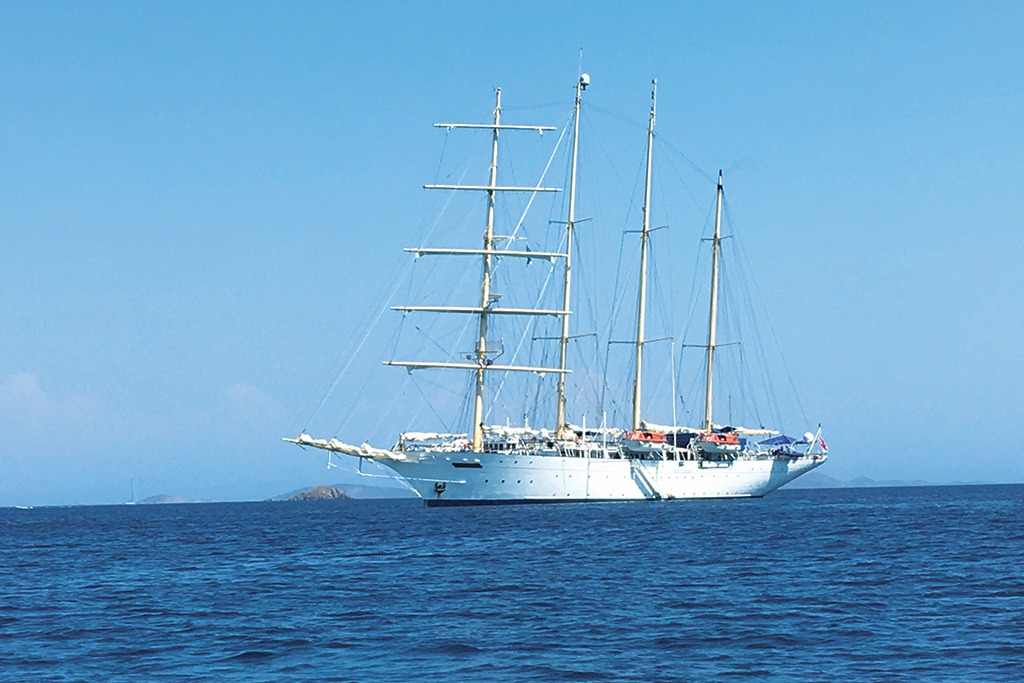 As our home for the next seven days, the Star Flyer felt luxurious, with four levels and 170-passenger capacity. Cabins and the sloop shop occupied the two lower guest decks (crew members live below), as did the dining room, where we were treated to continental and Frenchinspired dinners and breakfasts, and lunches with more ethnic flair. The middle "main" deck was our functional space with the indoor Piano Bar, library, and Tropical Bar that doubled as an all-passenger gathering space for games and nightly entertainment.
For me, life on the Star Flyer was all about the top "sun" deck, prime for lounging with a good read, and for soaking up the sun, breeze, and Mediterranean views. Both the bow and stern had separate lounging areas with small pools, and Denise and I often perched in the shade of a full sail. I fell almost as hard for the ship's classic nautical style (the elegant captain's wheel, flying jib sails, polished wood pulleys and booms, perfectly coiled ropes) as I did for the outward views of the Aegean.
My fellow passengers seemed as enthusiastic about sailing as me. They spanned all ages, and despite some language barriers, were fun, friendly shipmates. On most days and while anchored, the crew indulged our sense of daring. We were invited to climb onto the bowsprit nets, the long trapeze-type nets stretched across the ship's front spar, to recline over the open waters.
The other onboard adventure was to climb 100 feet high on a wire-andrope ladder up to the crow's nest (really a crescent-shaped platform) and behold an entirely unique perspective. The panorama from that high mast was for me a pinnacle moment on the trip, revealing all at once a bird's-eye view of our ship with the backdrop of perfect blue sea and sky.