Yusho Rooster Ball Ramen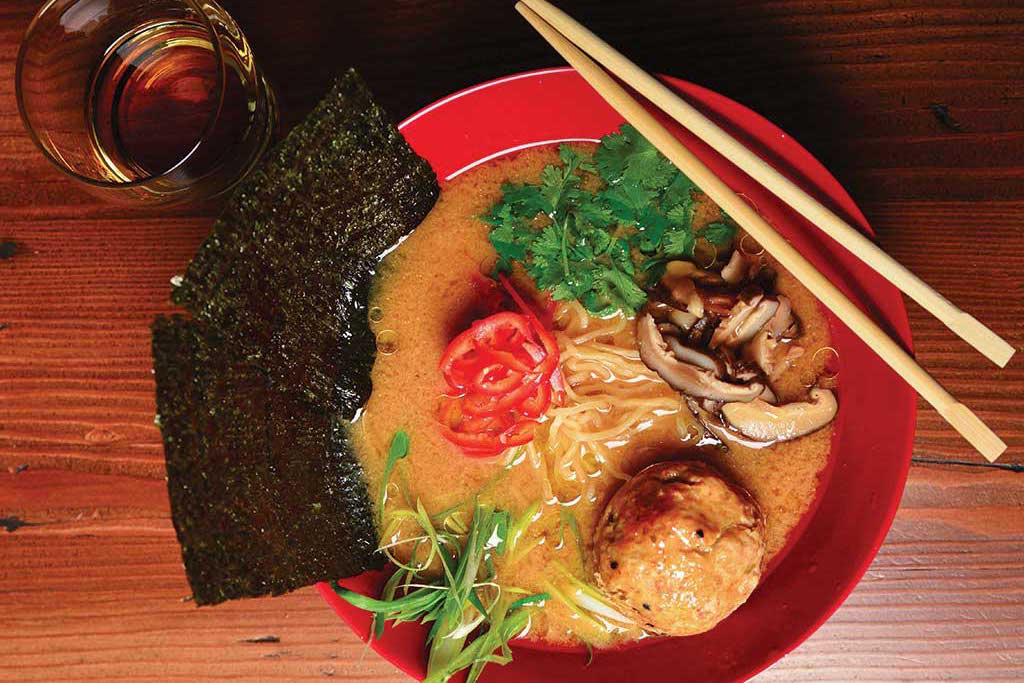 Components: Chicken Broth, Chicken dumplings, roasted garlic, Julienne Carrots, Pickled Fennel, scallions bean sprouts, French breakfast radish grapefruit segments, sesame seeds, thyme, cilantro
Servings 4 people
Chicken Broth
Ingredients:
Bones from one chicken
8ea. chicken paws
1/2 onion minced
1tsp garlic minced
1 tsp ginger minced
½ bulb of fennel
½ a large celery root
1 carrot
2 springs of thyme
1 fresh bay leaves
1 Tbsp. Szechuan peppercorn crushed
2 pc Kombu 4×4 squares
1 pinch of dried bonito flakes
TT Soy sauce and chili powder
4 ounces white wine
Procedure:
1. Roast chicken bones and paws
2. Place chicken backs and paws in pot then add medium dice veg to pan and roast
3. Add veg to pot and deglaze pan with white wine
4. Add all ingredients together (except bonito flakes) cover with water and bring to a simmer.
5. Remove Kombu
6. Simmer for a minimum of 4 hours
7. Add bonito flakes and steep for 45 minutes.
8. Strain thoroughly.
9. On pick up season with soy and add chili powder to taste
Chicken Dumping Farce
Ingredients:
16oz ground chicken thigh
1 oz. minced garlic
1 oz. minced ginger
1/2 oz. tobanjan
1 tsp. sesame paste
1 tbsp. brunoise shallot
1 tbsp. brunoise fennel
1 tsp. toasted sesame seeds
1/2 tsp. soy sauce
2 grams ground coriander
2 grams ground fennel seed
4 shiso leaves chopped
2 tsp. ground Szechuan peppercorn
1 tsp. chopped nori
Procedure:
1. Mix all ingredients together and test a small amount for seasoning
2. Add salt if necessary salt.
Dashi
Ingredients:
415 grams of water
12 grams of Kombu
25 grams of bonito flakes
Procedure:
1. Soak kombu in water overnight
2. Bring water with kombu up to just before a simmer and remove the kombu
3. Add the bonito flakes and take off the heat
4. Let steep for a minimum of 45 minutes or until the bonito flakes sink to the bottom of the pot
Pickled Fennel
Ingredients
2# of fennel (shaved)
1 lemon zest
1 tsp. coriander
1 tsp. fennel seed
1 stalk lemongrass
1.5 cups rice wine vinegar
.5 cup sugar
2 tsp. kosher salt
Procedure:
1. Bring ingredients except fennel up to a simmer
2. Take off heat and add fennel
3. Let cool to room temperature then place in a cooler.
Roasted Garlic
Ingredients:
1 head of Garlic
Olive oil
Kosher salt
Procedure:
1. Slice top off of a head of garlic
2. Place in a sheet of foil and drizzle with olive oil
3. Wrap and roast at 400 deg. For 45 minutes.
4. When finish pull and sprinkle with kosher salt.
Garnish for finishing:
4 ounces bean sprout
3 ounces of blanched carrot
one grapefruit segmented
one bunch picked cilantro leaves
your favorite chile oil to finish
4 ounces per person of fresh ramen noodles cooked and reserved