ANDREA'S New York Strip with Wasabi Sauce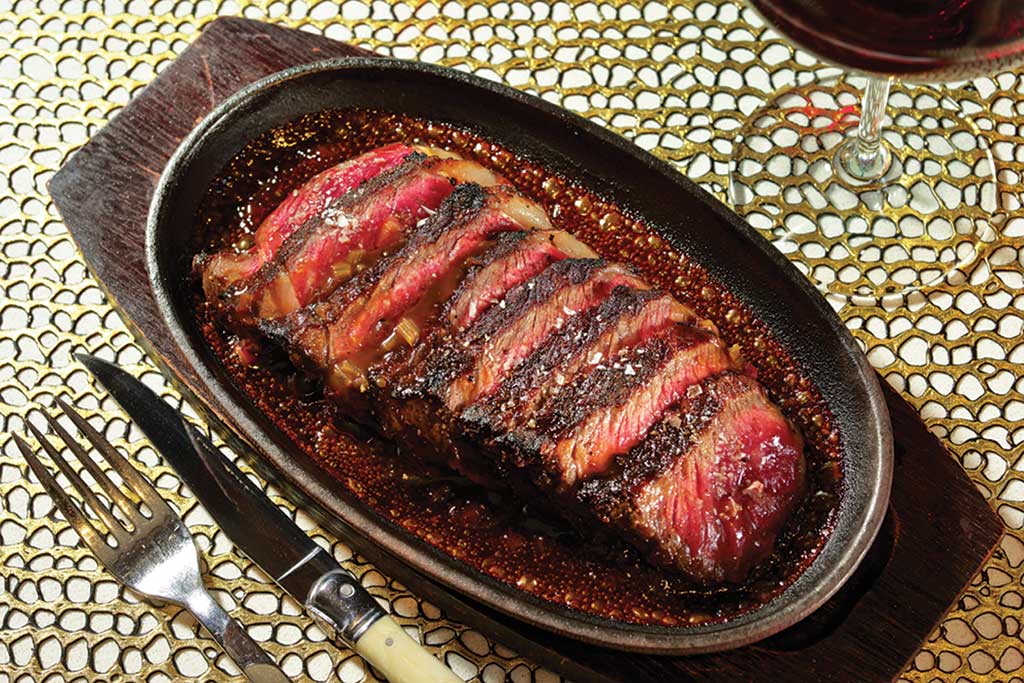 Ingredients Equipment
1 16-ounce prime New York steak
1 gas grill
2 tablespoons whole butter cast iron sizzle plate with trivet
1 medium size shallot brunoise
1 cup port wine
1 cup veal demi glace
1.5 cups heavy cream
2 tablespoons Indonesian sweet soy
1.5 tablespoons apple cider vinegar
1 ounce wasabi, grated
sea salt and black pepper
.5 cup vegetable oil
Instructions: Wasabi Sauce
In a sauce pan, sweat shallots in butter, deglaze with port and reduce by 3/4.
Add veal demi-glace with cream into sauce pan and reduce close to nappe consistency.
Add sweet soy, cider vinegar, and wasabi to the mixture and season lightly.
Instructions: Steak
Use some vegetable oil to coat the steak, season generously with pepper and sea salt.
Grill to desired temperature. If using a cast-iron sizzle plate, cook just a bit under to allow for slight cooking on hot plate. Allow to steak to rest for 5-10 min.
Heat sizzle plate to 400° F on stovetop.
Slice steak on a bias against the grain.
Take some vegetable oil and drizzle on the hot sizzle plate to season. Transfer to the trivet.
Place sliced steak on seasoned hot sizzle plate and top steak with about 3 ounces of the finished wasabi sauce being careful to not let the sauce over flow. Finish with sea salt and serve.
If not using a sizzling plate, you can reduce the wasabi sauce a little further before serving.