By Lawrence Ferber
Smart gays always end up in Cambridge, MA. Located just across the bridge (actually, more than a half dozen bridges over the Charles River) from Boston, and bordering the equally LGBT-friendly Somerville, this is a premiere brain trust city thanks to Harvard University, MIT, and Kendall Square's buzzing hive of tech businesses and startups.
A favored stomping ground for progressives, foodies, and intellectuals, Cambridge is birthplace of 9-year-old LGBT social organization The Welcoming Committee (us.thewelcomingcommittee.com), which throws "one-time only" queer events in typically straight-identified venues. Their line-up, now expanded to cities across the country, ranges from guerilla-style "takeovers" of breweries and cocktail bars, sporting events, and performance outings, and weekly and monthly mixers/gatherings.
Actually, every night is a gay party in Cambridge thanks to one of New England's biggest LGBT nightclubs, Paradise (180 Massachusetts Ave. Cambridge. Tel: 617-868-3000. paradisecambridge.com), which stimulates more than just one's brain with its cast of sexy male go-go dancers who perform six nights per week. Besides dancing and drinking, Paradise hosts a monthly underwear party titled "Bulge," an annual Fall Block Party, and drag queen performances.
Meanwhile, Tuesday nights are LGBT at ZuZu (474 Massachusetts Ave. Tel: (617) 864-3278. www.zuzudining.com/lgbt-zuesday.html), a restaurant and bar that turns dance club come evening. Its weekly Zuesday queer dance party draws a significant lesbian crowd, and features music that runs the gamut from house, rap, and old school to techno and future. Check their Facebook group for updates and news (www.facebook.com/groups/380202704776).
By day, Cambridge is certainly gay-friendly with its progressive atmosphere and populace. The City of Cambridge GLBT Commission (www.cambridgema.gov/glbt.aspx) throws functions and maintains a presence locally and in the greater Boston area throughout the year.
Getting around is easy with Hubway, a public bike share program. Stations are scattered throughout the Metro-Boston area, and 24- and 72-hour passes are available for $6 and $12, respectively. During that time you can ride for an unlimited number of 30-minute periods, between which the bike must be docked (you can take it back out after this bit of minutiae) or pay an additional fee for lengthier check-outs. Public transportation options include MBTA (www.mbta.com) subway and buses.
Where to begin your exploration? With coffee, of course. Chef Joanne Chang's Flour (190 Massachusetts Ave. Tel: (617) 225-2525. www.flourbakery.com) is a LGBT favorite for its coffee, café fare, and most of all baked goods like the Chunky Lola, a supremely chewy, nutty chocolate chip cookie named after a gay customer's bulldog.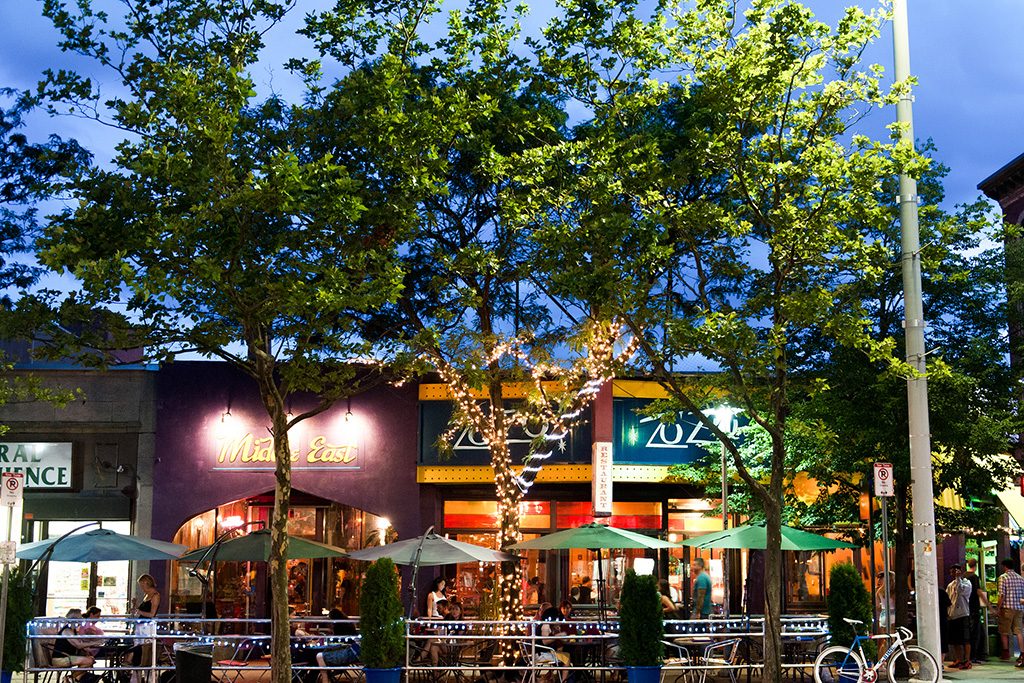 Opened in late March 2015, Loyal Nine (660 Cambridge St. Tel: (617) 945-2576. www.loyalninecambridge.com) is both a café by day and restaurant and bar by night with a Colonial-era New England menu. Revivalist cooking at its finest! While morning pastry is always on tap, the Sunday brunch menu features items like a Lobster Popover with poached egg and smoked pork fat hollandaise, and one-pot porridge dish Pondemnast.
Over in bustling Harvard Square, Crema (27 Brattle St. Tel: (617) 876-2700. http://www.cremacambridge.com) is a two-floor favorite for its a diverse selection of coffees from outstanding craft roasters including Durham NC's Counter Culture, Portland, OR's Coava, Brooklyn NY's Toby's Estate, and Massachusetts' own George Howell Coffee Co. Crema's cookies and pastry, which run a sweet close second in excellence to Flour's, too.
After a brisk stroll around the Harvard Campus, a browse and shop in Harvard Square is a must. Just a few doors from Crema is Black Ink (5 Brattle St. Tel: (617) 497-1221. www.blackinkboston.squarespace.com/black-ink-cambridge), a beautifully curated shop for eclectic gifts, tchotchkes and home items, from hand-printed occasion cards to Japan-centric books and sake-ware.
It's no surprise that literary arts are celebrated here, and the 80+ year old Harvard Book Store (1256 Massachusetts Ave. Tel: (617) 661-1515. www.harvard.com) is one of the country's best indie bookshops. An impressive array of guest author readings (Jim Downs, writer of Stand By Me: The Forgotten History of Gay Liberation, appeared in March 2016) plus GLBT and well-priced second-hand tomes fill out its stacks.
Graphic novels and comic books are also a big thing in Cambridge, and you'll find a wide selection, including those by LGBT creators, at basement-level space, The Million Year Picnic (99 Mt. Auburn St. Tel: (617) 492-6763. www.themillionyearpicnic.com).
After Harvard Square, check out the modular architectural treats on MIT Campus and its LIST Visual Art Center's (20 Ames St. Bldg. E15. Tel: (617) 253-4680. www.listart.mit.edu) gallery exhibitions. At the nearby Le Laboratoire (650 E. Kendall St. Tel: (617) 945-7515. www.lelaboratoirecambridge.com), one can experience all sorts of sensory-oriented exhibitions and experiments, including a culinary experience on select Fridays and Saturdays from 5-8PM.
Costing $55 for two people and showcasing Harvard professor David Edwards' madcap food and beverage experiments, the "Sensorial Experience For Two At Lab Lounge" includes "Whaf" drinks, a liquid transformed into inhalable clouds, and ice cream tucked within edible packages. Truly a unique, fun experience for the palate.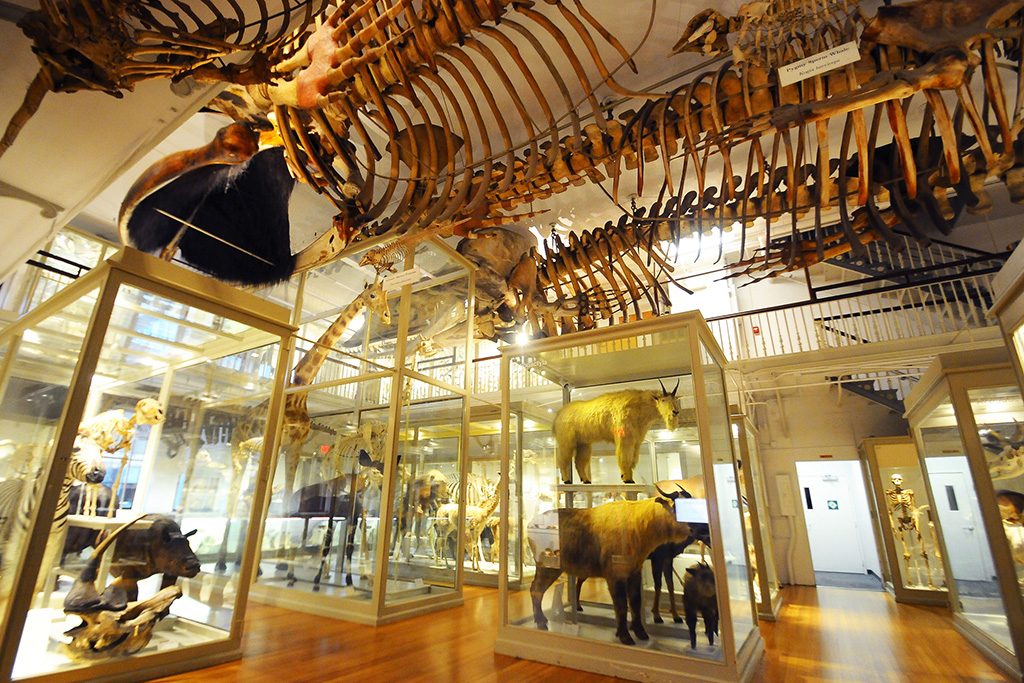 One can savor more conventional yet still science-forward, artful cuisine and cocktails daily at Le Laboratoire's adjacent two-year-old restaurant, Café Artscience (650 E. Kendall St. Tell: (857) 999-2193. www.cafeartscience.com). A bright, white space with milk tea wood floors and moss green banquettes, Edwards and his crack team (mixologist Todd Maul, chef Patrick Campbell, and pastry chef Renae Connolley ) whip up delectable lunch and dinner items, from cardamom-infused lattes to a grilled Spanish octopus and lamb cotechino to a Todd Collins with gin and candied violet.
The foodie options in Cambridge can easily fill up a week's worth of lunches and dinners. Perpetually clamored for, Craigie on Main (853 Main St. Tel: (617) 497-5511. www.craigieonmain.com) is a cozy nose-to-tail spot from James Beard Best Chef Northeast winner Tony Maws. Also on the cozy side, T.W. Food (377 Walden St., Cambridge. Tel: (617) 864-4745. www.twfoodrestaurant.com) traffics in contemporary French, Italian and fusion fare with several prix fixe options, including a $55 three-course dinner menu (you can see the daily-changing menu online).
Alden & Harlow (40 Brattle St. Tel: (617) 864-2100. aldenharlow.com) is a sprawling, rustic-modern farm to table spot beloved for its "secret burger," named such because of its patty's proprietary blend of Creek Stone beef cuts and sauce. However, it's the pickled corn pancakes at weekend brunch that truly demand your attention.
Yet one of the latest, most exclusive arrivals on Cambridge's food scene is The Table (2447 Massachusetts Ave. Tel: (617) 871-9468. www.cambridgetable.com) from Top Chef Season 13 contestant Carl Dooley and Season To Taste's Robert Harris. The inventive, $65 four-course prix fixe dinner menu sees exotic produce and nose-to-tail proteins (vegetarian options are also available) turned into bright fusion plates, while pastry chef Mary Edinger's desserts have been dubbed "ethereal" by the Boston Globe.
While one can certainly satiate their thirst for booze at Paradise or ZuZu, cocktail culture reigns supreme at Central Square speakeasy Brick & Mortar (567 Massachusetts Ave, Cambridge. Tel: (617) 491-0016. www.brickmortarltd.com). Featured on numerous "best of" lists, including Zagat's Hipster Dining Guide and 16 Must Try Cocktail Destinations, you'll find superb concoctions (from the menu or just request bartender's choice) DJ tunes and food, plus oodles of LGBT hipsters.
Loyal Nine is also worth an evening re-visit for its impressive range of cocktails (Hungry Like The Wolf, with bourbon, elderflower, ginger beer and Pimm's is delicious and full-bodied), local beer and ciders, and gay-friendly bartender Fred's hot tips for what's on locally.
After all the drinking, stay overnight at one of Cambridge's boutique properties. Built to evoke an historic New England residence, the six-year-old, 31-room antique-y-meets-Art-Deco style Hotel Veritas (1 Remington St., Cambridge. Tel: 617-520-5000. www.thehotelveritas.com) is situated smack dab in Cambridge's Harvard Square. To the northern side of the city, just bordering Somerville, is Porter Square Hotel (1924 Massachusetts Ave. Tel: (617) 499-3399. www.theportersquarehotel.com), a clean, modern 74-room property that opened in spring 2016.