While one-of-a-kind finds are discovered inside The Royal Palace Museum, museum junkies may love it for its aesthetics. The Lao and French beaux arts-style exterior of the 1904 building is tasteful and glamorous, just as the former resident King Sisavang Vong appointed. Inside, Pha Bang is the Mona Lisa of its treasures. The three-foot-tall, gold-alloy Buddha dates back to 1512, and it's said that the city was named after this artifact.
What makes the Luang Prabang experience truly spectacular is the laid-back pace of the streets. There are no hawkers, no mopeds, and no heavy pollution. It's virtually crime free and naturally exotic. Despite being a major city, it's still within the country-side. Farm animals like roosters run amok on winding roads, the vegetation is lush and dense, and there's no blingy storefronts vying for your attention. The main streets of Luang Prabang are simple to navigate and most visitors walk on foot or rent a bike for the day (through a hotel or several bike shops through the city). The main thoroughfare Sakkaline Road in the center of town is brimming with tour operators, money exchange, knick-knack and souvenir shops, cheap massage parlors, and plenty of cafes with outdoor seating. At night, vendors set up shop selling handicrafts and trinkets, while stalls open crepe and fresh juice stands for as little as 50 cents a glass.
Khem Kong, another popular road, runs along the Mekong River, the perfect avenue for biking and admiring the views. While most visitors take to the markets for shopping, a favorite boutique among travelers is Orange Tree Shop, where the owner has amassed unique and interesting antiques and collectibles from the past century, like retro alarm clocks and signage. Right along the river, several local families have set up alfresco restaurants serving Laotian cuisine that typically consist of larb (marinated meat and fish with herbs and spices) and papaya salad (which originated in Laos, not Thailand). Fish is freshly caught and fired up on BBQs while diners sit under a string of paper lanterns, and the riverfront setting is idyllic as manmade junkets ferry back and forth along the river. At sunset, locals and visitors alike grab a table at Riverside Restaurant, taking in the views and ordering international and local dishes, from pastas to fish steamed in coconut milk.
Luang Prabang is a destination where simply wandering the streets can bring you wonderful provisions. One of my favorite cafés was Le Cafe Van Bat Sene, a cozy hideaway serving Laotian coffee, tea, baked goods, and several local noodle dishes. With the outdoor seating, it's perfect for people watching. The most contemporary restaurant that's popular with travelers and ex-pats alike is Tamarind, a gourmet Lao restaurant with a colonial setting. The English-speaking waitstaff are well versed in the food served (Tamarind hosts the city's best cooking classes), which include highlights like lemongrass stuffed chicken and fish steamed in banana leaf.
Considering its serious connection with nature, a visit to Luang Prabang isn't complete without exploring the jungles. At Tat Kuang Si Rescue Center, the Free The Bear sanctuary, travelers can experience a wonderful tropical environment and wildlife. It's a 15-minute drive from town, and most visitors awe at the rescued bears roaming freely in the sanctuary that simulates a natural environment. Conveniently, the rescue center is en route to the Tad Kuang Si Waterfalls. A short trek through the rainforest, the calming waterfalls are a breathtaking, natural wonder known to leave travelers inspired and dazzled. The three-tier waterfall is translucent in color, and the roaring falls are calming and seductive. Stripping into my bathing suit, I didn't hesitate jumping into the turquoise pool as robed monks sat peacefully under the shade of trees along the bank.
Luang Prabang may not be chockfull of five-star hotels like Bangkok, Saigon, or Bali, but splurging travelers will be pleased to know luxury hotels do exist, and they are some of the region's most compelling. Opened in 2004, Belmond La Residence Phou Vao Luang Prabang is a five-star property just outside the center of town (the hotel's shuttel or complimentary bikes will get you there in less than 20 minutes). Being removed from the city is at the hotel's advantage. The 34-room resort is a quiet oasis with second-floor suites flaunting large private terraces and sprawling views that unfurl for miles. The lush grounds are fringed with tall palms and indigenous plants, the central infinity pool helps beat the heat, and the spa entices with jungle spa suites and a bevy of treatments that include Yves Rocher facials. Destination dining is unrivaled here; the signature Phou Savanh restaurant is considered one of the best in the city, serving innovative French cuisine with Laotian touches. To make memorable meals romantic, the hotel arranges a private table for two in their UNESCO Heritage garden, illuminated by 500 candles with the sound- track of live Lao music.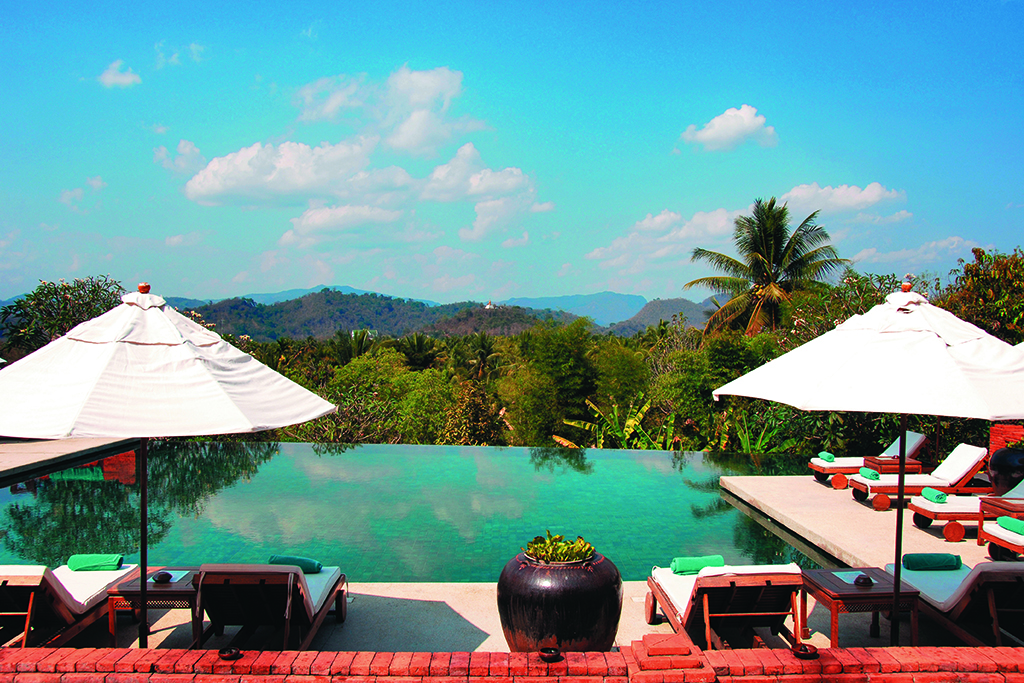 Closer in town, Amantaka is the crème de la crème of Luang Prabang resorts. With only 24 suites and villas, it feels like a private residence with a well-manicured courtyard, central pool, fitness center, yoga studio, spa, and colonial-inspired lounge bar that feels worlds away from the city. Many suites are equipped with their own private courtyard pools and spacious living areas, begging visitors to kick up their feet and order room service for days on end. Perks at Amantaka are endless: guests are whisked through airport customs by a hotel escort and feel VIP on arranged excursions (Amantaka was able to secure actual bear feeding at the sanctuary).
Budget-conscious travelers are also in luck. Plenty of terrific small hotels are easy on the wallet and big on comfort. Le Sen, a 19-room boutique, is quite contemporary for Luang Prabang. The urban oasis designed by young local Phouvilath Sengakhom features a central courtyard with a glimmering pool, and complimentary bikes are included in the rate.
Another great choice, My Dream Resort is the most fitting name for this rustic hideaway just a 15-minute bike ride from town. The moment you enter the bamboo archway, you're whisked into a retro-cool environment where rooms are illuminated by paper lanterns and the balconies look over lush gardens with coconut palms right on the banks of the river. The minimalist, eco-chic bed and break- fast includes airport transfers and bikes, and customer care makes visitors feel special here.
Regardless of which hotel you choose, one can feel extraordinary in Luang Prabang simply by observing the astounding views few eyes have seen, exploring off the beaten path waterfalls few feet have trekked, or experiencing centuries-old traditions like monk processions that only happen in remote parts of the world.
Considering Luang Prabang's wealth of authentic and exciting adventures that are still mass tourism free, there's really no other city like it in Southeast Asia. And if there's a time to visit the forgotten city, it's now, when the UNESCO City still has soul and is indispensably and authentically unique.