It seems like the entire precinct spends a relaxing afternoon sipping cocktails and eating from one of the many food stalls at Market on Main. The converted bonded warehouse from the 1900s retains its rustic feel, but the live music, bustling food stalls, diverse high-fashion clientele all showcase what modern-day Johannesburg is all about. Artists hang from fire escapes above the warehouse, while we enjoy local beers (brewed in Soweto) below and enjoy locally cured cheeses as families rush to catch the vendors before they close.
At night another diverse crowd fills the upstairs of The Orbit jazz club and bistro. Drinks flow to the beat of evening chatter and a piano getting tuned. The crowd reflects the area of Braamfontein, which has become another hip and arty epicenter of the city. We're also lucky enough to be sitting with a group of awesome men who comprise Johannesburg's gay rugby team. "We started off as a bunch of friends practicing rugby on the weekends. Rather informal and for a bit of fun," Teveshan K. Kuni from the Jozi Cats tells me. "Then we heard about the gay and inclusive rugby world and also wanted to play rugby (you know, not just practice all the time). So we knew that having most of the 'team' being gay and new to rugby, we'd need to start our own team, so we did," he says matter of factly over a beet salad. The concern for the team, though, was that rugby is something that most men pick up in high school, so they needed to have a safe space to practice and learn.
After the team was formed, the boys needed to recruit more players. The idea came to create a viral ad campaign that debunked stereotypes and tore down stereotypical walls regarding the LGBT community. A burly rugby player, who happens to be gay, is plastered with the word "Fairy." The campaign became a major success, receiving international press. "It went viral globally to over 140 countries and was seen by more than 350 million people worldwide. It was great to give us an identity. More importantly, players come and join us. As a club nothing is more important than players," Kuni says.
"It also helped reignite the conversation about the need to have LGBTQI* role models in traditionally straight-orientated environments like sport," says Chris Verrijdt.
Their sense of humor and good looks is enough to distract us from much of the awesome jazz concert on display and the tasty food, but it's even more welcome when they offer to take me out for the night. We head to Babylon. Located near Melrose Arch in a kind-of strip mall, next door to a Beefcakes (think male Hooters with a drag show), Babylon is the go-to spot for gay-specific nightlife. A flirty crowd spills out from the bar area, and, in the back, a dance floor heats up well after midnight. We learn that lots of the LGBT nightlife actually takes place in the suburb of Pretoria (where there is another Babylon location).
The next morning, I grab a friend and an Uber to check out another hotspot neighborhood called Melville. (You'll quickly learn that the exchange rate makes for dirt-cheap Uber rides, we never spent more than seven dollars.) Once considered the bohemian center of Johannesburg, Melville has fallen on some hard economic times since the recession, but businesses are rebounding. One project that is finding life after a poor economy is 27 Boxes. An indoor/outdoor shopping center created by uniquely configuring 20-foot shipping containers has brought in all sorts of independent businesses.
I enter souvenir heaven, HardCopy Books, which has an insane collection of used books, including a decently sized LGBT section; The Strong One has made-in-South Africa goods including kitschy T-shirts; and Love Jozi uses local artists to come up with one-of-a-kind T-shirts and bags. On Wednesdays, we're told another food hall opens on the top floor, bringing in the surrounding community and people from all over the Johannesburg to experience this clever shopping destination.
The main drag through Melville also has some unique shopping and dining opportunities along Maine Road. I like the eccentric collection of books and tchotchkes found in Outer Limits, and get lost in a number of nameless stores that have "antiques" cascading out onto the street. One shop is a converted house where visitors literally are wondering from room to room. "Are you sure we can go in here?" I ask my friend, as we flip through South African porn magazines on a washing machine. We grab a juice at Café de la Creme, and chitchat with the ladies of Melville, who give us the scoop on the changing neighborhood and the excitement over the opening of the country's first Starbucks.
We hop on a late-afternoon bus to the UNESCO World Heritage Site called The Cradle of Humankind. We first enter a beautiful visitors' center built in 2005 that houses interactive exhibits, a ride, restaurant, and sets the stage for the actual reason that this is one of the most important places on planet earth. Below the ground is an intricate series of caves in which hundreds of fossils embedded in the limestone have been discovered. Of those, the oldest known relative to humans was discovered. It is still an active paleoanthropological site, and visitors are lucky enough to descend into just one of the caves to see where the 2.3-million-year-old fossil Australopithecus africanus (nicknamed Mrs. Ples) was discovered. Before entering the cave, you're exposed to a beautifully done exhibit on evolution and then told to put on a hairnet so you don't sully any findings.
The easy descent is disorienting. At one point our guide shuts off all the lights, and you're left completely in the dark. He tells us about people who have fallen into the cave system from above and went missing until their bodies were found (this could also be the reason why so many fossils have been found thousands of years ago). The sheer darkness is enough to cause panic and empathy for those who have died, and his stories give me new anxieties about running across any fields.
Before I leave on the 16-hour flight back home to New York, I head to Soweto to visit the Nelson Mandela House. It's modest in size and crammed with accolades and recognitions from around the world. From outside, I can see a bullet hole in the house's walls and scorch marks from Molotov cocktails lobbed at the residence. The house at 8115 Orlando West was where Mandela lived before he was sent to prison, and only his home for 11 days afterward.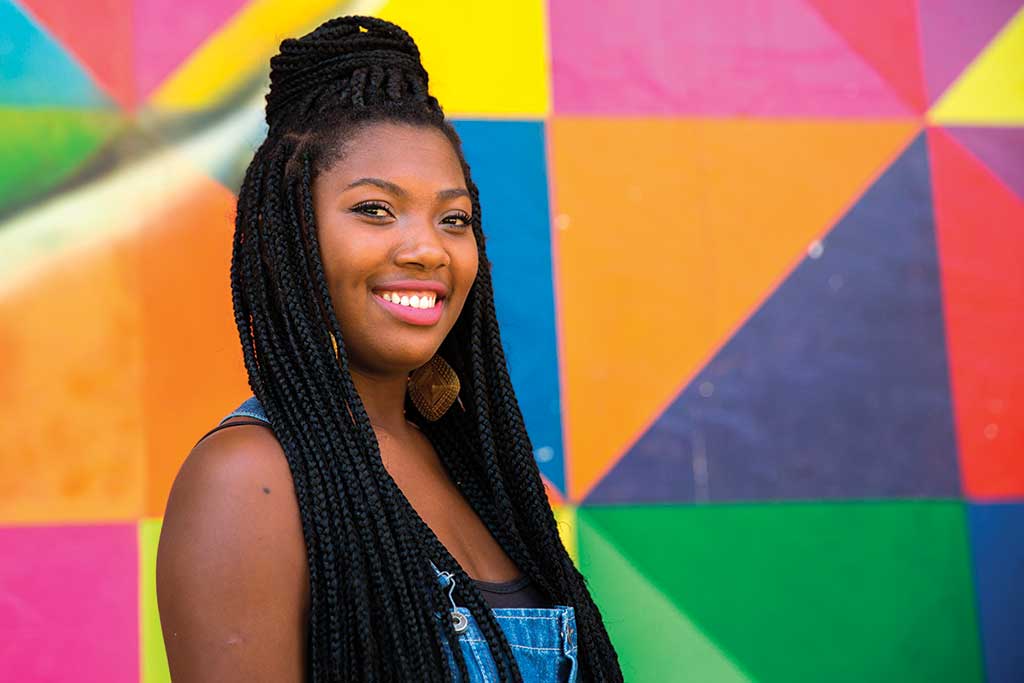 As I stand here, I'm mentally transported back to Cape Town, which I visited on a previous trip to South Africa. In a tiny courtyard on Robben Island, 780 miles from Johannesburg, there was a small tree growing, one of the few signs of life in the prison. I brushed my hand against the stone wall, I stood on my tiptoes to peer into a window. Through the glass, I saw past the jail cell that once held Nelson Mandela as a crowd snapped pictures of this place that contained so much sorrow. "This is an island, here you will die," I thought of Mandela hearing this when he first came to the island where he ultimately spent 18 years in this cell, surrounded by walls, cut off from the world, and confined to nothing except the view from his window where my head peeped through.
As I wait by the entrance of his home in Johannesburg, touching the concrete wall surrounding the Mandela House, I think of Mandela and how he must have felt when he was first released from prison. Sensing the winds of change shifting, envisioning an end to apartheid, and the tearing down of social and physical walls that would lead to a united South Africa.
Walls may not be physically coming down as fast as they should, but slowly wounds are healing, black communities are building, and people across the country are seeing and working toward what South Africa can be and will become.