ISRAEL

(Side Dish)

When do we have them? Chanukah.

Potato Latkes are potato pancakes traditionally served with sour cream and applesauce. Like all the best recipes, every family is likely to make a variation of their own.
INGREDIENTS
4-5 large potatoes
1-2 onions
3 eggs
salt and pepper to taste
2 tsp baking powder
1/2 tsp baking soda
3-4 tbsp all-purpose flour
vegetable oil for frying
1) Peel and shred potatoes.
2) Place potatoes in a sieve over a sink to press out excess moisture.
3) Place the potatoes in a bowl along with the remaining ingredients and mix thoroughly.
4.) Heat oil in a large, cast iron frying pan.
5) Working in batches, drop heaping spoonfuls
of the mixture into the oil.
6) Fry until golden brown. Brown both sides
by turning over once.
7) Drain on paper towels.
8) Serve with homemade applesauce and sour cream.
NORWAY

(Beverage)

When do we have it? All winter.

Jule Glogg is a warmed mulled wine with the additional kick of aquavit, or sometimes easier-to-find vodka. Some version of glogg is enjoyed throughout Scandinavia.
INGREDIENTS
750 milliliter bottle (3 1/4 cups) dry red wine
1/2 cup raisins
1/2 cup packed brown sugar
1/2 cup aquavit or vodka
1 broken 6 inch cinnamon stick
12 whole cloves
1/4 tspn cardamom seed
1/3 cup blanched whole almonds
1 orange, sliced
8 additional 6 inch cinnamon sticks for garnish
1) Tie spices in a bundled bag with cheese cloth.
2) In a large pan, stir together all ingredients except for almonds, orange, and whole cinnamon sticks.
3) Bring to a boil. Reduce heat and simmer, uncovered, for 20 minutes, stirring occasionally.
4) Remove from heat. Remove bundled spices.
5) Stir in almonds.
6) Garnish individual mugs with orange slices or bits of orange peel and a cinnamon stick.
GERMANY

(Cookies)

When do we have them? Christmas.

Anisplätzchen (Aniseed Cookies) are a holiday treat favored more by adults who love the licorice scent of anise more than kids who are just looking for sweet flavors.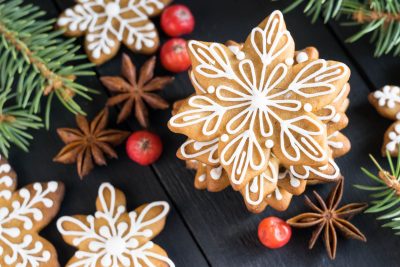 INGREDIENTS
4 eggs
1 cup, plus 4 tsp sugar
3/4 cup, plus 2 tbsp flour
3-1/2 tbsp cornstarch
1/4 tsp baking powder
1or 2 tbsp finely ground aniseed
1) Beat eggs until foamy.
2) Add the sugar by the tablespoon.
3) Sift together flour, cornstarch, and baking powder, and sprinkle over the egg mixture.
4) Fold together, adding aniseed at the end.
5) Form balls with a teaspoon and drop on a baking sheet lined with parchment.
6) Let stand for one hour to dry.
7) Bake lightly for 12-15 minutes in at 350 degrees.