THE OLD WINDMILL DAIRY
Cheese has done wonders for Michael Lobaugh's health. "When I was planning to leave my job as a hotel manager to start this business," says Lobaugh of New Mexico's Old Windmill Dairy, "I knew that I wasn't going to have insurance for a while. So I made sure to go to my doctor while I was still covered to catch up on everything: blood pressure and cholesterol tests, filling prescription for Zoloft and Ambien."
"A year later, I had another appointment. I hadn't been taking any meds, and the doctor said to me, 'What's going on here? Your numbers are looking great.'"
"What was going on was a total lifestyle change," says Michael, who was establishing himself and his husband Ed Lobaugh (who has continued to work as a psychiatric nurse practitioner) as artisan cheesemakers.
"After 9/11, the travel industry was going through a lot of changes, and I knew it was time for a change," says Lobaugh. "I also wanted to stop working in an office environment all day long. We live in such a magnificent landscape."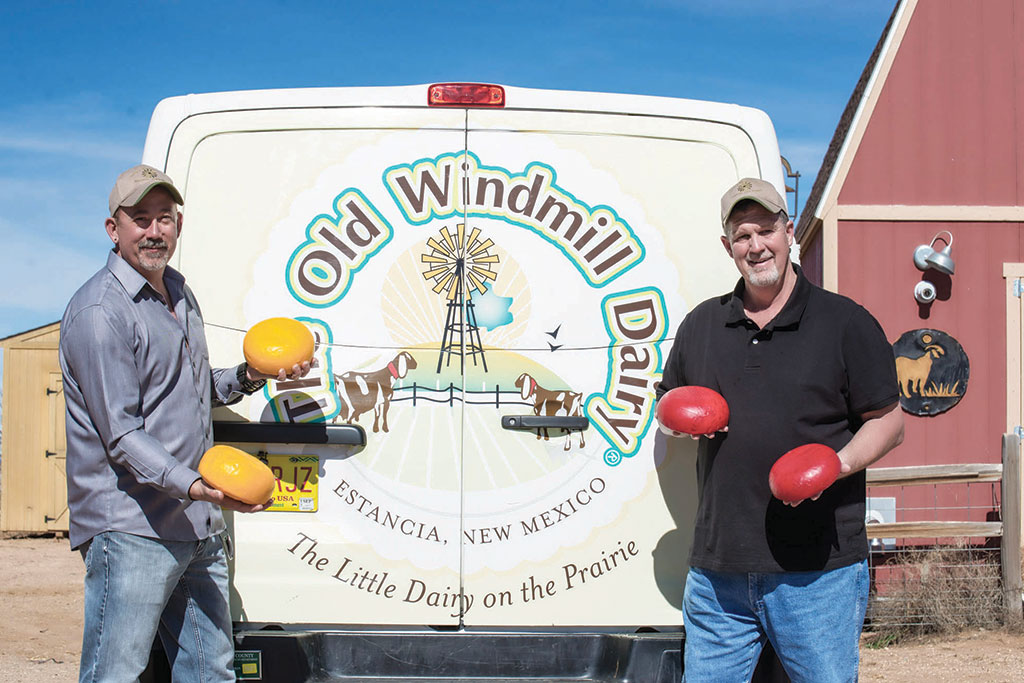 "It was actually an easy decision for me. I was never afraid of doing it," he recalls. The Lobaughs, who first met in Long Beach, California, have lived in the Albuquerque area for over two decades. When they set their minds to a career change, familiarity and fond memories led to goats (Ed had grown up with a small herd on his grandparents' farm in 29 Palms California).
"I had never made cheese before in my life," recalls Michael. "We basically figured out how to do it through trial and error and lots of advice from other cheesemakers."
"Trying to find funding for a start-up dairy is pretty much impossible. I had no collateral. Most of the money came from my 401K, which I cashed out to invest in the business."
Bringing his dream to life didn't come quickly, Ed recalls. The couple bought their rural property in 2002 and spent five years studying cheesemaking, building a small herd of goats, and assembling processing facilities that met federal regulations.
It was a full five years later, in 2007, that the first Old Windmill Dairy cheeses came to market and yet another seven years, and $500,000 of investment, until the business first turned a profit, in 2014.
"The margins are very small," says Ed, "It's a cash-flow operation. When we're fully operational and milking twice daily between March through October, it's seven days a week, 4:30 A.M. to 9 P.M. job."
"In the time we've been open, I know another guy who opened a dairy and shut it down to go back to a desk job. There's just more money working in an office.
But for Ed, the dairy remains a lactic labor of love. "Of course there are challenges in starting up a small business," he says, "but they cause a different sort of stress than I was feeling in the corporate world. It's my own stress, not stress that I'm taking on from other people. Running the dairy has made a positive impact on me on so many levels."
One of those levels is a sense of close connection with the local community. The vast majority of the 1,800 pounds a week of fresh goat cheese and semi-soft cow and goat varieties the Lobaughs sell never leaves the state of New Mexico.
"We sell direct to restaurants and hotels in Santa Fe and Albuquerque, gourmet shops around the state, local food co-ops, Whole Foods stores, and farmers' markets," says Ed. The internationally acclaimed Santa Fe Opera is a regular client, as is the Four Seasons Rancho Encantado Resort in Santa Fe.
"One of the things I've learned through the dairy is that we really have quite a sophisticated community here in New Mexico. Between tourism and the national labs and military bases, there are people visit- ing or living here who have traveled all over the world and have very
sophisticated palates. People are willing to pay $9 for a soft goat cheese of ours at a specialty shop when they could buy a less-expensive version for $6 at their supermarket. People really care that it's fresher and that it's being made locally."
"I didn't think there would be much demand for something like our truffle brie, but we did a short run of it as an experiment for the six farmers' markets we go to each week and now it's a regular item."
The Lobaughs also feel like New Mexico's quiet worldliness has made their sexuality a non-issue. "I just haven't seen it be an obstacle in any way," says Michael.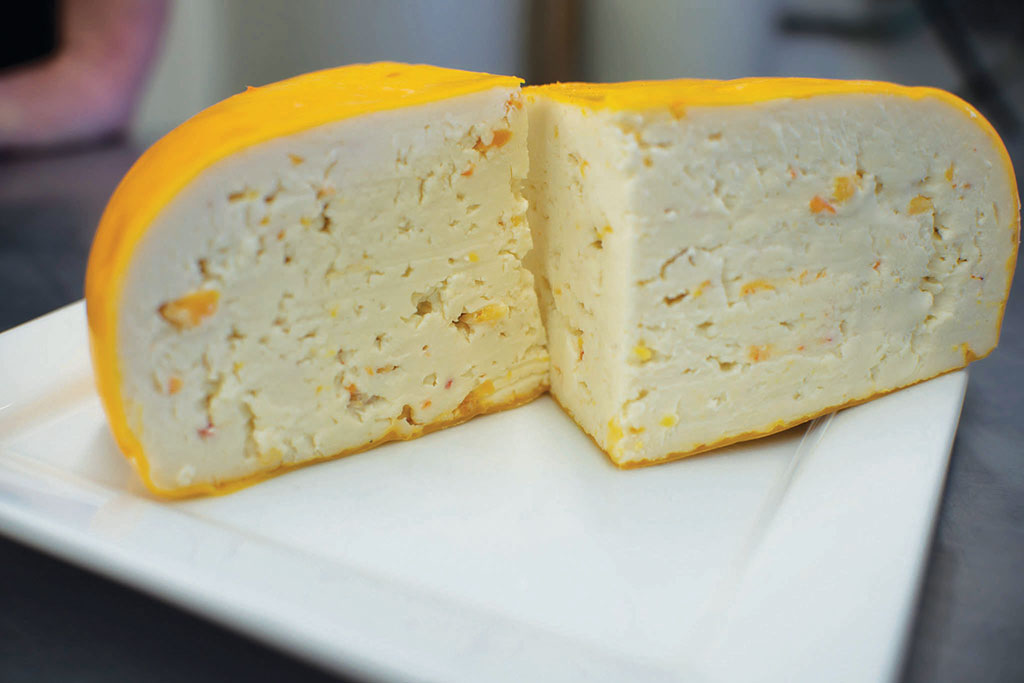 The Lobaughs further engage with the local community, and adventurous travelers, with a lively roster of activities for visitors on the grounds of the dairy.
"We're able to subsidize the farm and to educate people by developing programs as extra sources of revenue. We offer two-day cheese- making workshops, cheese cooking classes, and family events where kids can get up close to the animals."
Plan A Visit
The Old Windmill Dairy (52 Paso Ranch Rd., Estancia, NM, Tel: 585-384-0333. www.theoldwindmilldairy.com) is located in central New Mexico, amid the spectacular desert landscapes and old mining towns of the 65-mile Turquoise Trail National Scenic Byway (www.turquoisetrail.org).
It's about an hour from both Albuquerque, where fans of Breaking Bad can now take a tour of filming locations, and Santa Fe, where visitors can tipple along the 31-stop Margarita Trail.
Road trippers will also delight in the proximity of old U.S. Route 66 (www.rt66nm.org), with its historic sites, vintage signage, and old-time f illing stations and motels.
Try It At Home
The Lobaughs accept online orders for gift collections of their most popular creations, including spreadable goat cheeses blended with local New Mexico chilis; award-winning Manzano Blue Moon, rich in blue cheese flavor but with a pure white interior; and McIntosh, which evokes a cross between cheddar and manchego.