Beyond Chihuly Garden and Glass, Seattle is a below-the-radar incubator for the creative community, including several funky hotel properties that celebrate the city's unique perspective on the arts. Hotel Max, located in the heart of downtown, opened in 1926 as the Vance Hotel in the style of Beaux Arts Classical Eclecticism. Reimagined as the Hotel Max, it's now a celebration of music, art, and pop culture. Art is integrated throughout the property, including Warhol's famous "Campbell's Soup Can I – Vegetable" in the lobby, while each floor is dedicated to the work of a Seattle photographer. Be sure to request a fifth-floor room, devoted to Sub Pop Records, a local indie record label, where guests can spin a curated collection of vinyl records on Crosley record players.
One of the city's newest properties, Hotel Theodore pays tribute to Seattle's makers and doers, partnering with the Museum of History & Industry to display custom-built cases highlighting the innovations from industry leaders including IBM, Amazon, Eddie Bauer, and more. And since the city is known for its misty weather, those staying in one of the 14 plush suites can borrow a Freeman rain jacket designed and manufactured on nearby Capitol Hill.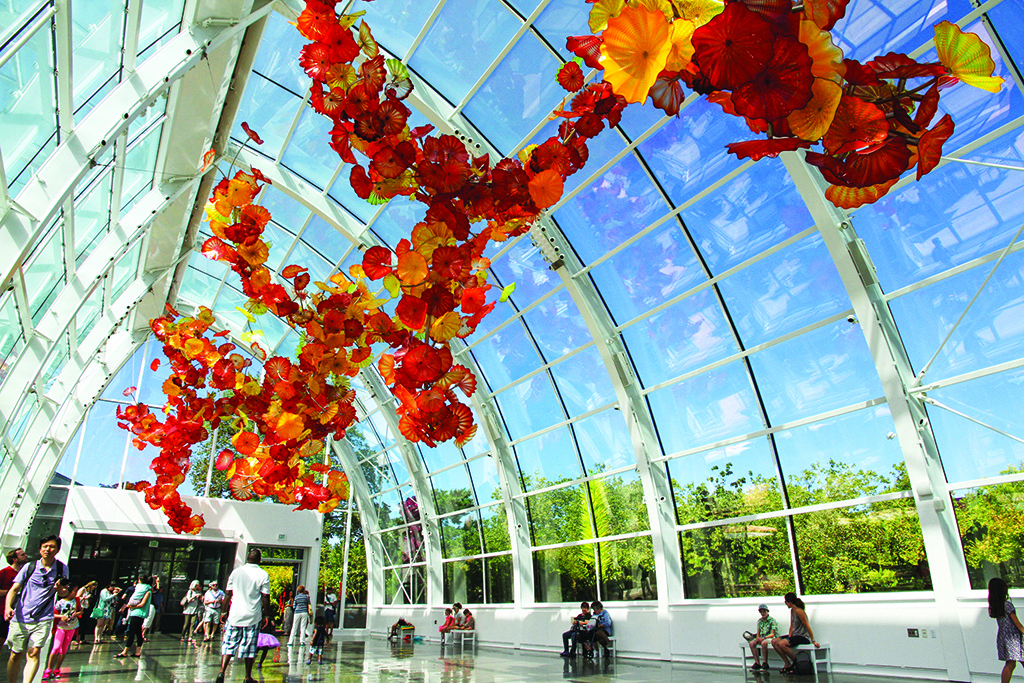 Seattle's dining scene, like its references to art and culture, draws from the classic, while also offering refreshing interpretations for the modern palate. Leading the way are two chefs that are part of the LGBTQ community. James Beard Award-winning chef/owner Maria Hines has been garnering accolades for more than a decade for her commitment to organic cuisine and sustainable dining. Tilth, her hyper-seasonal restaurant located in a craftsmanstyle house, bursts with flavor, from the red wheat sourdough bread with cultured butter to the cashew cheesecake at meal's end. Menus evolve with the season, with plenty of creative dishes for those who want to delve into a grand tasting (vegetarian, vegan, and gluten-free options are available). Hines and her team are also deeply committed to issues ranging from GMO labeling and food equality to the PPC Farmland Trust to ensure productive and responsible farming for generations to come.
For a fiery, Sichuan-inspired meal, look no further than chef/owner Jerry Traunfeld's Lionhead. Using the Sichuan peppercorn as a culinary launching pad, Traunfeld incorporates fermented tofu, black vinegar, sour pickles, aged bean paste, and other indigenous ingredients for a tonguetingling array of dishes. Menu highlights include Man and Husband cold beef slices with chili oil and peanuts, Yu Xiang eggplant fries, and an impressive collection of baijiu (a high-alcohol spirit typically distilled from sorghum).
NewYork City may be more than 2,800 miles away, but Seattle's Broadway offers its own unique brand of entertainment. For a final flourish to a culture-rich Emerald City getaway, Le Faux at Julia's on Broadway offers sparkly drag entertainment that has drawn national attention, such as RuPaul's Drag Race alums Robbie Turner and BenDeLaCreme. Ongoing events include the burlesque Magnifique, celebrity impersonations, and weekend drag brunch.