"We're still at the educational and awareness stage," explained Fumino Sugiyama, the co-Director of Tokyo Rainbow Pride. We met with Fumino at a Thai-fusion restaurant he owns called Irodori. The entrance was on a quiet alley, marked clearly by a rainbow flag and a whiff of peanut sauce. We said hello to the chef behind the counter, and walked up the stairs to the second floor. Fumino calls the second floor of the restaurant the Colorful Station. It's used as an open LGBT community center, and regularly hosts LGBT parties."
We have a culture of consensus and conformity," Fumino explained. "Everyone has to agree before we take the next step, but when the next step gets taken…" He smiled, as if reassuring me that they were on the right track.
We also spoke with Gon Matsunaka, the founder of the LGBT nonprofit Good Aging Yells and creator of "Out in Japan," an LGBT photo project aimed at "shining the spotlight on sexual minorities in Japan" and in supporting folks in the coming out process. "People in Tokyo just aren't interested in other people," Gon quipped, "so it's very easy to live here as LGBT." In this way, Tokyo is the gay introvert's paradise. A culture of politeness permeates the whole city, creating extra layers of privacy. Strangers won't ask you questions that inevitably force you to out yourself. Gon added that "most people in Tokyo don't think that politics is cool. People don't really talk about politics or religion." As I thought about it, nobody had yet asked us a single question about Donald Trump. "Should we talk about Trump then?" I asked. Gon chuckled and quickly transitioned topics.
When Cassidy and I began to seek out male geishas in Tokyo, we had simply hoped to discover a new aesthetic for our RuPaul-watching audiences. We found it. The geisha aesthetic is not just a hackneyed trope, it's infinitely more sophisticated and complex than some of our best homegrown drag in the US, but beyond this, I was also amazed by what I learned about the history of male geishas, and how their roles are honored today in Japanese society by the conservative elite.
We had the incredible opportunity to interview and photograph Shintaro aka "Mama-San" at her exclusive lounge in the old-money neighborhood of Ginza. Salon de Shintaro is tucked behind a wall of live orchids (side note: amazing selfie spot). Salon de Shintaro is a regal lounge with sensual, dark-red walls and young male waiters with slicked hair. A posse of female geishas in kimonos followed Shintaro's lead to entertain us. "We make sure that everyone is having a good time," Shintaro promised. At first, we thought that meant that they would sing or dance for us. But with an entrance fee of $135 for men and $90 for women, the entertainment we found was much more erudite. The art that Shintaro and her team have perfected is the art of conversation.
At such a highbrow establishment, the typical guests at Salon de Shintaro are businessmen and politicians. It surprised me that this wealthy, presumably conservative, clientele would support an establishment led by male-to-female persons. Shintaro explained that, with the long history of male geishas, what she is doing at Salon de Shintaro is "keeping the old geisha tradition alive." To do so, "sex and gender do not really matter, so people don't necessarily think of this as an LGBT place."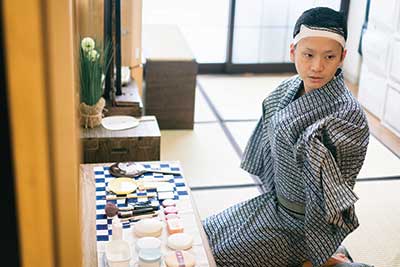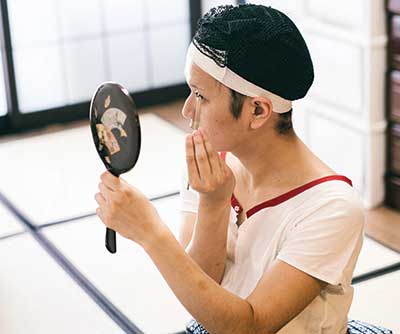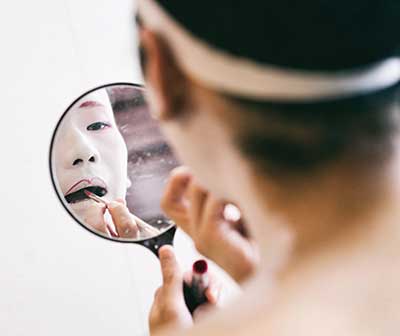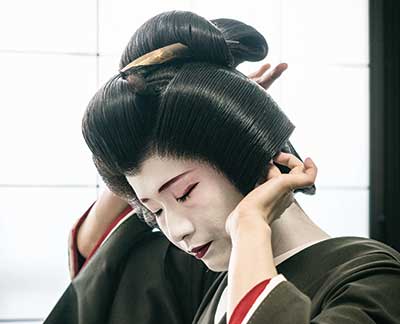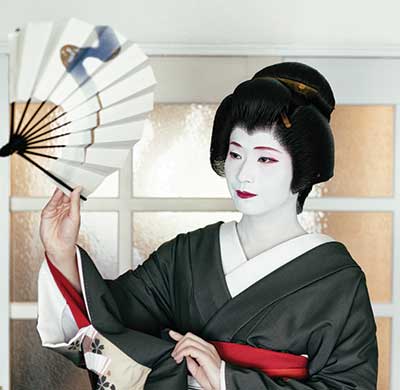 According to Shintaro, the first geishas were actually male. "Women were not allowed on the battlefield," Shintaro explained, "so shoguns brought young beautiful boys with them for entertainment." Before WWII, which some use as a marker of the end of Japan's "warrior culture," geishas were assumed to be male. Geishas that were female had a special name, they were called female geishas.
One descendent of a long line of geishas is the male geisha Eitaro. Eitaro is the only male-bodied geisha in Tokyo who is part of a formal okiya—think of a Paris is Burning house, but with hundreds of years of lineage and deeply respected by society.
We drove half an hour to Eitaro's home in a southern, residential neighborhood of Tokyo. He began to tell us more about the history of the art of geisha while demonstrating first-hand how he transforms into character. While applying a bright-white cover, the same make-up used by traditional kabuki performers, Eitaro told us about his childhood. "I began training to be a geisha when I was ten," he reminisced. "My mother was a geisha in an okiya and began sharing knowledge with me at a young age. When I turned 22, she passed away, and I inherited my mother's geisha lineage and brand." Since then, Eitaro has held the torch of the Matsunoya.
As Eitaro began applying eye make-up, now adding touches of pink, I began to ask about how he was accepted as a male-bodied geisha. "When some clients learn that I am male, they turn me away," he told us. "But I don't experience any hate. In the past sometimes people would tell me I was disgusting, but I don't experience that anymore."
"Would you want to pass the tradition to your son?" I asked, hypothetically. "Absolutely," he responded. "But I would leave it up to him to decide what he wants to accomplish with his life."
On our last two nights in Tokyo, we stayed at HOSHINOYA Tokyo and found every excuse possible not to leave its premises. When we entered, three staff members bowed and greeted us in unison. They took our shoes at the entrance and placed them in stacked boxes of woven bamboo crates. Then, they gave us our key pouch (the key is a card, inside a wooden box, inside a silk pouch) and walked us to our rooms. Opened July 2016, HOSHINOYA Tokyo is a modern take of the ryokan, tatami-matted inns, whose traditions begin as far back as the eighth century. While most ryokans are in the countryside, where they have more space to spread out horizontally, in Tokyo, there's only space to build up. Every guestroom on all 14 floors is a suite. Each floor has a common lounge area where hotel staff is on hand to serve you snacks and tea.
Where I spent the most time was on the rooftop, which has been transformed into an amazing saltwater hot spring. Supplied by ancient ocean water pumped up from beneath the hotel, this is one special onsen. High walls block out sound and light, transporting you from the busy financial district to remote oasis. Late one night, when jet lag hit, I went up and watched the faint stars above, reveling in my solitude.
Somehow, Cassidy did convince me to leave the HOSHINOYA a few times, though we always made it back for complementary sake tastings. Of the various outings we made while staying here, I was most surprised by and pleased with our beer tasting at YONA YONA BEER WORKS. On the second floor of a shopping complex, with flowers in full bloom on the outdoor walkway, there was a simple and elegant style to this craft beer bar and restaurant. While the handsome bartender poured us different beers, I told him about the associations I had with beer: sticky British pubs and American college parties. He laughed, explaining some of the negative associations that Japanese people have had with beer: "Younger people aren't drinking beer because it has a bad reputation. In Japan, we often have business dinners, where you are pressured to drink a lot of beer. Young people now associate beer with their bosses! We want to change that." Nearly 99% of all beer sold in Japan is produced by four breweries: Asahi, Kirin, Sapporo, and Suntory. Yoho Brewing, which supplies beers to YONA YONA BEER WORKS, brews craft beers that they hope will appeal to younger, more playful audiences.
Another stand out was the Ken Nakahashi Gallery. Ken, an exbanker, opened this gallery out of passion for artwork and often curates exhibitions that touch upon themes of masculinity and sexuality. When I first walked into his gallery, I thought, "Oh, is this it?" Like the gay bars in Shinjuku, this gallery was tiny. "It was a studio apartment when I found it," Ken admitted. "I gutted and turned it into a gallery space in 2014." Soft-spoken and humble, it becomes quickly apparent that Ken has created a vast network of artists in east Asia (including several prior collaborations with the Chinese photographer, Ren Hang) that allow him to curate exhibitions that are particularly interesting to gay audiences. As I looked more closely at the "Tarot" exhibition on display, I saw that they were all sketches of a young cartoonized Macaulay Culkin, prancing through fields and playing with butterflies. The artist Ebihara had taken the motifs and postures of the 22 tarot cards, and used them as individual symbols from which to tell a full narrative of loneliness and ephemeral beauty.
Back at the HOSHINOYA, we celebrated the end of a wonderful week with an exquisite dinner. As if we were heading to the dining room of the Titanic, we took our time to put on our yukatas (thin cotton kimonos provided by the hotel) and walked downstairs to the exclusive 10–table restaurant. Two hotel staff members who we had come to know by name greeted us, and walked us zig-zag around jagged boulders on the floor. Walls were textured to look like sediment, giving the feel of being in the cracks of a canyon. Before the meal, we met with Executive Chef Noriyuki Hamada, a young, suave, and philosophical guy with hair on fleek. A self-taught French chef, he won the Bocuse d'Or bronze medal in Lyon in 2013.
"How do you see the French and Japanese cuisines working together in your kitchen?" I asked. "If I taste the ingredient and it has enough standalone flavor, I use the Japanese technique. If not, or if I think it will create new complex flavors if I mix it with other ingredients, I use French techniques," he said.
The waitress greeted us with a glass of Champagne and a "menu." It laid out the chapters of our upcoming three-hour affair, with lofty titles such as "Encounter" and "Out of the Blue." Hamada's nouvelle ryokan cuisine led me to relive the emotions of my past week in Tokyo, sparking curiosities and arousing reflection.
As Cassidy and I reflected on our time in Tokyo, I thought back to my last trip here. Running through the city then for the Tokyo Marathon, I only caught glimpses of the city's diversity and vibrancy. Tokyo, I learned from this trip, is the heart of Japan's growing LGBT rights movement and gay nightlife. Particularly as the city gears up to host the 2020 Summer Olympics, new relationships are being constructed between East and West, gay and straight, old and new. These new dynamics are exciting, and the energy is palpable.