CHRISTINE MANFIELD RECIPES
curry leaf fish salad (Serves 4)
10 ounces white fish (sea bass or snapper) fillets, skin removed and fish cut into 3/4-inch thick slices
1 tbsp vegetable oil
1 tsp ground turmeric
1 tsp sea salt
½ tsp freshly ground black pepper
1 small cucumber, peeled and shaved into fine ribbons using a vegetable peeler
½ small green mango, sliced and shredded into thin strips
1 stalk celery, finely sliced
½ red onion, finely sliced
½ avocado, diced
8 green beans, sliced and blanched
3/4 cup puffed rice
½ cup picked cilantro leaves
2 tbsp young celery leaves – taken from center of bunch
1 tbsp shredded mint leaves
1 cup watercress sprigs
4 tbsp fried curry leaves
curry dressing
2 tablespoons lime juice
1 tablespoon coconut vinegar
1 tablespoon fish sauce
1 tablespoon sugar syrup (equal parts of sugar and water brought to a boil to melt sugar and cooled)
1 garlic clove, minced
1 tsp ground ginger
2 tsp mild curry powder
2 tsp Christine Manfield Chilli Jam, or Thai chilli jam (nam plik)
½ tsp freshly ground black pepper
3/4 cup sunflower oil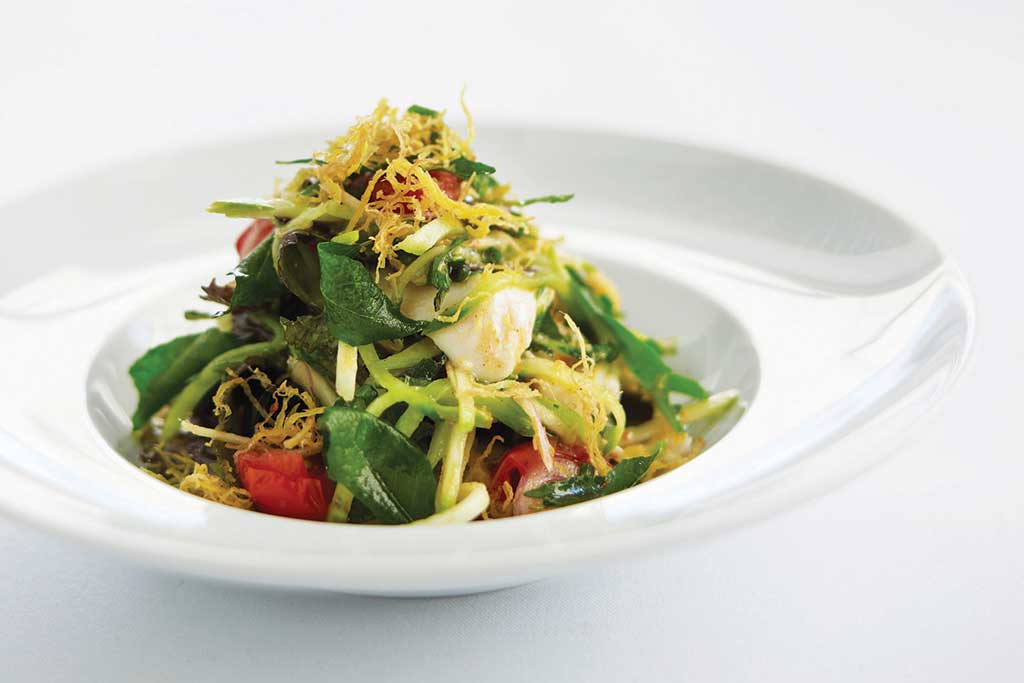 To make the curry dressing, put all ingredients in a bowl and mix with immersion blender until emulsified.
Taste and adjust seasoning and balance if necessary.
To cook the fish, mix the turmeric, salt and pepper into the oil then rub over the fish to season.
Lay fish fillets on flat baking tray and cook under hot grill for 4-5 minutes, or until fish is just cooked.
Remove from heat and allow to cool for few minutes while you prepare the salad.
Mix the salad ingredients and puffed rice together in bowl then flake the fish into small pieces and add to the salad greens. Add enough dressing to moisten and toss to combine.
Arrange salad onto plates, scatter a few fried curry leaves over the top and serve.