DAY 4
The Pacific Coast Highway is most famous for its twists and turns, with a mountain backdrop on one side and the untamed Pacific Ocean on the other. For decades this part of the coastal road has attracted movie stars, thrill seekers, New Age types, road trippers, off-the-grid folks, hippies, and many others. We will end this long day reinvigorating our minds and bodies with a 2 A.M. geothermal hot spring soak under a star-filled sky, but we have to get there first.
Before dawn, I awake to tramp the Moonstone Trail, a misty coastal path made of wooden planks that follows the coastline for several miles. I let Zac sleep, but not for too long; stop number one is high on both our bucket lists.
The gatekeepers to Hearst Castle (the hilltop mansion built over the course of many decades by newspaper magnate William Randolph Hearst) are arguably the barking seals at the Piedras Blancas Elephant Seal Rookery who dominate the miniature town of San Simeon and have become a celebrated attraction along the coastal road. Spending a few minutes watching these sea creatures heave their slick and oily bodies around on the sand is a must do either before or after a visit to storybook Hearst Castle.
At the castle we're paired with gay docent Eric, a feisty tour guide who lavishes our ears with tall tales of Hearst and his neverending parade of celebrity guests from the Golden Age of Hollywood as he whisks us through grand dining halls, gilded guest cottages, lavish sleeping quarters, and perfectly manicured grounds. It all pales in comparison to a landscape filled with panoramic ocean views, sun-parched hillsides, and protected forests that no smartphone can adequately capture.
Back in the car, we take the windy road to Big Sur and visit many PCH highlights along the way. These include the quirky Henry Miller Library (devoted to the iconic author who spent much of his late life in the region); toast booze-infused cider at Nepenthe (a former home turned restaurant that was originally a gift from Orson Welles to Rita Hayworth); and a simple hike to McWay Falls, an 80-foot waterfall that flows into Julia Pfeiffer Burns State Park. All day long, the top to our car is down, the sun shines generously, and the vainglorious coastline preens endlessly. This is living.
The dashing Glen Oaks is our lodging for the night. Affordable by Big Sur standards, the hotel is a motor lodge of sorts consisting of cottages and conjoined rooms scattered throughout the woods. Guests are encouraged to walk the forested grounds, enjoy complimentary morning coffee and donuts at the Big Sur Roadhouse, and chatter with fellow guests around the communal fire pit. We meet an older Canadian couple and two young honeymooners from Sacramento. It is late October and unspoken anticipation of the presidential election is on our minds. A cautiously optimistic, but ultimately doomed confidence prevails.
The Esalen Institute is a decades-old spiritual retreat and sanctuary tucked away along the craggy coast. Its reputation is legendary, although to the masses it's most recognizable as the place where Don Draper flirts with self-actualization in the final episode of Mad Men. Out of reach to road trippers like ourselves, it nevertheless offers an irresistible budget treat. Esalen is home to one of several geothermal hot springs in the region and between 1 A.M. and 3 A.M. nightly about 30 lucky travelers can spend time bathing in them in near pitch black surroundings. After cracker-thin pizzas and red wine at the magnficent Big Sur Bakery, we prep for the journey.
Here's what you should know: Make a reservation well in advance at the Esalen website. Arrive about 20 minutes prior to the 1 A.M. reservation time and be prepared to wait outside the gates with a group of openminded but equally anticipatory strangers. You will be led by flashlight down to the baths which are coed and clothing optional. One set of baths forbid talking while the other allows hushed conversation. The only sensory cues are whispers and the sound of crashing waves. As I slide into the tubs all the way up to my neck, peel off my swimsuit, and shut my eyes, I realized we're all being watched. That's because above us are thousands of stars most of us haven't ever seen before. An elusive calm takes over; this is a trip highlight.
DAY 5
It is hard to believe our journey is already reaching its end, but today will be our last full one on the road. It is also the day when the sun will take a hiatus. We can only shrug our shoulders. Although its absence will prove detrimental to tomorrow's finish line sprint, the state is so desperate for water than any rainfall is reason for applause.
As we speed toward the Monterey Peninsula this morning, I can feel my medial temporal lobe (the part of the brain that controls memory) being tapped. When I was 12, our family took a vacation to San Francisco and the Monterey Peninsula, and I still remember walking ridiculously kitschy Cannery Row, admiring the fairytale cottages in ritzy Carmel, and motoring the 17-Mile Drive in Pebble Beach. The year was 1986 and I clearly remember my parents telling me not to eat any free samples in San Francisco as this was where AIDS was happening. Ignorance got the best of so many of us in those days.
Zac and I follow similar footsteps around the peninsula on this misty afternoon, but our version also includes giant bread bowls full of New England clam chowder at no-frills Vivolo's Chowder House that are hostile to our waistlines but that our hungry stomachs swear is the best thing we've ever eaten. It also happens to be the beginning of migration season for the monarch butterfly and at the Monarch Butterfly Sanctuary, where they flock to each fall, we see hundreds (although not as many as have been present in year's past we're told).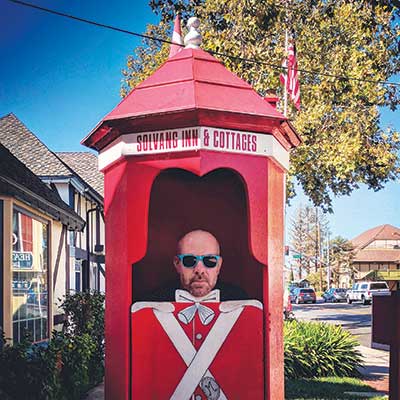 Our lodging for the evening is a geodesic mushroom dome nestled within densely forested woods just outside Santa Cruz and located on a working perma farm that is home to goats, cats, dogs, and hummingbirds. At one time, it had the distinction of being the most booked lodging on Airbnb (there's even a replica inside the company's corporate office in San Francisco), and although the main house where our host lives is only steps away, the feeling is one of isolation. If Zac and I were a couple, you can bet that cabin would've seen some action.
The hunt for a gay bar in Santa Cruz proves fruitless, but our Airbnb host does tip us off to wonderful Laili, a downtown eatery that puts a contemporary twist on Afghani food. We have a couple drinks at gayfriendly Blue Lagoon and shoot a few rounds of pool at a dive bar whose name I forget, but despite downtown's crunchy-cool allure, we retreat to our cabin where an endless downpour provides the requisite white noise for a good night's sleep.
DAY 6
There is so much I want to show Zac today. The final 70 miles to San Francisco include the Santa Cruz Boardwalk and a ride on the largest wooden roller coaster on the West Coast, several gay-friendly nude beaches including Donny Boon, and drowsy Half Moon Bay with its lighthouse turned youth hostel. But the intensity of rain ensures our knuckles would be white the entire time so a beeline to the City by the Bay it is.
When I first drove the Pacific Coast Highway 20 years ago, my arrival in San Francisco was as a new resident and I'll never forget that first night in the city. I crossed the Bay Bridge to the tune of "There's Something Going On" by ex-ABBA member Frida, and drove all over town looking for the Castro (there were no Google Maps in those days). When I finally found it I felt like I had reached the promised land. The Castro Theatre sign was just as I had imagined it. It was chilly that night so I had to put on my leather jacket and there were men everywhere, and I was intimated by all of them; they were all so cool and much older. I had dinner that night at the now defunct Bagdad Cafe on Market Street and struck up a friendship with a server named Ben who over those first summer months in 1996 would sneak me free meals while I looked for work.
Twenty years later the changes to San Francisco (both good and bad) are too numerous to count. Everyone complains about the tech people, and many of my favorite hangouts are gone. But when I go looking for that San Francisco magic I can still find it. The men are still there and are as gorgeous as ever, only now they're all married and looking for a third on Scruff; the restaurants I used to frequent have mostly shuttered their doors, but the ones that have replaced them are much better actually; and many friendships that were forged back then have persisted and even deepened over time.
Growing older with the Pacific Coast Highway has been the journey of my life, and whether I'm speeding through ritzy Malibu, moon bathing under the stars, or tramping around a sopping-wet San Francisco, every single bit of it feels exactly like home.
california road trip resources
Agave Marie's Restaurant and Cantina, 106 S Montgomery St, Ojai, Tel: 805-646-6353. www.agavemaries.com
Big Sur Bakery, 47540 HWY 1, Big Sur, Tel: 831667-0520. www.bigsurbakery.com
Blue Lagoon, 923 Pacific Ave, Santa Cruz, Tel: 831-423-7117. www.thebluelagoon.com
Bonnie Lou's, 328 E Ojai Ave, Ojai, Tel: 805-646-0207.
Esalen Institute, 55000 HWY 1, Big Sur, Tel: 831667-3000. www.esalen.org
Glen Oaks, 47080 HWY 1, Big Sur, Tel: 831-6672105. www.glenoaksbigsur.com
Hearst Castle, 750 Hearst Castle Rd, San Simeon, Tel: 866-712-2286. www.hearstcastle.org
Henry Miller Library, 48603 HWY 1, Big Sur, Tel: 831-667-2574. www.henrymiller.org
Laili, 101 Cooper St, Santa Cruz, Tel: 831-4234545. www.lailirestaurant.com
McConnell's Ice Cream, 728 State St, Santa Barbara, Tel: 805-324-4402. www.mcconnells.com
Monarch Butterfly Sanctuary, 250 Ridge Rd, Pacific Grove, Tel: 831-648-5716. www.seemonterey.com
Moonstone Landing, 6240 Moonstone Beach Dr, Cambria, Tel: 805-927-0012. www.moonstonelanding.com
Mugu Beach, 9000 W Pacific Coast Hwy, Malibu, Tel: 310-457-8143. www.parks.ca.gov/pointmugu
Nepenthe, 48510 HWY 1, Big Sur, Tel: 831-6672345. www.nepenthebigsur.com
Ojai Rancho Inn, 615 W Ojai Ave, Ojai, Tel: 805646-1434. www.ojairanchoinn.com
Ostrichland USA, 610 E Why 246, Buellton, Tel: 805-686-9696. www.ostrichlandusa.com
Piedras Blancas Elephant Seal Rookery, Plaza del Cavalier, 250 San Simeon Ave, San Simeon, Tel: 805-924-1628. www.sansimeonchamber.org
Pirate's Cove Nude Beach, Cave Landing Rd, Pismo Beach.
Presqu'ile Winery, 5391 Presquile Dr, Santa Maria, Tel: 805-937-8110. www.presquilewine.com
Sama Sama Kitchen, 1208 State St, Santa Barbara, Tel: 805-965-4566. www.samasamakitchen.com
Santa Monica Pier, 200 Santa Monica Pier, Santa Monica, Tel: 310-458-8900. www.santamonicapier.org
Vivolo's Chowder House, 127 Central Ave, Pacific Grove, Tel: 831-372-5414. www.vivoloschowderhouse.com
Wayfarer, 12 E Montecito St, Santa Barbara, Tel: 805-845-1000. www.wayfarersb.com
Wildcat Lounge, 15 W Ortega St, Santa Barbara, Tel: 805-962-7970. www.wildcatlounge.com