Amid such small revelations came the most visually spectacular moment of our trip. After two consecutive days at sea with little but surf and sky to be seen, Solstice made its way into Milford Sound, the deep fjord connecting the Cleddau River to the Tasman Sea. Mist rolled over the sheer, glacier-carved cliffs jutting straight up from the water to heights around 4,000 feet.
With sun breaking the clouds, we sailed slowly onward alongside the peaks nicknamed Elephant and Lion. Mosses, ferns, and other rainforest vegetation sprout from the steep inclines. Numerous narrow waterfalls rush down the rock face like vertical streams. We spotted seals and dolphins swimming alongside the ship.
John and I debarked Solstice and boarded a small tender boat, crossing the glassy-green water to shore. While most of our shipmates would remain aboard as the ship visited two more fjords over the next 24 hours, Milford Sound was the jumping-off point for our only organized excursion of the cruise: an overland crossing of the South Island by bus. First we traveled up from the Sound through lush, wet forestland, then we entered a tunnel, only to emerge in Alpine meadowlands, crowded with sheep by the thousands. The juxtaposition of environments was startling, as if driving from Costa Rica (albeit a chillier Costa Rica) to Switzerland over the course of a few hours.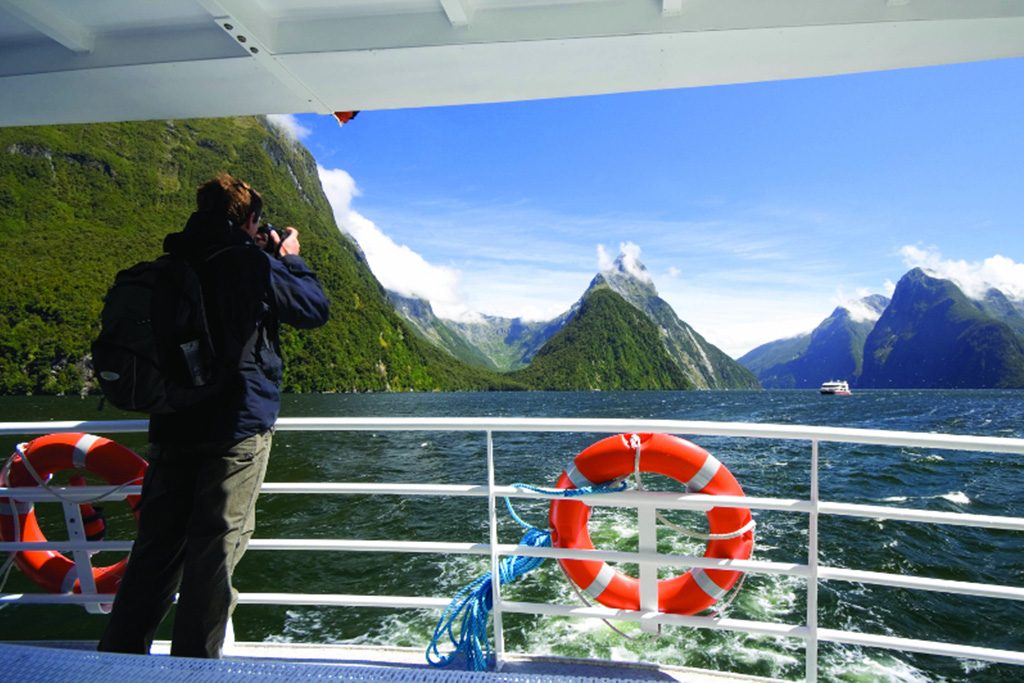 That evening was spent in Queenstown, the famed adventure sports capital (skiing and snowboarding in winter; jet boating, whitewater rafting, and bungee jumping in warm weather). We opted to sit back and watch paragliders leap from low peaks and swoop down to splash landings in Lake Wakatipu.
We then climbed aboard our third boat of the day, an appropriate icon of pre-digital times, the restored 100-year-old steamship TSS. Earnslaw. We marveled at its gleaming coal-stoked engines as they powered our way across the lake to the Walter Peak High Country Farm for a lamb buffet followed by memorable demonstrations of sheep shearing and herding dogs at work.
Our surroundings changed again the next morning, as we drove through Kiwi wine country, stopping for a few samples on our way to reconnect with Solstice at the port of Dunedin.
Back aboard, John and I were in full mellow, unplugged glory. While fellow passengers signed on for side trips to Lord of the Rings film sets, railroad rides, and penguin reserves at ports of call, we opted for long, leisurely walks. In sleepy Akaroa, when others bussed off to Christchurch, we strolled the length of a quiet beach; in the capital city of Wellington, we took in a bit of Maori tribal history at the Te Papa Tongarewa national museum and wandered past the gleaming silver Parliament building nicknamed 'The Beehive'; in Tauranga we came close to besting the Sydney cliff walk with a terrific two-hour hike around the base of Mount Maunganui, where sheep on the beach proved the thrill of the day; and in our day in Auckland before flying home we walked a mega-lap of the central city with no particular goals in mind and ridiculous smiles on our faces. It was as if cutting off the hectic inflow of digital data had rewired our minds over the course of a week: rather than craving constant stimulation, we were thriving on the lack of it.
But how did "Switched Off, Down Under" pan out in the long haul? Were John and I cured of Internet addiction, ready to put our devices aside for endless hours of quiet, squishy, unplugged coupledom back at home?
Old habits die hard, but new habits can come to life. In the wake of the Solstice, we've made an effort to take more slow walks to nowhere in particular, to read and to listen to music without multitasking, to set aside our smart phones during conversations.
We also made a trip to a sporting goods store, where we bought our own set of bocce balls. When our friends can make time in their own hectic schedules, we invite them to grab a bottle of wine and come play with us in the park. Each time, for an hour or so, everyone enjoys the benefits of our favorite cruise souvenir.